---
The Osprey UNLTD AntiGravity 64 Pack for Men & Women comes with an industry-first 3D printed Fitscape lumbar with Carbon DLS Technology, fully adjustable harness, and much more.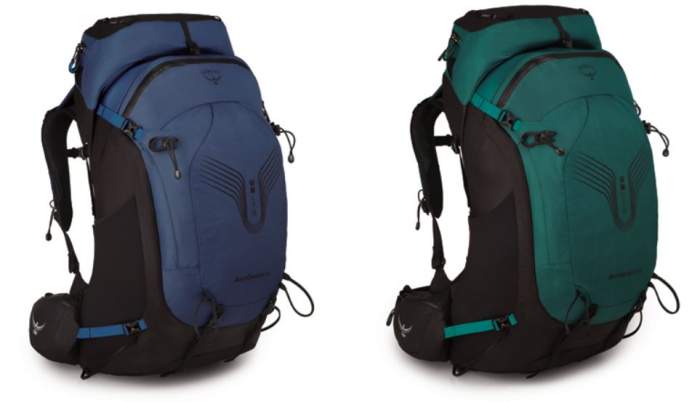 ---
Key features & benefits
Top lid doubles as a lumbar pack.
Rain cover.
Transport sack.
External hydration sleeve.
Ventilated back panel based on a tensioned mesh.
Fit-On-The-Fly harness adjustment for torso length.
Industry-first 3D Printed Fitscape Lumbar with Carbon DLS Technology.
Fit-On-The-Fly hip belt adjustment.
State-of-the-art fabrics.
---
What this is about
Osprey has been building the so-called anti gravity packs for years. They used to have it in their Aether & Ariel packs and in several smaller packs series. Then they abandoned the design in these packs and built Osprey Aether & Aether non-AG packs.
But they have now re-introduced this concept in their new Osprey UNLTD AntiGravity series. They build these packs as gender specific, so you have them separately for men and for women. In addition, there are two sub-sizes in each of them, XS/S, M/L for women, and S/M, L/XL for men. This means the series has four packs in total.
These packs are launched together with their UNLTD AirScape 68 packs for men and women. They share many common features, but the main differences are i) in the top lid design and ii) in suspension.
These UNLTD AntiGravity packs are with a removable top lid, but there is no collar underneath it. The actual access to the main compartment is panel-type, but there are two separate zippers here.
You have a U-shaped zipper which allows you to open the pack just like a suitcase.
But there is also a top zipper so you can access the stuff from above, and note that you do not have to touch the top lid for this.
The pack comes with a rain cover included, plus a transport sack, both are shown below. The latter is a rare feature, you have it also with the mentioned UNLTD Airscape 68 packs.
The lid
The lid doubles also as a lumbar pack so you can use it separately. In this case the pack is with a 5 liters smaller volume. The picture below shows the UNLTD AntiGravity 64 pack for women when the lid is removed. As you realize, it looks like a panel loading pack. It is fully enclosed and complete as it is, you do not have to add the lid at all.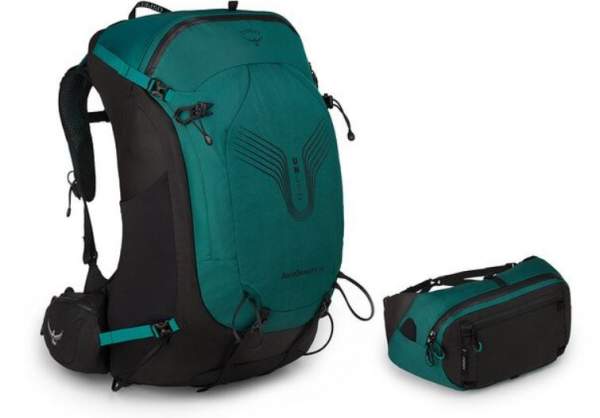 The top lid has two zippered compartments with weather resistant coated zippers. There is a key clip in the smaller one. The larger is equipped with an exit port for a hose on the side. The picture below shows how you can use it as a lumbar hydration pack: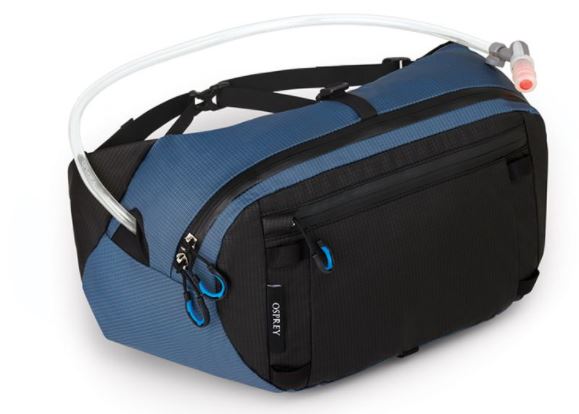 When you need a lumbar pack, just release two side buckles and disconnect two plastic hooks. You can adjust straps with the side buckles so that the lumbar pack fits your waist size.
Hydration compatible
You have already seen about its hydration-compatible lid (lumbar pack), but there is more.
The main pack has an external zippered compartment behind the harness (there is a picture farther below), so you can refill the bladder without messing with the stuff in the main compartment. This is a great feature for those who use water bladders.
Suspension
This is the best side of this pack, there are several extraordinary details here. It can be described as a fully adjustable harness, I shall explain this in the text below.
All is based on an anodized tubular 7075 aluminum alloy frame, but the system blends multiple components. The frame provides vertical stiffness to support the load and to maintain tension on the backpanel mesh.
But there are also two horizontal stainless steel wires at the bottom of the frame. They deliver spring tension to the hip belt area, and they control flex and fit.
The system also includes a pair of custom-molded hubs at the lower corners of the backpanel. They connect the tubular aluminum and stainless steel wire elements.
In addition, the injection-molded hubs are exposed through the fabric at the bottom of the pack. This provides a buffer and prevents wear when it is set on the ground.
The torso length is adjustable, you have markers on the sides to guide you, see how they look: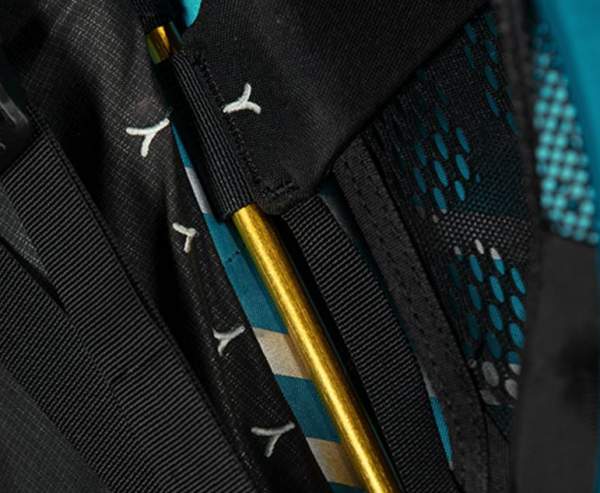 But they have added what they call the Fit-On-The-Fly torso adjustment system. It includes pull loops on the sides, so you lift up on the buckle lever to release the webbing and adjust the shoulder harness.
This all is done while the pack is on your back, so you can feel what the right position is. In my view, this is the best system ever. But I must stress this was invented long ago by Kelty, though they abandoned the design, no idea why.
Yet another feature is what they call the AutoLift System instead of the classic load lifters, it is shown in the picture below. So you can see that shoulder harness has extra straps (the blue extensions) above the usual straps that are in contact with your shoulders.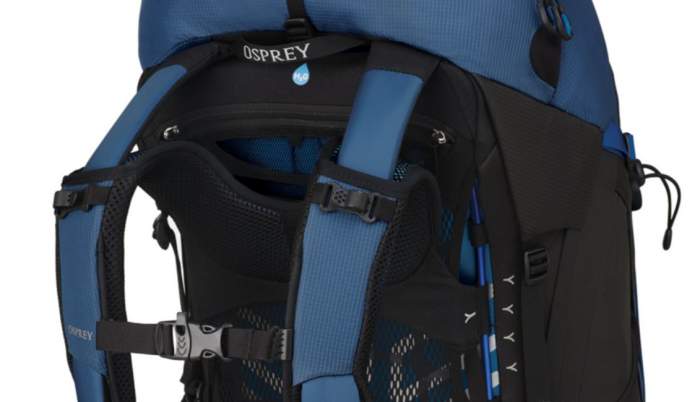 There are sleeves on the shoulder harness (visible in the picture), so when you want to tighten the harness and pull down the ends of its bottom straps, these blue extensions slide through the sleeves and they bring the upper part of the pack closer to the body.
The hip belt is also adjustable in the usual way with pull forward straps (see the picture below). But they have added the Fit-On-The-Fly hip belt adjustment. This means that the padding can be moved forward or backward. There are markers in place to guide you.
All you have to do is to break Velcro hook and loop connection, and reposition the padding. This all is what I meant when I pointed out that the harness is fully adjustable.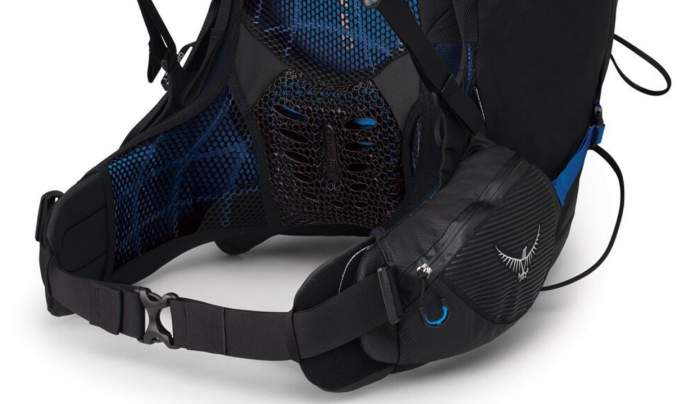 But one of the most advanced features here is its industry-first 3D printed Fitscape lumbar with Carbon DLS Technology. It is visible in the picture above. Below you can see a bit more about its different zones:
Is this really an AntiGravity design?
This word was used in their earlier AG packs, and at that time it had some meaning. They used to say that you 'wear the pack and not carry it'.
The meaning was that the delicate tensioned mesh was a continuous and seamless surface all over the back panel, lumbar, and hip belt. So the weight was distributed over a large part of your body and not only on the hips or on the shoulders.
But this UNLTD AG design is not of that type, so I am not sure why they are using the same phrase again. This is an advanced trampoline style tensioned mesh combined with a totally unique new lumbar construction.
So if you want a pack with a great ventilation this is it. But the original AG packs were better ventilated, and I think there are even better ventilated packs of other brands currently on the market.
Pockets
There are many pockets here. You have two zippered in the top lid, and two zippered on the front of the pack, one is shown below.
A bit more about these front zippered pockets. They are large and not narrow, this means that you can still load lots of stuff inside even if the pack is full. This is because they have added extra fabric inside so that the pockets have volume.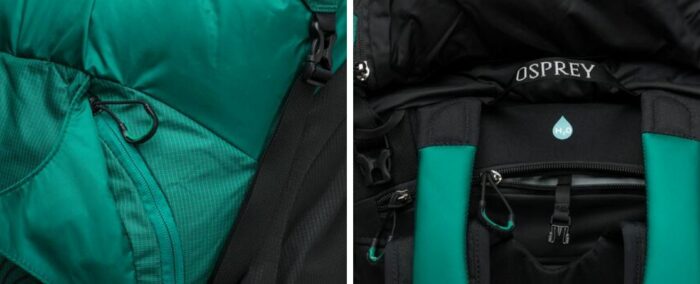 There are two enormous mesh pockets on the sides. Note that the one on the right has dual access for a water bottle, but this is not so on the left side where you have only top access.
On the hip belt there is one zippered pocket on the left. It is surprising that the other side is an empty space.
The previously mentioned rain cover comes in its own zippered pocket on the bottom, see the picture below.
Other details
There are several webbing attachment points on the lid.
The adjustable sternum strap is with an emergency whistle.
The usual upper and lower side compressions straps are in place.
The pack comes with their unique Stow-on-the-Go attachment system for trekking poles, the picture below.
There are removable bottom straps for a pad or anything similar, see them above.
Dual loops for an ice axe are on the bottom, paired with bungees higher on the pack front. Note that you can stove them away, there are tiny pockets next to each of them.
Dual loops for skis are also in place. Some of these elements are visible in the picture: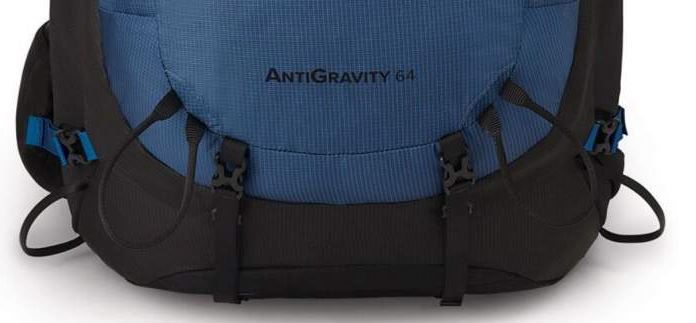 Materials
You have already seen about the frame and support. Here just to add a few details about the fabric. So this is a state-of-the-art material that includes a 210D high tenacity nylon and ultra-high-molecular weight polyethylene ripstop, PFC-free and DWR.
The bottom is a 500D bluesign approved recycled high tenacity nylon, PFC-free and DWR.
Please see more in this video:
---
Who are these Osprey UNLTD AntiGravity 64 Packs for
Regarding the size, you will see the numbers below, so all sub-sizes are in the range of large packs suitable for multi-day hiking and backpacking tours and expeditions.
Regarding the weight, this is not the best feature of these packs, they are all heavy. But they are still lighter than their UNLTD AirScape cousins.
On the other hand, you have seen how incredible features come with these packs, so there are good reasons for the weight. I have discussed this UNLTD packs weight in detail in my separate text, so please follow the link to see more.
But it is best to check volume/weight ratio if you want to compare these packs with some others. So here you have V/W=25.9 liters/kg. Surprisingly, this is exactly the same as in this Gregory Katmai 55 Backpack for Men. It is also almost the same as in the Deuter Futura Air Trek 50 + 10 Backpack for Men.
Regarding the price, I have seen reactions of people, these packs are currently the most expensive on the market. But they are also the most advanced and completely unique on the market.
---
Specifications
Common features:
Carry weight: 65 lb (29 kg).
Warranty: Osprey's All Mighty.
Osprey UNLTD AntiGravity for men
Two sizes for men: S/M, L/XL.
Weight (without travel cover):
– S/M with rain cover: 5.46 lb (2.48 kg); 5.25 lb (2.39 kg) without rain cover.
– L/XL with rain cover: 5.5 lb (2.49 kg), 5.29 lb (2.4 kg) without rain cover.
Removable lid weight: 0.5 lb (0.22 kg).
Aircover weight: 1.036 lb (0.47 kg).
Volume:
– S/M: 3906 in³ (64 l).
– L/XL: 4089 in³ (67 l).
Dimensions:
– S/M: 31.89 x 16.14 x 15.35 in (81 x 41 x 39 cm).
– L/XL: 33.86 x 16.14 x 15.35 in (86 x 41 x 39 cm).
Torso fit:
– S/M: 17-20.5 in (43-52 cm).
– L/XL: 19.5-23 in (50-58 cm).
Osprey UNLTD AntiGravity for women
Two sizes for women: XS/S, M/L.
Weight (without travel cover):
– XS/S with rain cover: 5.28 lb (2.39 kg); 5.07 lb (2.3 kg) without rain cover.
– M/L with rain cover: 5.44 lb (2.47 kg); 5.22 lb (2.37 kg) without rain cover.
Removable lid weight: 0.754 lb (0.34 kg)
Aircover weight: 1.036 lb (0.47 kg).
Volume:
– XS/S: 3722 in³ (61 l).
– M/L: 3906 in³ (64 l).
Dimensions:
– XS/S: 29.53 x 16.14 x 15.35 in (75 x 41 x 39 cm).
– M/L: 31.5 x 16.14 x 15.35 in (80 x 41 x 39 cm).
Torso fit:
– XS/S: 13.5-17 in (34-43 cm).
– M/L: 16-19.5 in (41-50 cm).
---
Final thoughts & rating
In conclusion, Osprey never stops surprising with its designs, and these Osprey UNLTD AntiGravity 64 Packs for Men & Women are yet another great example. With these packs they have shifted limits. These are totally unique backpacks without a match on the market, and with everything you need on the trail.
They are a bit heavy but this is because of incredible features, functionality, and durability of the materials used. On the other hand, as I mentioned in the text above, it is best to check the volume-to-weight ratio if you want to compare with other packs. From this perspective, these packs are quite typical. In any case, fully recommended.
Below you can see how I rate it against my usual rating criteria so that you can easily compare it with other items of this type:
BEST PLACEs TO BUY
For more options, please check under the category Large Packs. You might want to read also my comparison Osprey UNLTD AntiGravity 64 vs Osprey UNLTD AirScape 68 Packs.
Bookmark this site and come again, this will keep you informed because I add texts here regularly. Let me know if you have questions or comments, there is a comment box below. Have a nice day.