---
This Deuter Futura Air Trek 50 + 10 Backpack for Men is from a new series launched for 2021, a high-quality pack with adjustable torso length, multiple pockets, and a nicely ventilated back panel.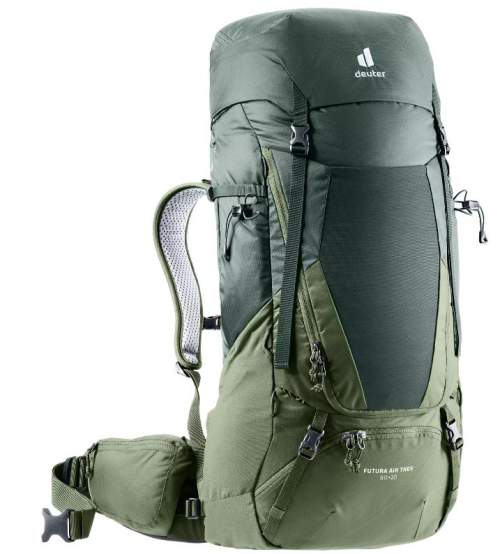 ---
Key features & benefits
Adjustable torso length.
Ventilated back panel.
Many pockets.
Rain cover.
3 Access points.
Very durable materials.
---
So what this Deuter Futura Air Trek 50 + 10 Pack is about
This is a pack from a series of 4 packs they launched for the season 2021. You have two packs for men (and this is the smaller of the two), and two packs for women.
The Air Trek 50+10 pack is a classic top-loading pack with an expandable spindrift collar. This is behind the number 10 in the official name of the pack. This is convenient to have when you use the pack in various seasons. In winter you will carry bulkier stuff and you will need more volume. In summer, you will need less space so no need to expand the pack. So you can use the same pack in any of these situations. The lid is floating type to accommodate for such an extra load.
But there is also a large U-shaped zippered entrance on the front of the pack, it is shown below. You can access all your gear without touching the lid. This may be good when you carry some stuff attached under the lid, like a rope or anything similar.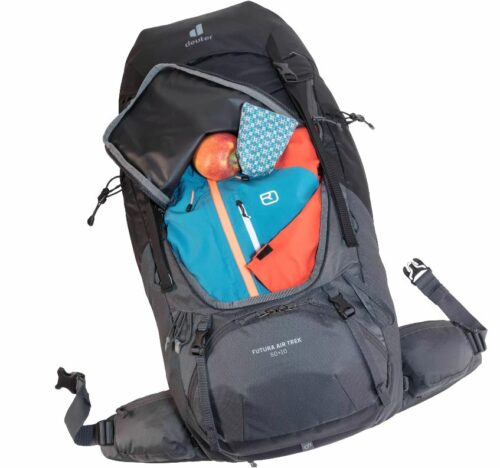 This is not all; there is a bottom compartment with the usual zippered entrance. The divider between the two inner compartments is with a zipper, it is partly visible in the picture below. So these parts of the pack are truly separated and there will be no mix of items when you place them in separate compartments. As you surely know, in most packs on the market this divider is just a shelf with toggles.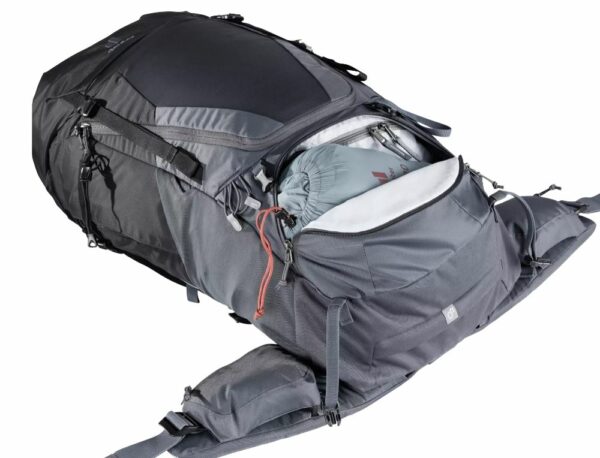 The pack is hydration compatible so you have an inner sleeve in the main compartment where you can store the water bladder.
There is also a rain cover included, it comes stored in a separate zippered pocket on the bottom of the pack.
---
Other features
Suspension system
The suspension is among the best you will find on the market. They call it Aircomfort Sensic Vario suspension system. It is based on a peripheral spring steel frame.
The back panel is what you normally have in all Futura packs. This is a tensioned trampoline-style mesh. There is no better design on the market if you need a ventilated back panel. The picture below shows it from the side, so you realize that the mesh completely separates the pack from the body.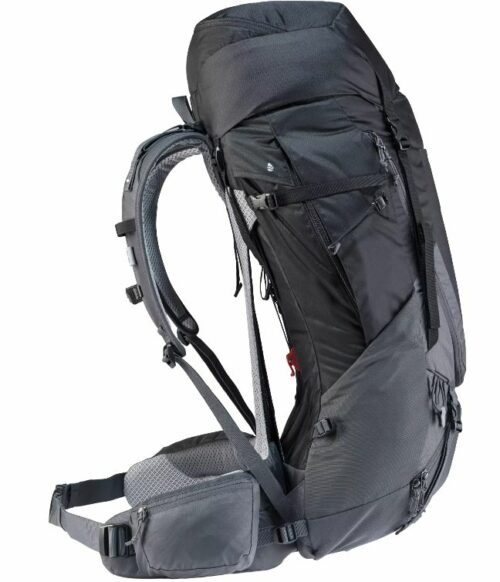 This tensioned mesh system was originally invented by Deuter and applied for the first time in their Futura series. I have been using this for the past 18 years. They have added padded columns on the sides of the mesh, they are visible in the picture below.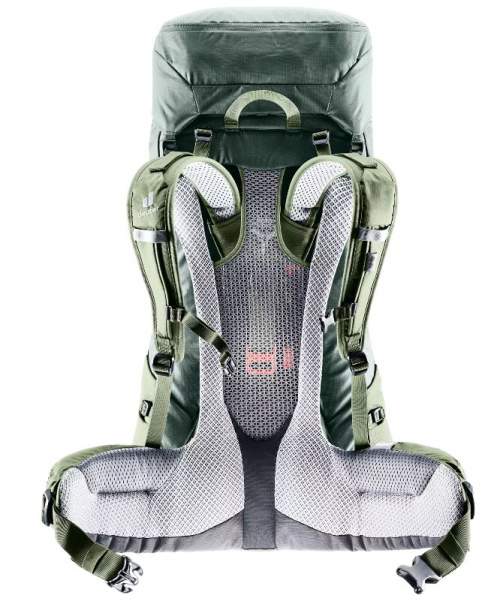 The torso size is adjustable, they call it the VariFit system. You have a strap with a buckle behind the tensioned mesh, and you can release it and slide the harness to the desired position. There are markers to guide you where to position the harness. This is a continuous system so you can have an exact fit. See how this looks: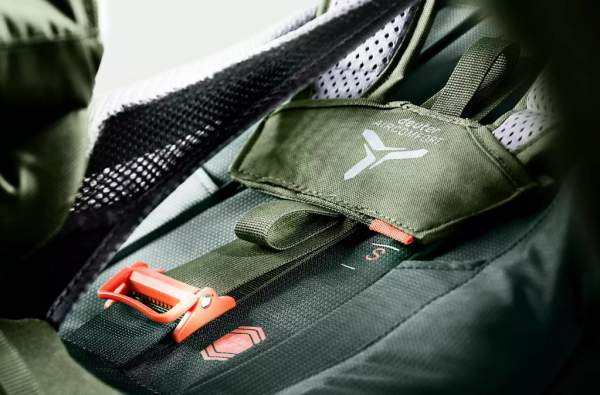 The shoulder straps have a bit of freedom for self-adjustment to the user's body width. A bit of similar pivoting is also in the hip belt, so these features add to the overall fit and comfort.
The hip belt and lumbar area are with massive padding and it is simply perfect for heavy loads. You have the usual adjustable sternum strap and load lifter straps on the shoulder harness. Note that the hip belt straps are pull-forward type. 
Pockets
You have them maximum here. The top lid is with the usual outer and inner zippered pockets. There is one large stretch mesh pocket on the front.
On the sides, you have dual stretch mesh pockets with inside-outside compression strap openings. Higher on the sides you also have dual zippered bellows pockets. There are also dual zippered pockets on the hip belt. I already mentioned the rain cover pocket on the bottom.
Attachment features and compression straps
Full set here as well, see what you get:
Dual upper and lower side compression straps.
Dual straps over the bottom compartment.
Two elastic loops are on the front left side for trekking poles. These are paired with a bungee loop higher on the pack.
One webbing loop is on the front right side for an ice axe. This is also paired with a bungee cord higher on the pack, see how they work: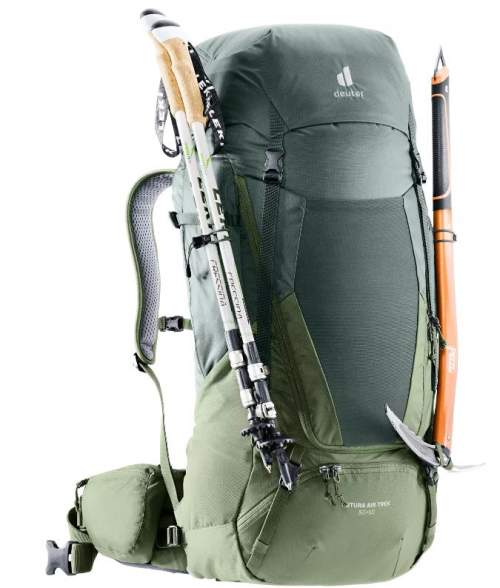 There are four attachment loops for a helmet carrier attachment.
There is also a webbing loop for glasses on the shoulder strap, see the picture below.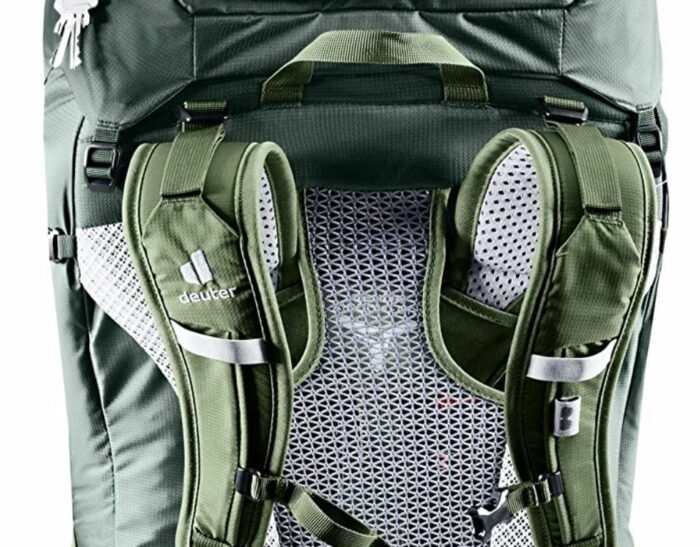 Fabric
You have all the durable stuff here. This is a combination of an extremely durable and abrasion-resistant 210D polyamide and a 600D polyester. These materials are bluesign approved.
Note that they build the pack in two colors, they are shown on purpose here in the pictures.
---
Specifications
Weight: 4.52 lb (2050 g).
Volume: 3051  + 610 in³ (50 + 10 Liters).
Dimensions (L x W x D): 29.5 x 13.4 x 9.8 in (75 x 34 x 25 cm).
Frame: spring steel.


---

Final thoughts, rating, pros & cons

In the summary of this Deuter Futura Air Trek 50 + 10 Backpack for Men review, I would point out the following. There is no doubt this is an excellent backpacking pack, in fact among the best on the market. I see it as a perfect choice for backpackers and hikers, it is large enough for multi-day tours.

If you are familiar with Deuter's packs, you have surely noticed that this pack shares almost all the same features as their celebrated Deuter Futura Vario 50 + 10 pack. About the differences between these packs, you can read more in my separate text. 

Please see how I rate this pack, it stands really great:

You might want to see my comparison of this pack with the packs from the new Gregory Katmai & Kalmia series, see more here. If this great pack still doesn't check all of your boxes, perhaps this Osprey Aether 55 pack will, so have a look. Thank you for reading. Please let me know if you have questions or comments, there is a comment box below.