---
Both Deuter and Gregory brands have recently launched their new series Deuter Futura Air Trek, and Gregory Katmai and Kalmia. So which is better? Keep reading.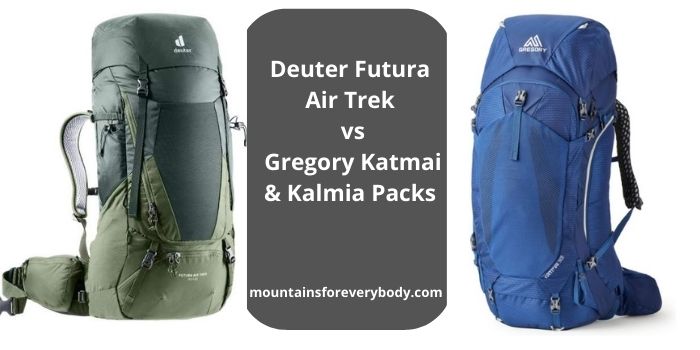 ---
What this is about
The Deuter Futura Air Trek is a new series they launched recently, and it seems it will replace their famous Deuter Futura Vario packs. The differences between them are simply negligible, you can read more here. But in any case, this is the latest and the best series of Deuter.
On the other hand, the series Gregory Katmai & Kalmia (for men and women, respectively), are completely new series of Gregory. They are indeed very different from any of the packs this brand has built in the past. 
Both series have great features, but they also have incredibly well-ventilated back panels. You can see them in the picture below. This ventilation is my main reason for making this comparison. So let's see some more details.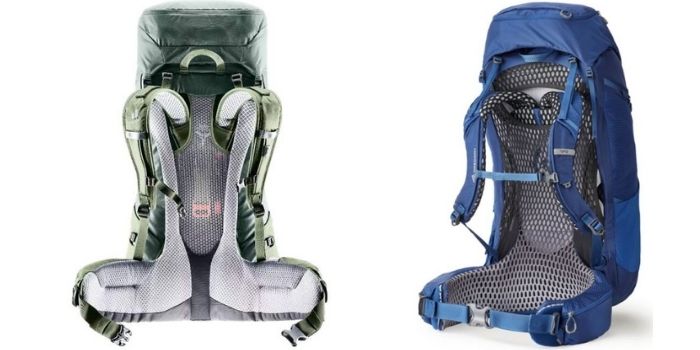 ---
Deuter Futura Air Trek and Gregory Katmai & Kalmia – some basic data and facts
There are several packs in these series. So on the Deuter side, you have Deuter Air Trek 50 + 10 and Air Trek 60 + 10 for men, and also Deuter Air Trek 45 + 10 SL and Air Trek 55 + 10 SL for women. This is 4 packs in the series.
On the Gregory side, you have Gregory Katmai 55 and Gregory Katmai 65 for men, and both have two sub-sizes, and Kalmia 50 and Kalmia 60 for women, again both with two sub-sizes. So you have 8 packs in the series.
But note that the Katmai packs are also built in the plus-size, so you have Katmai 65 Plus pack with its two sub-sizes, S/M and M/L. These packs are with a larger hip belt fit and they are slightly heavier. In total, there are 10 packs in this series of Gregory.
So for formal comparison, I shall take Deuter Air Trek 50 + 10 and Gregory Katmai 55 M/L as examples. In the table below I give some numbers and facts:
Deuter Futura
Air Trek 50+10
---
My comparison
The packs in these series (on both sides) share the same features. So here is how I compare some of their most important features:
Shoulder harness features

I give the sign + to one or another series where I find appropriate. The same is with the sign -, and below you can see my reasoning for this.
Hip belt adjustability
This is a great feature to have. It allows for various family members to use the same pack and to still have an option to choose the best fit. So Gregory packs are better here.
Shoulder harness features
The Gregory packs come with auto-rotating shoulder straps attachments. You have some flexibility in the Deuter's pack as well, but I would give an advantage to Gregory.
Torso length adjustability
You have the same features on both sides. Note that the system is very different, but in both cases, this is what I describe a continuous system. This means that you can have any length within the given range.
However, in Gregory packs, you have Velcro hook and loop connections. In the case of Deuter, this is a strap with a buckle behind the tensioned mesh. So this may be a matter of preference, and different people may give advantage to one side or another. For me, this makes no much difference. 
Variety (of sizes)
The Gregory packs have sub-sizes within the two nominal sizes, and there is also a Plus option in the larger packs. So you have plenty of options to choose your best size. This is why I give + to Gregory packs.
Men/women versions
Both brands have gender-specific packs and there is no winner here.
Carry load
I would not give the advantage here to any of the two sides. These are great packs.
Ventilation
From the point of view of air circulation, there is no clear winner here, both brands have done this nicely. However, Gregory packs have the mesh which looks incredibly cool, similar to what you can see in Osprey's anti-gravity packs. So I was close to giving advantage to Gregory.
Attachment options & compression straps
Both brands have the usual attachment options and compression straps. But the Deuter Futura Air Trek packs have one extra feature, and this is a set of 4 loops on the front for helmet attachment. On the other hand, Gregory packs attachment loops on the lid. So I would not give advantage to any.
Pockets
Deuter Futura Air Trek packs have 9 pockets plus the mentioned rain cover pocket. Note also that they have side bellows zippered pockets. I like this design because when full they expand outside and do not take too much volume from the main compartment. 
In the Gregory Katmai & Kalmia packs, you have 9 pockets in total. The front zippered compartment (or pocket) with its inner pocket looks good, but this is a shallow compartment and you can not store bulky items here when the main compartment is full.
It is true also that one of the side pockets in the Gregory packs can be tucked away, this is cool but I do not find this essential. But all in all, I give the same rate to both.
Access points
In both brands you have 3 access points. But in my view, the side access in Gregory packs is inferior to the huge U-shaped front zipper access in the Deuter Futura Air Trek packs. 
Rain cover
Gregory Katmai & Kalmia packs come without a rain cover. In the case of Deuter Futura Air Trek packs you have it in its dedicated pocket on the bottom. For me this is a clear winner, but I know that many people would not find this important.
Bottom compartment
Both brands offer a bottom compartment. But in the case of Gregory Katmai & Kalmia packs, the inner divider is just a simple shelf with toggles. So small items from the upper main compartment can easily slide down to the bottom compartment.
In the Deuter Futura Air Trek packs, you have a true divider with a zipper. So you can fully close it and nothing can pass from above. Such a long zipper adds weight, but this pack is still lighter.
Volume/Weight ratio
With respect to this parameter, the Deuter packs are a bit better. Note that +10 in the name means expandable collar and extra 10 liters of volume. This is a true volume and when you calculate this, you have around 29 liters per kilogram as the volume/weight ratio.
In the Gregory packs, this value is around 26. Not a big difference indeed, and you can perhaps ignore it.
Other features
The Gregory Katmai & Gregory Kalmia packs have interior toggles to attach Gregory's Nano 14 Daypack (which is not included).
Gregory packs also have an emergency whistle on the sternum strap.
---
Final thoughts
So this was my comparison Deuter Futura Air Trek vs Gregory Katmai & Kalmia Packs. As you realize, the final score looks the same. Of course, not all the features listed here may be of importance to you, so focus on those that matter and make your own rating.
But there are a few things I want to add here. These Deuter packs are practically the same as what they had in the Deuter Futura Vario series, there is nothing essentially new here. I have a déjà vu feeling when I see them. This is a design several years old. But indeed this is a great design and the pack has almost all the features I want to have.
On the other hand, the design of these Gregory Katmai & Kalmia Packs is something new, at least for this brand. If you look closely, you realize that the tensioned mesh looks very similar to some of the Osprey packs. However, it looks truly great. 
What do you think? Let me know, there is a comment box below. Thank you for reading and have a nice day.