---
Here you can read about Deuter Futura Air Trek and Deuter Futura Vario differences. Although the packs look almost the same, there are some small unsubstantial details where they differ.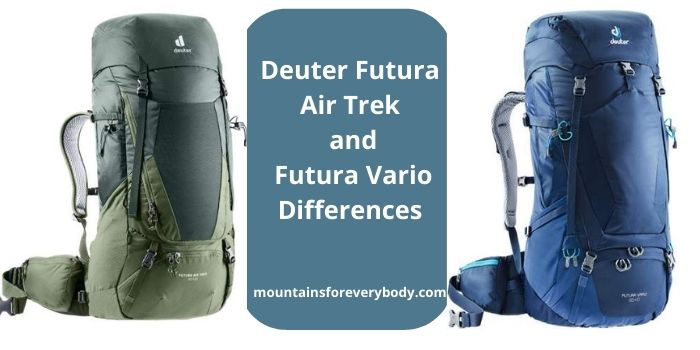 Is Deuter going to discontinue the Futura Vario Series?
If you follow the situation in the backpacks industry, then you probably know that several years ago Deuter terminated their Deuter Futura Vario 60 + 10 pack. This was surprising because, in my view, this was the best pack they have ever built. Perhaps this is just that they did not have the market for that particular size, we shall never know.
After that they had (and still have) the Deuter Futura Vario 50 + 10 for men and Futura Vario 45 + 10 SL pack for women.
But they have launched a completely new series for the season 2021 under the name Deuter Futura Air Trek. There are four packs here and they are almost completely the same as the Futura Vario series. It is still 'almost' as I said, so here are a few minor differences I noticed in the new Futura Air Trek packs:
There is no buckle on the front pocket. See the top picture above, the Air Trek pack is in the left.
Zipper pulls are not with elegant loops that you have in Futura Vario packs.
There are no attachment loops on the lid. You have them 4 in the Futura Vario packs.
The logo is new.
In the Futura Air Trek packs, there are 4 tiny loops on the front for a helmet carrier. You do not have these in the Vario packs.
The colors are different.
See also the weight as an example:
The new Futura Air Trek 50 + 10 pack weighs 4.52 lb (2050 g).
The Futura Vario 50 + 10 pack weighs 4.56 lb (2070 g). So the difference is not substantial.
You might want to know that the Air Trek packs are bluesign certified, but this is the same with the Vario packs. You can read more in my text Deuter Futura Air Trek 50 + 10 Backpack for Men and also in the text Deuter Futura Air Trek Backpacks.
Based on all this, it seems to me that they are going to completely discontinue the Futura Vario series. Otherwise, I am not able to understand the purpose of this series with the new name but with almost the same basic features. It would be great to hear what you think, there is a comment box below.
Addition: Much later after writing this text I have realized that the previous Deuter Futura Vario 50 + 10 is available on Amazon under the name Deuter Futura Vario Pro 50 + 10. So it appears that they simply renamed it. Very convenient.