---
Did you know that there is a completely new series launched by Deuter? Read here about the Deuter Futura Air Trek Backpacks.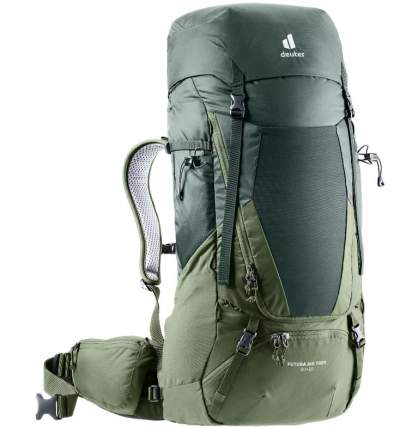 ---
So yes this is something completely new they launched for the season 2021. As it looks now, the series includes 4 packs in total and these are:
Deuter Futura Air Trek 60 + 10 Backpack for men.
Deuter Futura Air Trek 45 + 10 SL Backpack for women.
Deuter Futura Air Trek 55 + 10 SL Backpack for women.
Just to know that they all share exactly the same features. The difference is only in their volume and weight. As usual with Deuter, the number +10 in the names of these packs implies an expandable spindrift collar that adds extra 10 liters of volume when you need this. The letters SL in the packs for women mean 'slim line'.
This makes it a bit difficult to determine the exact volume/weight ratio. For example, for the first pack in the list given above you can take either 60 or 50 as its volume. In my view, it should be 60 liters. This pack weighs 4.52 pounds (2050 grams). So this gives a V/W (volume to weight) ratio of 29.3 liters/kg.
You can compare this with the new Osprey Aether 55 Pack, in particular its L/XL version with a volume of 58 liters and a weight of 4.87 lb (2.2 kg). So here you have V/W = 26.4 liters/kg. This gives you some idea of where these Deuter Air Trek packs belong.
These are packs with an internal peripheral spring steel frame, with lots of padding on the harness (see the hip belt below), built for load-hauling, and with large storage capacity. So the weight is fully justified and expected.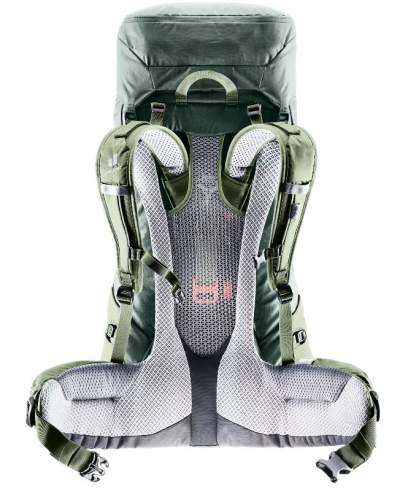 You might want to see how these packs compare with Gregory Katmai & Kalmia packs, so check this comparison in my separate text. 
---
What about features?
These packs have almost everything you need. So, see some of the most important features you have here:
Adjustable torso length. They use what they call the VariSlide system based on a strap and buckle behind the back panel.
Ventilated back panel. So this is what you would expect from Deuter Futura packs. Do you know that this trampoline-style tensioned mesh was originally introduced in this Futura series? This is how such design started, now you have it in many packs from other brands. I have been using these Futura packs in the past 18 years. There is nothing better with respect to ventilation.
Multiple access points. You have floating lids and the usual top access, but all packs also have a large U-shaped front zipper. They all have a zippered bottom compartment access, and the divider between the two main compartments is with a quality zipper.
Rain cover. All packs come with a rain cover stored in a dedicated pocket on the bottom.
Multiple pockets. You have them 10 in total. And yes, these include also upper dual bellows pockets on the sides.
Pivoting shoulder straps adapt to the width of the user's shoulders.
Pull-forward hip belt system.
Adjustable sternum strap.
3 Loops for poles and for an ice axe, accompanied with bungee cords.
The usual dual side compression straps.
Durable fabric: 210D polyamide recycled, 600D polyester. These are bluesign certified material.
You can read more in my separate text about Deuter Futura Air Trek 50 + 10 pack. When you see all this, you realize this is almost identical to what you have in their Deuter Futura Vario 50 + 10 pack. So there is a question hanging in the air (at least for me): what will happen with the Futura Vario packs? See more in my separate text.
Thank you for reading. Let me know what you think, there is a comment box below. I wish you a nice day.