---
Here you have the new Osprey Aether 55 pack they launched for the 2021 season, a redesigned non-AG backpack with a fully adjustable harness.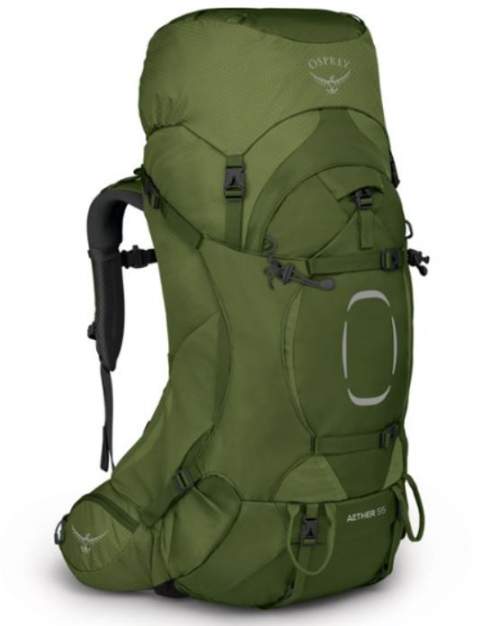 ---
In short: what is new?
You have already seen two important things in the title, and one is that they now build this Aether series as packs of 55 and 65 liters, as compared to the previous Aether 60, and Aether 70 liters packs. But there is more to this, you will see below, and there is an Aether Plus series.
The other detail from the title – they have abandoned their anti-gravity (AG) design so this was a step back to their original Aether design.
There is no DayLid daypack in this new version. You have a rain cover instead. Disappointed? Well, they have included it in the Aether and Ariel Plus series.
There is no Stow-on-the-Go poles attachment here. This is disappointing.
Full adjustability, more below.
---
Overview of features
They build this pack in two sub-sizes, so you have the official 55 liters but this describes the small/medium version (S/M). There is also a large/extra-large (L/XL) 58 liters pack.
This is again a top-loading pack with a classic but floating lid, but you also have a large front zipper (you will see it below), plus a bottom compartment. There is a removable divider, the picture below, just a simple shelf so you can open it and use the inner as one large space. So the pack offers three access points to the main compartment.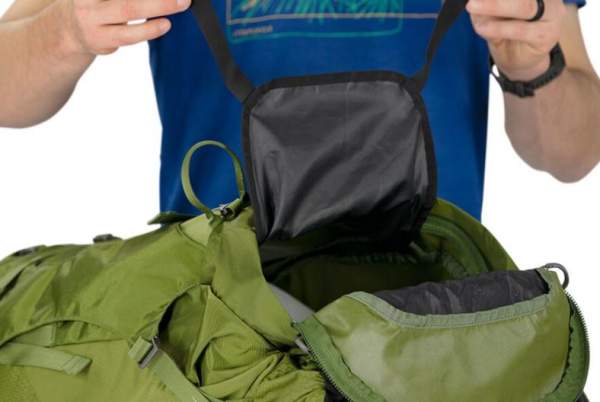 The pack is hydration compatible, and you have an inner hydration sleeve and a hose port behind the neck, the picture below. As mentioned, it comes with a rain cover in a lid pocket, it is PFC-free DWR (durable water repellent).
The fabric
They use a combination of a 420HD nylon packcloth on the bottom, PFC-free and DWR, and a 210D nylon diamond, PFC-free DWR for the rest. So these are excellent and durable materials. Note that they build the pack in three different colors, black, blue and green.
Suspension
So you have an internal 3.5 mm LightWire aluminum alloy peripheral frame, and this is combined with their Airscape injection-molded back panel that is with multiple cut-outs for ventilation.
Everything is adjustable here, and this includes
torso length adjustability, 
shoulder straps padding adjustability,
hip belt padding adjustability.
The latter two are what they call the Custom Fit-on-the-Fly design, this is all added for a fine-tuned fit and for a variety of body shapes & sizes.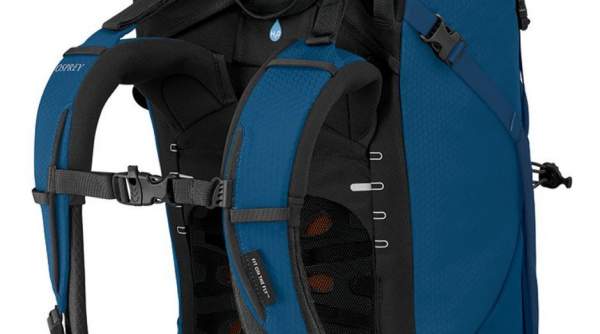 The torso length adjustability is in the range 17 – 21 inches (43 – 53 cm) and 19 – 23 inches (48 – 58 cm) for the two sizes. Shoulder straps have padding that attaches with Velcro pads so you can reposition it. The same design is also on the hip belt where hip fins can be moved to the desired position, and you can also angled them so that they fit your body shape. This all is great if several family members use the same pack. A sliding sternum strap is included, as well as adjustable load-lifter straps.
The lumbar padding is now massive, see the picture above, as it should be for heavy loads. But you also realize that there is no heat-molded hip belt design here, and there is no AG back-panel mesh.
Nobody can tell you if this is an improvement or not, this is all very individual. I would say that nothing can be better than the previous heat-molding foam, but having such a full adjustment everywhere is also great, and this massive lumbar padding is absolutely essential for packs with heavy loads.
Pockets
So I already mentioned the lid pocket where you have the rain cover. There is also a large stretch pocket on the front, note it is under the two front straps so not really easily accessible, see below how this looks. There are two hip belt zippered pockets, and two side stretch mesh pockets with dual entry points. This is all, and this should be good enough.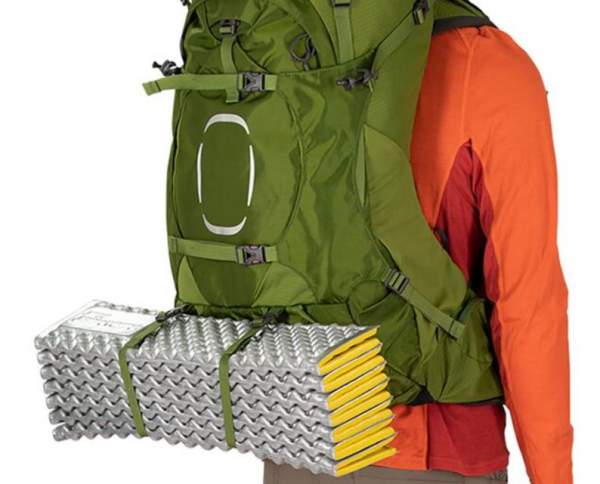 Attachment elements
You can see several of them, in the picture above, so you see the dual side compression straps and also dual removable bottom straps where you can attach a pad as in the picture. With such side straps you can reduce the size of the pack when it is not full, and this will stabilize the load, but you can also use them to attach some gear.
There are lash points on the top lid. Dual loops for poles or ice axe are on the bottom, and they are paired with bungee cords higher on the pack.
A pair of very useful horizontal cross straps is there, they attach to the flaps on the side, so this system allows for attaching some longer items on the front of the pack. This is what they call the StraightJacket compression.
Please see more in this video:
---
Specifications
Best use: hiking, backpacking.
Two sizes: S/M, L/XL.
Weight:
– S/M: 4.83 lb (2.19 kg).
– L/XL: 4.87 lb (2.2 kg).
Capacity:
– S/M: 3356 in³ (55 l).
– L/XL: 3539 in³ (58 l).
Weight capacity: 60 lb (27 kg).
Dimensions:
– S/M: 31 x 15 x 10 in (79 x 38 x 25 cm).
– L/XL: 33 x 15 x 10 in (84 x 38 x 25 cm).
Torso fit: 
– S/M: 17 – 20.5 in (43 – 52 cm).
– L/XL: 19.5 – 23 in (49 – 58 cm).
Waist/Hips fit: 28 – 55 in (71 -140 cm).
Osprey All Mighty warranty applies here: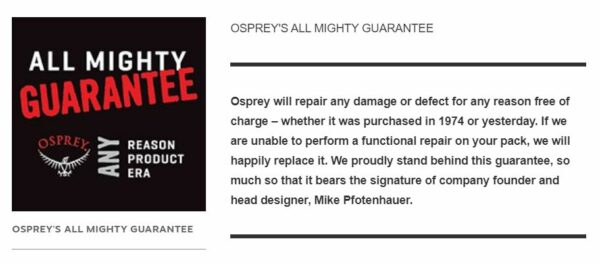 ---
Final thoughts, rating, pros & cons
So you have seen it, this new Osprey Aether 55 pack is excellent and fully adjustable. This adjustability includes all three main elements, the torso, shoulder straps, and hip belt. But this is a very different design compared to the previous AG series.
This is a very rugged load-hauling construction that is even more comfortable when fully loaded than with a small load. I am convinced that introducing the AG design in their large packs was a mistake in the first place. But it is true also that the heat-molded hip belt in that previous AG series was excellent.
You will notice that the volume/weight ratio is almost identical to the previous AG packs. Observe that both versions are on the market, and there is no doubt this will remain so for quite some time. This new series is without the words AG in the name.
Please see how I rate this pack and you can compare it with some other packs here in the site, the same criteria are always used:
Check under the category Large Packs if you need more options, but be aware of the fact that there are no many that can match this pack. If you need a pack for women with the same features, check this Osprey Ariel 55 pack.
You have seen the weight of the pack presented here, so if you need something much lighter, check this Kelty Asher 55 Backpack, they have it for men and for women.
Bookmark this site and visit again, this will keep you informed, as you realize from this text we add here new texts regularly and we follow what is happening on the market.