---
Osprey Aether AG 70 backpack described in the text is a part of a new anti-gravity series introduced by Osprey recently. This 70 liters pack is the middle-size in the series which also includes packs of 60 liters and 85 liters. This is the ultimate backpacking tool for extended tours, with many extraordinary features.
---
Bonuses
Top lid converts to a fully functional daypack.
Attachment points for the Osprey Daylite pack.
Rain cover.
---
Key benefits
Advanced suspension system.
Adjustable torso length.
Moldable hip belt and harness.
Interchangeable hip belt.
Interchangeable harness.
Four sizes to choose from.
---
The most important changes introduced in the new AG series
There are essentially two:
The harness is completely redesigned.
The daypack is completely redesigned.
To compare, please see my text about the previous version of the Osprey Aether 70 pack.
---
Aether AG 70 pack – description
About the sizes first. As you see from its name, the Aether AG 70 is officially a 70-liter pack, but in fact, it comes in four different sizes/volumes. So you have 67, 70, 73, and 76 liters versions to choose in the moment of purchase. Its harness also comes in 4 different sizes, S, M, L, XL, and the same holds for the hip belt. Imagine how many combinations you have to choose for an optimal fit. If this is not enough, the harness is adjustable.
This is a top loading pack with a removable lid and a spindrift collar underneath it, but it has an extra access point on the front. It is J-shaped, the same as in the previous model, so this makes it different from the new AG 60 liters pack where the entrance is on the side.
The bottom compartment is with the standard zippered entrance, and the divider between the main compartment and the bottom section is removable.
The suspension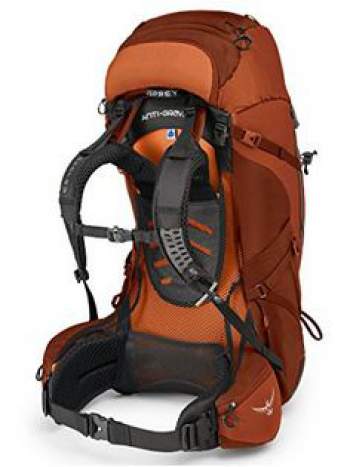 The new AG suspension is supported by the LightWire tensioned, full peripheral frame. The best part of this construction is top-to-bottom suspended mesh that wraps your back, shoulders, and hips. But this is different from their starting design used in the Atmos and Aura series, although the new tensioned mesh used here looks really cool.
The hip belt ISOFORM 5 CM is interchangeable and with custom heat molding. For molding, you can use an Osprey's oven, or you can just use the pack for several days and it will mold naturally by your body heat. So no worry about this, you will have a perfect fit in any case.
The ISOFORM 5 AG mesh harness is also interchangeable and you can choose one of four sizes.
So again, the harness and the hip belt have some break-in time and they accommodate and form to your body shape after a few wears, and this is the actual meaning of the word 'isoform'.
These features are also a bonus because family members or partners can use the same pack, and they can use their own specific molded hip belt and harness.
See here how Osprey's oven works:
To adjust the harness, slide your hand between the back panel and harness and break the Velcro hook and loop connection. After that move the harness into the desired position and press to re-engage the connection.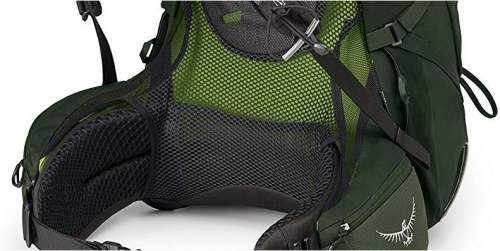 Top lid – convertible to a daypack
In the previous Aether version, the removable lid serves as a lumbar pack for short tours. This is completely changed in the new AG version where you have a fully functional DayLid daypack with 16 liters of volume.
Note, the big pack is equipped with an additional flap with buckles, to use when the lid is removed, so you can close the big pack for protection from elements.
The DayLid daypack is with the following features:
Shoulder straps are with mesh and edgeless wrap.
You have dual access to its main compartment.
It comes with an adjustable chest strap.
There is a zippered pocket.
It comes with an external hydration sleeve.
There is a tuckaway attachment loop on the bottom, which is paired with a bungee cord on the top, to attach an ice axe.
There are four attachment webbing loops.
The sternum strap of this DayLid daypack can be fixed to three different positions, there are loops on both shoulder straps for this purpose. The loops that are not used for the sternum strap, can be used as attachment points for other equipment.
So, I will not exaggerate by saying that nothing on the market can come close to this extraordinary design. There are many backpacks with daypacks, but no one can be compared with what you have here.

Pockets
There are seven in total. Dual stretch mesh pockets are on the sides, dual zippered pockets are on the hip belt, there are two zippered pockets on the lid, and you have one large stretch mesh pocket on the front.
Attachment points for Osprey's Daylite pack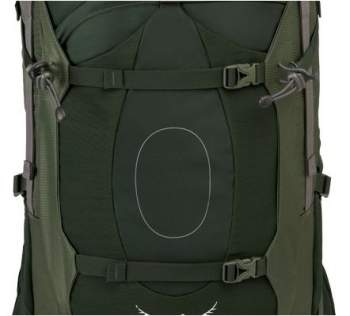 On the front of the pack, there are two vertical flaps and two horizontal straps, see the picture below. This is the part of what they call the StraightJacket compression.
When you undo the horizontal strap, underneath the flaps you will see 4 attachment loops. These are the attachment points for the Osprey Daylite pack, which is designed for such a purpose and it can be added to many of Osprey's packs.
So this is yet another bonus with the Aether 70 AG pack, though this pack is not an exception, many other Osprey packs have these attachment points, but they do not have the flap system used here.
Other attachment points & straps
I already mentioned the four webbing loops on the lid (they appear as attachment loops on the DayLid daypack). Two attachment loops are on the bottom for ice axes or for trekking poles, and those are paired with bungee cords higher up.
The pack comes with the Stow-on the-Go trekking pole attachment system. This is a nice feature typical for many packs of Osprey, useful to have when you need free hands on the fly, like when you have to scramble, to eat something or to drink, or to take a photo.
Dual compression straps are on the sides, and the lower straps are with InsideOut features. This means that you can route them through the pocket (when you only want to compress pack when not full, to ensure its stability), or you can pass them over the side mesh pockets to secure items stored in them.
There are two removable compression straps on the bottom. As already mentioned, on the front you have the StraightJacket compression straps.
---
The pack is a bit heavy but see what it offers. The weight is the consequence of many useful features. I have some objections regarding the ventilation and lumbar support and I have discussed this in my text about the Osprey Aether AG 60, so please have a look there.
There is a lot of confusion regarding:
The rain cover.

The external hydration sleeve.

The DayLid day pack.
I have been in touch with Osprey about these issues and all is described in the Aether AG 60 text. 
---
Osprey Aether AG 70 vs Competitors
Here is the Osprey Aether AG 70 side by side with two other packs from top brands, see how it compares. Note, all three packs are new 2017 models:
---
Specifications
Gender: for men.
Frame: peripheral wire.
Purpose: backpacking, mountaineering, thru-hiking, travel.
Four sizes:
– S: 67 liters (4089 cubic inches).
– M: 70 liters (4272 cubic inches).
– L: 73 liters (4455 cubic inches).
– XL: 76 liters (4638 cubic inches).
Weight:
– S: 2.3 kg (5.07 lb).
– M: 2.36 kg (5.21 lb).
– L: 2.49 kg (5.48 lb).
– XL: 2.52 kg (5.55 lb).
Carry weight: up to 27 kg (60 lb).
Torso fit:
– S: 16 – 18 inches (41 – 46 cm).
– M: 18 – 20 inches (46 – 51 cm).
– L: 20 – 22 inches (51 – 56 cm).
– XL: 22 – 25 inches (56 – 64 cm).
IsoForm harness sizes to choose: S, M, L, XL.
IsoForm waist belt sizes to choose:
– S: 29 – 31 in (74 – 79 cm).
– M: 30 – 34 in (76 – 86 cm).
– L: 33 – 37 in (84 – 94 cm).
– XL:  36 – 60 in (91 – 152 cm).
Maxium pack dimensions (H x W x D): 33 x 16 x 13 in (84 x 41 x 33 cm).
Materials:
– Main: 210D Nylon Dobby.
– Accent: 210D High Tenacity Nylon Shadow Box.
– Bottom: 500D Nylon Packcloth.
Adjustable torso.
LightWire tensioned, full peripheral frame.
Top to bottom suspended mesh.
The lid transforms to a daypack.
Access: top, bottom, front.
Sleeping bag compartment with a removable divider.
Front stretch mesh pocket.
Adjustable sternum strap with emergency whistle.
Integrated FlapJacket to use when the lid is removed.
Dual zippered hip belt pockets.
Dual upper side compression straps.
Dual front StraightJacket compression.
Dual access side stretch mesh pockets with Inside-Out compression straps.
Stow-on-the-Go trekking pole attachment system.
Dual ice tool loops with bungee tie-offs.
Removable sleeping pad straps.
Internal hydration reservoir sleeve.*
Rain cover.**
Colors: 3, see the pictures.
Guarantee: Osprey's All Mighty.
*Note, there is some confusion about this issue. I discussed this in the Aether AG 60 text.
**The same confusion, please follow the link to see more.
---
This is an addition in May 2017, they have modified the promotion video and published on May 26, so here it is:
---
Conclusion, rating, pros & cons
In summary, I do not have much more to say about this Osprey Aether AG 70 backpack, you have seen the facts and features. This is a very sophisticated tool and this is so obvious. The daypack is its true standout feature, no pack on the market can come close to it with respect to this.
Though this new AG series is not perfect and I do have some objections. There are a few missing features, and things which I am not happy with, and I discussed them a lot in my text about the 60 liters version. Note that there is a bigger version, Osprey Aether AG 85 described in the site. Please see below how I rate this Aether AG 70 pack:
You have seen the Gregory Paragon 68 pack in the comparison table above, very lightweight and advanced new design. So, just to know that it also has a daypack converted from the internal sleeve, but it is with fewer features of course.
Also, if this Aether AG 70 is too expensive for you, check the Kelty Coyote 65, this is a new pack in the series. Finally, to stress that there exists a parallel Ariel AG series for women, so please see my text about the Ariel AG 55 and Ariel AG 65.
Thank you for reading. I hope this text has been useful to you. If this is so, please share it with others. If you have any question or comment, please use the comment box below. Have a nice day.