---
Did you know that Osprey has launched new versions of their best-known packs series? Read here about the new Osprey Aether Plus and Ariel Plus Packs.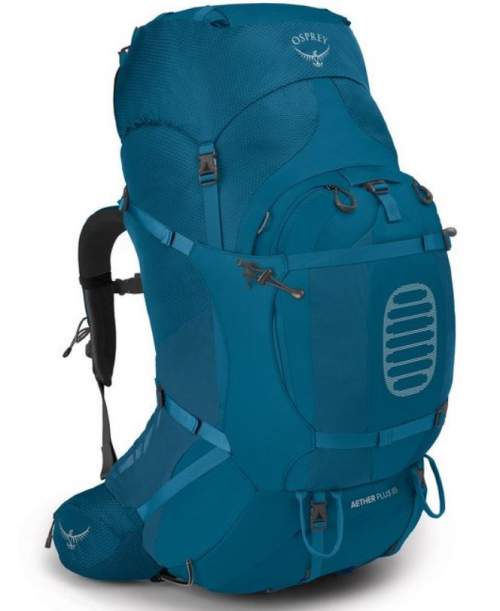 So yes you are reading correctly, they describe it as "a significant upgrade in our custom fit program". With these new packs you do not have interchangeable componentry, and they claim this is better for their retail partners because of reduced SKUs.
They also write this should be a better experience for their customers. I wonder what will be with those ovens for belt molding that are now present in better outdoor shops; one is available in a shop close to where I live. So far the meaning of the word Plus in the name remains unclear to me, but see a bit more in my separate text.
---
The most important changes
I shall not go to every detail, this will be done in separate reviews of packs from these series. Here is what I see as the most important changes:
♦ New back panel. So this is one of the biggest changes – they have abandoned their anti-gravity (AG) design and you have what they call Airscape back panel. The picture shows how it looks now: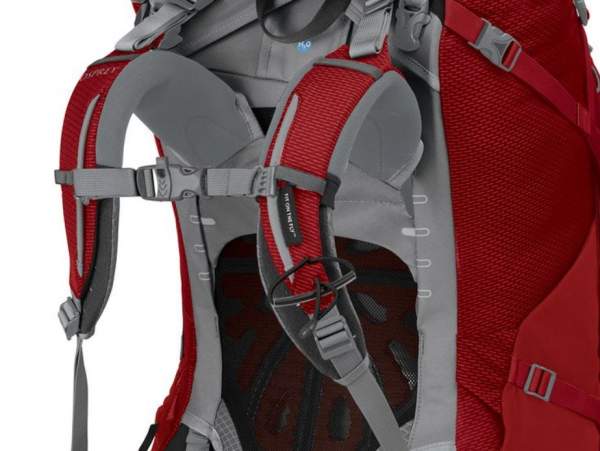 This is again an adjustable system and you can see some markers in the picture above, they will help you to find your best fit.
♦ New custom Fit-on-the-Fly shoulder strap system. You will see more about this in the video below. The point is that you can move the padding on the shoulder straps.
This is good if several family members use the same pack. So when they change the torso length, they can now change the position of the padding for improved comfort. This is a unique feature currently on the market.
♦ There is no BioForm hip belt. Now they introduced a new custom Fit-on-the-Fly hip belt. The new hip belt is not interchangeable. See how it looks: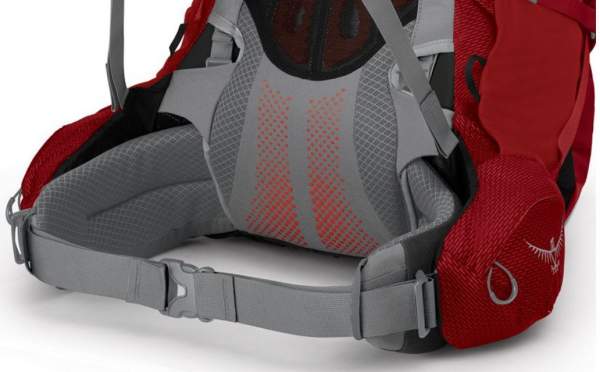 So you realize, you have a massive lumbar padding. They are re-inventing hot water, packs for heavy loads need such features. This is now similar to what they have always had in their Osprey Aether Pro series, and also to what these Aether and Ariel packs have had in the beginning.
The hip fins can be moved forward or backward, you have a Velcro hook and loop connection so you can reposition the belt as it suits you. This is a good feature, useful in the case when different people use the same pack.
♦ There is rain cover included. In the previous version this was not so.
♦ New packs are considerably heavier. To realize this, just compare:
Why such a weight? Well, you have seen the lumbar padding. This is why true load-hauling packs from some other brands like Deuter and Gregory are heavy, they must be if they are built to carry heavy loads.
There is also the back panel with foam, this so different from the previous AG mesh design, and it adds weight as well.
♦ Note that the new Aether Plus series includes also Osprey Aether Plus 100. So this is a monster for the heaviest loads and it is now a close competitor to their Xenith 105 Pack.
♦ There are 2 sub-sizes for each pack. For example, you have S/M and L/XL Osprey Aether Plus 83 and 85. As you know, in the previous version you have 82, 85, and 88 liters packs.
---
How about other features
As I said, I shall not go into details here, but no worry, these packs are still with all the great features you are used to having in these series. So the top lid converts in a beautiful DayLid daypack, the picture below shows how it looks and how the main pack converts into its smaller shape with its integrated flap: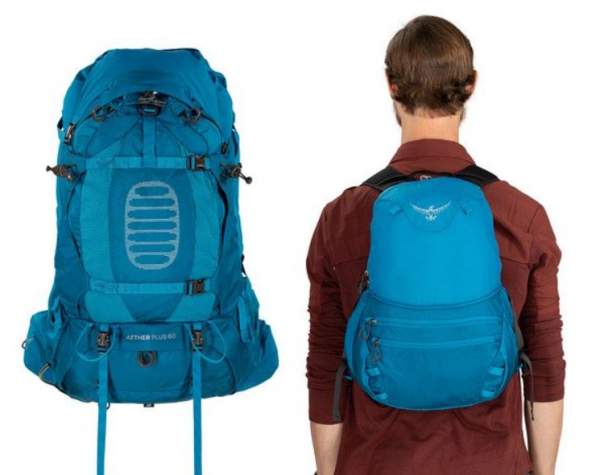 The Osprey's unique Stow-on-the-Go trekking pole attachment is still there, see the picture: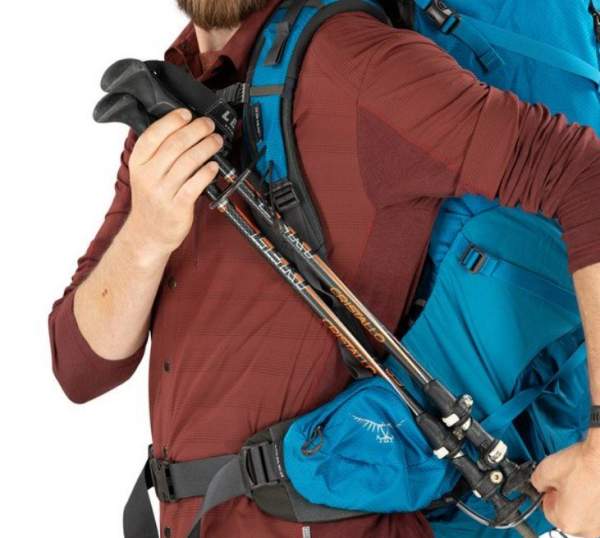 There is much more to say but I shall stop here about the features. A bit more is available in this video, please have a look:
---
So are Osprey Aether Plus and Ariel Plus packs an improvement?
I am sure there will be many with the answer "yes" and the same will be with those that will say "no". Here are just a few of my comments:
There can be nothing better than the moldable hip belt as in the previous packs. But those packs did not have the best lumbar support. This is far better here. We are all differently shaped and for some people, lumbar padding is not essential. The previous design offers more ventilation in the lumbar area. So probably there is no way to have a consensus here.
Custom Fit-on-the-Fly Shoulder Strap design is a great and practical feature.
Custom Fit-on-the-Fly Hip Belt is also great to have for different family members.
New packs are considerably heavier. I would say they are too heavy. To realize this you can see this Gregory Baltoro 85 that weighs 5.03 lb (2.28 kg). So Osprey Aether Plus 85 is 26% heavier, you have 1.32 lb (0.6 kg) more and this is far from negligible.
You might want to read my comparison of Deuter Futura Vario vs Osprey Aether & Ariel Plus, and see also the text Osprey Aether & Ariel Plus vs Osprey Xenith & Xena packs.
So what do you think? I would be happy to hear from you so please use the comment box below. Thank you for reading.