---
Osprey has recently launched the new Aether & Ariel Plus series. Here I compare them with the Deuter Futura Vario pack. Would you want to know which is better? Keep reading.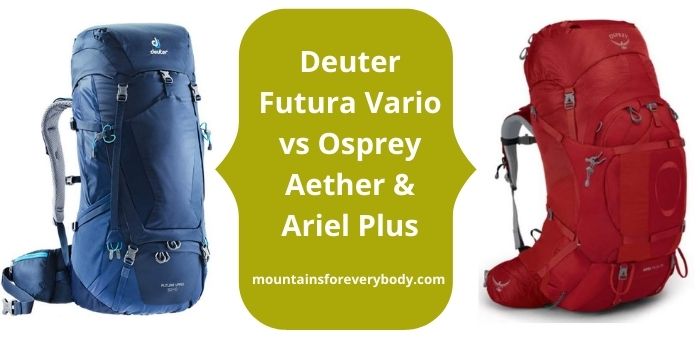 ---
Why this text
So this is about two exceptional backpacks series. From one side you have the Deuter Futura Vario which is their famous series that has been around for years.
On the other hand, we are used to seeing every year Osprey's new packs and new series, and this Aether & Ariel Plus is the latest they launched. One could say that arguably these packs include the best features from Osprey packs, and they even have some extras. So I see them as the best packs they have built so far.
About the Deuter Futura Vario, you can read in my separate review, so I shall not repeat what is there already. I shall use only some data and facts that are necessary for this comparison.
As for the Aether & Ariel Plus, the link above will tell you more what this is about. Much more is available in my separate review Osprey Ariel Plus 70 Pack. All the packs from these new Aether/Ariel Plus series share the same feature.
---
Deuter Futura Vario vs Osprey Aether & Ariel Plus – basic data and facts
In the table below you have summarized some numbers and features. Note that I take the Aether Plus 60 as a representative of the group. This is simply because its volume is the same as the volume of Deuter Futura Vario 50 + 10.
The number + 10 in the name of Deuter's pack denotes the extra volume that you have when you expand its collar. The lid is adjustable to accommodate this extra load so the pack remains fully functional. I could have taken the Ariel Plus 60 instead, the features are the same, but it is slightly lighter.
Anyhow, see how these two packs compare:
Adjustable shoulder harness
Deuter Futura
Vario 50+10
See now what I think about the features of these two packs. I give an advantage (the sign +) to one or another where I find appropriate. Note that I use just the features that are, in my view, essential. If you think I have missed something important, let me know.
Shoulder harness adjustability

Deuter Futura
Vario 50 + 10
Osprey Aether
& Ariel Plus

Here are a few words about the reasons for the rating given above.
Adjustability
There are three components here (shoulder harness, hip belt, and torso size), and clearly, the Deuter's pack is not a match here. 
Variety (of sizes)
The complete Aether/Ariel Plus series includes 7 packs. But there are two sub-sizes in each of them, so you have 14 packs in total.
Now, the Deuter's Futura Vario equals only the smallest Aether/Ariel Plus packs, so these series are beyond comparison. 
Daypack
Here, the Osprey packs are a clear winner. I do not remember any pack on the market with a better detachable daypack. So you have what they call the DayLid daypack, a fully functional pack with several pockets and lots of features.
Men/women versions
Obviously, Osprey has 4 x 2 Aether Plus packs for men and 3 x 2 Ariel Plus packs for women. On the other hand, Deuter has only one pack for men and one pack for women, the Deuter Futura Vario 45 + 10 SL. 
Attachment options
This is where these Aether/Ariel Plus packs shine. The two features make it better than the Deuter's pack, i) Stow-on-the-Go attachment for poles, and ii) the so-called Straight Jacket compression straps on the front. 
Ventilation
This is the feature where the Deuter Futura Vario pack is far better. You have its trampoline-style tensioned mesh, an original invention by Deuter several decades ago when they introduced it for the first time ever in their Futura packs.
Ventilation in the Aether/Ariel Plus packs is next to none. But the truth is that this may not be so important, these are large packs and you will sweat in any case.
Pockets
There is no winner here, both have 9 pockets. The functionality is similar, although I prefer Deuter's bellows pockets on the sides, instead of the two front/side pockets of the Osprey packs. The bellows pockets are deeper and they almost do not take space from the main compartment.
Volume/Weight ratio
The Deuter Futura Vario 50 + 10 pack is better here. You have around 29 liters/kg, while in the Osprey Aether Plus 60 this is around 22 liters/kg. The Deuter's pack is lighter even if you disregard the +10 volume. 
One could say that the Osprey Aether Plus 60 should be heavier in view of its extraordinary DayLid daypack. This is indeed so, but note that the Deuter Futura Vario has a long zipper that separates the two inner compartments as compared to a couple of plastic toggles in the Osprey packs.
Bottom compartment
The Deuter Futura Vario pack is better simply because this is a true compartment. You have a zipper on the divider that completely separates it from the main compartment.
In the Aether/Ariel Plus packs this is just a simple shelf with toggles, so smaller items can easily slide from the main compartment into the bottom part. It hardly deserves to be called a separate compartment.
Carry load comfort
I give the same + to both. But one could argue that the Aether/Ariel Plus packs are better simply because of the better adjustability. Note also that the load is closer to the body in these packs, so some will claim that stability is better.
Price
The Deuter Futura Vario pack is far more affordable. Its present version has been on the market for several years already as compared to the Osprey series that are completely new so their price is higher.
Note also that both brands use nylon in these packs, and both have the same 210 denier value. 
How about cool features?
There are indeed a few worth mentioning. The Osprey packs have several great colors, and when you see their pulls on zippers you will realize that you can use them with ease even with gloves.
The Stow-on-the-Go system may not be important for people who do not use trekking poles, but I find it very cool and also very useful.
---
Final thoughts
So this was it, Deuter Futura Vario vs Osprey Aether & Ariel Plus, it is hard to believe but it appears that there is finally a pack that can outrank the Deuter's famous pack.
But this all is not an exact science. It depends on how much "weight" you give to each and every rating parameter, and also on how you choose those essential parameters. I must say the score of the Osprey's packs looks well-deserved, the collection of features in this new Aether & Ariel Plus series is simply extraordinary.
It would be great to hear what you think. Do let me know, there is a comment box below. Thank you for reading and have a nice day.