---
This Osprey Aether Plus 85 Backpack for Men seems to be as close to perfection as a pack can possibly be. It offers a fully adjustable suspension, a daypack, a rain cover, 3 access points, and much more.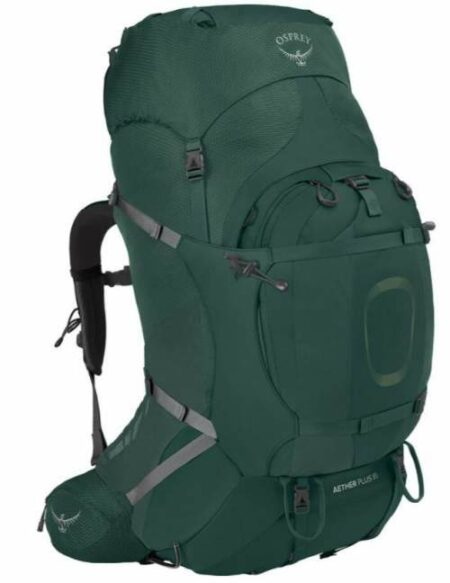 ---
Key features & benefits
Completely adjustable harness.
Three access points.
Rain cover.
Numerous pockets.
Integrated day pack.
Stow-on-the-Go attachment system.
---
What this is about
This is the second largest pack in the Osprey Aether Plus series of four packs for men. Note that they also have the corresponding Ariel Plus packs for women built in three sizes, in my separate you can read more about the Osprey Ariel Plus 70 pack for women.
Each of the four Aether Plus packs is built in 2 sub-sizes, so you have them 8 in total. You will see below in specifications the numbers for the Aether Plus 85 packs S/M and L/XL.
These packs should not be mixed with their Osprey Aether & Ariel packs. All these new series they have launched for the season 2021, and they are non-AG design.
---
Osprey Aether Plus 85 pack – overview
This is a top-loading pack with an adjustable, floating, and removable lid. The best part here is that this same lid transforms in a fully functional DayLid Daypack with several separate pockets and all the features you need in a day pack. See below how it looks, and next to it is the main pack in lidless use.
Note that the main pack comes with an integrated FlapJacket cover for such lidless use. Because of this feature, I have included this pack in my list of best backpacks with daypacks.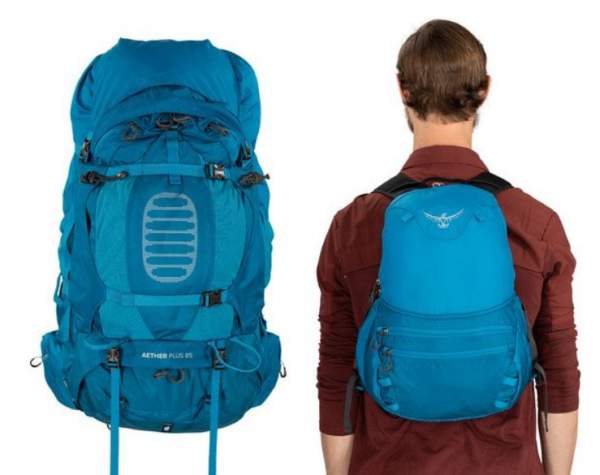 The pack has the usual bottom compartment with a zippered entry, and an inner divider between the two compartments. But you also have a huge U-shaped zippered front access point, see the picture:
Note that the pack also comes with an included rain cover, you can see it above. This is a bonus, but you do not have to use it.
Suspension
This is the most important part. Everything here is adjustable, so this includes i) adjustable torso length, ii) adjustable shoulder straps padding, and iii) adjustable hip belt padding.
This about padding adjustability means that you can move the padding in various positions so that it suits your body shape. You have markers to guide you. This is convenient also when several family members use the same pack. They describe these features as the Custom Fit-on-the-Fly Hipbelt, and the Custom Fit-on-the-Fly Shoulder Strap. You also have an ErgoPull hip belt design.
A part of this adjustability is also the mentioned two sub-sizes, note that the L/XL pack is longer, and there is a difference in the torso fit range. You will see the numbers in the specifications below.
The suspension is based on a 4 mm LightWire aluminum peripheral frame and their Airscape injection-molded die-cut foam frame sheet. The picture below shows how this looks. You have a hanging mesh above the back panel, so some ventilation is there but do not expect too much, this is a design where the pack is close to the body.
This is expected to have in a pack designed for heavy loads, the maximum recommended carry weight is 70 lb (32 kg). The massive hip belt padding and its lumbar support are such that you will be able to carry such loads comfortably. The usual adjustable sternum strap with an emergency whistle and load lifters straps are available as well.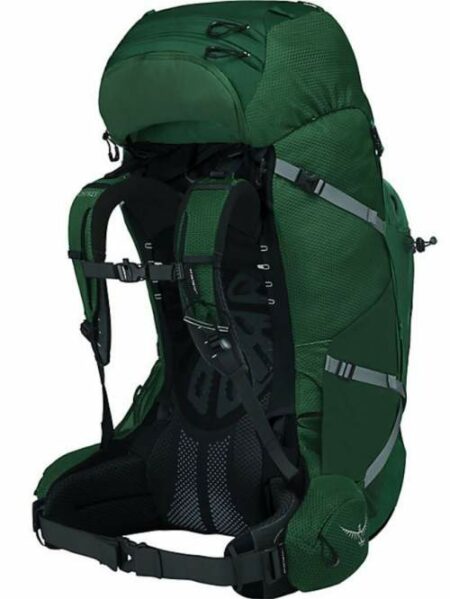 All details about adjustment steps you can read in this Aether Plus & Ariel Plus manual.
Pockets
There are many functional pockets here, 9 in total, and they include:
Two zippered hip belt pockets.
Two side mesh pockets.
Two zippered pockets on the lid.
Two zippered pockets on the front, their zippers are slightly on the sides.
One large reinforced front pocket with a buckle.
Attachment elements & straps
You will hardly find a backpack with more attachment options. Here you have all the best elements that Osprey has ever built.
So to start from the lid where there are 4 loops to attach anything with some cords.
On the sides you have the usual dual upper and lower compression straps. This helps to stabilize the load and it is useful if the load changes on the trail, for example if the food is reducing as you spend days walking.
On the front, you have what they describe as the StraightJacket compression. So these are two straps visible in the top picture above. Here you can attach larger items. This feature has been in several Aether & Ariel versions known to me.
Dual removable compression straps are on the bottom compartment.
You also have dual loops on the bottom, for ice axe or anything similar. They are in pair with dual bungee cords higher on the front.
The pack comes with Osprey's famous Stow-on-the-Go attachment system for trekking poles. I love this feature because I always use trekking poles, and have it in several of my Osprey packs. See how this looks: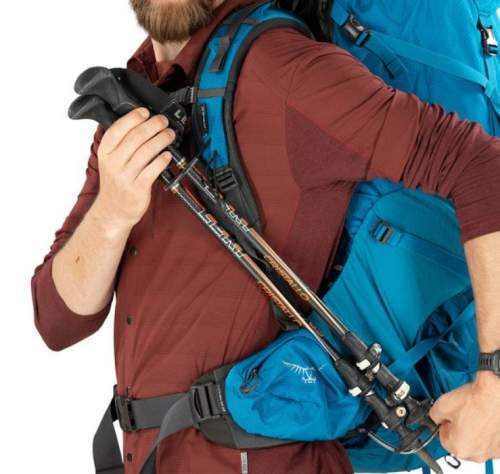 Materials
I have already mentioned the aluminum frame. Zippers are all with cool-looking pull loops which you can manage even with gloves.
The fabric is a durable bluesign-approved 210D high-tenacity nylon, PFC-free DWR. The rain cover is made of a PFC-free DWR material.
Warranty
You will want to know that this pack comes with Osprey All Mighty warranty. So this should put your mind at ease. They claim they will "repair any damage or defect for any reason free of charge – whether it was purchased in 1974 or yesterday." They also write that if they cannot repair your pack, they will replace it. Please see more in this video:
---
Specifications
Two sizes: S/M & L/XL.
Weight:
– S/M: 5.965 lb (2.7 kg).
– L/XL: 6.229 lb (2.8 kg).
Volume: 
– S/M: 5065 in³ (83 l).
– L/XL: 5187 in³ (85 l).
Dimensions (H x W x D):
– S/M: 31.89 x 16.14 x 15.75 in (81 x 41 x 40 cm).
– L/XL: 33.86 x 16.14 x 15.75 in (86 x 41 x 40 cm).
Carry load: 70 lb (32 kg).
Torso fit:
– S/M: 16 – 20 in (41 – 51 cm).
– L/XL: 20 – 23 in (51 – 58 cm).
---
Final thoughts, rating, pros & cons
To summarize this Osprey Aether Plus 85 Backpack for Men review by stressing the following. If you are in search of a pack that includes all the features you may need on the trail, this is it. They have incorporated almost all the best features of this brand in this new series of packs.
But note that they have abandoned their celebrated AG system, so here you have the design which was in the Aether & Ariel packs from the beginning. If you are a minimalist and an ounce-counter this pack is certainly not for you. It may look heavy with the weight shown in the specifications above. But see the volume/weight ratio which is above 30 liters/kg and this is a great number. 
Please see how I rate this pack, this is one of the highest ratings I have ever given to a pack, and it deserves it.
You might want to read how this series compares with the famous Deuter Futura Vario packs. It turns out that Aether & Ariel Plus packs are better.
Thank you for reading. Let me know if you have questions or comments, there is a comment box below. Have a nice day.