---
This Osprey Ariel Plus 70 Pack for Women is a backpack for heavy loads from their completely new series, with full harness adjustability, a rain cover, a daypack, and much more.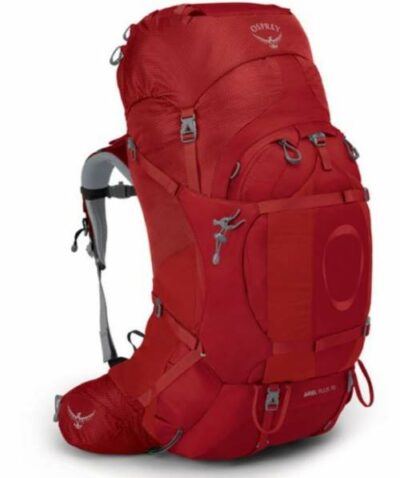 ---
Key features & benefits
DayLid Daypack.
Three access points.
Rain cover.
Completely adjustable harness.
9 Pockets.
Stow-on-the-Go pole attachment.
Two sub-sizes.
---
What this is about
If you follow my texts, then you know that I wrote about this new Osprey Aether & Ariel Plus series. There are 7 packs for men and for women, and they are built in two sub-sizes. This means you have 14 packs so this is the largest series of Osprey.
These packs include some of the best features Osprey has ever had in their packs, but note that this is not AG (anti-gravity) design. I wish to stress that these packs are different from the new Aether and Ariel (non-AG) packs that Osprey launched for the season 2021.
This Osprey Ariel Plus 70 pack for women is in the middle of the three packs, there are also Ariel Plus 60 and Ariel Plus 85. You can see more about all these packs in this manual. 
---
Osprey Ariel Plus 70 backpack – overview of features
So I would start from the top where you have a top opening and a floating top lid so you can add extra load when needed. But this lid is also removable completely, and it transforms into their DayLid daypack. In this case, the main pack can still be closed because you have an integrated FlapJacket cover. Below you can see how this looks: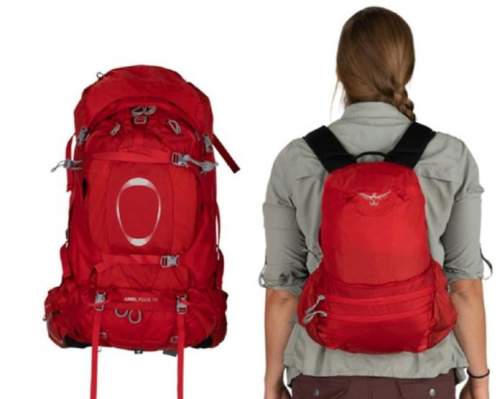 So this feature alone sets this backpack apart from many of its competitors because the DayLid daypack is, in my view, the best design of a detachable daypack on the market. Because of this feature, I have included the pack in my list of best backpacks with daypacks.
The pack has three access points to the main compartment, the first is the mentioned top opening, the second is the large front zippered access point (see the picture below), and the third is the bottom access.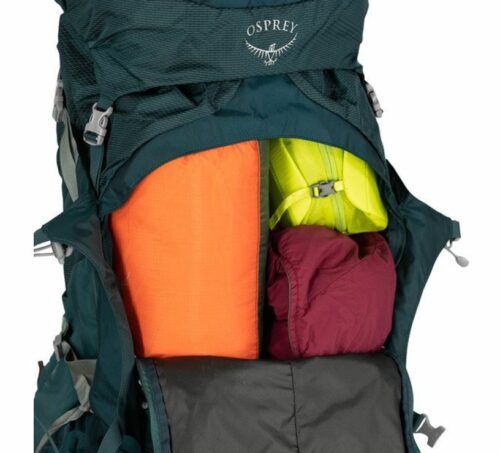 The bottom access is formally described as the sleeping bag compartment, and inside you have a removable divider. But I am not impressed with this design, the divider is just a shelf that attaches with toggles. So small items can easily slide down to the bottom.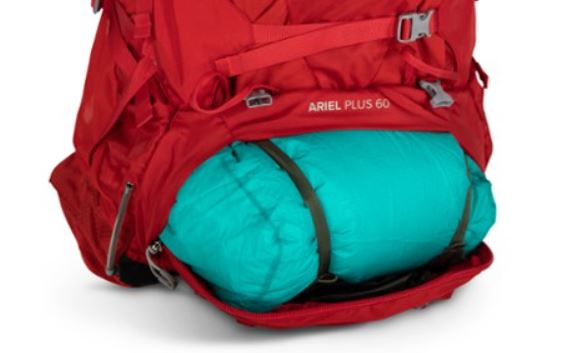 The pack is hydration compatible so you have a sleeve in the main compartment. The port is behind the neck, see the picture. You can route the pipe on either side. There is a rain cover included as well, it is shown below.
Suspension
This is the most important part of the pack simply because it is so huge, and it is essential that the pack fits your body. So no worry, here you have one of the best designs on the market. In short, all three crucial elements of the harness are fully adjustable.
The torso length is adjustable. You can slide the whole harness up or down. This is a continuous system with straps on the sides so you can have any torso length within a given range. Now, observe that you have two sub-sizes, XS/S and M/L. This means two packs with different volumes but also packs with different torso lengths. The numbers are in the specifications below. 
This means you have an adjustable shoulder harness padding. You can move it and put back in place easily, it attaches due to Velcro tabs that are available there. This is what they call the Custom Fit-on-the-Fly Shoulder Strap system. The picture below shows the markers that guide you a bit.
Finally, there is the Custom Fit-on-the-Fly Hipbelt. This means that here too you can reposition hip belt fins, you can also move them a bit in the vertical direction to adjust to your hip curve. Here too you have markers for guidance, see the picture below.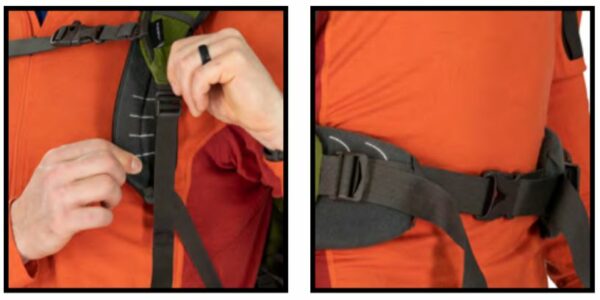 In addition to this you have the usual small adjustability with shoulder straps and the hip belt front straps. Load lifters are in place, and you also have an adjustable sternum strap, with vertical and horizontal adjustability. See how the suspension system looks: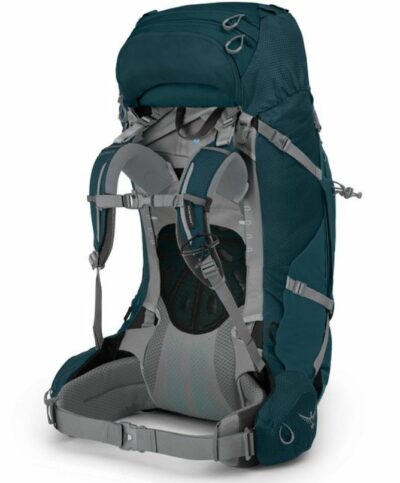 The back panel is what they call the AirScape back panel. They claim it is breathable because of numerous cut-outs and the mesh that covers them. The picture below shows how it really looks behind the mesh: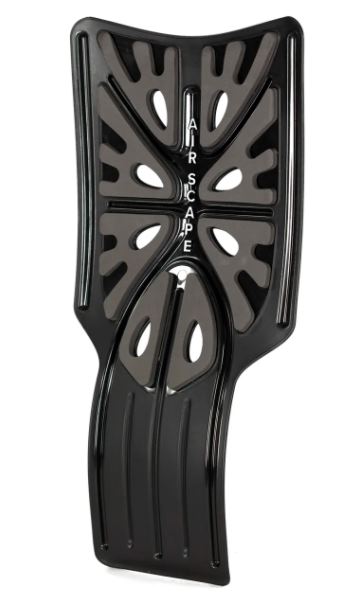 I would not count on any breathability with such a large pack and with this design. You will sweat in any case, the cut-outs are mainly to reduce the weight. But the purpose of this design is to keep the pack close to your body, this is good for stability and to manage heavy loads.
Observe also the massive lumbar padding, this is quite similar to their Xena packs, perfect for heavy loads.
See below how nice some of the features on the shoulder harness look. You can see the following elements: an emergency whistle, an adjustable sternum strap, a bungee cord from the Stow-on-Go system, a bungee cord on the right for the ice axe attachment, and markers for the torso adjustment.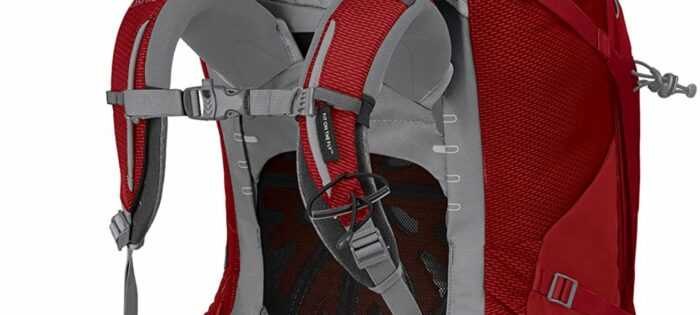 Pockets
You have a full set here, no less than 9 pockets as follows:
Two pockets are on the lid, see the picture.

Two pockets on the lid.

Two pockets are on the hip belt (the picture below).
You have the usual side mesh pockets with dual access from the top and from the side, one is shown below.
There are two zippered pockets on the front, both shown below.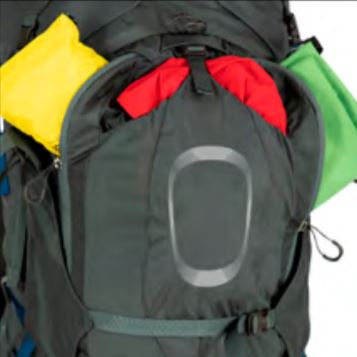 One large fabric-reinforced front shove-it pocket is on the front.
Attachment elements
I would start again from the top where you have 4 loops on the lid. So here you can fix anything and you can do this even when you use the lid as a daypack.
Dual compression straps are on both sides. So you can use them to stabilize the load in the main compartment, and also to fix in place any elongated item that you attach on the side, or that is eventually stored in the side pockets.
You have dual front panel compression straps, this they describe as the StraightJacket compression. You have the same feature in all Aether & Ariel packs.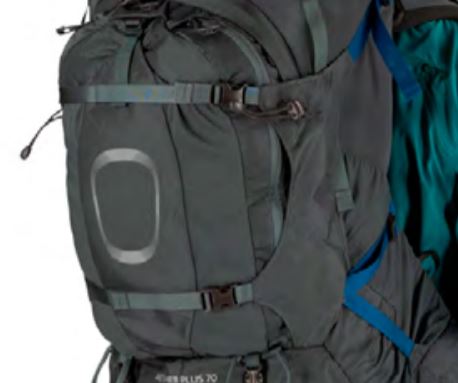 Dual removable compression straps are on the bottom compartment.

Bottom straps.

Dual loops are on the bottom, for ice axe or anything similar. They are matched with dual bungee cords higher on the front.
Osprey's famous Stove-on-the-Go attachment system for trekking poles. I have this in my Osprey packs and I find it truly useful. But if you do not use trekking poles, this is immaterial for you.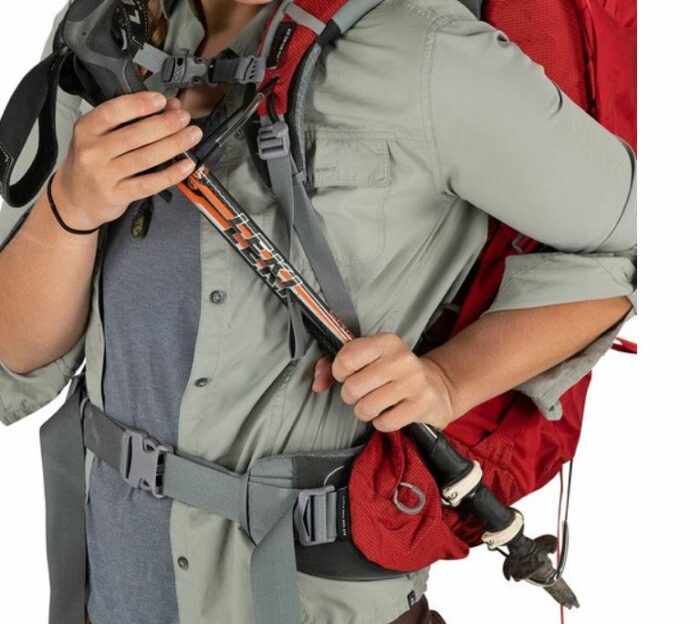 Please see a bit more in this video:
---
Who is this Osprey Ariel Plus 70 Backpack for
This pack has so many features that it is easier to ask who it is not for. Namely, I think it is good for any activity, no difference if this is travel, expedition, backpacking, or hiking. 
In view of its weight, no doubt that ounce-counters will rather look for something different. The volume/weight ratio is around 26.6 liters/kg and this is far from bad. But see how many features this pack includes and you will realize that the weight is justified. 
As for the capacity, it can take as much as a woman can carry. You have plenty of volume inside, and many options for attachment of gear from outside.
Regarding the price, this pack is new on the market and the price is steep. This might change in time, I am sure this pack is going to stay around for many years.
---
Specifications
Gender: women-specific pack.
Two sub-sizes:
– XS/S: 4150 in³ (68 l).
– M/L: 4272 in³ (70 l).
Weight:
– XS/S: 5.541 lb (2.51 kg).
– M/L: 5.797 lb (2.63 kg).
Dimensions:
– XS/S (H x W x D): 30 x 15 x 13 in (75 x 38 x 34 cm).
– M/L (H x W x D): 32 x 15 x 13 in (80 x 38 x 34 cm).
Torso length:
– XS/S: 14 – 17 in (36 – 43 cm).
– M/L: 16 – 19 in (41 – 48 cm).
Waist/Hips fit: 26 – 50 in (66 – 127 cm).
Materials:
– 210 denier nylon, Bluesign-approved, high-tenacity, PFC-free, and DWR.
– 3.5 mm LightWire peripheral frame.
---
Final thoughts, rating, pros & cons
In the summary of this Osprey Ariel Plus 70 Pack for Women review, I would say without any doubt that this is one of the best packs on the market. It is expensive, and it is not exceptionally light, but it includes the best features that are available in Osprey's packs.
This pack offers far more than the new non-AG Aether and Ariel packs, so this is a Plus pack in the true sense. Fully recommended. I have included it in the best backpacking packs for women and also in the best expedition packs.
Please see how I rate this pack: