---
The Kelty Asher 55 Backpack for Men & Women is ultralight in spite of its spring steel frame and durable fabric, with an adjustable torso length and a great price tag. Keep reading.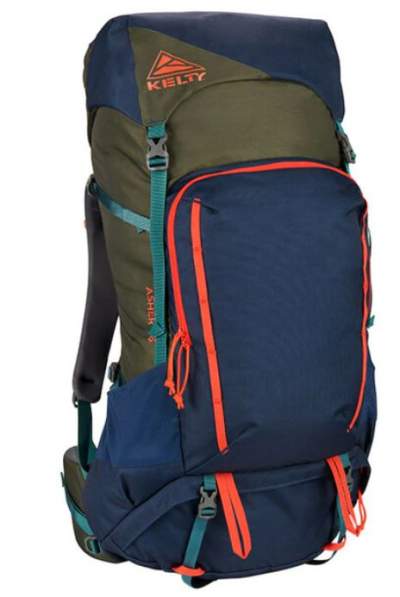 ---
Key features & benefits
Ultralight pack.
Adjustable torso length.
Spring steel frame.
Incredible price.
---
Overview
This Asher 55 is built in two versions, for men and for women. The focus of this text is on the men's pack but the essential features are exactly the same.
So this is a top-loading pack with a classic lid and collar. The inner organization is standard, you have the main compartment with a reservoir sleeve and a zippered bottom compartment shown below. The divider between the two compartments is removable.
Suspension
This all is based on a peripheral lightweight spring steel frame combined with a flexible HDPE frame sheet, and a ventilated AmpFlow back panel. The torso length is adjustable, and this design they call the FIT-Pro.
Essentially, you have a Velcro hook-and-loop connection, so this is a continuous system that you can position at any length in the 15.5 – 21 inches (39 x 53 cm) range. Simply disengage the connection, move the harness and then press it back in place.
The usual adjustable sternum strap and load lifters are in place. These elements allow you to control the load when the pack is on your back. With load lifters you can stabilize the upper part of the pack when you navigate some exposed passages and need stability.
The hip belt visible in the picture above is very wide and with good padding. The shoulder harness padding is also very appropriate for a pack of this size.
Pockets
The pack has a top pocket on the lid and one large front zippered pocket, see the pictures below.
There are also side stretch pockets for water bottles or for any elongated items that you can carry on the sides of the pack. See the picture that shows how you can keep your trekking poles there: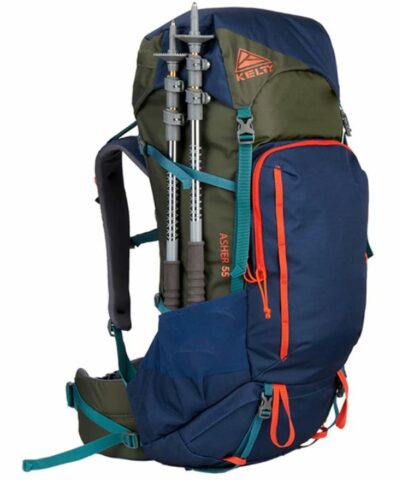 Surprisingly, they have added only one stretch pocket on the hip belt. It is low profile and I find it not so useful. See below how it looks. I do not think I would risk losing my phone by putting it in such a pocket. But in any case, pity they have wasted such a valuable space without adding yet another (better) pocket.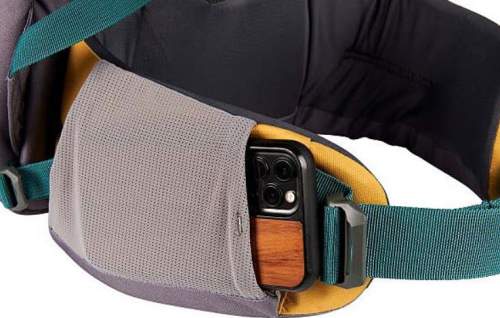 Attachment elements & straps
You have the usual dual side straps on both sides. The picture below shows one side. You can see also the stabilizing strap on the hip belt.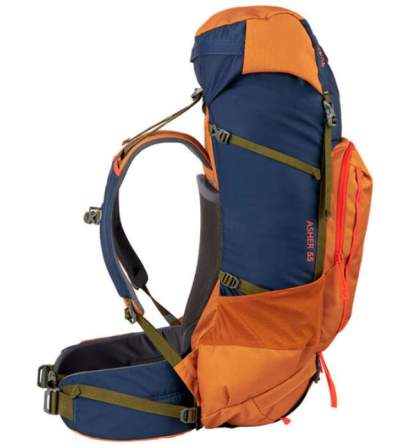 There is a pair of straps on the bottom compartment. So here you can attach your sleeping pad or your tent. A pair of loops are available for trekking poles or for an ice axe.
Note also a pair of daisy chains that run parallel on the front of the pack. With some extra cords, here you can attach some bulky but not very heavy items.
Materials
You have already seen about the materials used in the suspension system. The fabric is a durable 600D polyester Oxford and 420D polyester. Such a good denier value is surprising for a pack of such a weight. They build it in several different color combinations, you have seen them in the pictures above.
---
Who is this Kelty Asher 55 pack for
Regarding the capacity, in view of its 3356 in³ (55 L), this pack is a great option for overnights and weekend tours. It can even be used for extended backpacking trips if you do not carry lots of bulky stuff.
Regarding the weight, here you have a pack with a volume-to-weight ratio of 44 liters per kilogram of pack's weight, and I can tell you this is a great number. So this is an ultralight pack in spite of its spring steel frame. This makes it very suitable for hikers and backpackers, and for practically any other outdoor use and for travel.
To realize how light this is, you can compare it with the new Osprey Aether 55 pack where the volume to weight ratio is around 25 l/kg.
Regarding the price, it is simply incredible for such a top brand. It is not the first time that Kelty comes with such an affordable yet good product.

Please see more about this new series in the video below:
---
Specifications
Weight: 2 lb 12 oz (1.25 kg).
Volume: 3356 in³ (55 L)
Dimensions (H x W x D): 27.56 x 17.72 x 12.2 in (70 x 45 x 31 cm).
Torso size range: 15.5 – 21 in (39 x 53 cm).
Waist fit range: 28 – 50 in (71 – 127 cm).
Maximum carry weight: 55 lb (25 kg).
---
Final thoughts, rating, pros & cons
In summary, I do not think that this Kelty Asher 55 Backpack for Men & Women is the best pack this brand has built. A few things are missing, but you can ignore this if they are not of importance to you. But this is a reliable and versatile product that will do the job no matter where you use it, and you will not have to break the bank to have it. This is why I can fully recommend it.
Please see how this pack stands against my usual rating criteria:
Please check in the category Large Packs if you need more options. You might want to compare this pack with the new and nicely ventilated Gregory Katmai 55 Backpack for Men or with this Sierra Designs Gigawatt 60L Backpack.
But if you want a larger pack from the same Asher series, please check the Kelty Asher 85 Backpack.
Thank you for reading. Let me know if you have questions or comments, there is a comment box below. Have a nice day.