---
The Sierra Designs Gigawatt 60L Backpack comes with a steel frame and an adjustable torso length, and with a price/value combination that is hard to match.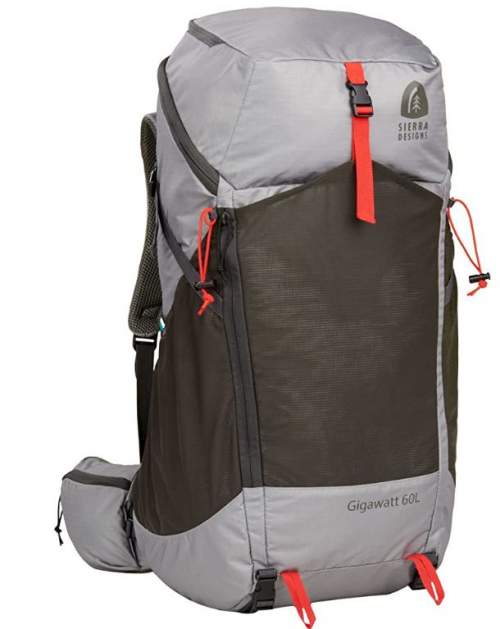 ---
Key features & benefits
Steel frame.
Adjustable torso length.
Top & side access points.
Incredible price.
---
What this is about
This Sierra Designs Gigawatt 60L Backpack is designed as a top loader but without a classic lid. You have a zippered access instead. Normally, I like to have a lid because it implies certain features that I love to have. But indeed, this is a very quick access to the main compartment.
There is also a side zippered access point. But in my view the zipper is too short. I would rather not use it frequently because if the zipper fails you have no pack any longer. 
Suspension
The suspension is based on a spring steel peripheral internal frame. You do not see it, but it is behind the back panel.
The torso length is adjustable, you have a Velcro connection behind the harness, below you can see that they have added markers to guide you. This is easy to use, just break the connection and slide the harness into your desired position and then press to re-engage.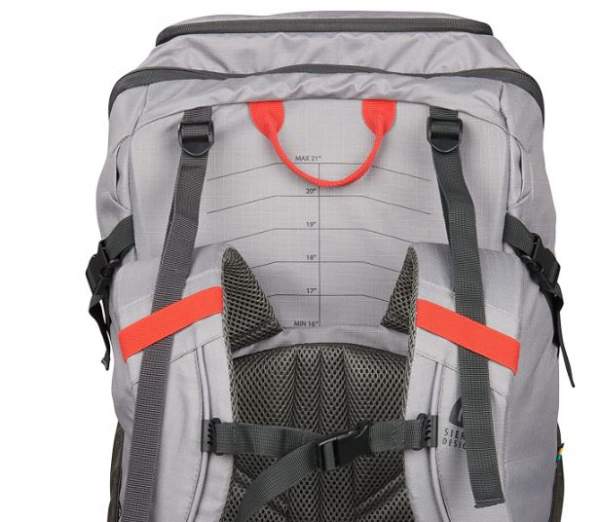 The back panel is nicely padded and you have some ventilation features. But this is a design that keeps the pack closer to the body so do not expect too much ventilation here.
Load lifters are in place, as well as the sliding and adjustable sternum strap, these details are visible in the pictures.
The hip belt padding is massive and you can see this from the picture below. The same holds for the lumbar padding.
Note that here you have V-shaped front straps, and there are extra buckles on both sides to adjust them so that you have a better hugging of your hips. Though the main front buckle is surprisingly thin, and this is the most important buckle on the pack.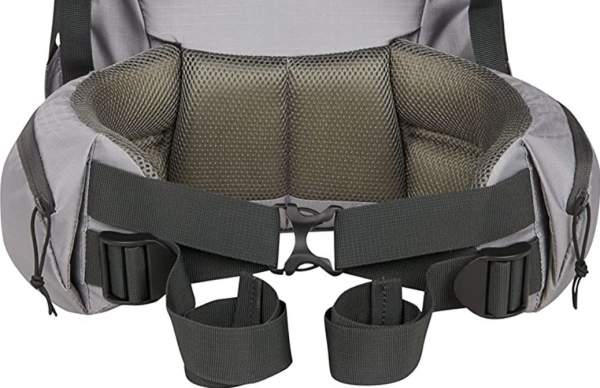 Pockets
This pack has a top zippered pocket for smaller items. Inside of it, you have yet another separate mesh zippered pocket.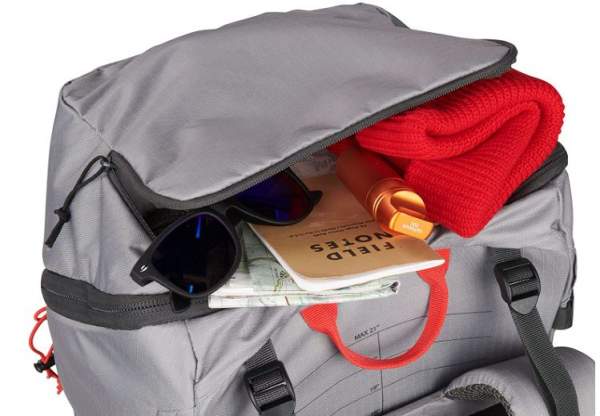 There is a large stretch mesh pocket on the front equipped with a top buckle to secure the stuff that you carry inside.
You also have two side stretch mesh pockets. They are very large but the mesh is not particularly stretchy.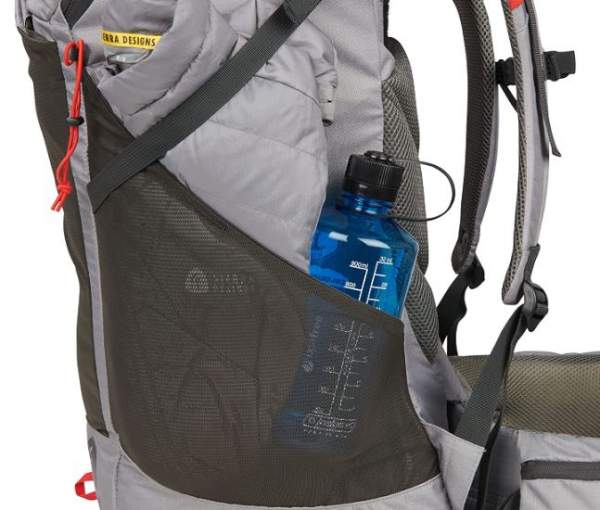 The hip belt has two large zippered pockets, see how this looks: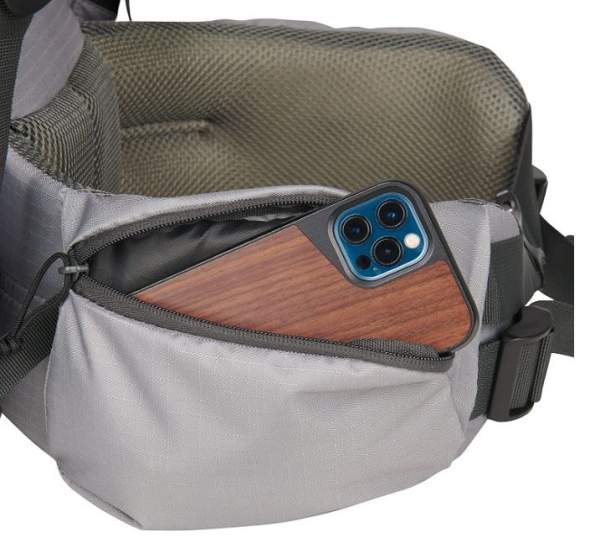 Note that the bottom parts of the front and side pockets is ripstop fabric, see the picture below, so the pockets go completely to the bottom. This part is not stretchy and it is almost useless because it is tight, especially when you have bulky items in the main compartment. On the other hand, you will have rain funneling in it. Pity they did not add some holes to drain the water away.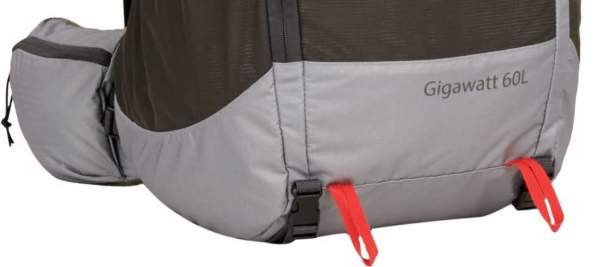 Attachment elements & straps
There are dual loops on the bottom, see the picture above, they are paired with bungees higher on the pack. So this is to attach your trekking poles and an ice axe.
Dual straps are on the bottom-front part, so here you can attach your sleeping pad or your tent.
You have stretchy straps on the shoulder harness, these are the orange pieces that you see in the pictures. So here you can attach glasses or some holster with your compass or anything similar.
There is also a compression strap on each side, see one below.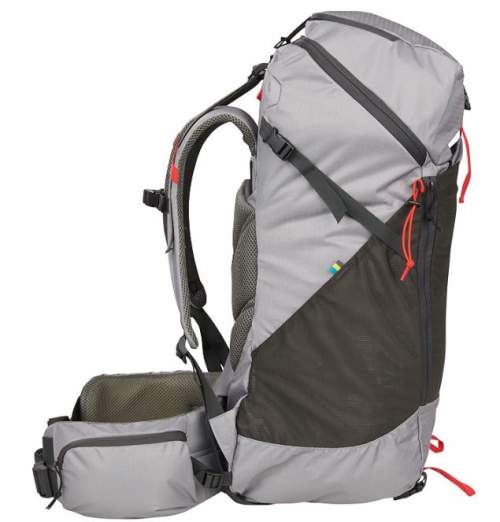 Materials
I already mentioned about the frame. Ad for the fabric, you have a durable 300x400D polyester ripstop. 
Please see more in this short video:
---
Who is it for
Regarding the weight, the pack is in the group of very light packs with its volume/weight ratio of 32.6 liters/kg. But there are lighter options on the market if you need something for very long tours where the pack's weight really matters.
Regarding the capacity, you have a 60-liters pack that is suitable for overnight and weekend outdoor adventures. The number of lash points on the pack is somewhat limited. 
Regarding the price, it is simply incredible for such a pack and for such a renowned outdoor brand.

---
Specifications
Volume: 3661 in³ (60 L).
Weight: 4.06 lb (1.84 kg).
Dimensions (H x L x W): 26 x 10 x 11 in (66 x 25.5 x 28 cm).
Torso fit range: 16 – 21 (40 – 53 cm).
---
Final thoughts & rating
In summary, iIf you do not want to spend much on a backpack that you will use only occasionally and for weekend or overnight tours, you should not think twice, this Sierra Designs Gigawatt 60L Backpack is the one to consider.
This pack is not ultralight but it is in the category of light packs for its size. Of course there are much lighter packs for long tours, but you will not easily find something with such a price-feature combination.
Below you can see how I rate it against my usual rating criteria so that you can easily compare it with other items of this type:
BEST PLACEs TO BUY
For more options, please check under the category Large Packs. Bookmark this site and come again, this will keep you informed because I add texts here regularly. Let me know if you have questions or comments, there is a comment box below. Have a nice day.