---
The Osprey UNLTD packs have two major downsides, the price and the weight. There are good reasons for both, and they are presented here. Keep reading.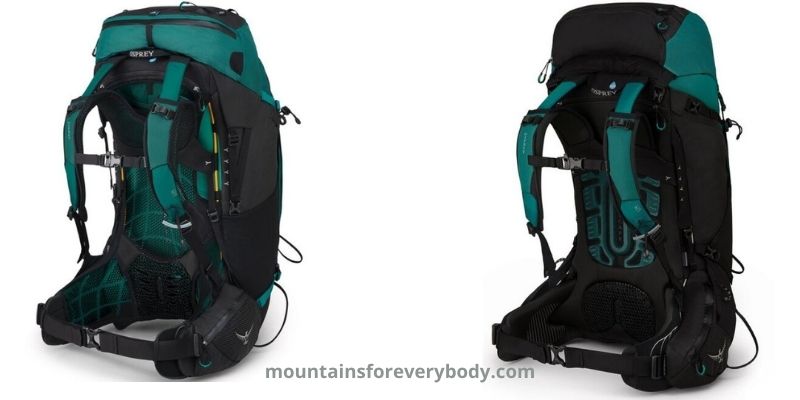 I announced Osprey UNLTD packs in my earlier text where both series are presented with a couple of videos. But the numbers are given in my different texts. So if you follow the link to my text about Osprey UNLTD AirScape packs, you will realize they are heavy. I give here the weight of the 68-liter version (S/M) for men:
Weight S/M with rain cover: 6.27 lb (2.84 kg).
Weight without rain cover: 6.06 lb (2.75 kg).
The Osprey UNLTD AntiGravity 64 is a bit less heavy but it is still in the range of heavy packs. Here are the numbers of the S/M version for men:
Weight S/M with rain cover: 5.46 lb (2.5 kg).
Weight without rain cover: 5.25 lb (2.4 kg).
I shall go through the AirScape pack's elements and point out those that most likely add extra weight. I say most likely because for some of them this is not so evident and I cannot check. So here they are:
1. Top lid
You understand that this is not just a lid. This is a complete day pack with its own shoulder straps, a carry loop, and a sternum strap. See the picture below, does this look like a lid to you? These elements add extra weight.
When used as a lid, its volume is 8 liters. When used as a DayLid daypack, its volume is 18 liters. What does this mean? It means there is extra fabric which is stored into itself so you expand it when needed.
The lid is floating, so this means extra buckles and extra straps that add weight. A sewn-in lid is always lighter, but it is less functional.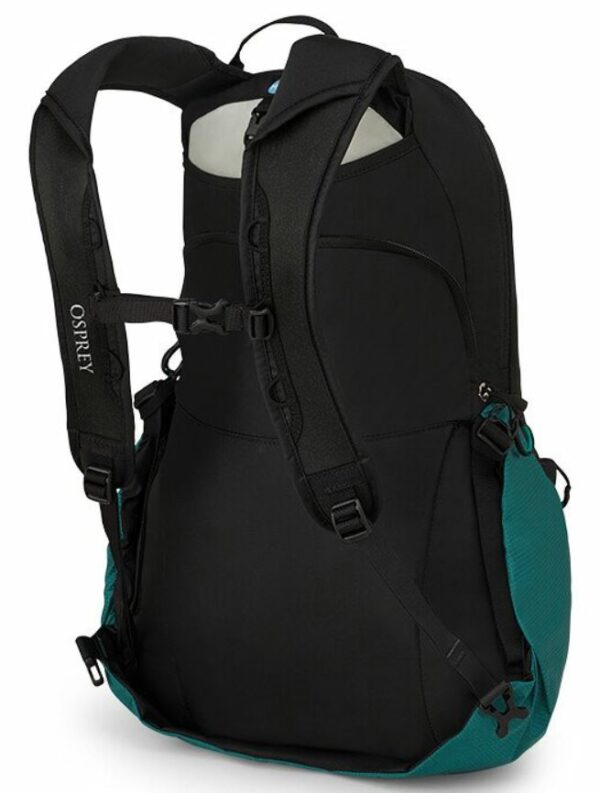 But note also that the lid of the AirScape packs weighs 0.75 lb (340 g), while the lid of the AntiGravity packs weighs 0.5 lb (220 g). So the difference of 120 grams is something I would not mind for such a great extra day pack.
The lid in the AntiGravity packs is also removable and can be used as a lumbar pack, but it is inferior to the functionality of the DayLid daypack. 
2. FlapJacket 
This is a very useful detail, it closes the pack completely in lidless use. But see what this implies:
There is a separate pocket with a zipper. This is extra weight.
The FlapJacket itself is a piece of fabric that adds weight.
It comes with its own buckles which you connect to the front buckles. Guess what, these add weight.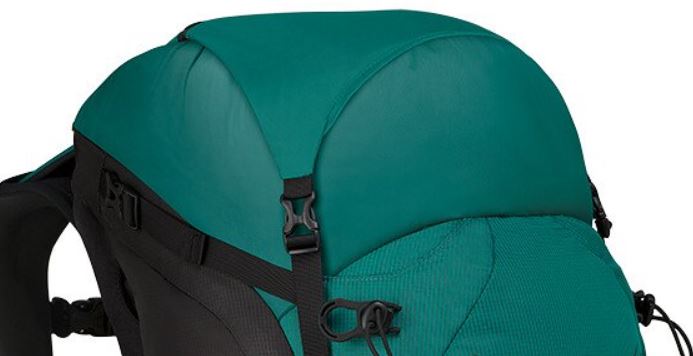 3. Separate hydration sleeve
This is again something very convenient to have. Personally speaking, I do not need it at all because I do not use bladders, but many people like to have it. This adds weight with the following:
There is extra fabric used for the sleeve.
There is an extra zipper for the sleeve.
4. AutoLift design
So instead of usual load lifters, you have quite massive extensions of the shoulder straps. Though standard load lifters normally have buckles and straps, so the combined weight may be comparable.
Note also that those extensions straps go through extra sleeves that you can see on the shoulder harness. This is an extra material and an extra weight.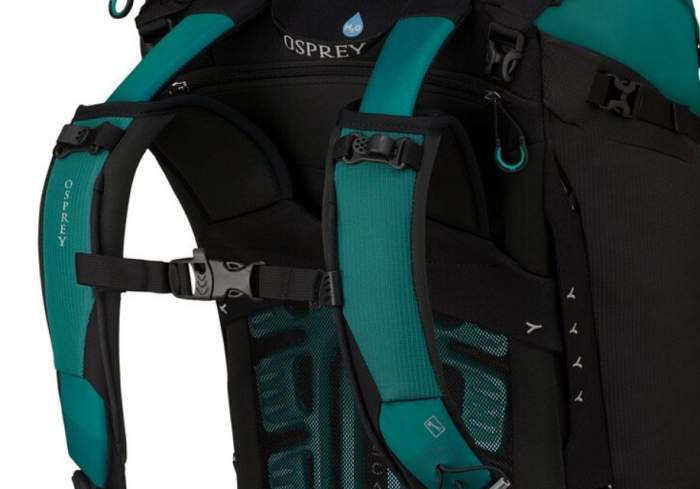 5. Injected molded hydration hose routers are on both shoulders
These elements are surely heavier than the usual webbing. You can see them in the picture above.
6. Side loops that are added for skis
No much to add here, this is an extra weight.
7. Inner compression divider for sleeping bag storage
Packs normally have a divider so this would be more or less the same weight. Though here you have a huge U-opening on the front so a divider would not be necessary in any case.
Bit this compression element is surely convenient, it may save lots of volume in the main compartment. In some situations it is probably better than a standard bottom compartment.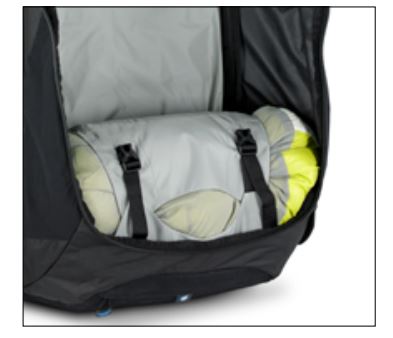 8. Massive polycarbonate vacuum-formed framesheet 
This adds to the stability of the pack. No idea how heavy it is, but a stabilizing cross bar instead of it would surely be lighter. Would it be better? Probably not. You can see its picture in my text about Osprey UNLTD AirScape packs.
9. Fit-On-The-Fly harness adjustment for torso length
This is a very convenient extra feature that adds weight. It includes two straps on the sides, with the self-locking cams that allow for torso length to be quickly and easily adjusted.
10. Fit-On-The-Fly hip belt adjustment
How could this add weight? Well, the padding seems to be longer than in standard packs because it allows for extension. Then there are extra Velcro tabs that keep it in place. Yes I know, this is about grams, but they add up.
11. Stow-on-the-Go trekking pole attachment system
This is a great feature and I use it in my packs a lot. But this also adds weight, there is one loop on the side, and yet another on the shoulder harness.
12. The rain cover pocket
This is an extra element on the bottom that adds weight with its fabric and zipper.
13. The front access zipper
These packs are without a separate bottom compartment, but this is why they have a large U-shaped zippered front access. The zipper of this access point is much longer than the standard bottom compartment zipper, so this also adds a bit of weight.
---
So these are elements I noticed that add extra weight to these excellent Osprey UNLTD Packs. Now, which of them you would not want to have? 
These top brands keep adding features, which looks cool, but these same features make them almost useless because they are becoming too heavy.
I have a great comment under a YouTube video where somebody says that these packs are becoming similar to some of those Swiss knives. He wanted to say, they have so many extra features that they are almost useless as knives.
But it is fair to say that the Osprey UNLTD AntiGravity packs are with the same volume-to-weight ratio as the Deuter Futura Air Trek or Gregory Katmai, and they are definitely not the heaviest packs on the market. 
---
But how about the price?
When you see all these extras, then you realize why the price is so steep. Note that and I did not even mention the unique lumbar with its industry-first 3D printed Fitscape design with Carbon DLS Technology.
These packs come with a unique combination of features, and some of them you will not find in any other pack on the market.  
In the video below, Osprey's owner Mike Pfotenhauer says: "This is our pursuit of new processes design concepts and technologies with less regard for costs involved. It allows us more freedom to experiment with materials and manufacturing processes that normally would be beyond our price points." So now you know.
So there are reasons for both the weight and the price. Note that I have a separate text with a comparison Osprey UNLTD AntiGravity 64 vs Osprey UNLTD AirScape 68 Packs.
It would be great to hear what you think. Let me know, there is a comment box below. Thank you for reading.