---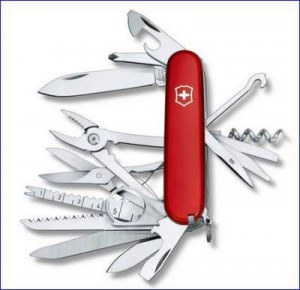 The Swiss Army Knife review which you are reading now is about a tool which is always in my pocket, in everyday life as well as in my mountaineering activities.
I am sure you probably already know something about this great tool. Hopefully, in this text, you will find enough useful information which will help you decide whether to buy it or not and which model to choose.
Also, if you are looking for a nice gift for somebody whom you appreciate and want to give something that will be remembered and used for the rest of his/her life, then this is a great choice.

Essential facts about Victorinox Swiss army knife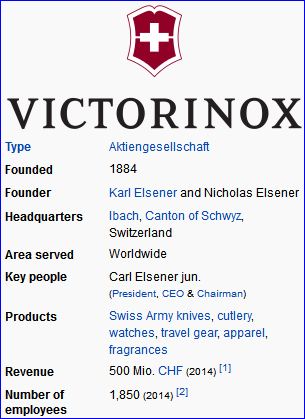 • The Swiss army knife is a typical example of a product which has become far more famous than its own brand Victorinox itself.
• Victorinox is a Swiss company founded in 1884. Here on the right, you may see a screenshot of a page from Wikipedia, with some details about the company.
• You may also see the famous logo of the company, the cross on the shield, which dates back to 1909.
• The company's name comes from 1901. It is a combination of Victoria, the name of the mother of the inventor, and the word "inox," or stainless steel.
• So the knife has been produced for over one century, it is the best pocket knife in the world, a multi-tool piece of equipment which is good to have with you in every situation.
• There are around 350 models ever made, though not all of them have entered into mass production. In fact 'only' around 260 models have been available in the market.
• Victorinox is the biggest pocket knife producer in the world, their Swiss army knife has been sold in more than 130 countries. So, there must be reasons for that. I would say it is the quality of the knife.
• This is a truly Swiss product, all pieces of it that have completely been made in Switzerland. The highest standards are applied to achieve perfect quality and functionality.
Some more details you may like to know

Millions of Swiss knives have been made annually.
Even some American presidents have been using it, like R. Reagan.
It has been used by NASA astronauts, see the attached document.
Different models have a different number of tools, up to 22 tools (including a magnifying glass, stainless steel pin, etc).
The biggest model has 200 functions, but it has not been in mass production.
Some models have altimeter and barometer, great tools for hikers and mountaineers.
All of them are subject to extensive quality control, and specifications are followed exactly without exception.
The knife has PVC handle in many colors, the most famous being red of course.
When you buy a Victorinox Swiss army pocket knife you have a lifetime warranty.
This about warranty is not just a phrase. There is a long movie from National Geographic.


90 years old knife in Victorinox repair shop.

I warmly recommend you to see it. You will see a knife from 1924 which has arrived at Victorinox repair shop, and they are repairing its handle.
If you have no time to watch the video, here is the screenshot from it on the right, showing the 90 years old Swiss army pocket knife from the movie, which was in the factory repair shop.

In the USA there exists a Swiss army knife collectors club with more than 10.000 members.
There exists a 'collector model' of a knife, with 80 different functions.
Length and thickness
• It is good to know that Victorinox knives exist in the following sizes (when they are closed):
58 mm (2.3 in), 74 mm (2.9 in), 84 mm (3.3 in), 91 mm (3.6 in), 93 mm (3.7 in), 100 mm (3.9 in), 108 mm (4.3 in), and 111 mm (4.4 in) lengths.
• Obviously, the thickness will depend on the number of tools (see below), and some models go up to 15 layers, not really handy if you ask me.
Some of the tools on Swiss army knife
Long blade.
Short blade.
Wood saw.
Scissors.
Magnifying lens.
Can opener.
Hoof cleaner.
Pruning blade.
Shackle opener.
Marlin spike.
Nail cleaner.
Metal saw.
Hook.
Wire scraper.
Pharmaceutical spatula.
LED light.
Screwdriver.
Wire cutter.
Corkscrew.
Stainless pin.
Altimeter.
Barometer.
Thermometer.
Toothpick.
Tweezers.
Digital clock.
The list is far from complete but you get an idea. Of course, not all models have all these tools. You will have to choose what you need.
How to choose the knife and to avoid imitations
The knife has a spring feature which distinguishes it from imitations. It produces a typical click-clack sound when any of the tools is open or closed. This is one of the features to bear in mind when you buy one, to avoid bad quality imitations.
When you buy one, also look for the logo on the handle.
Take care that it has Victorinox inscription on the blade, as you may see it in the picture on the right.
Buy only from reliable vendors and shops. There is a huge variety of models available on Amazon.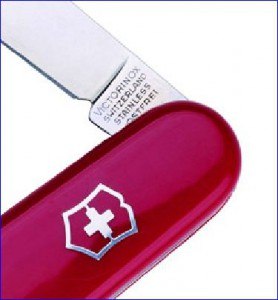 Swiss soldier knife 08

From 2008 Swiss army uses so-called solder knife 08, shown in the picture. The same year German army accepted it as a tool as well. It comes with PVC handle in several colors and it has the following tools: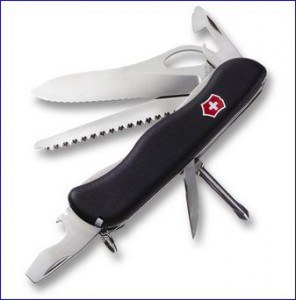 One-hand lock blade (see it on the right), it can be open with one hand.
Can opener.
Wood saw.
Reamer.
Cap lifter with a screwdriver.
Wire stripper.
Key ring.
Locking bottle opener.
Screwdriver.
Features of Swiss Soldier knife 08:
Length 111 mm (4.4 in).
Width 34.5 mm (1.36 in).
Thickness 18 mm (0.71 in).
When open the overall length is 197 mm (7.8 in).
Weight is 131 g (4.6 oz).

The Swiss Army Knife review – conclusions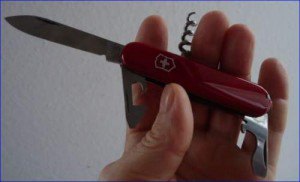 I have presented some essential facts you need to know if you are undecided whether to buy Victorinox Swiss army knife or not. There are many reasons for its popularity. When you are outdoor, you never know when you might need some of its tools.
As I said in the beginning, I have one, a small knife but with no less than 13 functions, you can see it here on the right. If you need something with a spoon and fork included, please check this Gentlemen's Hardware Camping Cutlery Spoon and Fork Folding Utensil Multitool which I am using on my mountaineering tours.
My overall feeling about this great tool I summarize with this: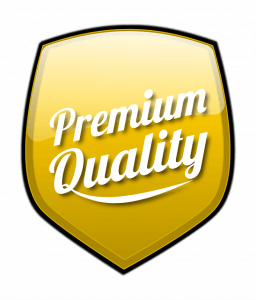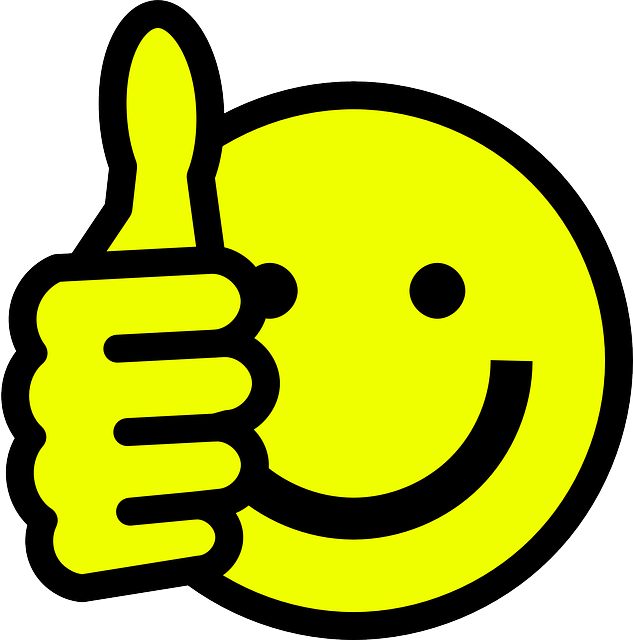 Please leave some comment in the box below, I shall be happy to read it and to answer any question.
---