---
Some of my mountaineering equipment or parts of it are built from Cordura, I have it on the bottom of some of my backpacks, and also my crampons' bag is made of Cordura. So what is Cordura fabric? Keep reading.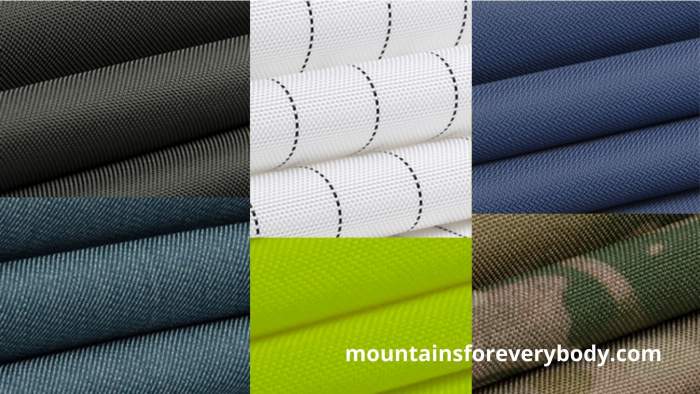 Last summer, when I was in the Slovenian Alps, I was using my new Deuter Futura Vario pack. You can see it in my text about climbing Spik. In fact, I used it in several tours in that visit to the mountains. Excellent pack with great features, no doubt about this.
But I fell a few times, and its bottom was punctured and damaged by sharp rock. This is all normal when you are in such a harsh environment. Now, I still have my pre-historic Futura 38 pack, which I used in numerous climbs since 2003. No need to search for it on the Internet, it was discontinued by Deuter long ago and you will not find it.
However, I can tell you its bottom is in a better state than the bottom of my new Futura Vario. The reason? It is the fabric. I think that the old pack has Cordura on the bottom, and after all those years it looks almost intact. The new pack also has some stronger fabric on the bottom, but this is not Cordura, and the difference is very obvious.
---
The Cordura fabric has a long history. It was originally registered as a trademark by E.I. du Pont de Nemours and Company (DuPont) in 1929. Nowadays, it is the property of Invista, a wholly owned subsidiary of Koch Industries. It was used as a rayon product in WWII tyres.
When used in bags this is usually a 1000D or 500D plain weave Nylon 6.6. In most cases the Cordura fabrics are made of nylon, but they may be also be blended with cotton and some other materials. It is used for very strong backpacks, luggage, and for military equipment.
If you are not familiar with terminology, the "D" used above denotes the denier, a unit of measurement for the weight of yarn, and it shouldn't be used as an indication of strength.
So this is the weight in grams of 9000 meters of yarn. This means that 1000D weighs 1000 grams for a 9000-meter length. On the other hand, 500D is the weight of 500 grams of 9000 meters of yarn.
Does Cordura denim stretch?
The answer is yes, there is some stretch in this material.
Is Cordura waterproof?
I do not think so, but it is naturally water-resistant as expected from a high-denier nylon fabric. Cordura fabrics are also usually treated with some water-repellent finish so it will not get soaked easily. But Cordura materials can have coating, and in this case they are waterproof of course.
Can Cordura be washed?
When used in apparel, it can be washed on low temperature and with a mild detergent, without chlorine of bleach cleaners. As for drying, air dry or dry on low setting.
Is Cordura heat resistant?
In the case of INVISTA nylon 6.6 fiber, the melting point is 254˚C. This is what makes it so good with respect to friction-generated heat and it is generally very abrasion-resistant.
What is Cordura denim?
So this is about the mentioned mix with cotton. The Cordura denim is a combination of the military-grade INVISTA T420 nylon 6.6 staple fiber and cotton. The result is an abrasion resistant and comfortable fabric.
Cordura vs Ballistic Nylon
As a start, what is a ballistic nylon fabric? This is again a material developed by the DuPont corporation for flak jackets worn by World War II airmen. So this is a thick and tough multifilament high tenacity, 2X2 basket weave nylon fabric, usually made with 1050D or 840D yarns.
It was used also in the Vietnam war for anti-fragmentation ballistic jackets for soldiers. So multiple layers of the thick fabric were laminated together to help stop exploding shrapnel and fragmentation. Now you understand the origin of the name.
Ballistic nylon is typically heavier than classic Cordura, and it is with a superior tensile and tear strength. But it seems that classic Cordura is with a greater abrasion resistance. This may be due to the air textured yarn that has more bulk which helps spread the wear. The same air texturing creates Cordura's canvas-like look and feel.
But strictly speaking, nowadays this is not ballistic nylon vs Cordura. If you go to the Cordura site, you will see that they call it Cordura Ballistic fabric. So this is the same material made with a high tenacity 6.6 filament 420D nylon yarns.
Cordura Combat Wool
Did you know that they combine Cordura with wool? So you have the comfort and aesthetics of wool combined with the durability of nylon.
In this combination, this is again the Invista nylon 6.6 staple fiber blended with merino wool. The result is a comfortable, strong and very rugged fabric with features that include the best of its two components. It can be finished, coated or laminated.
---
This is not all. They have many other types, I would mentioned here the Cordura Hi-Vis T485 fabric, and also Cordura Eco fabric.
The former is built from a with high tenacity polyester fiber for enhanced abrasion resistance and tensile strength. They make this type for gear and apparel. The words High Vis indicate high visibility, so you have orange, yellow, and red woven fabrics that may be coated with 2- or 3-ply laminates.
The latter (Cordura Eco), is a durable fabrics made from reclaimed waste resources, recycled into high quality yarns.
So as you realize, the Cordura used to be a nylon fabric, and they still make it that way and in a variety of denier values. But you have many blends on the market.
All in all, when this is about outdoor materials, the Cordura fabric is a synonym for a durable and abrasion resistant fabric. It is not light so it is usually added at places that are most exposed and where more protection is needed. I would say that among outdoor brands, Mountainsmith is the best known one for its backpacks built from Cordura fabric.