---
This Kelty Coyote 85 pack review is about a new pack in this famous series by Kelty, lightweight but durable, with two access points and incredibly many pockets and attachment elements, this is a backpack for extended backpacking and expedition tours.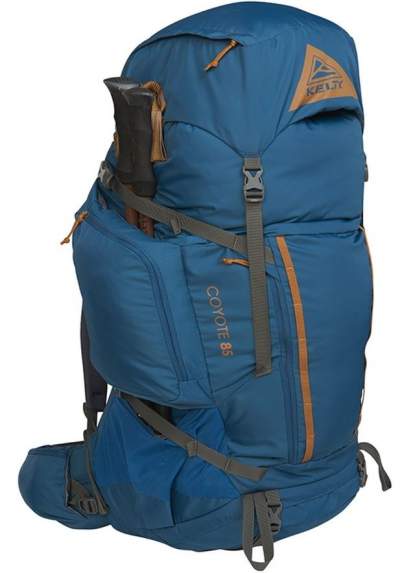 ---
Key features & benefits
Ventilated back panel.
Many pockets.
Adjustable torso length.
Lightweight for its size.
2 Access points.
Good price.
---
What this is about
Kelty has added four new packs to their famous Coyote series that already had 4 packs, this Coyote 85, then Coyote 60, Coyote 65, and the largest Coyote 105.
But these new packs in the series are completely different from the other Coyote packs, you can see this instantly if you compare it with the Kelty Coyote 80 pack. Note also that there are some small differences between these two new packs.
So this is a pack with the classic collar and a floating lid, and with the usual zippered access through the bottom compartment shown in the picture below. The divider between the two compartments is just a shelf with toggles.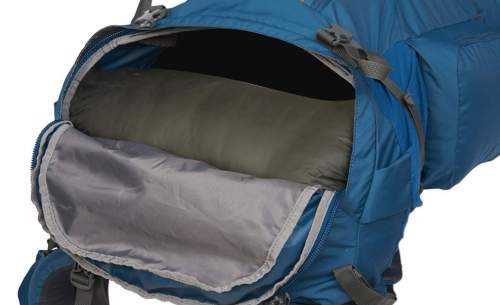 The pack is hydration compatible and you have a large sleeve in the main compartment where you can store a reservoir.
With the weight of 4 lb 14 oz (2.21 kg), this pack is in the group of ultralight packs for its size with the volume/weight ratio of around 38 liters/kg.
This is better than many expensive packs from top brands that are available on the market, and you should know that this is not on the account of features – this pack has them many. So I have added it to my list of best backpacking packs for men and also to best expedition packs.
---
Suspension 
They have completely reshaped the suspension in these new packs, it is very different from the other Coyote packs. So you have a lightweight perimeter steel frame, plus a stabilizing vertical aluminum stay. The back panel is very different here, it is ventilated and this is what they call the AMP-Flow system. It is shown in the picture: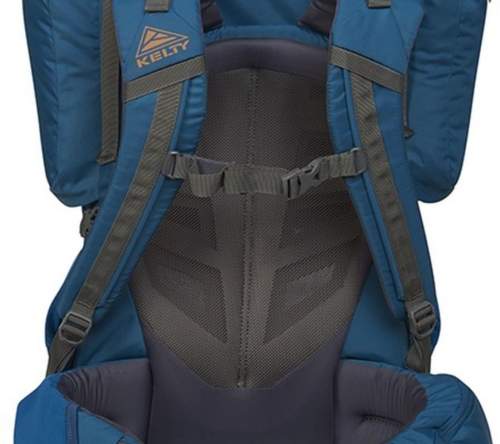 The torso length is height-adjustable and you have the range of 15.5 – 21 in (39 – 53 cm). But this is nothing similar to what they used in the previous Coyote packs. You have a hook and loop Velcro connection, so you can reposition and reattach it easily. This is what they call the FIT-Pro system.
I am not sure why they changed the previous Perfect Fit system (still available in the existing Coyote 80 and in other Coyote packs). In my view, this was the best system on the market.
The suspension is with generous padding and there is nothing one could object to this. Fine-tuning with the load lifters is there, and you also have a sliding elastic sternum strap visible in the picture above. Note that the front straps on the hip belt are V-shaped dual construction that provides an excellent hugging of the hip bones when you cinch the belt. Note that they sell all the packs from this new group at the same place on Amazon, just follow the link and you will find them.

---
Other features
Pockets
As usual with Kelty, their packs are without a match when it comes to pockets. So here you have them 12 in total and they include the following:
Starting from the top, you have a lid pocket with yet another zippered pocket inside. Note that the zipper is on the left side (visible in pictures).
There are two overlapping front pockets with vertical zippers:

Two overlapping front pockets.

The pack comes with dual upper zippered pockets, you can see one of them in the side view:

Excellent upper zippered side pockets.

The usual side stretch pockets are on the sides as well, see the picture above.
On the hip belt you have two asymmetric pockets, one is zippered and the other is not.
There are also two pass-through pockets behind the mentioned side zippered pockets, the top picture above shows one of them. This is a great addition so you can pass some long item here and store its end in the side mesh pocket. The upper zippered pocket will keep it in place even without the side strap.
Compression straps & attachment elements
There are many of them, and they include:
Dual side compression straps.
Dual straps for load stabilization on the hip belt.
Dual bottom compression straps.
Dual enormously long daisy chains on the front, they are on top of those front pockets (see the picture above).
Dual attachment loops are on the bottom, for poles or for ice axe.
Please see a bit more in this short video:
---
Specifications
Weight: 4 lb 14 oz (2.21 kg).
Volume: 5187 in³ (85 L).
Dimensions: 32 x 19 x 13 in (81 x 48 x 33 cm).
Torso fit range: 15.5 – 21 in (39 – 53 cm).
Hip belt range: 30 – 54 in (76 – 137 cm).
Body fabric: poly 420D Small Back Stafford.
Frame: spring steel, aluminum + HDPE.
---
Final thoughts, rating, pros & cons
In summary of this Kelty Coyote 85 Pack review to stress that they have again built a great and exceptionally functional pack. The price/features/quality combination is hard to match.
There are significant changes here as compared with the previous (existing) packs from the Coyote series, and I am not sure if all of them are for the better, but this is a quality pack and I can fully recommend it.
Here is my rating of this pack, the criteria are the same for all the packs in the site so you can easily compare:
If you still need something different in this size range, please check under the category Large Packs.
Note that we add new texts on a regular basis, so bookmark this site and check occasionally. There is a subscription form below for our weekly newsletter, so subscribe and stay informed. Have a nice day.