---
This Kelty Coyote 65 review is about the latest 2020 pack version of this pack, completely changed, with a different adjustable torso length, 11 pockets, and much more. Keep reading.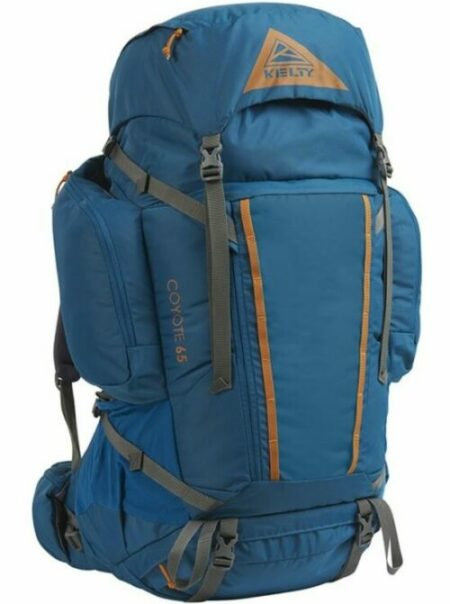 ---
Key features & benefits
Adjustable torso length.
Ventilated back panel.
Bottom compartment.
Many pockets.
Reasonable price.
---
What this is about
Here you have the latest version of this Kelty Coyote 60 pack. If you follow this industry then you know that this series has been on the market for years. The previous Coyote 65 is still widely available on the market and my guess is it will be around for years, and it is easy to get confused.
So I think they have made a mess, the two versions are very different and they could have launched this new version under a different name. Note that this new version of the coyote series includes also Coyote 85 and Coyote 105 packs, they may look the same but there are some differences in the features.
So this is again a pack with a classic lid and top entry point. Note that the lid is floating type, this means you can raise it if you have extra stuff like a rope or anything similar, such items will be kept in place with the lid itself.
But you have also a bottom zippered compartment, the picture below. The divider between the two compartments is just a shelf with toggles.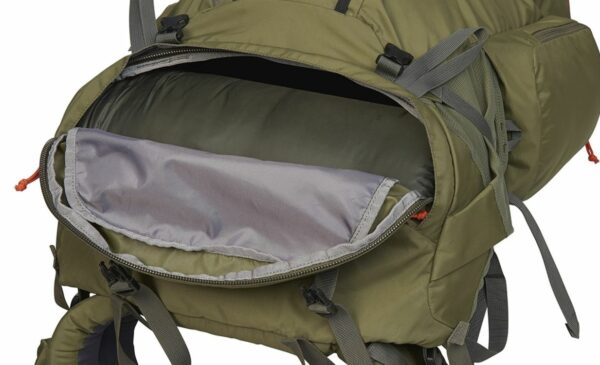 There is not much to say about the main compartment, as usual, you have a sleeve there for a water bladder. Note also that the pack comes without a rain cover, pity.
---
Overview of features
The suspension
This is one detail where this new version drastically differs from the previous one, and I cannot imagine that anything would be better than what they already had.
So here you have what they call the AMP-Flow ventilated back panel and FIT-Pro torso adjustment system. There is not much to object to the back panel, so all is fine but I would not expect a lot of ventilation, see the picture below. If this is your main concern, then go for packs with a tensioned trampoline style mesh like the system in the Deuter Futura Vario 50+10. But with packs of this size you will always sweat, just to know.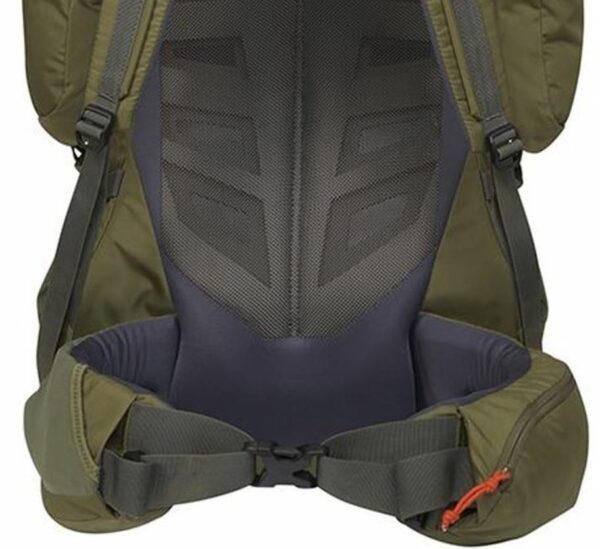 The adjustable torso implies a Velcro hook and loop tabs connection. So you break it, move the harness to the desired position, and then press to re-engage the connection. There are markers on the side so give you some references, you will have to try different lengths to guess your ideal fit.
This all is supported by a peripheral steel frame. You also have the usual load lifter straps behind the shoulders, you should use them to get the pack closer to the body when you navigate some exposed places and for a scramble. One pair of straps is also on the sides of the hip belt, and they have the same purpose, to keep the pack closer to the body when necessary.
The hip belt is excellent, a massive padding is in place, you can see it in the picture above. The V-shaped front straps tell you that you have a perfect hugging feeling around hips when you cinch the belt properly, I love to see such a design.
Pockets
As usual with Kelty's packs, you have many pockets. To start from the lid where you have the lid pocket with an unusual side zipper, see the picture below. Note that there is yet another zippered pocket within this lid pocket.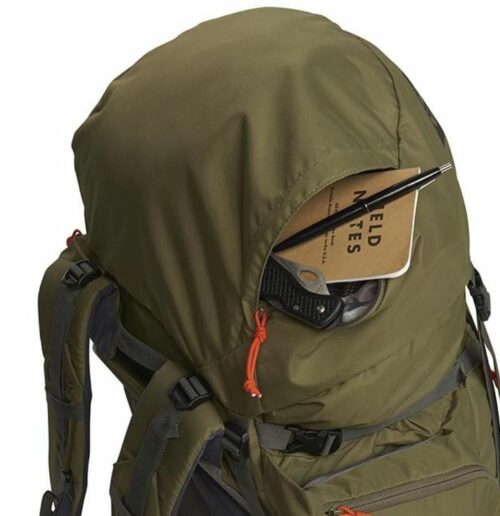 The best feature here is the two upper side zippered pockets, they call them 'wing side pockets', see the picture below. I love to have such pockets in my packs, but as you know not many brands build them these days. You have them in Kelty's packs and also in Deuter's packs.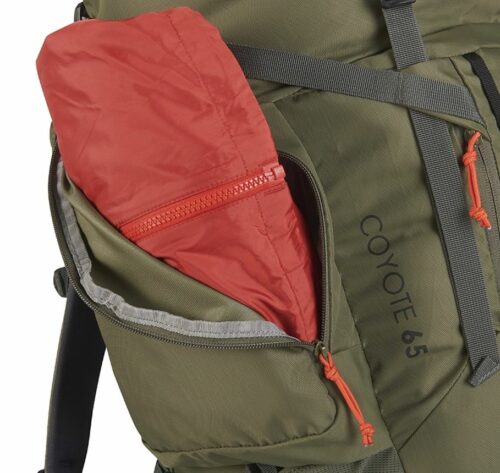 One extra feature here, again excellent one, is the pass-through pockets between these side zippered pockets and the pack (you will see in one of the pictures below). This is convenient to place any long item, like poles, fishing rod, a tripod, etc. When you pass such an item there, you can store it in the lover side mesh pockets. You have them two as usual, see the picture below.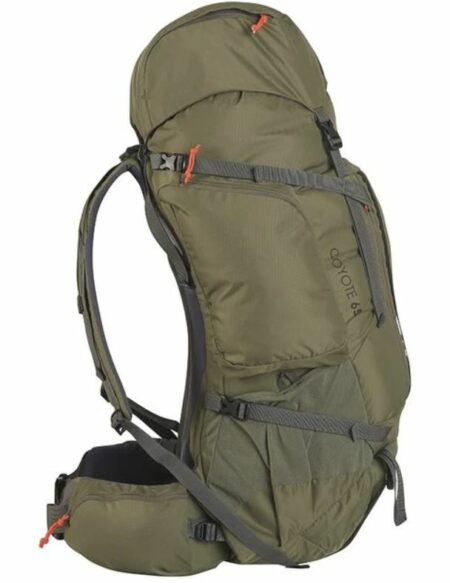 There are also two pockets on the hip belt, and they are different in the design. One is zippered (shown below), while the other is just a mesh and I am not so impressed with it.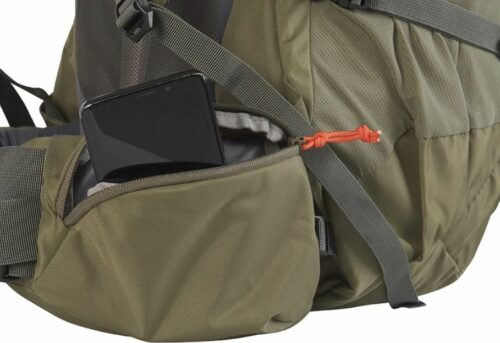 There is also a front pocket with a vertical zipper on the left side, so here you can store thin items like maps. see the picture below. So all in all, you have 9 pockets plus 2 pass-through pockets, quite impressive.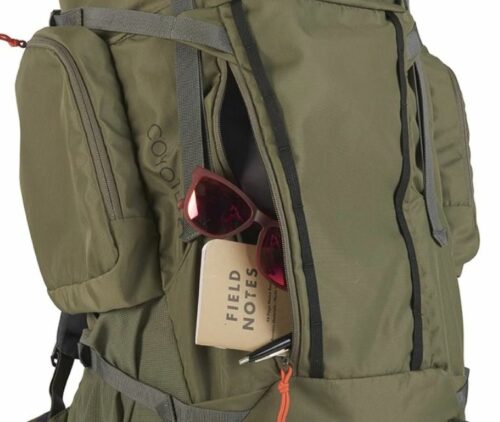 Attachment elements & straps
There are two compression straps on each side, you can see them in the pictures above. A pair of straps is also on the bottom front, here you can attach a sleeping pad or anything similar.
Two very long daisy chains run parallel to each other on the front. This is always useful to have as it allows to attach literally anything.
---
Who is it for
Regarding the capacity & volume, this pack is large enough for multi-day tours and expeditions, and for travel of course. As you surely know, this all depends also on the equipment you have. This is determined by the three main big items: the tent, the sleeping bag, and the sleeping pad.
A sleeping bag can have very different volume dependent on its construction and on the season (e.g., in summer you would carry a thinner bag). See my list of compact sleeping bags to realize how small they can be.
On the other hand, a sleeping pad can also be bulky if it is insulated. If you carry an inflatable pad, this will save lots of space in the pack.
But the official load capacity for this pack is 55 lb (25 kg). I do not think this is a very exact science, I am sure it can handle more, if you can carry it.
Regarding the weight, you have the volume/weight ratio around 31 liters/kg, so in my rating formulas, this could be described as a lightweight pack. It is slightly lighter than the previous version, but it has fewer features as well.
Regarding gender, this is a pack for men. But they have also the Coyote 60 pack for women (shown below) with the same features and functionality, yet with some gender-specific differences. Observe the pass-through pocket used to store the poles.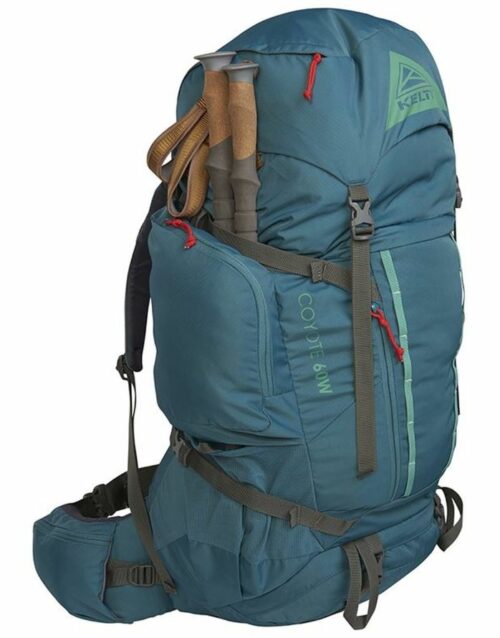 Regarding the torso size and hip belt size, they build this pack in one size, but you have quite a wide adjustability range for both, see the numbers in the specifications below.
Regarding the price, this is an affordable pack, and this is typical for Kelty, a great price for the value.

---
The materials
You have strong materials here. The body fabric is a very durable Poly 420D Small Back Stafford, and the frame is internal spring steel on the perimeter plus an HDPE panel. So this is all built in the best tradition of Kelty. Please see a bit more in this short video:
---
Specifications
Type: top-loading pack with a lid.
Volume: 3966 in³ (65 L).
Weight: 4 lb 10 oz (2.1 kg).
Torso fit range: 15.5 – 21 in (39 – 53 cm).
Hip belt fit: 30 – 54 in (76 – 137 cm).
Dimensions: 30 x 18 x 12 in (76 x 45 x 30 cm).
Weight capacity: 55 lb (25 kg).
Frame: steel.
---
Final thoughts, rating, pros & cons
In the summary of this Kelty Coyote 65 review I would stress that this is a quality and reliable pack as you would expect from such a brand. Is it better than the previous version? It is hard to say, but there are several features in the previous version that I like more. There is no rain cover here, but you can order it separately here. I have added this pack to my list of Best Backpacking Packs For Men.
Please see how I rate this pack against my standard set of criteria so you can easily compare with other packs here in the site:
If you still need more options, check under the category Large Packs here in the site. Bookmark this site and visit again, we add texts regularly so this will keep you informed about the situation in the outdoor equipment industry. Thank you for reading and have a nice day.