---
The Kelty Coyote 65 backpack for men is a completely new 65 liters pack in the already existing and well-known Kelty's Coyote series. This pack has appeared on the market recently.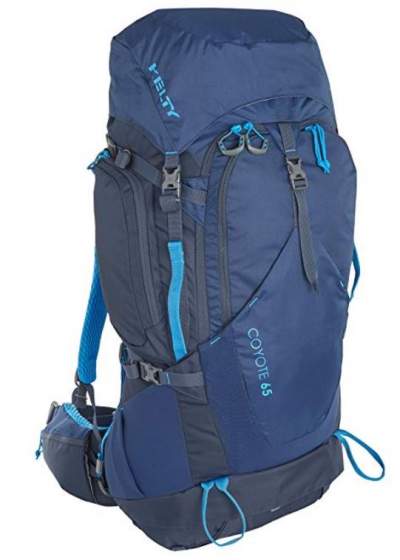 ---
Coyote 65 pack – what is this about? Why now?
If you are not familiar with Kelty packs, just to say first that the Coyote series has been on the market for many years with two packs, Coyote 80 pack for men and Coyote 70 for women. Those are truly great packs, admired by many, among the best packs built by Kelty.
But now, Kelty has added two new packs to the series, this Coyote 65 for men, and yet another Coyote 60 fo women.
This is an impressive series by Kelty, packs rich with features, enormously functional and also improved recently. So these two new packs added to the series have all the great properties of the existing packs. They are smaller than their existing cousins, an ideal size I would dare to say, and I feel they will be loved by hikers and backpackers.
Key benefits
This pack has many great features, I wish to point out the following:
Dual access to the main compartment.
PerfectFit suspension system.
A huge number of pockets.
Top lid doubles as a daypack.
Basic features
Coyote 65 is a top loading pack with a lid and collar underneath it. But apart from this classic-type entrance, there is also a large U-shaped zipper on the front, so you can open the pack like a suitcase. The lid is movable and removable. If removed, you can use it as a sling pack; it has an extra strap with nice padding on it.
The pack comes with a separate bottom compartment as well. The divider between the two compartments can be removed so you get a huge single space and an extra bottom entrance to the main compartment.
The water hydration sleeve is inside the main compartment, and the water hose ports are on both sides of the pack.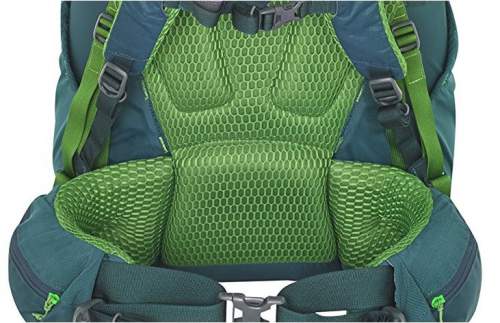 The harness and suspension
The suspension of this pack is equally impressive as the rest of it. The first thing you notice is the pleasant and massive padding all over the back panel, shoulder harness, and the hip belt, just see the picture above. The suspension is supported by a single aluminum stay and an HDPE back panel.
The harness is adjustable, and this is yet another great feature. What you have here is Kelty's unique PerfectFit suspension. This implies that you adjust your harness with the pack on your back, and with its full weight. All you have to do is to pull the two green straps which you see in the picture above. With this you can move the harness up and down, you will see this in the video below.
In such a way you can feel best which perfect position for your torso is. This is an ingenious design used in several Kelty's series, see for example the latest Revol & Reva series launched in 2017.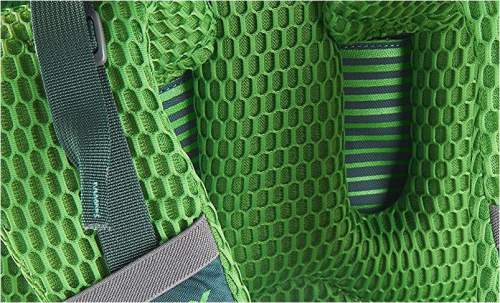 You will see in images that the front straps on the hip belt are with four attachment points, two on each side. This is a great design because the belt is fastened in such a way that it hugs your hips.

In this video you can see a few details about the PerfectFit system:
Attachment points, straps and handles
The pack has handles on both sides (see them in the pictures below), plus one carry handle on the top of the harness. Dual compression straps on the sides (also visible in the pictures), and dual straps are on the bottom as well. There are two attachment loops on the bottom for ice
There are two attachment loops on the bottom for ice axe and trekking poles. Also available are belt stabilizer straps as well, the usual sternum strap, and the load lifter straps on the harness.
Pockets
The Coyote 65 pack is impressive in many ways, and the number of pockets only add to this. You have 10 pockets in total, plus 2 pass-through pockets on the sides. You can see them in the pictures above.
Two zippered pockets are on the hip belt, two zippered pockets are on the lid, and two stretch pockets are on the sides. This pack also has what I love to have – dual upper zippered side pockets; not many packs on the market have them nowadays.
Behind these side zippered pockets, there are pass-through spaces (or pockets if you wish), see the picture above. Here you can pass long objects like trekking poles or tent poles, and then store them in the stretch side pockets that are below on the sides. Such objects are secured in place by the side zippered pockets, but apart from this, you also have lower compression straps that run over the stretch pockets. So you can additionally fix whatever you put in the side stretch pockets.
On the front, there is a large zippered pocket with internal organization features; this includes a couple of pockets and a key clip, see the picture below. On the front face of this pocket, you have yet another very functional stretch shove-it pocket with a buckle above.
Please see this short video about the Coyote 65 and Coyote 80 packs:
---
Specifications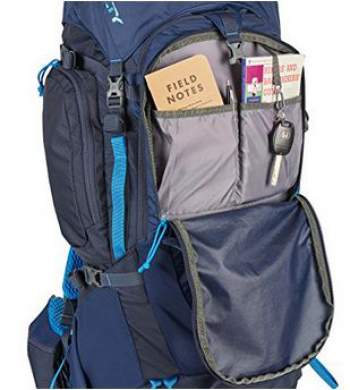 Purpose: backpacking, hiking, travel.
Weight: 4 lb 13 oz (2.2 kg).
Volume: 3950 cub in (65 L).
Dimensions: 33 x 17 x 14 in (84 x 43 x 36 cm).
Torso fit range: 15.5 – 21 in (39 – 53 cm).
Materials:
– Body fabric: Poly 420D Small Back Stafford.
– Reinforcement fabric: Poly 75x150D Tasser Coal.
– Frame material: Aluminum + HDPE.
Single Lightbeam aluminum stay.
PerfectFIT adjustable suspension.
Top access + front access.
Top lid converts to a sling pack.
Bottom compartment.
Pass-through behind zippered side pockets.
Large front pocket with organization.
Stretch front shove-it pocket.
Side compression straps.
2 hideaway ice axe loops.
Dual pick-up handles.
Hydration compatible.
Dual hip belt pockets.
Hex Mesh on back panel, shoulder straps, and hip belt.
HDPE reinforced waistbelt.
Load-lifter straps.
Lumbar support.
Belt stabilizer straps.
Sternum strap
---
Conclusion, rating, pros & cons
So to summarize this review of the Kelty Coyote 65 backpack for men, this pack comes with all features already known and tested in its bigger cousins, the packs of 70 and 80 liters. So in principle, there is nothing new here, only the size. Yet the point is, all these features are truly great. I am convinced that Kelty did a right move by adding this pack (and the corresponding Coyote 60 for women) to this great series.
I have no objections to this pack, yeah I would love to see the rain cover, but it can be ordered separately. This is a great pack and a great series, I love it and I can fully recommend it. I have added it to my list of top-rated expedition packs. Please see below how I rate it:
You might also want to check something very different, the Mystery Ranch Stein 62 pack with a few unique features.
Thank you for reading. I wonder what you think about this new pack. It will be great to hear from you, so please use the comment box below. I wish you a pleasant day.