---
This Mountainsmith Apex 60 Review is about a backpacking pack rich with features, incredibly durable and built from Cordura fabric and for heavy loads up to 60 pounds (27 kg).
---
Key features & benefits
Incredibly durable Cordura fabric.
Adjustable torso length.
Two positions for load lifters.
TuningFork frame sheet in the waist belt.
Top access plus front U-shaped zippered entrance.
Really great price.

---
Who is it for
This is a great backpack for backpacking, hiking, mountaineering, and for travel. In view of the materials used in its construction, this is a pack for heavy loads, regardless of the activity. It comes with an incredibly affordable price tag for such a quality tool, so it is very much suitable for entry-level outdoor enthusiasts as well as for professionals.
---
Overview
The Apex 60 is a top loading pack with the classic lid with dual buckles on the front. It is a floating type and removable. Underneath the lid, you have a spindrift collar plus a compression strap which can be used to stabilize the load or simply to fix in place some extra equipment (like a rope) which you would store under the lid.
But you also have a front access through a zippered entrance with two zippers that can be open in any direction so you can access the load like in a suitcase.
In view of this front access, you do not have a separate bottom compartment. I am quite used to having it and do not find this design so nice, but this is just me.
The hydration sleeve with a hook for a bladder is inside the main compartment, and the hose port is on the right side.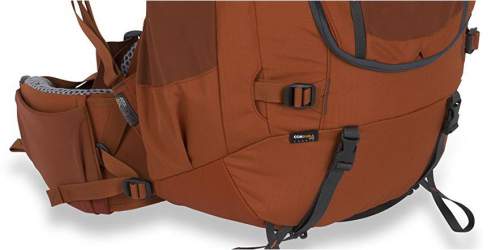 Suspension system
The suspension is based on an X-shaped aluminum configuration and a horizontal stabilization bar. You also have a PE frame sheet and Anvil Airway ridged EVA back panel padding. So this is a very strong and comfortable structure designed to carry loads of up to 60 lb (27 kg).
You have an adjustable harness, it is the ladder-lock type and the range is 16 – 21 in (41 – 53 cm). It is with Velcro tabs so the adjustment is easy. This makes the pack suitable for several users, family members or couples.
Load lifters are with an extra feature: you have two tabs which determine two positions for a load lifter, so you can position it to fit your body size and dependent on the amount of the load in the backpack.
The waist belt is with what they call the TuningFork frame sheet for form-fitting over iliac crest hip bone, see it shown below. The belt is with huge padding, so in combination with this frame sheet, you have optimal support and cushion here. It is designed to nicely hug the waist zone.
In addition to this, you have a V-shaped pull-forward adjustment webbing on the hip belt, it is visible in the picture farther below. This is again for an optimal fit and this contributes to the effect of the hugging mentioned above. It is hard to imagine a better system which would give a better hold around the waist. This reminds me of the system used in the Teton Sports Mountain Adventurer 4000 pack.

The sternum strap is adjustable and you have a ladder-type webbing straps system along the shoulder straps for that purpose, This is a system which will never fail, I prefer this to the rail system which you have in many packs nowadays.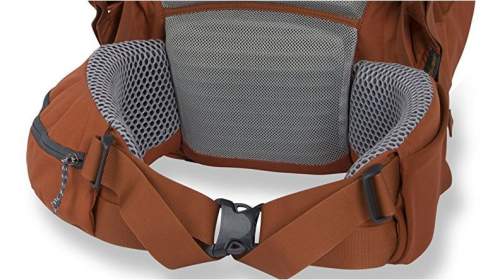 Pockets
One huge zippered pocket is on the lid. Two asymmetric pockets are on the hip belt, see the picture above; on the left it is a mesh pocket without a zipper, and on the right it is with a zipper.
Two stretch mesh pockets are on the sides. The pocket on the right is with a side entrance and with a cinch cord to keep the bottle secured in place.
A huge pocket is on the front, visible in the picture below, stretchy and with buckles on the sides and on the top. You can store a lot of stuff here, it is big enough to take a helmet as well.
Compression straps and attachment elements
They have a clever design on the sides, with the lower compression strap running both ways, under or over the side pocket. The mentioned buckles of the front pocket are connected with the upper side straps; this you can see in the picture above.
Two very long vertical daisy chains are available on the front, so here you can attach whatever you want. You also have 4 attachment webbing loops on the lid, see them in the picture below.
Dual compression straps are completely on the bottom, for a pad, tent, or anything else. Dual tool loops are also on the bottom section, and they are paired with dual bungee cords higher in the front, for ice axes or trekking poles attachment.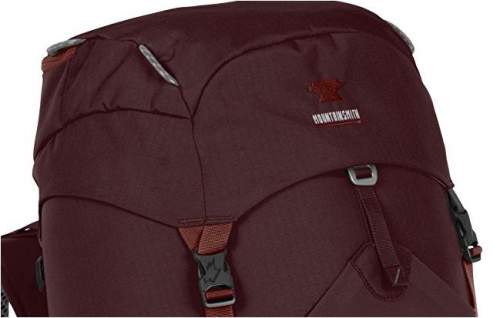 Materials
The main fabric is Cordura here, you will see details in the specifications. So you can hardly find anything more durable. The same holds for the frame and back panel structure, as I mentioned above. All here is built to last.
---
About Apex series
This great series by Mountainsmith includes 4 packs: Apex 60, Apex 80, and Apex 100 liters, and Apex 60 WSD (women specific design). Note that they have some important differences regarding the bottom compartment, the day pack, and the access points.
Please see more in this video by Mountainsmith brand about the Apex series:
---
Pros & Cons
Here is my summary:
 

Good

 

Less good

Incredibly durable.
Great suspension and harness.
Dual access.
Great price.
Very comfortable.
Versatile pack.
Top quality.

No rain cover.
No bottom compartment.
I miss a few more pockets here.
The rain cover is missing; for me this is essential in the Alps where I normally go. But this may be different for you.
The absence of the bottom compartment is not a big deal; it is just that I am used to having it and love such an extra organization.
Note that the pack is relatively heavy, but this is a durable tool built from very strong materials, so the weight is a natural consequence.
The price
This is a really affordable pack, with only $137 – 160 price range. But remember this is Mountainsmith, and this is not on the account of quality – you have a top quality tool here. Note that this is an Amazon Prime item.
What users think
This is a new pack on the market, not so many reviews available yet, but those you can find are incredibly positive. On Amazon, so far this pack has received 4.8/5 average rating. See how I rate it:
My rating breakdown of the Mountainsmith Apex 60 Pack
Volume to weight ratio -

8.7/10

Features and bonuses -

9.2/10

Comfort -

9.4/10

Price -

9.6/10
---
Specifications
Weight: 4 lb 15 oz (2.2 kg).
Volume: 3660 cu in (60 l).
Weight capacity: 60 lb (27 kg).
Dimensions (H x W x D): 25.75 x 10.25 x 7.25 in (65 x 26 x 18 cm).
Torso size: 16 – 21 in (41 – 53 cm).
Waist belt fit: 28 – 48 in (71 – 122 cm).
Materials:
– 305D mulit-rip cordura HP.
– 610D cordura.
– 210d nylon embossed liner.
Frame: twin T6 0.75 inches aluminum stays.
Waist belt width: 1.5 in (3.8 cm).
U-shaped zipper front access to the main compartment.
TuningFork waistbelt frame sheet for form-fitting over iliac crest hip bone.
Anvil Airway ridged EVA back panel padding.
Forward pull waistbelt with V adjustment webbing.
Front panel stretch mesh pocket with daisy chain attachment loops.
PE frame sheet with X configuration AL stays and horizontal stabilizer bar.
YKK zippers.
3M reflective cord.
Top compression gear strap.
---
Mountainsmith Apex 60 pack vs competitors
See some basic features of the Mountainsmith Apex 60 side by side with some other packs from the similar size range, to see more please follow the links:
Mountainsmith
Apex 60
North Face
Terra 65
Kelty
Coyote 65
Weight (kg)
2.2
1.98
2.2
Volume (l)

60

65
65
Rain cover
no
no
no
Bottom compartment
no

yes

yes
Adjustable torso

yes

yes
yes
Zippered side pockets

no

no
yes
Hip belt pockets

yes

yes
yes
Metal internal frame

yes

yes
yes
The prices at the moment of writing the text are, respectively, $137, 157, 180. So these packs are not a match to the Apex 60 when it comes to the price tag.
---
Summary
In the conclusion of this Mountainsmith Apex 60 Review to stress again that I am impressed with the durability and quality of this pack. This in combination with such a price tag is hard to match. They also have the version for women which you can see here in huckleberry color.
The Mountainsmith brand is renown for the durability of their packs, I trust the brand and I can fully recommend this pack to anybody. If you need a larger pack from this series, check this Apex 100 pack and Apex 80. Note that there is also the Lariat 65 pack from the same brand presented here in the site, so have a look. If you need something smaller from the same brand, check this Mayhem 45 pack. Check also this Gregory Optic 58 from their new 2018 ultra lightweight series.

Thank you for reading. I love to hear from you so please use the comment box below. I wish you a nice day.


---