---
This Mountainsmith Mayhem 45 Review is about a very reliable and versatile backpack with a sleek and modern design. The pack is suitable for various outdoor activities and for travel.
---
Key features & benefits
Very durable Cordura fabric.
Great suspension.
Great capacity.
Steel frame.
Many asymmetric features in the design.

---
Mountainsmith Mayhem series – what this is about
The Mayhem series includes three packs, 35 liters for men, 35 liters women-specific design, and the 45-liter pack in two different colors (see the pictures around). So this is a small series and packs share the same features.
But if you are familiar with the modified Apex series of the same brand, you will be surprised to see how many common features these two series have. It looks to me that this Mayhem series is just the extension of the large-size Apex series into the smaller packs range which you have here.
So for example, the front pocket, the dual daisy chains, the hip belt pockets, the side mesh pockets, dual loops and bungee cords, are all the same in both series. But there are many differences, of course, these are small packs, and some features are appropriate for such a size.
---
Mayhem 45 – who is it for
By size, this is a pack suitable for overnight or weekend outdoor tours. This can include hiking, mountaineering, climbing, and you name it. I see it also as a great travel backpack.
The pack is built from very strong materials, the same Cordura fabric is here just like in their huge Apex 100 pack, and you have a steel frame. Such a construction allows for loads up to 45 lb (20 kg), and this is a lot for such a relatively small pack.
So its quality is such that it is good even for professionals, and its price is reasonable enough even for entry-level users or for people who need a pack for not so frequent use. It is worth paying for such a reliable tool.
---
Overview
I mentioned the asymmetry in the design of this pack, and indeed you have it everywhere. So you have an asymmetric zippered entrance to the pack, the zipper starts on one side, then goes over the top and continues almost to the bottom on the other side. But you will see more asymmetry below.
The pack is hydration compatible and the sleeve is in the main compartment.
Pockets
There are 7 pockets in total, not bad at all. Here you have a lot of asymmetries too. The two pockets on the hip belt are different; the pocket on the right is zippered and on the left this is a stretch mesh pocket without a zipper.
On the sides you have stretch mesh pockets, oh yes, they are very asymmetric. On the left, the pocket is standard with the top entrance. On the right, the pocket is angled and equipped with a cinch cord to keep the bottle in place. It is almost horizontal and I am not sure that I like it.
Higher on the sides, asymmetry again: you have a flat zippered pocket on one side (for maps or similar items), and there is nothing on the other side.
On the front of the pack, you have a very large stretch mesh pocket, expandable and with flaps on the sides, also equipped with three buckles. This is a useful space where even a helmet can be stored, a nice design.
There is also a top zippered pocket for smaller items.
Suspension
The suspension is good enough for this size. You have a peripheral steel wire, and it is accompanied by a PE frame sheet. Such a frame is mainly to give the shape and less to make a proper load transfer to the hip belt. So although the pack is officially for quite heavy loads, I would not go to the limits.
The shoulder straps are nicely padded, see the picture below, the padding goes smoothly around the edges and this is without stitches, this all is to avoid hot spots.
The sternum strap is adjustable and it is with hooks which attach it to the ladder-type system on the shoulder straps, so again this is a very reliable system.
The padding on the back is what they call the Anvil Airway ridged EVA system. So, many small ridges are under the breathable mesh, and you have large ventilation channels between these padded zones. This is visible in the picture above.
The hip belt is very wide but with not so big padding, see it below, so it is quite flexible and it hugs the waist nicely. Here again you have a breathable mesh, so, all in all, it is very good. The best part is perhaps the lumbar padding which is huge and very effective, it is shown below.
Note however that the harness is not adjustable, and the torso range is 16 – 21 inches (41 – 53 cm). Some small adjustability is possible through load lifters which you have there, but do not expect much from it.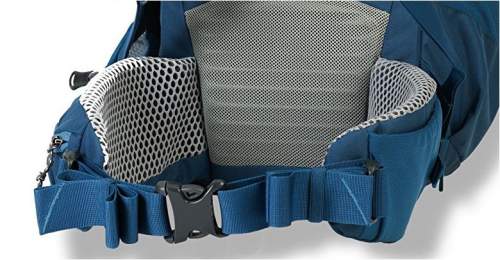 Attachment elements and compression straps
On the sides you have dual compression straps, the upper and the lower which is over/under type, so you can pass it under the pocket or over it.
Dual loops for trekking poles or axes are on the bottom, shown below, and they are paired with bungee tie-offs higher on the front.
You also have long dual daisy chains positioned vertically on the front pocket, partially visible below, this is always useful to have. There are D-rings and webbing loops on the shoulder straps.
Note that you do not have bottom straps, so attaching a pad or similar items must be done with the help of daisy chains, or in the left side pocket with the help of those compression straps.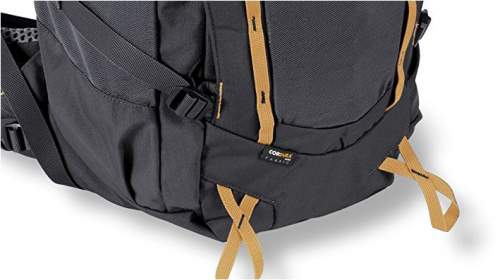 Materials
The materials used here are really strong. You have a combination of 305D Multi-Rip Cordura HP and  610D Cordura HP. You wouldn't need anything stronger.
See a bit more in this video by the Mountainsmith:
---
Pros & Cons
Here is my summary:
 

Good

 

Less good

Incredibly durable.
Good suspension.
Very comfortable.
Versatile pack.
Top quality.

No rain cover.
No bottom compartment.
On the heavy side.
No bottom straps.
Not adjustable harness.
For me the rain cover is essential but it may be different for you. It can be ordered here. The bottom compartment is missing, but the design with the very long panel zipper makes it practically unnecessary.
The pack is a bit heavy, but this is not necessarily a bad here; this is due to such strong materials, the generous padding, and the steel frame.
Price
At the moment of writing this text, the Amazon price for this pack is $128, so it looks a bit steep, but it is worth the money.
What users think
As far as I can see in various sites, the pack has received maximum ratings. On Amazon, so far it has received a perfect score, 5.0/5. Now, this is rare. See how I rate it:
Volume to weight ratio -

8.8/10

Features and bonuses -

8.3/10

Comfort -

8.4/10

Price -

8.3/10
---
Specifications
Gender: unisex.
Weight: 3 lb 8 oz (1.58 kg).
Volume: 2745 cubic inches (45 L).
Dimensions (H x W x D): 27 x 12 x 9 in (68.5 x 30.4 x 22.8 cm).
Capacity: 45 lb (20 kg).
Torso size: 16 – 21 in (41 – 53 cm).
No torso adjustment.
Waistbelt circumference: 28 – 48 in (71 – 122 cm).
Waistbelt width: 1.5 in (3.8 cm).
Materials:
– 305D Multi-Rip Cordura HP.
– 610D Cordura HP.
– Spring steel wireframe suspension.
YKK zippers.
PE frame sheet.
Anvil Airway ridged EVA back padding.
Hybrid panel loader system, ideal for long trail & travel.
Forward pull waist belt with adjustable webbing.
Dual trekking pole loops.
Dual bungee cords.
Large front mesh pocket.
Smartphone compatible waistbelt pocket (up to iPhone 6+ and Galaxy S6).
Side panel mesh storage pocket with Over/Under strap pass thru.
Colors: 2.
---
Mayhem 45 vs competitors
The features of this pack are best understood when it is compared with some other packs. So here it is side by side with some other models of the same size, to see more please follow the links:
Mountainsmith
Mayhem 45

Kelty
Redwing 44
Gregory
Stout 45
Weight (kg)

1.58

1.20

1.28
Volume (l)

45

44

45
Loading

panel

panel
top, bottom
Rain cover
no

no

yes
Lower compartment
no

no

yes*
Zippered side pockets

yes, 1

yes, 2
no
Harness adjustable

no

no
yes
Bladder sleeve

internal

internal
internal
Hip belt pockets

2

no
2
Volume/weight ratio

28

37
34
*This is not compartment in the strict sense.
The prices of the packs are respectively, $128, 124, 160. So from this perspective, the price of the Mayhem 45 looks quite reasonable.
---
Summary
In the conclusion of this Mountainsmith Mayhem 45 Review, I wish to stress that this is a top quality pack, there is no doubt about this. I trust the brand behind this pack and I can fully recommend it. Though it lacks some features which I love to have, but your priorities may be different. You might want to compare it with their Mountainsmith Approach 45 Backpack which is also a panel loading pack.

If you need something different from the same size range, please visit this page with many top quality packs in the range 36 – 55 liters presented in detail. You will surely find something for you. See also the smaller pack from the series, the Mayhem 35. If you need something bigger, check the Lariat 55 from the same brand and also the new version of their Mountainsmith Scream 55 Pack. Need something ultra lightweight, then check this Gregory Optic 48.
Thank you for reading. Please use the comment box below in the case of comments or questions. Have a nice day.


---