---
Mountainsmith Lariat 55 WSD Pack For Women is a versatile backpack for multiday tours and for travel. Built from very strong materials and with an excellent suspension system, it can support up to 60 lb (27 kg) of the load.
---
Key features & benefits
Detachable 8 L summit pack.
Very strong Cordura fabric.
Roll-top closure.
Large U-shaped zipper access.
Adjustable suspension.
TuningFork waist belt frame sheet.
Velcro adjustable waist belt.
---
What is in the name – who is it for
The Lariat is a miniseries by Mountainsmith and it includes the pack presented here and a larger Lariat 65 for men. The letters WSD mean 'women-specific design', so it is obvious who it is for.
In practice, this implies several features. First, this is a slightly shorter torso range, 15 – 20 in (38 – 51 cm). The harness width is more appropriate for women's bodies, and the same holds for the anatomical shoulder straps' design. The hip belt and lumbar zone profiles and padding are also designed appropriately for women's shape.
With 2930 cubic inches (48 L) of volume, or 3555 cubic inches (55 L) with extended roll-top, and the capacity of 60 lb (27 kg), this load-hauling tool can take more than a woman can carry.
What about its best use?
Regarding the volume, this is a great pack for several days long outdoor tours, and those may include a large variety of activities like hiking, backpacking, mountaineering, camping. But this is also a great backpack for urban travel; just see its nicely designed detachable daypack which is equally suitable for city walking as well as for summits.
Regarding the quality and the price, this is the best possible combination. You will hardly find a more durable pack, so it will be great for you if you are a specialist in outdoor activities. At the same time, the price makes it really affordable even for beginners and for occasional use only.

Overview
I have already pointed out several extraordinary features of this pack, and it is really a pleasure for me to describe them in more detail. Just to stress here that several of its features are the same or similar to the packs from the Apex series and Mayhem series from the same brand.
The backpack is built from a very strong 305D Multi-Rip Cordura HP, 610D Cordura HP, and 210D Nylon Embossed Liner.
It is hydration compatible, with the sleeve in the main compartment and with a hose port on the right side.
Roll-top closure
This is a lidless-design; you have a roll-top system with two buckles on the side. It is interesting, but I prefer a classic lid which offers extra pockets. But this is not the only entrance to the main compartment. You also have a huge U-shaped zippered front entrance. It opens the backpack like a suitcase.
Detachable 8 L summit pack
This is a great bonus of this pack. Many backpacks have such bonus daypacks, but some of them are not very functional. Here, you have very nice mesh shoulder straps without padding, but this is just an 8-liter pack so this is fine. It has a mesh sleeve on the back where you can add a bladder. Though this would imply the bladder directly touching your back, so I am not impressed with this element alone. It simply makes no sense to me.
You have dual daisy chains here, and you will use them also when this daypack is attached to the main pack, this is always useful to have. The rest is one single main compartment, good enough for its purpose. See it below when it is detached from the pack.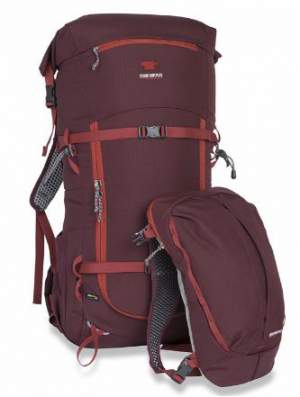 Adjustable suspension
The suspension is based on a PE frame sheet and X-shaped aluminum stays, together with a horizontal stabilizer bar. The EVA foam on the back is ridged, so you have small channels covered by a breathable mesh for ventilation.
The shoulder straps are with a lot of nice padding and covered by a wide-open mesh, all for increased ventilation and comfort, see them below.
The harness is adjustable, and you have a ladder-type system and double Velcro tabs which keep the harness firmly attached to the ladder, see it in the picture: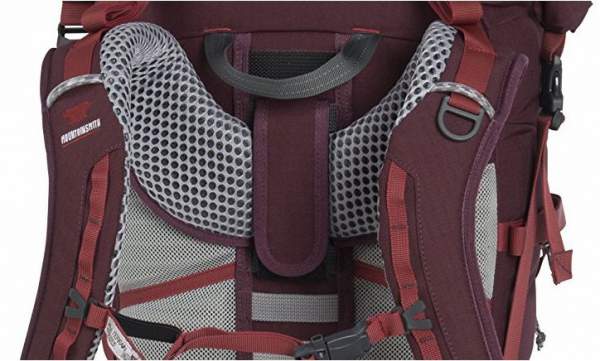 TuningFork waist belt frame sheet
The waist belt is really massive and wide, with the same foam and mesh as on the shoulder straps. But here you have something special, the TuningFork frame sheet which is there for fitting iliac crest hip bone. You can see it in the picture:

This frame sheet provides a lot of flexibility and support. Note that it is combined with a forward-pull system on the front which is V-shaped. This increases the hugging effect, and I am convinced this is the best possible design which you could have. You can see it in the picture: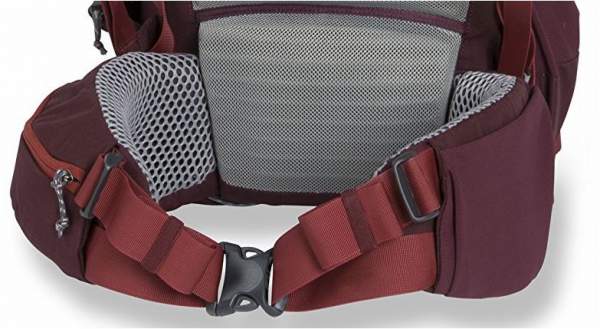 Pockets
The hip belt pockets are asymmetric, see them in the picture above. On the right, you have a zippered one, and on the other side it is just a mesh stretch pocket without a zipper. I would prefer having a zipper here as well; wouldn't put anything valuable there, it can get lost.
On the right side you have a canted water bottle pocket, too much canted I would say. It is almost horizontal, see it below. Here you can have a 32-ounce bottle; there is a cinch cord (visible in the picture) which is supposed to keep it secure.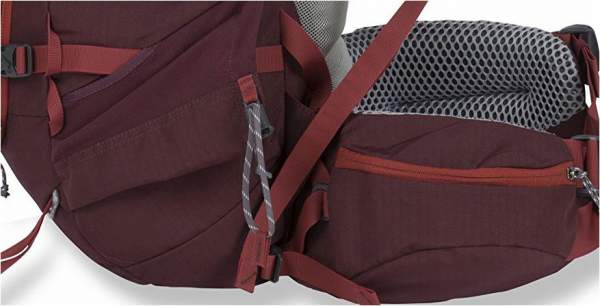 On the left side, you have the usual vertical stretch mesh pocket. Here you can carry any elongated object, like tent poles or a tripod, and fix it with side straps. This pocket is visible in the picture below: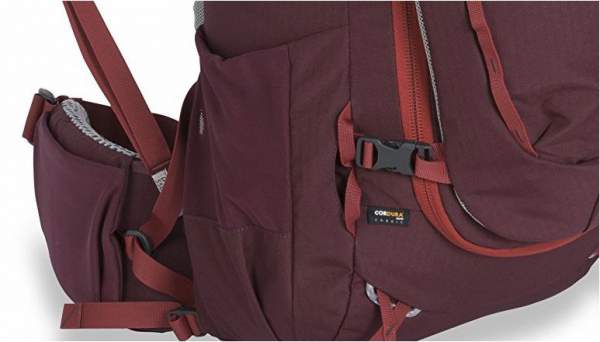 One small zippered pocket is on the top, and this is practically all. But you still have the attached daypack described above, which serves as an 8-liter front pocket. Now you can also use its own sleeve which I mentioned above, as an extra pocket for flat objects like books or maps.
Note that there is a mesh zippered internal pocket underneath the front zippered flap (the U-shaped entrance).
This would make 7 external pockets in total plus one internal, not bad for a pack without a lid.
Attachment elements and straps
The pack is with dual side compression straps, and on the front you have the mentioned daisy chains. Dual attachment loops are on the bottom and they are in pair with dual bungee tie-offs on the front.
But note that the pack is without bottom compression straps, pity. You can see more about this pack in this short video, please have a look:
The rain cover is missing here, this is essential for my tours in the Alps but perhaps less important for you. In any case, they have it and it can be ordered separately, for some $24 or so.
There is no bottom compartment, but you would not have a place for it; the front U-shaped entrance is so huge that you can very easily get the items from the bottom. So this is not a true objection, it is more information for you.
---
Specifications
Gender: for women.
Weight: 5 lb 1 oz (2.3 kg).
Volume:
– 2930 cubic inches (48 L).
– 3555 cubic inches (55 L with extended roll-top).
Capacity: 60 lb (27 kg).
Dimensions (H x W x D): 26 x 11 x 7.75 in (66 x 28 x 19.6 cm).
Torso size: 15 – 20 in (38 – 51 cm).
Waist belt circumference: 28 – 48 in (71 – 122 cm).
Waist belt width: 1.5 in (3.8 cm).
Materials:
– 305d Multi-Rip Cordura HP.
– 610d Cordura HP.
– 210d Nylon Embossed Liner.
– Twin T6 0.75 in (1.9 cm) aluminum stays.
YKK zippers.
Contoured shoulder straps and waistbelt for women's specific fit.
Adjustable suspension for S/M/L/XL torso range.
TuningFork waistbelt frame sheet for fitting iliac crest hip bone.
Forward pull waistbelt with V adjustment webbing.
PE framesheet with X configuration AL stays and horizontal stabilizer bar.
Smartphone compatible waistbelt pockets (Fits up to iPhone 6+ and Galaxy S6).
3M Reflective Cord.
Lifetime warranty.
---
Summary, rating, pros & cons
In the conclusion of this Mountainsmith Lariat 55 WSD Pack For Women review, I wish to stress that I am really impressed with the features and the quality of this pack. Though it lacks some features which I either need or love to have in a pack. But if these features are not essential for you, this is a truly great pack that I fully recommend. I have all trust in the brand behind this pack.
Regarding the price, just see all its features and bonuses. The pack is totally worth the money. See how I rate it:
You might want to check some other packs from this brand, the Lariat 65 model for men, and their new versions of Apex 60 and Mayhem 45 packs. If this is not enough, please visit my page with 35 – 55 liters backpacks. Check this Mountainsmith Scream 50 Backpack for women which is also with a roll-top entrance.
Thank you for reading. Please use the comment box below if you have any question or comment. I wish you a nice day.