---
Mountainsmith Scream 50 Backpack for women is a new item on the market, an ultra-lightweight 2 lb 10 oz (1.20 kg) minimalist pack with a great carry capacity and a roll-top closure.

---
Key features & benefits
Women-specific design.
Ultra-lightweight pack.
Roll-top closure.
Two access points.
---
What type of pack is this
The Scream series has been around for a number of years already. But now in 2018 they have launched modified versions of the packs from this series and added also this women's specific design pack as a new item in the series. Note that the corresponding version for men is the Scream 55 pack and there is also the 25-liters pack for men and women.
Access points
You have a top-loading design here, but the pack is without a lid. This is a roll-top closure so you have a collar that you can expand in the case of more load, this is why its official volume is in the range 2810 – 3175 in³ (46 – 52 L). When you roll it you can fix it in place with buckles on the sides, see the picture below. Note that Kelty PK 50 is yet another pack with a similar roll-top design and you have it also in Mountainsmith Lariat 55 for women.
Yet another access is on the front where you have a long U-shaped front zipper. When you open it, you have access to all content, and this is why the pack is without a separate bottom access and a bottom compartment. So the main compartment is one large single space where you only have a hydration sleeve that can accommodate bladders of up to 3 liters.
This backpack is designed to carry bear canisters of various sizes, if you are in the US you might want to know this. So the front access point is large for this purpose.
Ultra-lightweight design
The Scream 50 pack comes with 2 lb 10 oz (1.20 kg) of weight. So this is a true ultra-lightweight design, and you will realize this from the comparison table below where you have it compared with some other ultra-lightweight packs. But as usual, this comes at a price, some features are missing so it is a matter of priorities and a trade-off.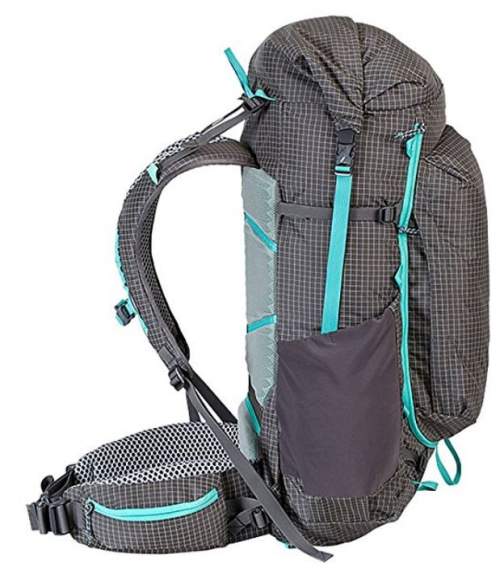 ---
Other features 
The suspension system
First to stress that there is no harness adjustability here, so the harness length is fixed and it is suitable for the torso in the range 14 – 17 inches (36 – 43 cm). But you have load lifters and the usual shoulder straps adjustment features for some tunning.
The suspension is based on a flexible EVA foam frame sheet plus a single half-inch aluminum stay in the middle, both are removable and this may be useful if you want to compress the pack and reduce its size when you transport it empty. The back is completely flat as you can see in pictures, and you have some ridged padding and ventilation channels.

So if you have problems with sweating or need a pack for a very warm environment, perhaps it is better to check those with suspended mesh or trampoline-style suspension. Some of them in the comparison table below, but you might want also to check this Osprey Sirrus 50 for women or the packs from the Deuter's Futura Pro SL series.
The padding on the anatomic shoulder harness and on the hip belt is well-done and this is a dual-density foam, and the seams are not in contact with user's body to avoid hot spots, all is covered with a pleasant and breathable mesh. The adjustable sternum strap is with a whistle and a bite valve catch.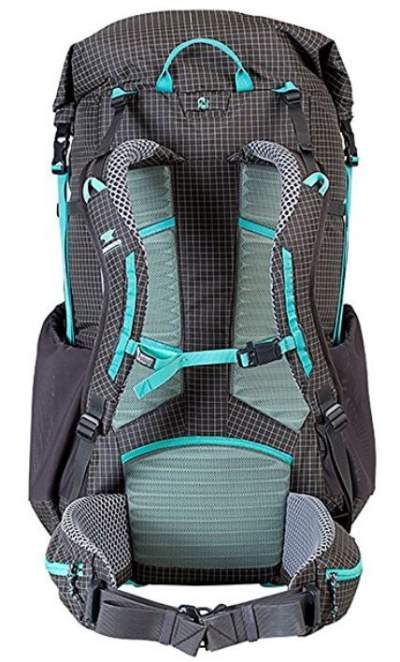 Pockets
The two large barrel pockets on the front are with long vertical zippers, and they are designed for their Mountain Shelter LT, but you can carry many other things inside, dependent on your equipment. You can put a small tent and an inflatable pad, tarp, stove, fuel canisters, etc.
You also have the usual dual side stretch mesh pockets, and on the hip belt there are two zippered pockets. So in total, this is 6 pockets. Since it is without a lid, you do not have the usual lid pockets.
Attachment and compression elements
I already mentioned the buckles and straps on the roll-top, so they go to the sides when you close the pack and with this you can change the volume as you consume the food from the pack.
The straps on the sides have the same purpose but you can also use them to secure items carried in the side pockets. On the front you have a long central daisy chain, a very useful feature, and there you also have 9 webbing loops in total. Three are on each side and three on the bottom. One in the central section is larger and it is paired with bungee tie-offs higher on the front; so this is where you can attach trekking poles or an ice axe.
Materials
This is a durable item with 210D Robic HT nylon material with a great strength-to-weight ratio and this is why the pack can carry up to 45 pounds (over 20 kg). This is remarkable when you realize how lightweight it is. The zippers are also top quality YKK, so from the leading manufacturer in the world.
---
Specifications
Best use: hiking, backpacking, mountaineering.
Volume: 2810 – 3175 in³ (46 – 52 L).
Weight: 2 lb 10 oz (1.20 kg).
Carry weight: 45 lb (20.4 kg).
Dimensions (H x W x D): 21.5 x 10.75 x 8 in (55 x 27 x 20 cm).
Waist belt fit: 28 – 48 in (71 – 122 cm).
Torso fit range: 14 – 17 in (36 – 43 cm).
---
Mountainsmith Scream 50 vs Competitors
I give the Scream 50 side by side with the other two ultra-lightweight packs, so you can compare what is missing and where, as this is all about missing features when you deal with ultra-lightweight packs. This can help in making a better choice. Note that the other two packs are not a match when it comes to the price, the Scream 50 is a very affordable item. Please check the links for updates.
---
Final thoughts, rating, pros & cons
So as you see, the Mountainsmith Scream 50 Backpack for women is a very durable and very lightweight item, but still with quite a number of good features. This is an item for people who are looking for a minimalist but reliable pack with a great performance and at an affordable price. As mentioned above, they have the 55-liter version for men as well. But if you need a smaller pack from the same series, check this Scream 25 pack.
See how I rate it:
Thank you for reading, please check my page with packs in the range 35 – 55 liters if you feel you need something different. See also these backpacks for women in my separate text. In the case of questions or comments, please use the comment box below. Have a nice day.