---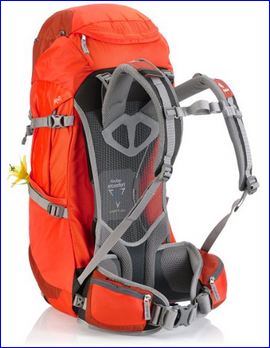 SL in the name Deuter Futura PRO SL stands for a slim line, models made for women and for men with shorter back length. They come in two sizes, 34 and 40 liters, both are presented in this review.
The PRO in the name describes a series with an improved suspension system as compared to the usual Deuter Futura packs.
Common features for both sizes (and this applies to the complete Futura PRO series) are the following:
Unmatched Aircomfort ventilation.
Flexible carry comfort.
Incredibly comfortable hip belt with the floating Vari Flex.
The SL version has specially designed shoulder straps and SL hip fins, made appropriate in particular for females.
---
Deuter Futura PRO 34 SL pack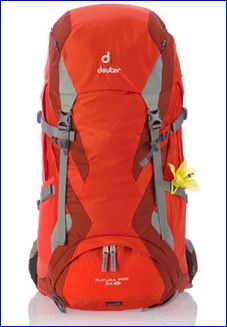 You will see at some places on the Internet this pack described as a multi-day pack; in my view, it is far too small for such a purpose. But this is simply a perfect choice for a day-tour.
Technical specifications
Weight: 3 lbs 11 oz; 1680 g.
Size: 26 / 13 / 9.4 (H x W x D) inches; 66 / 32 / 24 (H x W x D) cm.
Volume: 2070 (+240 sp) cubic inches; 34 (+4 sp) liters; for carrying up to 12 kg very comfortably.
Material: Deuter-Super-Polytex,  Macro Lite 210.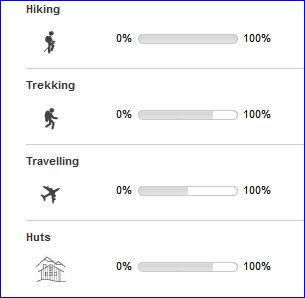 In the image here on the right, you can see what this model is best for, according to Deuter itself.
Here is a summary of its features
Spring steel frame on the back.
Anatomical Vari Flex hip belt in bi-laminate construction with a 3D Air-Mesh cover.
Anatomical 3D Air-Mesh shoulder straps accompanied with load adjusters.
Two hip-belt zipped pockets.
Two lid pockets.
2 elasticated outer pockets + 2 zippered side pockets.
Pull-forward straps for the hip belt.
Adjustable by height chest strap.
Wet laundry compartment.
Various attachment points: gear loops on the lid, loops for ice axe and walking poles on the front face.
Hydration system compatible; 3 L water.
Detachable integrated rain cover.
Separate bottom compartment.
Reflective attachment for drinking tube.
Map compartment on the front.
---
Below you will see a video presentation of Deuter Futura PRO SL 34:
---
Deuter Futura PRO SL 40

This is an ideal model for weekend tours. Probably a bit too big for day-tours.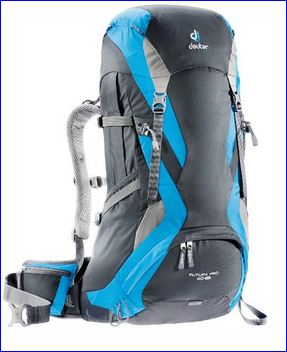 Obviously, this is the same model as the 34 L described above, just with a bigger volume, so the differences are only related to dimensions and capacity:
Weight: 3 lbs 13 oz; 1720 g.
Volume: 2440 (+240 sp) cubic inches;  40 (+4 sp) liters.
Size: 27 / 13 / 10 (H x W x D) inches; 68 / 34 / 26 (H x W x D) cm.
---
Here is a great video presentation of Deuter Futura PRO SL 40 here, do not miss it:
---
I hope that the model presented here is what you have been looking for. But if this is not the case I warmly recommend you to have a look into these posts about some other Deuter backpacks, the SL type and general:
---
Please leave some comment in the box below, I shall be very happy to read it and to give an answer to any question. Thanks.