---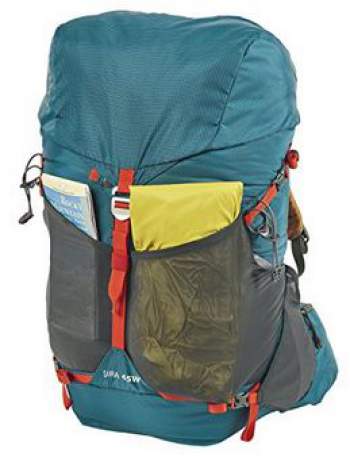 Kelty Sira 45 pack for women is a completely new model from a series launched recently. This is an ultra-lightweight hiking pack with 1.28 kg weight and 45 liters of volume, and with several unique features.
---
Standout features & benefits
Unique top and front access.
Unique dual front stretch pocket.
External hydration sleeve.
Great ventilation due to new FeatherFIT suspension.
---
Sira 45 – an unusual overnight or daypack
With its Sira 45 pack, Kelty has yet again put forward something that stands out. So let me start with these unique features mentioned above.
This is a sort of a top-loading pack, but the lid and collar underneath it are really specific as you can see from the pictures below. The lid connects to the front of the pack through a single strap instead of the usual two. What makes it even more specific is the front zipper which is connected with the top opening, and it goes all the way down almost to the bottom.
So the zipper and the collar can both be open together giving you a direct access to everything inside the pack. This is why such a design is called Shark's mouth access. I find the phrase very appropriate. What do you feel when you see these images below?
The internal space is all one single compartment and the front zipper makes it look like a suitcase, see the picture above.
As you see from the pictures, there are two front stretch pockets, separated with the vertical zipper. They make a rather large external storage area for your extra layers and other pieces of equipment.
The suspension
The suspension you have here must be mentioned separately because it is something new for Kelty. The complete design is women-specific, built to fit women's body. As far as I know, this is the first pack of this brand with the suspended tensioned back panel. The mesh is tensioned with a peripheral steel frame.
The suspended mesh design is used by many brands, the system was introduced by Deuter decades ago and used in many of their packs. You have it also in Osprey's packs like Exos 48 and in several other packs, and in Gregory's packs like Zulu 40.
So as you realize, Kelty has joined the club. Though, what I see here reminds me a bit of the Osprey's anti-gravity design, with such a smooth and almost seamless construction that covers all the back side, the hip belt, and the shoulder straps.
Such suspended mesh systems usually provide the best possible ventilation because the pack is separated from the body and the air can escape in almost all directions, you can see this in the side view picture above. I have been using such packs by Deuter for several decades now, and I am convinced that this is the best system regarding the ventilation, in particular for such mid-size and smaller packs.
This all is just to explain what they mean by their FeatherFIT suspension. So, this is similar to existing designs in other brands, but there are differences as well. Observe also that the harness is not adjustable in this model.
Other features
The pack is with a separate, external hydration sleeve, similar to what you have in Kelty's new Reva series. This is a good design that offers an easy access to the water bladder.
There is a zippered pocket on the lid, two side stretch water bottle pockets, and two zippered pockets on the massive hip belt. The side pockets are conveniently angled for an easy access to the bottle.
Dual upper side straps and single horizontal bottom strap allow you to cinch the pack and to stabilize the load. You also have dual attachment loops on the bottom, and they are paired with bungee tie-offs which you can see in the images; this is for ice axe and for trekking pole attachment.

Please see this short Kelty's video about the Sira 45 pack:
---
Specifications & summary of features
Purpose: hiking, travel.
Weight: 2 lb 13 oz (1.28 kg).
Volume: 2745 cub in (45 L)
Carry weight: up to 30 lb (14 kg).
Torso fit: 15.5 – 17.5 in (39 – 44 cm).
Size: 26 x 12 x 10 in (66 x 30 x 25 cm).
Materials:
– Frame: steel +  HDPE.
– Body fabric: Nylon 66 330D Mini Rip PU.
FeatherFIT suspension.
Shark's mouth top-loading access.
Center front zip panel access.
Dual entry large stretch mesh front shove-it pockets.
Dual side stretch water bottle pockets.
Dual zippered hip belt pockets.
Front, lower, and side compression.
Dual trekking pole/ice axe attachments.
External hydration sleeve.
Suspended back panel.
Hex Mesh back panel, shoulder straps and hip belt.
---
Conclusion, rating, pros & cons
As you see, Kelty Sira 45 pack for women is really unusual in many ways. This is an original design, a very lightweight construction, and it offers an easy access to all the stuff in the pack. But bear in mind its minimalist design and features that are missing. Note that this series also includes the pack for men, Siro 50, with identical features.
The pack does not have a bottom compartment. In the given design and for the given size, I do not think this is a big issue, so I mention it just to let you know about it. The single bottom strap is not particularly useful, so indeed you cannot attach many things from outside. Please see how I rate this pack:
If you want something different of the same size and from the same brand, please see this Kelty Reva 45 pack, also a completely new model for women that appeared on the market. Check also this Deuter Aircontact Lite 35 + 10 SL from their new series.
So I wonder what you think about this design. There is a comment box below, I love to hear your opinion. Thank you for reading and have a nice day.