---
If you are looking for an ultra-lightweight pack for the weekend and overnight hiking and mountaineering tours, this Osprey Exos 48 review is for you. Read here about an award-winning pack with a rather simplistic design and an excellent suspension system.
---
Key benefits
Excellent ventilation due to suspended trampoline-type mesh back system.
Removable and movable lid, and the flap to cover the pack.
Exceptionally lightweight pack, with the weight hard to match.
This is an award winning pack:

Osprey packs Exos 48 backpack awards.
Note, there is a new 2018 version of this pack. The summary of changes is given here.
---
Description
The nominal size of the Osprey Exos 48 pack is as the name says, 48 liters. But in fact here you have three possible sizes to choose, S, M, and L, with 45, 48 and 51 liters of volume. It allows you to carry up to 40 pounds (18 kg) of weight.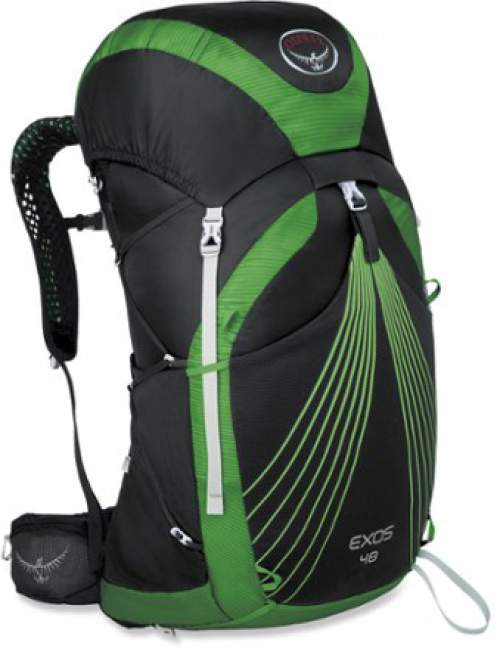 This pack is classic top-loading with a floating lid which you can move up and down in case of extra stuff when you expand the collar and get some extra volume.
Note that the lid can completely be removed. For such a configuration you have an extra flap, equipped with buckles, which then covers the top of the pack. I would say this is a nice extra feature which you have with this pack. This is all aimed at reducing the weight of the pack.
Rather narrow compression straps are on both sides of the pack, they are about 7 millimeters wide and zigzag on the two sides of the pack. Yet another removable compression strap of the same width is on the bottom of the pack, to attach a sleeping pad or a tent.
A single gear attachment loop is also on the bottom section of the pack, see the picture above. On the front of the pack, you also have 4 additional small loops to attach things if needed.
The hydration sleeve is inside of the main compartment, and you have 2 ports for the water hose.
As usual with Osprey's packs you also have Stow-on-the-Go trekking pole attachment loops, one on the side of the pack and one on the shoulder strap. This is to store your poles when you are on the move and need free hands temporarily, either to eat something, to take a photo, or to do some rock scramble.
---
The suspension system
Exos 48 pack has what they call AirSpeed trampoline-type suspended mesh back system. This is the same as what you have in some other models from Osprey, like the packs from the Osprey Stratos series.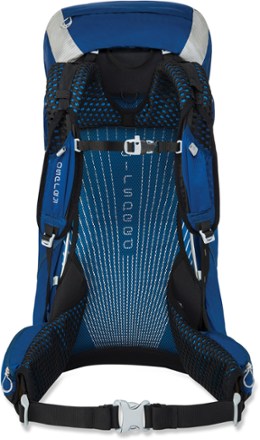 This system provides the best possible ventilation. You have a tensioned ultra-lightweight mesh that completely separates the pack from your body. The space between the mesh and the pack is so big that you can put your hand through it. See it in the side-view picture below.
The same system can be found in some packs from Gregory, and in Deuter packs of course where it was introduced for the first time several decades ago.
The mesh is tensioned by the aluminum peripheral frame which you have in place there. Note that in Deuter packs, as well as in Gregory Zulu 40 backpack, this is steel.
The contoured shoulder straps are with an excellent ExoForm padding and mesh, and the same structure is in the hip belt. You can see it in the picture above. The sternum strap is adjustable and equipped with an emergency whistle.
Note that the harness length is fixed and it cannot be adjusted. Instead, you have three possible sizes to choose in the moment of purchase, see more in the specifications below.
---
Pockets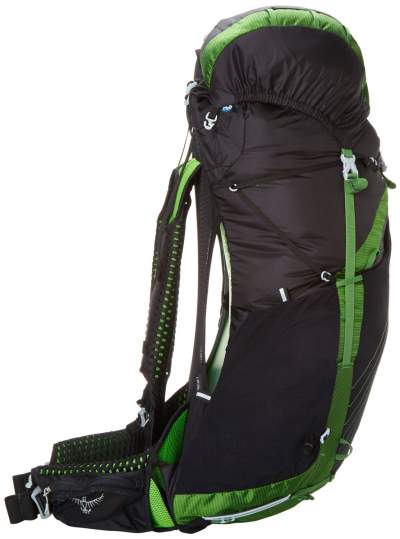 The lid mentioned above has two zippered pockets, one with external access and one beneath the lid.
On the front of the pack, you have a large stretchy mesh pocket with a buckle on the top. This is a very useful space where you can store a lot of stuff.
On the sides of the pack, you have the usual stretch mesh pockets for water bottles or some other gear. They have both top and side entrance, this is again very useful if you want to grab the bottle when you are on the move.
Yet another nice feature are two nicely designed mesh pockets on both shoulder straps. Dual zippered pockets are on the hip belt, visible in the pictures above.
You can see all these features in this video:
---
Pros & Cons
My summary of pros and cons looks as follows:
  Cons
  Pros

No side zippered pockets.
No bottom compartment.
Not adjustable harness.
No rain cover.

Good materials.
Incredible weight.
Removable lid + top flap.
Excellent suspension.
This is a relatively big backpack, so it would be normal to expect some bottom compartment, but it is missing here. The same is about side zippered pockets and harness adjustability, you do not have them in this pack.
So this is all about the design of this pack, which is rather streamlined and simplistic, all that is not essential is removed. Clearly, this is the main reason for such an incredible (absence of) weight.
If you need a rain cover for this pack, you can order it separately.
But this pack is not without some great features, and the suspension is the first and the most important.
Here is something unusual I found in customers' reports "I love this pack except… it squeaks like crazy! I discovered that the noise is caused by the polished aluminum frame tube rubbing against the bag material on each corner."
In spite of this, this pack has received exceptionally high rating everywhere.
---
Specifications
Three sizes:
– S: 45 liters (2746 cubic inches).
– M: 48 liters (2929 cubic inches).
– L: 51 liters (3112 cubic inches).
Weight:
– S: 1.08 kg (2 lbs 6 oz).
– M: 1.13 kg (2 lbs 8 oz).
– L: 1.19 (2 lbs 10 oz).
Torso fit:
– S: 16 – 19 in (41 – 48 cm).
– M: 18 – 21 in (46 – 53 cm).
– L: 20 – 23 in (51 – 58 cm).
Waist fit:
– S: 27 – 31 in (68 – 79 cm).
– M: 30 – 34 in (76 – 86 cm).
– L: 33 – 37 in (84 – 94 cm).
Maximum dimensions (l x w x d): 71 x 35 x 30 cm.
AirSpeed trampoline suspended mesh back system.
FlapJacket top cover to use without the lid.
Osprey's ExoForm in both mesh hip belt and harness.
Sternum strap with emergency whistle.
Top access.
Dual zippered hip belt pockets.
Osprey's stow-on-the-go trekking pole attachment system in place.
Stretch mesh side pockets.
Removable sleeping pad straps.
Internal hydration sleeve.
Single ice axe loop.
7 mm side compression straps.
Colors: 2 combinations, see the pictures.
Guarantee – Osprey's unique All Mighty guarantee: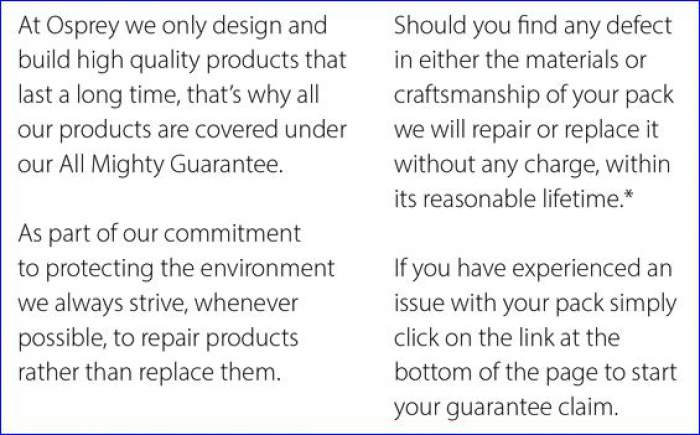 ---
Summary
To summarize this Osprey Exos 48 review, as you realize from this text, the design of this pack is a bit simplistic. They have omitted everything that is not essential, but it is the suspension system where this pack shines. Nothing is missing in this segment of the pack, and you can be sure you will have the best possible ventilation that a pack can offer. There are very good reasons why this pack has been so popular and why it has received so many prizes shown above.
If 48 liters is small for you, please see yet another pack from the same series described in this site, the 58 liters version. Need a smaller one? They have it, 38 liters from the same series.
Was this text helpful to you? If this is so please share it with others. Note that there is a comment box below, I shall be happy to hear from you. Have a nice day.