---
Teton Sports Mountain Adventurer 4000 Backpack is truly loaded with very useful and unique features which you will not find anywhere else. This is a great lightweight 66-liter backpack suitable for any multi-day outdoor adventure.
---
Most important benefits
Integrated hooded tarp-poncho.
Great price, as usual with Teton Sports.
Many unique features.
Three access points to the main compartment.
Bottom compartment.
---
Best price & place to buy
The best place regarding the price and shipping conditions is usually Amazon.com.
---
Teton Sports Mountain Adventurer 4000 – description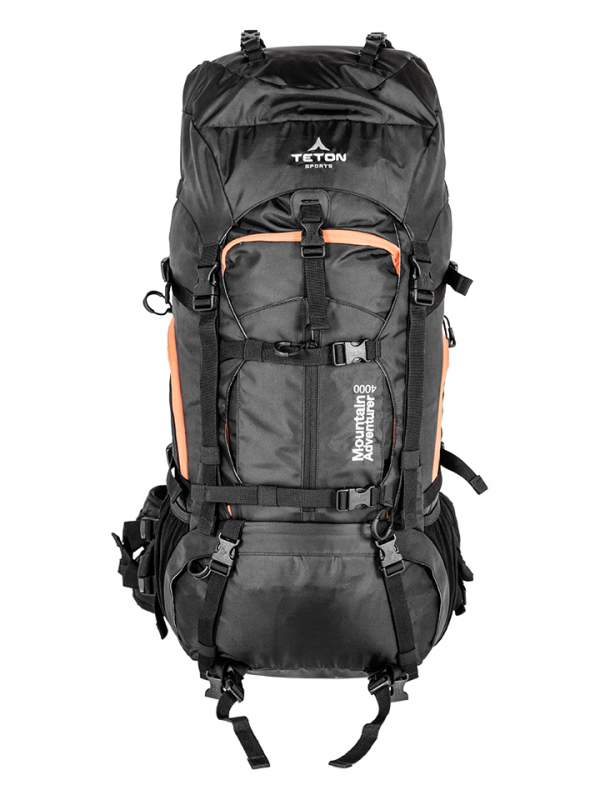 I must say I am truly delighted with this Mountain Adventurer 4000 pack. This is a top loading pack, with a classic lid with two buckles on the front and straps on the back, so it is floating-type.
Under the lid, you have a sleeve (holster) with two buckles and straps, which is one of the several unique features in this pack. This is added for carrying stuff like a tent or a pad. You will see how it works in the videos below.
The collar under the lid is with dual drawstring closures. It is really large and allows for an easy access from the top. Of course, the presence of such an expandable collar and the floating lid implies that you can have extra volume when/if you need it.
But the pack has yet another large front access to the main compartment, with a long U-shaped zipper. It is underneath the front pocket and the two horizontal front straps which you can see in the pictures. The entrance is shown below right.
The pack has a separate sleeping bag compartment with a standard horseshoe shaped zippered entrance. The divider between the two compartments is nicely done, with a zipper and not with toggles which you may find in some much more expensive packs.
So you can open it if you need one single huge compartment, or you can close it and be sure that small items will not slide from the main compartment down into the bottom compartment.
The pack is hydration compatible and you have water hose ports on both top sides. Inside the main compartment, you have the usual sleeve, and a velcro hanger on the top to attach a water bladder (not included).
All zippers on the pack are with beautifully designed pull loops with a rubbery material on them. They are large enough to be used even with thick gloves. You can see them in the first picture above.
---
---
Hooded tarp-poncho
Yes, you are reading correctly, the pack comes with an integrated 66 D, 3 mm poly-ripstop tarp-poncho. It is with 2000 mm water resistant coating. It is very versatile and you can use it:
as a poncho,
as a shelter, or
as a rope tarp.
Note, it is definitely big enough to cover you and the pack on your back. It has plenty of tie-offs points (see the picture below) which you will use when you are in the camp and use it as a tarp or a shelter.
So you will not need waterproof clothing and a separate rain cover for the pack, with this poncho you
---
Attachment points
This pack has so many attachment points that I find it necessary to put this into a separate section. Some of them are completely unique.
So to start from the top, on the lid you will see two compression straps, this is a rather unusual feature but very useful. They are long enough to attach practically any piece of your equipment.
I already mentioned the sleeve (gear holster) under the lid where you can attach even a very bulky sleeping pad, you will see one in the video below.
The usual dual compression straps are on the bottom section over the sleeping bag compartment.
In the same section you have two gear loops with buckles, again something unique and unusual, it is the first time for me to see such a design.
Completely on the bottom is a separate velcro pocket with a holster with buckles and straps which you can use as a "platform" to carry stuff on the bottom of the pack, a tent or anything similar.

---
See some more about these multiple straps in this nice video by Teton Sports:
---
Summary of unique features
2 top compression straps.
The holster under the lid to carry a tent or other gear.
The holster with buckles on the bottom of the pack.
Dual bottom gear loops with buckles.
Dual gear loops inside of the main compartment, on each side.
Three entrance points to the main compartment.
---
Pockets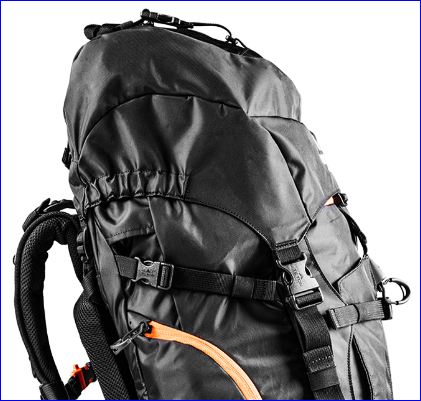 There are 5 zippered pockets, plus 2 mesh stretch pockets, plus the drop area behind the front pocket. See where you can find them:
One small zippered pocket is underneath the lid, and another large zippered pocket with external access is on the top of the lid. The integrated poncho tarp comes stored in this pocket.
Another pocket is on the front, with a vertical zipper; it is fixed in place with two horizontal straps with buckles, and with one extra buckle on the top of it, you will see this in the video below.
So when you undo the top buckle, you can store a snowboard behind it, and the horizontal straps will keep it nicely secured. These horizontal straps with buckles can be used to carry skis as well.
On the left side you have a zippered pocket (see the picture above) which I always love to have on a pack, and below on both sides you have the usual stretch mesh pockets for water bottles or any other stuff. Whatever you put there, you have dual straps above to fix it in place.
Note that the another zippered entrance on the right side is not a zippered pocket, but yet another side entrance to the main compartment. I find it totally unnecessary, a zippered pocket would be much more useful here.
One zippered pocket is on the right side of the hip belt, while on the other side you have gear loops. I must say, I would not mind having yet another hip belt pocket, but I find this organization very useful as it is.
---
The suspension system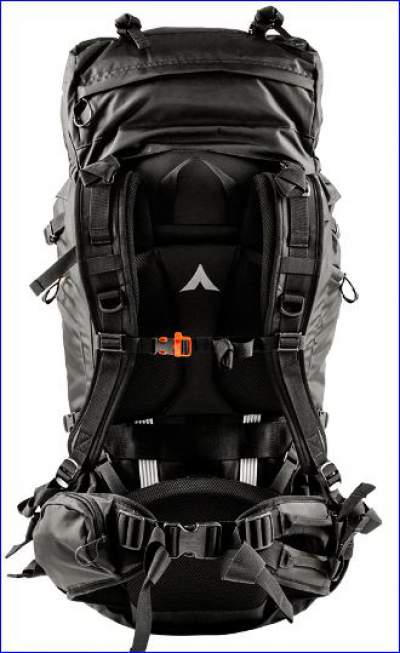 This is a pack with an internal frame, which implies two aluminum stays on the back, that are partly visible from outside, see the picture. The harness is adjustable and it slides along the stays up or down.
It is suitable for the torso length in the range 15 – 20 inches (38 – 51 cm). But you have the load lifters as usual for packs of this size, and they can add a few centimeters more to this torso length if you need it. I mean, if you feel that the belt sits too high and you cannot extend the harness any longer, you can get some space by losing the load lifters.
The padding is on the upper area where you have two separate pads behind your shoulders, and you also have a lot of padding in the lumbar zone.
When you watch the pack on somebody's back from the side, you can actually see through the space between the pack and your back. This implies a really good ventilation in the central area towards the sides, but there is also a central vertical chimney for this purpose.
The whole padding on the harness and the hip belt is covered with a breathable and pleasant air mesh.
The sternum strap is adjustable and equipped with a safety whistle, see the picture above. I love to see that it slides along webbing straps. I guess most people would like to have the modern rail system here, but such rails very frequently fail. The adjustment based on webbing like here will never fail, I have it in my mountaineering pack which I have been using in the past 13 years.
On the shoulder straps, you will notice webbing loops for the water hose, and you also have D-rings there.
I particularly love the split dual wishbone construction in the thickly-padded waist belt. Why is this good? Well, you will notice that on the back side of the belt you have dual compression straps, to independently adjust the top and bottom section of this split system. Similarly, on the front part, you have dual straps that converge towards the front buckle. This all allows you to find the best fit for your body shape, and the belt will hug your waist zone in the most comfortable way.
So regardless if you buy this particular pack or not, this is the system you should look for in any pack of this size. We are all built differently and such a system allows for the best possible fit. It will nicely accommodate women's body shape as well.
On the other hand, as you can see from the pictures, you have openings between the two sections in this split system. This allows for extra ventilation in this area which is normally under a lot of stress and with hot spots, and where you will be sweating more than anywhere else.  This is a great and useful system in general.
The hip belt is with pull-forward front adjustment, yet another good feature in this pack, see the structure below.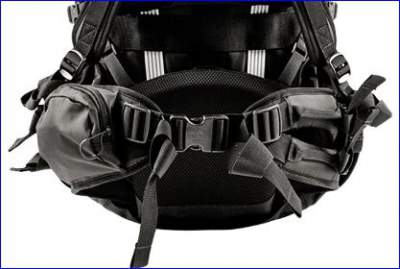 ---
You can see most of these features in yet another video by Teton Sports, please have a look:
---
Pros & Cons
Actually, I do not have anything in particular to object to this pack. This is a rare situation for me. But here is the summary:
 Pros
 Cons

Versatile.
Integrated poncho tarp.
Three access points to the main compartment.
Adjustable harness.
Many very useful and unique features.

Torso length may not be good enough for tall people.
The additional gear holsters below the lid and on the bottom are really useful and functional. But they might have made them removable because many will not use them, or will not need them all the time. I hope the Teton Sports designers might think about this if they redesign the pack in the future.
How about the third access point from the side? I would prefer to have yet another pocket, but this is not a serious issue in any case.
This is a new pack from a new black series, but it has already received a number of reviews on Amazon. So the average rate for this pack is very respectable 4.5/5, and 61% of users gave it the highest rate 5/5.
---
Specifications
Weight:
– 5.25 lb (2.38 kg) with tarp poncho,
– 4 lb (1.81 kg) without tarp poncho.
Volume: 4000 cubic inches (66 liters).
Size: 27 x 12 x 10 in (69 x 31 x 25 cm).
Torso fit: 15 – 20 in (38 – 51 cm).
Adjustable harness.
Waist belt: 33 – 48 in (84 – 122 cm).
Hip belt with split wishbone construction.
Independent top and bottom hip adjustments.
Shell: 420 D black oxford 1000 mm WR.
Hydration capacity: 101 oz (3 liters).
Color: blackout.
Unisex.
Top access under the lid.
Front access: U-shaped front load zipper.
Side access.
Attachment system for touring skis, a snowboard, split board, or snowshoes.
Buckle in neoprene gear pouches at the top and bottom of the pack.
Integrated 66 D, 3 mm poly ripstop tarp poncho.
---
Comparison with competitors
See how the Teton Sports Mountain Adventurer 4000 stands among the competitors. I give here a few different models from other brands, that are among the best in the industry.
Deuter Futura
Vario 60
North Face
Terra 65

Teton Sports Mountain Adventurer 4000

Weight (kg)
2.3
1.98

1.81**

Volume (l)
60+10
65

66

Rain cover
yes
no

yes, tarp

Bottom compartment
yes
yes

yes

Adjustable torso
yes
yes

yes

Zippered side pockets
2
no
1

Hip belt pockets
2
2

1

Metal internal frame
yes
yes

yes

My rate
9.3/10
8.8/10

9.1/10
*Data for M size.
**Without tarp poncho.
I rate this pack really high because of all its features and the price. The Deuter Futura Vario series remains my absolute top.
The Mountain Adventurer 4000 pack becomes heavy when you add the tarp, but the tarp adds a lot of versatility to it, so it is worth those extra 580 grams. Remember, you will not need extra waterproof clothing and rain cover.
On the other hand, please check the prices of the other packs, just follow the links. You will realize that those other packs are far more expensive.
---
Summary
As they say in the video, the Teton Sports Mountain Adventurer 4000 backpack offers really endless organizational options. So many unique features one can rarely see in any pack presently available on the market. In my view, this is the best pack Teton Sports has ever made.
It will serve you well regardless if you use it for backpacking, hiking, mountaineering, or hunting. In view of all attachment elements, you will be able to carry all you need for several days tours.
This is a new pack and yet to be tested and to stand the test of time, but I love all that I see here. Great tool with the bonus poncho tarp and with such an affordable price tag. What else one would need.
Note there are many Teton Sports packs presented in this site. If you need something smaller please visit the equipment reviews page where you can find some other packs from this black series, like the Teton Sports Talus 2700 backpack and Teton Sports Rock 1800 backpack.

I hope this text has been useful to you, and if this is so please do share it with others. If you have any question or comment please use the comment box below.
Thank you for visiting my site, I wish you a pleasant day.
---