---
Discussing this issue of backpack harness adjustability is motivated by a comment I received recently, so I decided to write this text as a reference. There are many elements of the harness adjustability. So keep reading.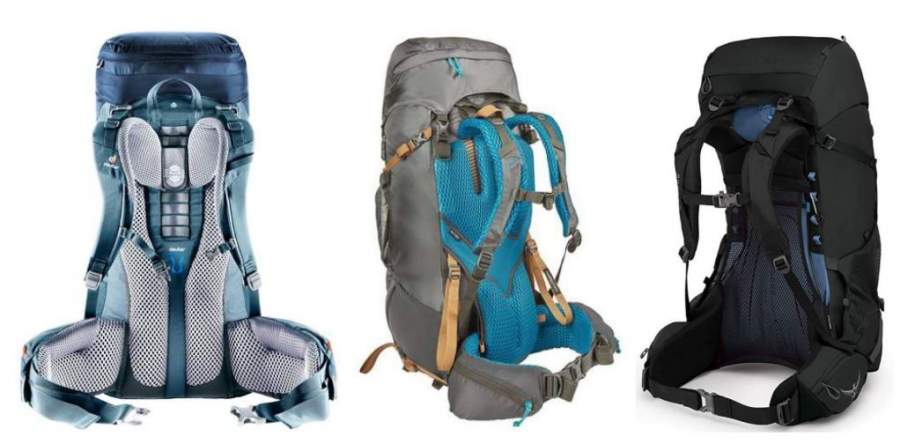 ---
What is a backpack harness in the first place
As I mentioned above, there was a comment in a post where this issue appeared, so I gave a reply in the comment section. But this is quite a complex question as you will realize from the text below.
There are several different elements in the harness of a backpack and they include:
Sternum strap.
Load lifters.
Shoulder harness.
Hip belt together with the lumbar support system.
The purpose of all of them together is to make carrying the pack as comfortable as possible, to keep the pack stable and in the right position on your back. For such a function, it is essential that you can adjust all these elements. So below you will see what you can expect to find as adjustability features in the packs that are currently on the market.
---
Harness adjustability – what does it include
The following features apply to the term harness adjustability:
The adjustability of the sternum strap
Load lifters adjustability.
Torso length adjustability.
Shoulder straps pivoting.
Hip belt fins adjustability.
Hip belt pivoting and some variants.
Hip belt molding.
Interchangeable hip belt & shoulder harness.
Height adjustable hip belt.
Adjustable lumbar padding.
So let's see what each of these features implies.
1. The adjustability of the sternum strap
Sternum straps are practically always adjustable. So you have any of the following two vertical adjustability options:
These allow you to move the sternum strap up or down. Sliders in cheap backpacks tend to fail, so if you want a durable design, go for a ladder-type structure. It has less fine-tuning because you have just 3-4 specific vertical positions for the sternum strap, but this structure will never fail.
In addition, there is also horizontal adjustability and this includes an adjustable strap with a buckle, plus a part of the same sternum strap which is elastic.
2. Load lifters adjustability
If a pack has load lifters, then they are always adjustable. I do not remember any without adjustability, it would not make sense. This implies the following:
You can make it loose, or you can tighten the straps which you have there. This will move the pack away or closer to the body, respectively. You will tighten it if you are on a scramble so that the pack is closer to your body, this is better for balance.
Some larger packs also have two different positions to which those load lifters are attached on the back of the pack. This is great to have if a pack is particularly tall, and also in general when you have lots of gear above your shoulder area. By tightening it, makes the load more stable. Examples of this design you can see in this Deuter Aircontact 60 + 10 SL pack and also in Mountainsmith Apex 100 Pack. Deuter packs usually have these numbers +5, +10 in the name. This means expanded collar so as you can imagine the pack becomes much taller in such a setup. This is why you might need to reposition the load lifters.
3. Shoulder harness adjustability or torso length adjustability
This term describes the fact that you can change the torso length. So here you have a variety of designs:
Adjustability with shoulder straps. This is only some basic fine tuning and not a true adjustability. Strictly speaking, this does not change the torso length. Instead of that, the complete pack can be shifted up or down. Namely, you can loosen or tighten shoulder straps and this will move the hip belt down or up, respectively. This allows for a couple of centimeters only, and it depends on the length of padding on the shoulder straps. Such a centimeter or two shift can position the hip belt just where it should be. But it is best to use this with some other mechanism described below.
Ladder-type adjustability system with two ladders on the sides, see the picture below. This system you will find in Osprey Rook 65 and the other packs from Rook-Renn series. So you have several discrete positions only (4 in this case), within a given range. Then you can have additional fine-tuning with shoulder straps as described above. Something similar is also in the new Manta-Mira series.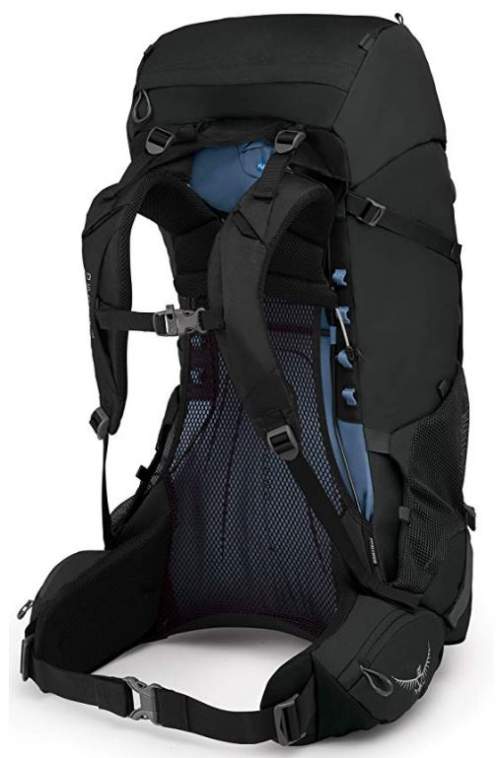 The ladder-type system with one ladder in the middle of the back panel. Many packs on the market have this design. See for example Deuter Aircontact Lite 65 + 10 (picture below). This is again a system with several specific positions, and you can combine it with the mentioned fine-tuning through shoulder straps.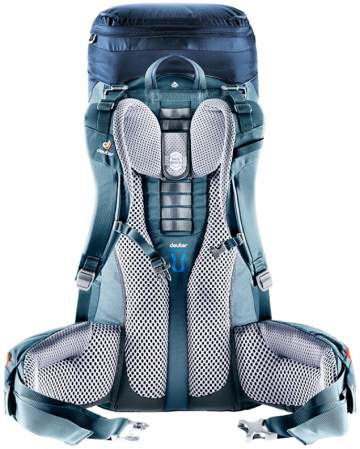 Torso adjustability with a strap in the middle of the back panel. One example of this type you can see in Deuter Futura Vario 50+10, see the picture below. This system allows for any length within the given range.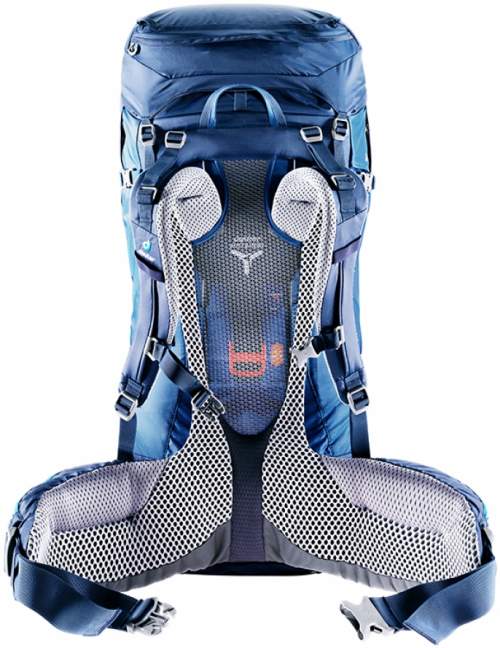 Torso adjustability with the harness attached with Velcro hook and loop tabs. This is used in many packs of Osprey. See for example Osprey Ariel Pro 65 Women's pack, Osprey Xenith 75 pack, Gregory Zulu, and many more. This allows for any length within a range, no need for any extra fine tuning with straps. You just break the hook and loop connection and move the harness up or down, then press to re-engage the connection.
Torso length adjustability with 2 positions only. This is typical for large packs from Gregory. You can see it in Gregory Deva 70 Pack For Women, and also in Gregory Denali 75 pack.
PerfectFit suspension from Kelty. In my view, there is nothing better than this system. You can see it in their Kelty Coyote 65 backpack for men, Kelty Revol 65 backpack, Kelty Zyro 54 Backpack for women, and in many more.

PerfectFit torso adjustability in Kelty's packs.

What makes it "perfect" is the fact that you adjust it with the pack on your body. So you can feel the best position of the hip belt, lumbar support, and the shoulder harness. You pull the two straps on the sides (see the picture above) and position the pack with the full load. No need for any additional fine-tuning.

More about this PerfectFit in this video, but you will see also about a specific lumbar adjustability, and about a hip belt pivoting system which will be mentioned farther below:
4. Shoulder straps pivoting
So this is a sort of auto-adjustability. In such a system, the shoulder straps can pivot independently to adjust to your body movement or to your body size (width). You have this in Gregory Mountain Products Men's Baltoro 65 Backpack and in many other packs here in the site.
5. Hip belt fins adjustability
♦ Typically this means that you can move the hip belt fins forward or backward while the belt remains in its fixed position. So you can extend padding where you need it. Such a design you have in Osprey Atmos and Aura packs, and they call this Fit-on-the-Fly system. In this case the hip belt pockets remain in the same place.
♦ A bit different design is in Gregory Paragon and Maven packs.
♦ The system used in Granite Gear Blaze 60 is a bit different, with a Velcro behind lumbar padding see the picture. This allows for the two halves of the complete hip belt to be moved forward or backward. This also moves the hip belt pockets.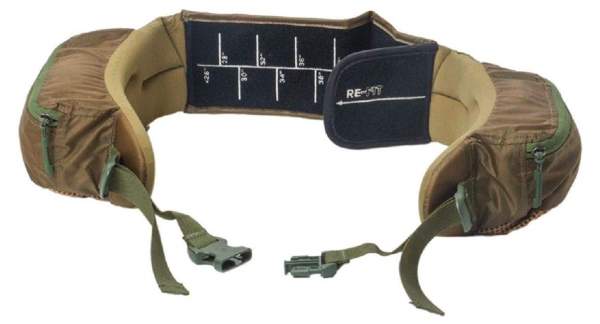 6. Hip belt pivoting
This design may include several variants:
Independent pivoting of the two sides of the hip belt. This you have in Gregory Denali packs for example.
Rotation of the hip belt with the single pivot point. You can see this system in Deuter Aircontact 60 + 10 SL pack.
Parallel pivoting up and down. This system is unique to Kelty's packs and you can see it in their Kelty Revol 50, and also in Kelty Reva 60. It is mentioned in the Kelty's video above.
7. Hip belt molding
This is something unique to some packs of Osprey. They use a special sort of foam that molds by the body heat so that the hip belt adjust perfectly to your body shape. To speed up the process, you can use their oven which is available in better outdoor shops.
So this is a sort of auto-adjustability of the system to your body. You have this system in Osprey Ariel AG 65 pack and in all other packs from Aether-Ariel series, and also in Osprey Xena 70 and in all other Xenith-Xena packs.
8. Interchangeable hip belt & shoulder harness
This you have with some packs of Osprey like Aether and Ariel and also in Xenith and Xena packs, but there are more brands that offer such a luxury.
9. Height adjustable hip belt
Some packs allow for positioning the hip belt at different heights, and this together with the shoulder harness adjustability. You have such an example in this Mountainsmith Apex 100 Pack.
10. Adjustable lumbar padding
♦ A great example of this is in Kelty's Revol and Reva packs where the lumbar padding is adjustable by height. This is demonstrated in the Kelty's video above.
♦ In Gregory Baltoro series you have a different system – an extra lumbar pad that can be added behind the fixed lumbar padding.
---
Final thoughts
So these are some systems of the backpack harness adjustability that first come to mind. I am sure there are more variants and I might add some later. Stay tuned and bookmark this text as a reference. Also, let me know if you remember any which I missed to mentioned here, I shall be more than happy to do so.
Thank you for reading. Please use the comment box below in the case of questions, comments, and suggestions. Have a nice day.
---