---
In this Osprey Atmos 50 AG review, you will read about a truly wonderful and popular pack with a long list of awards won so far. This is an extremely adjustable pack. It has been redesigned a few times in the past, with the outcome very close to perfection.
---
Key features & benefits
Flap Jacket for a lidless use.
Excellent AG suspension.
Fully adjustable torso length.
Adjustable Fit-on-the-Fly hip belt.
3 sizes to choose from.
Stow-on-the-Go poles attachment.
Load lifter bars.
---
What this is about
In my recent text, I blogged about the new 2018 version of the Osprey Atmos and Osprey Aura backpacks. The Aura is a women's specific design and you can see it here. The easiest way to recognize this new version is this inverted U-shaped symbol on the front pocket (in the previous 2017 version you have an oval or O-shaped picture here), see how it looks now: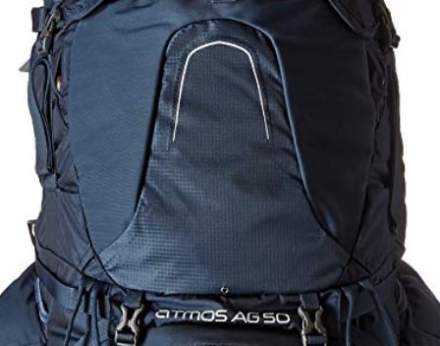 If you are not familiar with these packs, the Atmos series is built in two sizes of 50 and 65 liters, and the same is with Aura where you have 50 and 65 liters.
Before I continue, just to stress that the red color version which you see in the picture above does not look so in reality, at least the model which is on the EU market. I have the backpack in hands and the red color is not so dark, it looks much brighter.
Now, regardless if you like the AG concept or not, one thing that comes to mind when you keep such a pack in hands is the following – it looks like a piece of art, so sophisticated and with so many small but useful details which I have not seen in many packs around.
The pack is a classic top-loader but you also have the bottom compartment. The divider between the two compartments is removable. The pack is hydration compatible; you have an internal sleeve in the main compartment. The water hose runs along the shoulder strap.

---
Overview of features
Here I am going to give a few details about those mentioned key features and other features.
Removable top lid & Flap Jacket
The lid is adjustable by height and you will need this if you have some extra load in its expandable collar. But the lid is also completely removable as well. They have done this in a clever way. You have an integrated flap to use when the lid is removed, it is always there and you cannot remove it. Here you have one example of small but useful details – the two toggles which you have on this flap have their own tiny pockets on the flap, you keep them there as long as the flap is not in use so that they are not on your way.
The toggles match those that you normally have on the front, so the pack without the lid looks much smaller and it still looks complete, see it without the lid below, and the pack is fully closed and protected from the top.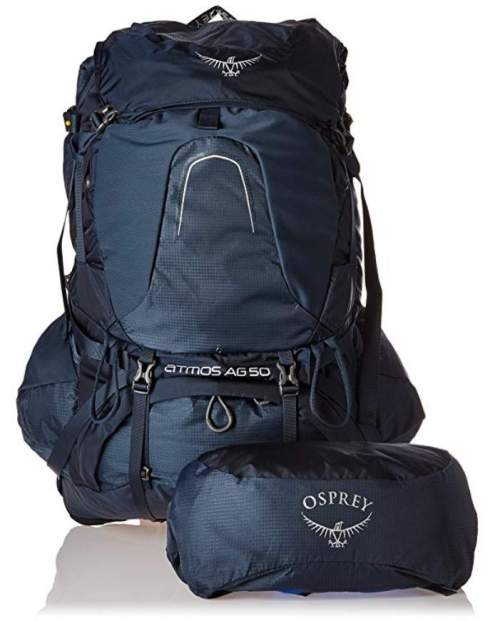 The AG suspension
The letters AG in the name denote 'anti-gravity'. With this, the designers from Osprey wanted to say that you do not feel this pack on your back. But is this really so and how does it work?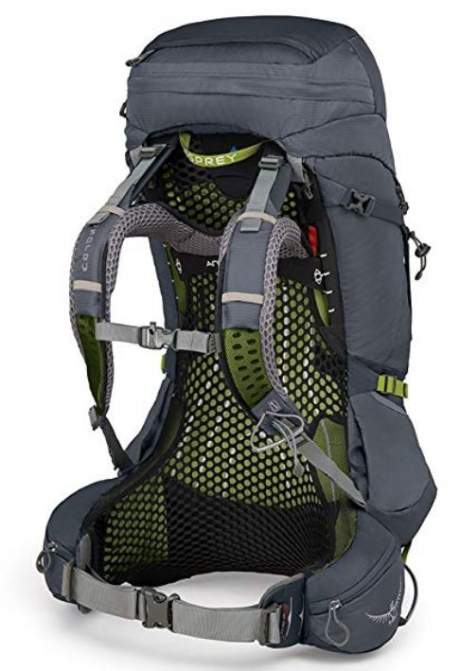 In my view, this is the most advanced suspension system available on the market, but this does not necessarily mean it is the best and that everybody likes it. Having it on my back today, I can say it feels totally different from the Deuter's pack. You feel it all over your back and this is the point of this AG concept.
The construction includes a continuous and seamless mesh with very large openings in its structure, which covers all back panel, shoulder straps, hip belt, and lumbar area padding, see the picture above.
The mesh becomes tensioned when you put the pack on, so it fits like a glove, or if you wish it is similar to wearing a coat. It keeps the pack separated from the body and this, in turn, increases ventilation. The whole structure is supported by a lightweight aluminum frame.
This system should work well for smaller packs but probably less good for larger packs, but in any case, it looks incredibly cool. It is so easy to become impressed with it.
Atmos AG 50 pack comes in 3 sizes, but apart from this, there is still the adjustability of the harness in the range of around 3 inches (8 cm). So you can be sure that the perfect fit is not an issue with this pack. There are markers on the back of the back to guide you to find your best fit.
On the hip belt, you have a unique fit-on-the-fly adjustability mentioned in the key features above. This means that you can fit the belt with your pack on. To do this, you need to break Velcro connection on both hip wings and to move them forward or backward to your desired position, see the picture below. This can be done within a range of 6 inches (15 cm). With this, you can adjust the padded sections of the belt to fit your body perfectly.
A sliding sternum strap is the part of the system, and it comes with an emergency whistle.
Load lifter bars
You have the usual load lifters, but underneath them, you also have load lifter bars. They are not completely rigid but they are quite stiff and they serve to give support to the weight that is above your shoulders level.
Pockets
The lid has two zippered pockets on the top, one at the top of another, see the picture above. The lower pocket is with two zip-pulls, and I can tell you these and all other pulls are beautifully designed and you can use them even with gloves.
One large stretch pocket is on the front of the pack, it is secured by a buckle on the top. Here too you have a nice small detail, the buckle is under a cover, which looks like an inverted pocket. I guess that this is to keep it so that it does not catch branches when you move through bushes.
There are two zippered pockets on the hip belt, and on the sides you have two stretch mesh pockets with dual access, from the top and from the side. So you have 7 pockets in total, good enough but not so impressive.
Attachment elements & straps
Two attachment loops for ice axes are above the zipper of the bottom compartment, and they are to be used together with bungee cords higher up. You remember 'fine details' I mentioned a few times? Well, here you have them again – the bungee tie-offs have their own tiny pockets where you can store them so that they do not catch branches.
Also, the attachment loops can be placed in the small pockets above them, those are created by the pieces of fabric to which the main front buckles are sewn in, see the picture below. I do not know if these slits are made on purpose for loops but you can definitely stow them there; the loops are a bit big and it is best to have them hidden if possible.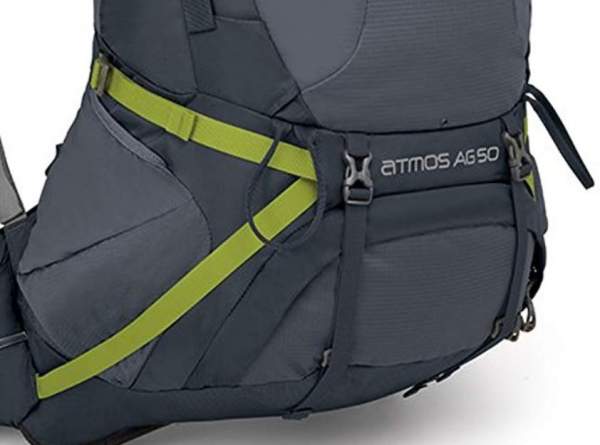 The picture above shows also the bottom compression straps; they are rather narrow and lightweight, and they are removable. You can use them to carry your pad or anything similar.
You also see the yellow V-shaped lower compression straps; this is a functional design because it pulls also the hip belt towards the pack. Normally in many other packs, you have separate straps for this purpose alone.
There are also the upper compression straps on both sides. You will need them to cinch the pack or to fix in place any longer object carried in the side mesh pockets.
You also have the Osprey's Stow-on-the-Go attachment system for the trekking poles. This is the system they have in many of their packs, you will see it in the video.
One more strap is underneath the lid and within the collar, so you can cinch the load from above to reduce the volume.
Here is a promotion video by Osprey, about Atmos and Aura series, please have a look:
---
Technical specifications & summary of features
Weight:
– Small: 4.13 lb (1.87 kg).
– Medium 4.21 lb  (1.91 kg).
– Large: 4.29 lb (1.95 kg).
Sizes: 3.
Volume:
– Small: 2868 cu in (47 L).
– Medium: 3051 cu in (50 L).
– Large: 3234 cu in (53 L).
Size (M): 33 x 15 x 15 in (83 x 38 x 38 cm).
Maximum carrying weight: 40 lbs (18.6 kg).
Torso fit:
– Small: 16 – 19 in (41 – 48 cm).
– Medium: 18 – 21 in (46 – 53 cm).
– Large: 20 – 23 in (51 -58 cm).

Hip belt fit:
– S: 24 – 45 in (61 – 114 cm).

– M: 27 – 48 in (69 – 122 cm).
– L: 29 – 55 in (74 – 140 cm).

Access: top, bottom.
Material:
– main body: 100 D x 630 D nylon dobby.
– accent: 210 D high-tenacity nylon.
– bottom: 420 HD nylon packcloth.
Colors: 3; graphite gray, absinthe green, cinnabar red.
Warranty: lifetime.
Use: backpacking, hiking, mountaineering.
Aluminum internal frame.
Hydration compatible, internal reservoir sleeve.
Torso adjustment.
Top load.
Stow-on-the-go trekking pole attachment.
Dual stretch mesh side pockets.
Dual zippered hip belt pockets.
Dual ice tool loops with bungee tie-offs.
Large stretch mesh front pocket with a buckle.
Zippered sleeping bag compartment.
Dual zippered top lid pockets.
Removable floating top lid.
Upper side compression straps.
Lower side compression straps.
Adjustable sternum strap and emergency whistle.
Integrated FlapJacket for weather protected lidless use.
---
Osprey Atmos AG 50 pack vs Competitors
In the table below I give the Atmos AG 50 side by side with two top items in the same size range. The Deuter's pack is heavier but it has far more features than the Atmos. On the other hand, the Gregory's pack is with all features you might need, and its weight is without a match but its comfort is below the other two packs. Please follow the links to read more.
Deuter Futura
Vario 50+10
---
Final thoughts, rating, pros & cons
In conclusion of this Osprey Atmos 50 AG review, I wish to stress again that this is a top-quality and reliable backpack with some truly unique features. You have seen above, the list of awards; it is not complete, and those awards are given for all good reasons. If the price is not an issue you should not think twice.
About rain cover
I have the pack in hands as I am writing these lines and can tell you that the rain cover is available on the EU market, it is stored in the top pocket on the lid, and you even have a sign on the lid for the rain cover. But as far as I understand this rain cover is not available with the version on the US market. Pity.
Regarding the side zippered pockets that are missing here, this is just something that I love to have and you may ignore such an objection.
It is a bit heavier than some of its competitors, but there are heavier tools on the market for sure, you will see more in the comparison table below. Regardless of these cons which are my own list, this pack has received numerous awards so far, here are some of them:

See how I rate this great pack:
Osprey Packs Atmos AG 50 Men's Backpacking Backpack
But you might want to check also this new 2018 Deuter Futura Vario 50+10 with some great features. In fact, I have compared the two packs in the text Osprey Atmos AG 50 vs Deuter Futura Vario 50 + 10. It appears that the Deuter's pack has some advantage. Tell me what you think.
Thank you for reading, if you find this text useful then please share it with others. Do you have any experience with the packs from the Atmos & Aura series? If so please share it here, there is a comment box below. I wish you a pleasant day.