---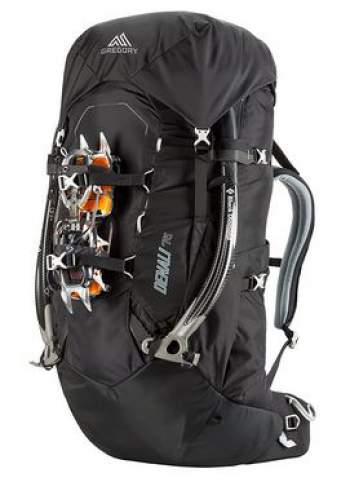 Gregory describes this pack as a technical expedition tool designed with the needs of the modern alpinist in mind. Indeed, this is a true load-hauling tool with a carry weight capacity of 30 kg. To see more please read this Gregory Denali 75 review.
---
Standout features & key benefits
Huge carry load capacity.
Durable materials.
Extra side entrance.
Removable stays, top pocket, bivy pad, and hip belt padding. This all to conform to the current needs of a user.
---
Gregory Denali 75 – description
The Denali 75 is a heavy-duty technical pack with a lot of features introduced specifically bearing mountaineers in mind. This is the smaller of the two packs in the Denali series (the bigger being 100 liters), suitable for multi-day and week-long expeditions.
The pack is top-loading with a big removable hood with two zippered pockets. It is easy to detach it if you want to save weight. But I wonder why you would do this, there is no flap to protect the top in that case. Remember, this pack is also without rain cover so removing the lid is a bad idea in any case. The collar is expandable spindrift-type and it allows for some 10 liters of extra volume.
Note that the lid can be converted to a daypack. There is an extra pair of straps that you will use for such a purpose. You will see how this done in the video below.
The pack is also with an extra side entrance, so you have a long zipper for this purpose on the right side. What I surely dislike is that the pack is without the bottom compartment.
The materials used in its construction are quite strong and abrasion resistant, 210 D and 420 D nylon ripstop, and the bottom is reinforced with a 630 D high-density nylon. The front is strongly reinforced so you have a dual-layer laminated panel for the attachment of some stuff like crampons or snowshoes and skis. The side compression straps have their usual role, but they also double as ski and snowboard straps, so you imagine they are very durable.
The pack is equipped with a removable bivy pad stored in the main compartment in a separate sleeve. This is surely a useful piece to have when you take a rest or stay the night high in the mountains.
The pack is hydration compatible, with a sleeve inside the main compartment.

Attachment elements
Dual vertical sets of loops (daisy chains) are on the front, 4 loops in each set, visible in the picture below. You have slots for ice axes on the bottom section, as well as bottom gear loops that are paired with velcro tabs higher on the top. There are also daisy chains on both shoulder straps, see the picture below showing the suspension system.
Dual compression straps are on both sides and they can be extended across the front. This you would do if you want to attach skis or snowboard on the front.
There are several attachment elements on the hip belt, see below, all that you need for rock and ice tools.
Pockets
There are 6 pockets in total. Dual pockets are on the sides, for water bottles or for gear. They are extended-type pockets and not the usual stretch mesh. One zippered pocket is on the hip belt. On the left side, so opposite to the side entrance, you have a vertical zipper for a small side pocket. Two zippered pockets are on the lid.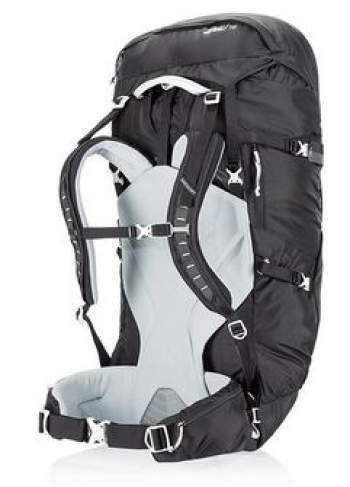 Fusion Flex Pro suspension system
At Gregory's site, they describe their Fusion Flex Pro system as "the pinnacle of suspension performance, combining cutting-edge materials with time-tested Gregory design to give mountain athletes unassailable strength, exceptional load support, and outstanding versatility in the most challenging terrain and conditions on the planet."
This description is accurate, but there are many packs with similar flexibility in the harness, see one in the comparison table below.
The suspension you have here is heavy-duty just like everything else in this pack. It includes dual vertical aluminum stays which you can access from the main compartment, and an anti-barreling cross stay in the middle of the back, combined with an integrated frame sheet.
You have a molded thick EVA foam padded back panel, with a smooth surface and without any mesh, just like in snowpacks, see the picture. So obviously this is intended for preventing the snow from building up.
The shoulder harness is auto-adjust, which means it flexes and mirrors user's movement so you have a full flexibility which you need in hard scrambles. Each side of the harness pivots independently so you can move your shoulders quite freely.
The massive hip belt is the auto-cant type, which means its back part rotates a bit forward and backward to accommodate to body shape and movement, and it is pre-curved, so it conforms to the shape of user's back and it moves with it. On the right side, it is equipped with a loop for mountaineering gear and a slot for ice tools, plus a small loop on the lower rear side of the belt. On the left side, you have one zippered pocket.
The shoulder harness has two separate positions for its torso length, so this is not a full adjustability. The same system they use in some other packs as well, you can see it in their Gregory Baltoro 65 pack.
Stripped weight
The mentioned dual stays can be removed if you want to reduce the weight. Since this is a technical pack that might be used with a climbing harness, the padding on the hip belt can be stripped away for an easier use of the climbing harness. So the weight can considerably be reduced for some 900 grams when you remove:
dual stays,
top lid,
bivy pad,
hip belt padding.
But I would not remove the lid ever. First, the result looks ugly, and, second, the pack is totally unprotected.
All these features you can see in this short video, please have a look:
---
Specifications & summary of features
Three sizes.
Gender: unisex.
Weight:
– Small: 5 lb 13 oz (2.64 kg).
– Medium: 6 lb (2.72 kg).
– Large: 6 lb 3 oz (2.81 kg).
Stripped weight (for M size): 1.81 kg.
Volume:
– Small: 4394 cu in (72 l).
– Medium: 4577 cu in (85 l).
– Large: 4760 cu in (78 l).
Torso fit:
– Small: 16 – 18 in (41 – 46 cm).
– Medium: 18 – 20 in (46 – 51 cm).
– Large: 20 – 22 in (51 – 56 cm).
Hip belt fit:
– S: 26 – 33 in (66 – 84 cm).
– M: 28 – 36 in (71 – 91 cm).
– L: 33 – 40 in (84 – 102 cm).
Size (M): 18 x 69 x 36 cm.
Maximum weight: 30 kg.
Best use: backpacking, hiking, mountaineering.
No torso adjustment.
Access: top, side.
Warranty: lifetime.
Hydration compatible.
Aluminum internal frame.
Abrasion-resistant bottom.
Dual layer abrasion resistant front panel.
Auto-cant harness adjusts to an individual shoulder angle for a custom fit.
Adjustable sternum strap.
Numerous attachment elements.
Removable bivy pad.
Removable top lid.
Removable waist belt padding.
Zippered side pocket.
Large side pockets.
Cross-over front compression as an alternate attachment system.
Waist belt with several attachment elements for gear plus one zippered pocket.
---
Summary, rating, pros & cons
To conclude my Gregory Denali 75 review, no doubt this is a great pack with many useful features. I have no issues whatsoever with what this pack already has, everything you have here is the top quality and this is a truly reliable tool. But I have problems with what is missing here. For example, I cannot imagine myself somewhere above 3000 meters, or anywhere in the Alps, with a pack which has no rain cover. This is one detail important to me but perhaps not so crucial for you.
I also love to have more possibilities for the organization, so I miss the bottom compartment. It is necessary with such a huge pack. You might want to see the completely new Gregory's Paragon series with several packs, the Paragon 68 is close in size to the Denali pack.
Note, many packs in this size range are described in the site, so please have a look here. I only review top quality tools. See below my rating of this pack:
Gregory Mountain Products Denali 75 Liter Backpack
Thank you for reading. I shall be happy to hear from you, there is a comment box below. I wish you a pleasant day.