---
In this text, I present a list with 8 best ski backpacks and snowboard backpacks. Those are tools with very impressive extra features which you normally don't have in the usual packs. Find out more below.
First, what is snow backpack?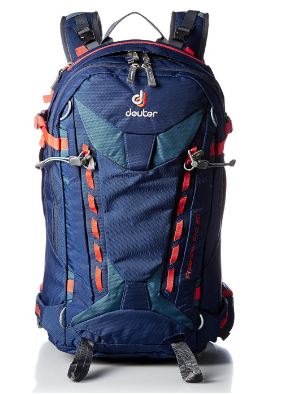 As you realize, I introduce the term 'snow backpack' to describe both ski backpacks and snowboard backpacks. This is because a ski backpack can be used to carry a snowboard as well (you will see some examples below), and also with such a pack you can naturally carry snowshoes as well. So the 'snow backpack' looks like a good term to use for all three purposes.
How a snow backpack differs from ordinary backpacks? Here are a few features:
The attachment elements on a snow backpack are reinforced in order to carry a heavier load. This implies very strong side straps and straps on the front-bottom and front-top. If you follow any of the links below, you will see these features, and some are shown in the pictures below as well.
There are reinforcements in the pack fabric in the area where high abrasion is expected. In practice, this implies those around attachment elements and on the front face in general.
These tools are built for low temperatures, so for the water tube system in good packs, you have an insulated sleeve that runs along the shoulder strap. This is a feature you have in all Osprey packs in the table below.
The whole structure of the pack is such that it is with a sleek design, to avoid unnecessary accumulation of snow.
A special fabric is used for the back panel, with snow-shedding properties.
Access points are frequently from the back panel side, and this you will see in the table below. The reason for this is obvious: when you have a snowboard or snowshoes attached on the front, you will put the pack in the snow with the back side up. So having the zipper on this side is an obvious advantage, you do not have to remove the load attached to the pack in order to get to the stuff inside the pack. This zipper is visible in the picture of Osprey Kresta 40 pack below.
You will notice that most of the packs in the table are in fact daypacks, so they are rather small. Yet, each of them has an internal frame. The reason is again obvious, they are supposed to allow more weight than the usual daypacks of that size, so the frame is important for a proper load balance.
Some of the packs in the table are such that they allow for carrying both skis and a snowboard (or snowshoes), sometimes together. Those are packs with A-frame type ski attachment, so skis are attached on the sides of the pack and the snowboard (or snowshoes) on the front.
Snow backpacks typically include a helmet carry system. This is usually a very convenient net stowable in a small pocket and used only when you need it.
Good backpacks of this type are designed with glove-friendly zippers and buckles.
They have a dedicated front compartment for avalanche safety kit.
One funny feature: the emergency whistle on Osprey packs is upside-down. Can you guess why?
So as you see, this is a rather impressive list. Who would expect so many things in these small packs?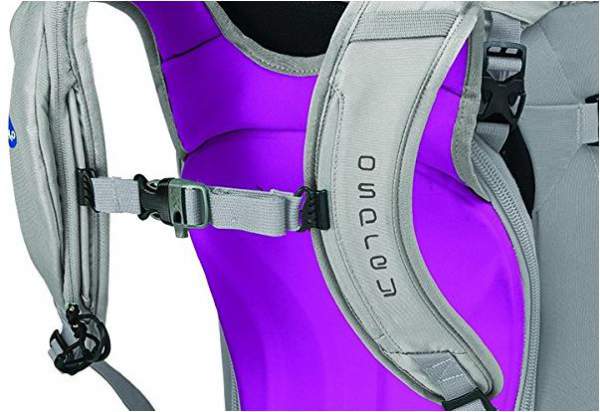 Can you use a snow backpack as an ordinary pack?
The answer is: most definitely so. With such a pack, you have a great tool for all seasons. Besides, in the Alps, there are areas with summer skiing, like those around the Stelvio pass in Italian Alps, and on Breithorn at Zermatt in Swiss Alps. So having such a pack is a true advantage. Though if you use it for hiking and climbing, note that you do not have the usual mesh side pockets for water bottle. But I do not think this is a big deal.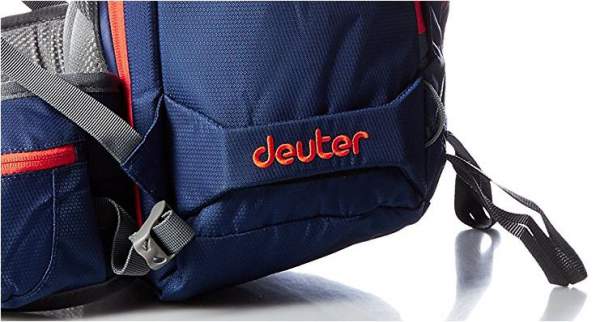 The list with 8 great models
Here is the table with 8 backpacks given in no particular order. Those with links are all described in detail in separate texts within the site. Most of them are completely new models launched in Fall 2016:
All models in the table are:
with a fixed harness, and
all of them allow for the attachment of skis, snowboard, and snowshoes.
There are differences regarding the ski attachment:
Both Deuter packs allow for A-frame ski carry.
All Osprey models allow for diagonal ski carry and vertical snowboard/snowshoes carry.
But larger versions (Osprey Kresta 30, Osprey Kamber 32,  Osprey Kresta 40, and Osprey Kamber 42) also allow for A-frame ski carry.
You will also notice that larger versions of Osprey packs have dual access to the main compartment (top and back panel access), while 20 and 22 liters packs only have front panel access. Remember what I mentioned above about the reasons for the back panel access, so those larger models are more convenient.
Summary
So to conclude this text about best ski backpacks and snowboard backpacks by stressing again that these are the latest models from the world renown brands. What you have here are very versatile tools, sturdy and packed with great features needed for any kind of snow activities. Only the most basic properties are listed in the text. To find out more please follow the links, these packs are described in detail in separate texts within this site.
Thank you for reading. I love to hear from you, so please use the comment box below. Have a nice day.
---