---
This Teton Sports Grand 5500 review is about a great lightweight 90-liters expedition backpack built for extended tours. This is a load-hauling tool that provides a lot of space for all the gear you need in such adventures.
---
Key benefits – quite a list
Integrated tarp-poncho.
Removable day pack.
Adjustable harness.
Plenty attachment points.
Three access points plus bottom access.
Several unique features.
Great price.
---
Best price & place to buy
The best place regarding the price and shipping conditions is usually Amazon.com.
---
Description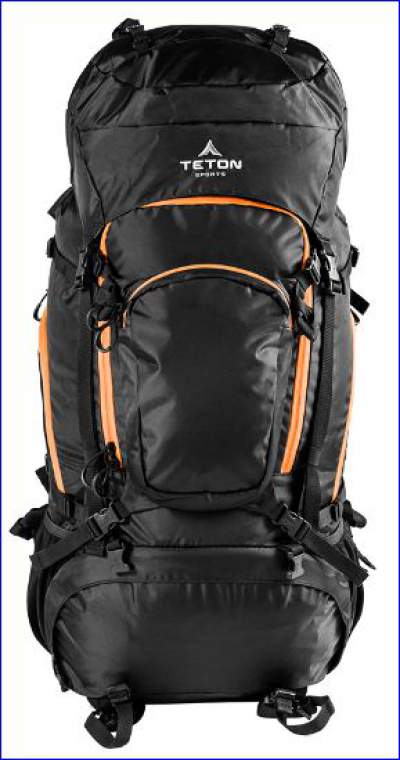 Teton Sports Grand 5500 backpack shares many features with the other pack from Teton's blackout series, i.e., the Mountain Adventurer 4000. But this is a much larger pack and it has some extra features which you do not have in the smaller pack from this series.
Note that this new Teton Sports' series from 2016 includes 4 packs:
Grand 5500 is a top-loading pack with a floating-type lid, and with an expandable collar with dual drawstrings underneath it.
But you also have a front access through an inverted U-shape zipper which opens the pack just like a suitcase. It is seen as the orange line in the picture.
On the lower front section, you have the usual horseshoe-shaped zippered entrance to the bottom compartment. The divider between the two is with a zipper and it is removable.
The pack is hydration compatible, and you have dual hose ports, one on each side. Inside the main compartment, you have a sleeve with a velcro tab.
The fabric used in the construction is a very durable 420 D black oxford with 1000 mm water resistance.
An extra bonus is the integrated tarp-poncho. Its fabric is 66 D, 3 mm poly ripstop, with 2000 mm water resistant coating. It is hooded, and big enough to cover you together with the pack on your back. As the name suggests, you can use it as a tarp, as a poncho, or as a shelter. There are many tie-off points on all corners and in the middle of its sides, see the picture below.
---
Suspension system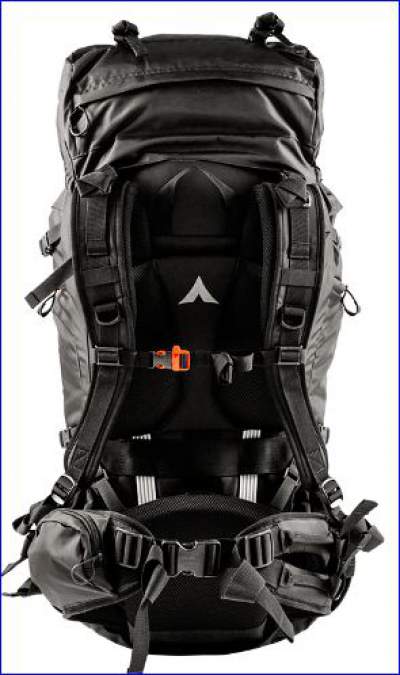 The harness on Grand 5500 is adjustable. You can move it up or down to accommodate any torso length in the range 16 – 22 inches (41 – 56 cm). So you realize this is 2 inches more than what you have in the Mountain Adventurer 4000 pack. This should be good enough even for very tall people.
The harness is based on dual aluminum stays that run vertically along the back of the pack. The shoulder straps are with a good padding and covered with a breathable mesh.
You have the load lifter straps on the top, and below you have webbing for the water hose and D-rings for attachments. The sternum strap is adjustable and equipped with a safety whistle. You can see this all in the pictures around.
The shoulder straps are attached to the pad which slides along the stays. Here you have two thickly padded sections also covered in breathable mesh. The same structure is on the huge lumbar padding.
The hip belt is really nicely done, you have a split wishbone structure here. This implies that the upper and lower part of this split construction can be adjusted separately to achieve the most comfortable fit. This is possible due to dual stabilizer straps on the back side of the belt, and due to double straps that run toward the front buckle.
The split system also allows for a bit extra ventilation because you have large openings between the two segments. This may at least partly reduce hot spots which you normally have here.
On the front of the hip belt, you have a very suitable pull-forward construction.
---
Attachment points
The numerous attachment elements are one of the things where this pack shines. See what you have here.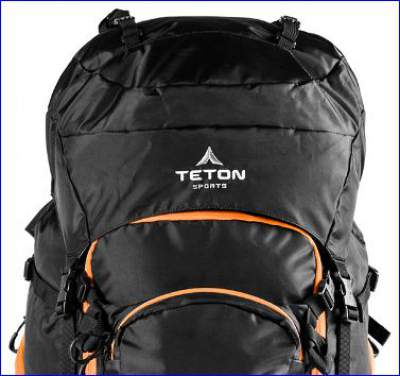 There are two compression straps on the lid, one out of several unique features of this pack.
Under the lid, you have a holster with straps and buckles, where you can fix a tent, rope, a pad or anything similar. So whatever you put there will sit on the top and additionally secured with the lid above. But when you unbuckle the lid you still have top access to the pack because the object in the holster moves in the same direction as the lid.
Standard dual compression straps with buckles run over the bottom compartment. Close to them, you have dual attachment loops with buckles.
On the bottom, you have a separate pocket that contains yet another holster which you can use to carry any object like a tent or a pad.
Dual compression straps are on the sides of the pack, the upper straps are with buckles.
You have two gear loops on the left side of the hip belt, one on each segment of the split wishbone structure which you have there.

In this short video you can see how to use some of these attachment elements, in particular, the top straps on the lid, and the two holsters, the one under the lid and the one on the bottom, please have a look:
---
Pockets
You have 5 zippered pockets in total, and two stretch-mesh pockets.
One large zippered pocket is on the lid, and yet another zippered pouch is underneath it.
On the front of the pack, you have a fully detachable zippered pocket. It is fixed to the pack through 4 buckles. When removed, it serves as a daypack because it has its own shoulder straps. I must say, it looks ridiculously small when you put it on your back. Note, if you are looking for a backpack with an integrated daypack, please see this list in my separate text.
You will see in the video below how you can store some pieces of equipment behind this front pocket. But you will notice that the rest of the pack looks completely fine even without the front pocket, see the picture: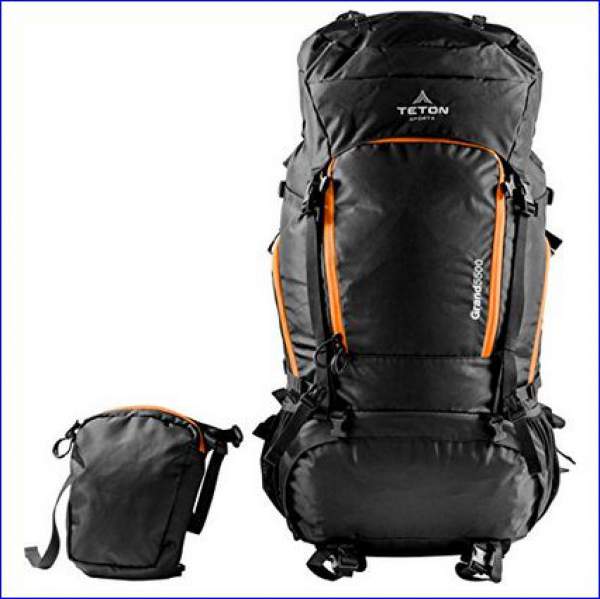 Dual stretch mesh pockets are on the sides of the pack, and they are really huge. Higher on the left side you have one zippered pocket, visible in the pictures above. On the right side, you have an identical zipper but this is not a pocket, this is an additional third access to the main compartment.
On the hip belt, you have a zippered pocket on the right side only.
In this video, you can see how you can store an object behind the detachable front pocket, like snowshoes, skis, or snowboard. They use snowshoes for a demonstration, please have a look:
---
List of unique elements
Two holsters with buckles, one on the bottom and another under the lid.
Attachment loops are with buckles.
Three access points to the main compartment, plus an access through the bottom compartment.
Gear ties inside the main compartment, two on each side.
Of course, the tarp-poncho must be added to the list as well.
This video is a general description of the pack where you can see some of the features mentioned above:
---
Pros & Cons
I do not have serious objections to this pack, here is my summary:
  Pros
  Cons

Versatile.
Integrated poncho tarp.
Three access points to the main compartment.
Adjustable harness.
Many very useful and unique features.

Not sure if the two stays are strong enough for such a huge pack.
A comment about the two holsters. This is a useful feature and I love it, but there are possibilities for improvement here.
First, they did not make them removable. This would be handy because not many people will use them, and definitely not every time. Second, a pair of removable straps would do the same job here, and this could also save a few grams of weight. Third, they could have made the straps longer.
The pack has already received a number of reviews on Amazon. Presently, the average rate on Amazon is very impressive 4.7/5.
---
Specifications
Weight:
– 6 lb (2.72 kg) with tarp poncho.
– 5.2 lb (2.36 kg) without tarp poncho.
Volume: 5500 cubic inches (90 liters).
Size: 34 x 15 x 17 in (86 x 38 x 43 cm).
Torso fit: 16 – 22 in (41 – 56 cm).
Waist belt fit: 30 – 48 in (76 – 122 cm).
Adjustable harness.
Split wishbone hip belt construction.
Color: blackout.
Unisex.

Limited lifetime warranty. This covers products against defects in materials or workmanship. Shipping fees may apply. For international warranty claims (outside the United States), shipping and duty fees are the responsibility of the consumer.

Shell: 420 D black oxford 1000 mm WR.
Hydration capacity: 101 ounces (3 liters). Bladder not included.
Integrated 66 D, 3 mm poly ripstop tarp poncho with 2000 mm water resistant coating.
Upside down "U" shaped front load zipper.
Side entrance.
Buckle in neoprene gear pouches for carrying ropes at the top and bottom of the pack.
Internal gear loops for hanging ropes and equipment.
---
Comparison with competitors
Here I give a comparison table with the TS Grand 5500 pack and several top brands:
Teton Sports
Grand 5500

Osprey
Xenith 88
Kelty Red
Cloud 90

Weight (kg)

2.36* 2.72**

2.48
2.5
Volume (l)

90

88
90
Lower compartment

yes

yes
yes
Hydration compatible
yes

yes
yes
Rain cover

poncho tarp

no
no
Internal frame

yes

yes
yes
Harness adjustable

yes

yes
yes
Removable day pack
yes

yes
yes
My rate

9.0/10

9.2/10
8.7/10
*Without the poncho-tarp. **With the poncho-tarp.
My rating is high due to all features of this pack and its price. Just follow the links to realize where it stands with the price.
However, this is a new model, not fully tested in practice, and I am not sure if it is such a heavy-duty tool as the other packs in the table.
---
Summary
To conclude this Teton Sports Grand 5500 review, what you see here is the largest pack of an extraordinary series from this brand. The features and the price combination is hard to match, as you can see from the text and from the comparison table above. Even the Kelty's pack given above is far more expensive, and Kelty itself is famous for the prices (and the quality) of their packs. So if you need a great pack and do not want to spend much, do not look further. This is a multipurpose versatile tool. I have added it to my list of top-rated expedition packs.
But if is too big for you, bear in mind the smaller pack from the same series, Teton Sports Mountain Adventurer 4000 Backpack.

Thank you for reading. I shall be happy to hear from you, there is a comment box below. Have a nice day.
---