---
This new Kelty Redwing 50 review is about the new version of the popular backpack which has been the best-selling Kelty's pack for quite some time now. This pack is a great tool for urban use and for outdoor tours.
---
Construction and suspension system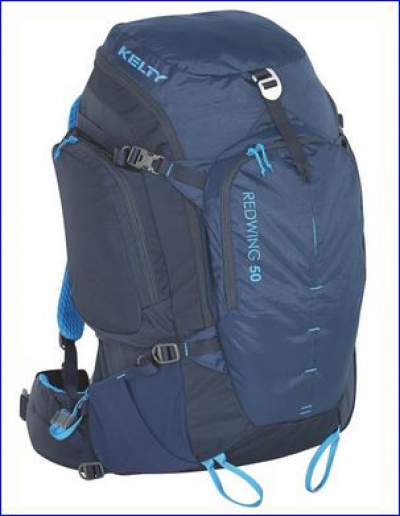 The suspension you have here is Kelty's Perfect Fit Suspension, based on a centrally positioned aluminum stay on the back of the pack. It allows for the torso length in the range 15.5 – 21 inches (39 -53 cm).
This is combined with a high-density polyethylene (HDPE) frame, generously padded with a foam which includes airflow channels designed to allow warm air to escape, all covered by a breathable and pleasant mesh.
The same material is used for the padding of the harness and hip belt. The hip belt can be removed completely, the feature you have in the old model as well. To do this you have to break a piece of velcro behind the lumbar padding section.
A bit more about Perfect Fit Suspension – you adjust the torso length when the pack is on your back. For that purpose you have 2 straps, one on each side, just above the hip belt in the back panel area, you will see it in the video below.
---
This is a panel-type loading backpack, with a lengthy U-shaped zipper on the top and the front. Note, to open it completely, you have 2 side-compression straps on your way, so you have to undo the buckles first, one or both.
On the bottom, you have 2 attachment loops for tools. There is no bottom compartment here.
On both sides of the pack, you have 2 compression straps, one on the top and another above mesh side pockets.
Inside of the main compartment, you have a hydration (or laptop) sleeve.
---
Pockets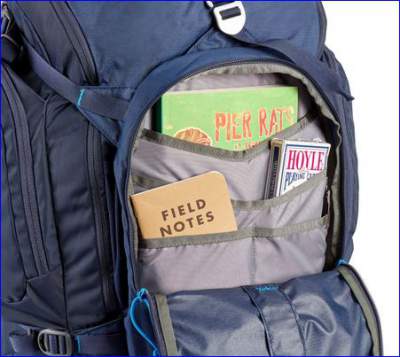 There are many of them. On the front face you have a U-shaped zippered pocket with numerous organizers-pockets inside, see the picture. On its front, there is a daisy chain and a hideaway handle.
Behind this front pocket, you have one stash pocket, secured with a buckle on the top and with the mentioned 2 upper side straps. This pocket may be suitable to store many things. You can see it in the picture below.
On the top of the pack, above the top entrance zipper, you have yet another small zippered pocket with a key clip inside.
Two big zippered pockets are on the two sides of the pack, positioned in the upper part of the pack. They are designed so that when full, they do not take space of the main compartment. But there is a downside of this design as well,  see below.
Behind them, you have a pass-through space, very useful to store poles, an axe (or even a rifle), which would then end up below in the side stretch-mesh pockets which are positioned in the lower section of the side. This is a very useful feature, available in the old model as well.
---
A video about new Kelty Redwing 50:
---
Specifications & summary of features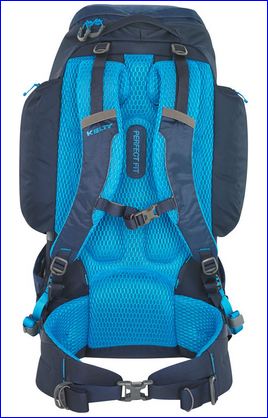 Weight: 3 lbs 11 oz (1.67 kg).
Volume: 3100 cu in (51 L).
Size: 26 x 16 x 12 in (66 x 41 x 30 cm).
Torso fit:  15.5 – 21 in (39 – 53 cm).
Internal frame: yes.
Perfect Fit Suspension.
Removable hip belt.
Materials:
-Body: Poly 420D Small Back Stafford.
-Accent fabric: Poly 75x150D Tasser Coal.
-Frame: aluminum + HDPE.
-Hex mesh back panel, harness, and hip belt.
Access: top/front panel loading.
Torso adjustment.
Load lifter straps.
Adjustable sternum strap.
Hydration compatible.
Warranty: limited lifetime.
Dual side pockets.
Front pocket with organization.
Front stash pocket.
Top pocket.
Side compression straps.
Water bottle pockets.
Hide-away daisy chain and handle.
Ice axe and trekking pole loops.
Colors: 4, black, garnet red, ponderosa pine, twilight blue.
---
Pros and cons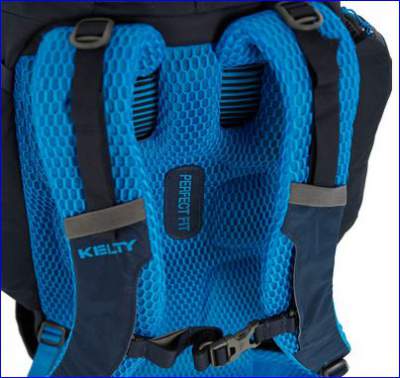 This is mostly about cons. This pack lacks some important features which I love to have.
I point out the absence of a separate bottom compartment, and the absence of a rain cover.
The absence of the bottom compartment for such a big pack can only be explained assuming that the designers had in mind its main use in an urban environment and for daily life, more than as a backpacking or hiking tool.
Just have a look to this small Deuter Futura 22 pack, with only 22 liters of volume, you will see that it has a separate bottom compartment.
I guess the same reasons are behind the absence of a rain cover. Should I add that the mentioned tiny Deuter Futura 22 indeed has a rain cover!
This is a big no for me, but I am doing mountain climbing. You may have in mind some other purpose for this pack.
Redwing 50 has no compression straps on the lower front face, where you would normally attach a sleeping pad or a sleeping bag. Though, there is a webbing on the bottom of the pack, which can be used for that purpose.
Side mesh pockets are too wide for a small bottle and at the same time not deep enough for a big bottle. A big bottle would not fit in any case due to zippered pockets positioned very close above.
---
Below is a short (1:14) promotion video by Kelty about their Perfect Fit suspension system, please have a look. Note the pack shown is not Redwing 50.
Summary of some pros and cons:
 Cons
 Pros

No rain cover.
No bottom compartment.
No front compression straps.
No hip belt pockets.

Lightweight
Reasonable price.
The panel opening is very large.
Efficient on-the-fly harness adjustment system.
---
Users' experience
Regarding the users' experience, this is mainly about the older versions. The average rating by Amazon users is a very respectable. A similar rating for the old model one may find in some other sites.
---
What is new in the new Kelty Redwing 50?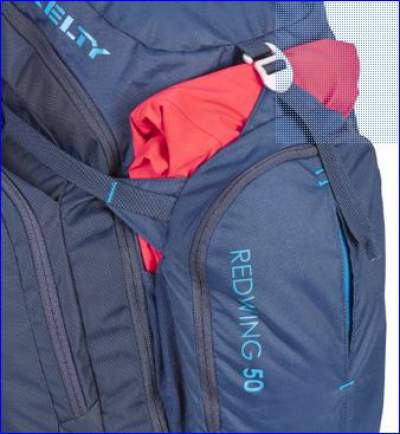 Just a few most visible changes:
Adjustable harness in the new version. The old had fixed torso length, and you had a possibility to choose between different sizes.
Stash pocket behind the front pocket, with the buckle on the front. This is absent in old model.
The daisy chain construction and the handle on the front is changed, still there but hideaway type now.
The back panel padding and harness padding is modified and improved.
Only 4 colors in the new version.
---
Conclusion
So to conclude this new Kelty Redwing 50 review, this pack has many nice features which make it a great pack in an urban environment and daily life, and for outdoor tours. It is sometimes described as a day pack, but frankly, it is too big for such a purpose. I have an old Deuter Futura 38 liters, which is far smaller than Redwing 50 but still good enough for overnight and weekend tours. So the new Kelty Redwing 50 pack is definitely more than a day pack.
Note that there is yet another same size pack from Kelty, but with totally unique features that you will not find anywhere else, Kelty PK 50 backpack. So please have a look, you will be surprised with its exceptional design and features. On the other hand, if you prefer a classic design with a lid and collar, please see this new model from Kelty, the Revol 50 pack.
I hope this review has been useful to you, and if this is so please share it with others.
Thank you for reading, and if you do not mind leave me some comment in the box below.