---
As the title suggests, Gregory Amber 60 for women is a lightweight backpacking pack with specific features introduced to fit women's body. With the weight in the range of 1.7 kg only, it will allow you to carry up to 20 kilograms of load quite comfortably. Read more in the text below.
---
Main benefits
Rain cover included.
Daypack included.
Modern design.
Functional & versatile backpack.
---

Note, this great pack has been modified recently so both versions are on the market. Please see the summary of the changes below.
---
Description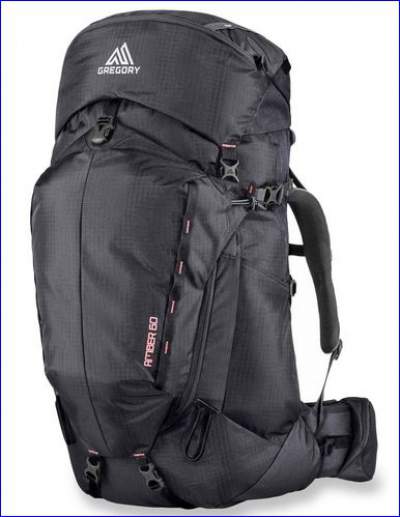 Gregory's Amber series is a women-specific design, and the corresponding series for men is known under the name Stout. Several top brands have such parallel series for women and men, like Osprey and Deuter, and many of them are described in this site.
Women's packs are slightly modified to fit women's body, so the hip belt fins are conical, the shoulder straps are less separated from each other, they are more padded, more padding is also on the hip belt and in the lumbar area.
Amber 60 pack is the second largest in the series; there is one larger model of 70 liters, and two smaller, 34 and 44 liters. All 4 models have some common features, but there are differences as well. For example, larger versions have extra front access but they do not have a separate bottom compartment, while this is just the other way around with the smaller models. Amber 60 comes in three possible sizes, see more below.
So Gregory Amber 60 pack is a top loading and you also have a very large U-shaped zippered opening on the front. Therefore, you can open it like a suitcase and easily get to any item that is on the bottom of the pack.
Along the front on both sides you have daisy chains for attachment of gear, in particular solar chargers or anything else, they are visible in the picture above. Very similar attachment elements you have on the top of the lid.
On the bottom, you have dual compression straps, and on each side of the pack you have two of them as well.
The backpack is hydration compatible and for this, you have a removable sleeve inside the main compartment. So when you take it out you realize that it has its own shoulder straps, this is thus a day pack, an extra bonus which comes with this pack. See it in the picture below.
In general, very durable and high-quality materials are used in the construction of this pack, see more in the specifications below.
---
---
Pockets
You have them 9 here. One very large pocket is on the front of the pack. To open it completely, you unclip the two straps that go to the sides of the pack and you unclip one extra buckle which is on the top. This is a really large space to store a lot of stuff. You can realize the size of it in the side-view picture above.
Inside this front pouch, you have a separate zippered pocket which contains a rain cover that comes with the pack.
On the side, you have a vertical zipper which leads to the front pocket. Note that the larger version of 70 liters has two zippers of this kind, one on each side.
You have 3 zippered pockets in the lid itself, two with external entrance and one underneath the lid.
The side stretchy pockets are rather deep and with compression straps.
The hip belt is equipped with dual oversized zippered pockets, they are visible in the pictures.
---
The suspension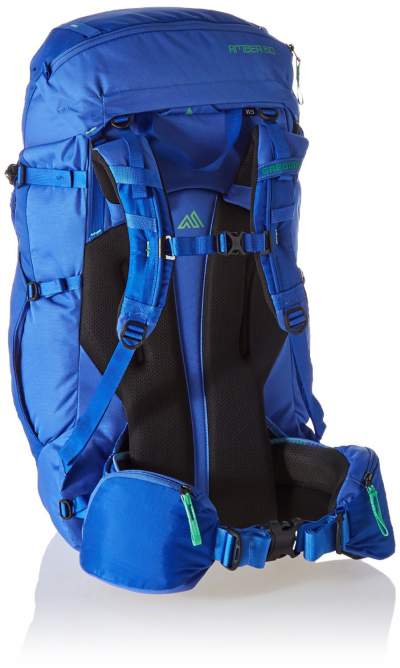 What you have here is generally very good, but I would say nothing spectacular. The padding is pleasant and the shoulder straps are nicely contoured.
On the back, you have a central ventilation channel, but I would not expect much of this ventilation system. You might want to compare this with some models given in the table below.
But the frame is great, you have a steel peripheral wire and a steel central stay for extra stability. You will be able to see these features in the video.
The hip belt is pre-curved and the hip fins are adjustable even when you are on the move. So this is a better segment of the system, nothing really to object here.
The sternum strap is adjustable both vertically and horizontally. Note that the harness is fixed, but you have 3 sizes to choose in the moment of purchase.
---
As I mentioned above, both Amber and Stout series share some common features and you can see them all in this video by Gregory, so please have a look:
---
Pros & Cons
My objections are naturally the same as in the case of the Stout 65 pack, so here is my summary:
  Pros
  Cons

Versatile.
Durable.
Rain cover.
Very good materials used.
Two access points to the main compartment.
Daypack included.

Not adjustable harness.
No side zippered pockets.
The rating by Amazon customers is exceptionally high, with the average rate being one of the highest you can find, 4.8/5.
---
Specifications
Purpose: backpacking & hiking.
Internal frame pack.
No harness adjustment.
Three sizes: XS, S, M.
Volume:
– XS: 59 l  (3600 cub in).
– S: 60 l (3661 cub in).
– M: 63 l (3844 cub in).
Weight:
– XS: 3 lb 10 oz (1.64 kg).
– S: 3 lb 13 oz (1.73 kg).
– M: 4 lb 1 oz (1.84 kg).
Size:
– XS: 24  x 13  x 11 in (61 x 33 x 28 cm).
– S: 26  x 13  x 11 in (66 x 33 x 28 cm).
– M: 29  x 13  x 11 in (74 x 33 x 28 cm).
Torso fit:
– XS: 14 – 16 in (35 – 41 cm).
– S: 16 – 18 in (41 – 46 cm).
– M: 18 – 20 in (46 – 51 cm).
Waist/hips fit: 25 – 40+ in (63 – 102+ cm).
Maximum carry weight: 43 lb (19.5 kg).
Materials:
– Body: 420 HD polyester ripstop.
– Base: 600 D polyester.
– Frame: steel + HDPE.
Stays: 1 peripheral hoop + anti-barreling central stay.
Warranty: limited lifetime.
Access: top loading + front access.
Integrated rain cover.
Hydration compatible.
Detachable daypack.
Colors: 2, see the pictures.
---
Comparison with competitors
I have chosen the top models and brands available on the market and compare the Gregory Amber 60 pack with them. See how it stands:
Gregory
Amber 60*

Deuter Futura
Vario 60
Gregory
Deva 60
Weight (kg)

1.73

2.3
2.6
Volume (l)

60

60+10
60
Rain cover

yes

yes
yes
Bottom  compartment

no

yes
yes
Adjustable torso

no

yes
yes
Zippered side  pockets

no

yes
no
Hip belt pockets

yes

yes
yes
Metal internal frame

yes

yes
yes
My rate

8.8/10

9.3/10
9.1/10
*Data for S size.
As you realize from the table, the Amber 60 pack is indeed lightweight when compared with the other top models.
Regarding the prices, at the moment of writing this text they are respectively: $159, 229, 224, 260. So in view of all the features, the Amber pack is a true bargain.
But to understand the reasons behind my rating, take as an example the Deuter Futura Vario pack which has both the front access (like the Amber pack) but it also has a bottom compartment. This pack also has side zippered pockets, and it has the suspension and ventilation which is without a match, based on a suspended mesh. Should I add that it also has an adjustable harness?
I have been using one of these Deuter's packs for 13 years now, and I am sure there is no better ventilation yet. I have just returned from my tours to Pizzo Tresero and Hochfeiler where I was using the same old Deuter pack, so I know very well how such a suspension system works.
So hopefully you can understand where the Amber pack stands when you compare it with the top models in this industry.
---
The new Amber 60 pack – the most important changes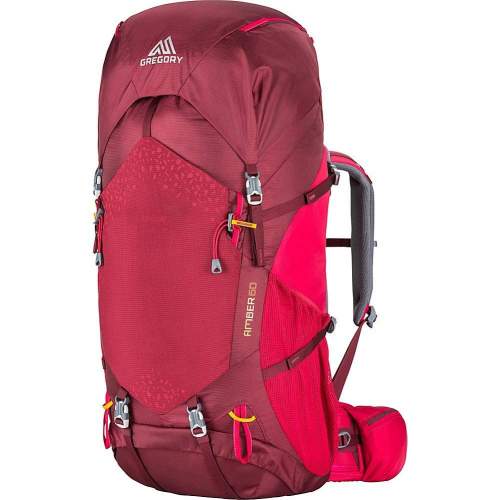 As I mentioned above, there is a new version of this pack and here is the list of the most important changes. I feel that not all of them are for the better.
The harness is now adjustable in the new version. This is a big change and a great improvement.
The back padding design is completely different. I would say it is better in the new model.
The previous U-shaped front entry is removed. Now you have a bottom access, and there is a divider between the two compartments. This is the matter of preference, I am probably more inclined towards this classic bottom entrance.
The main front pocket is now of a stretchy material, completely different in design from the previous pocket.
The previous front zippered pocket with the vertical side zipper is removed, you do not have it in the new version. Pity, there is never enough pockets on a pack.
There are 2 pockets in the lid now, instead of 3 in the previous version.
The bottom compression straps are modified, they are more separated now. This is a better design.
There is no daypack in the new version. Pity.
---
Summary
So what to say more about this Gregory Amber 60 pack for women? No doubt this is a good pack and only quality materials are used in its construction. Frankly speaking, I would not expect less from Gregory, this is a truly reliable brand and it is always a pleasure to see their new packs and to write about them. The rain cover and the daypack are indeed a bonus, in particular in view of so reasonable price of this pack. I can fully recommend this pack to anybody.
Thank you for reading. It will be great to hear from you, there is a comment box below. I wish you a pleasant day.