---
The Osprey Rook 50 Backpack is from a completely new series, a lightweight pack with an excellent suspension system, a rain cover, and a very fair price.

---
Key features
AirSpeed ventilated trampoline style suspended mesh back panel.
Rain cover included.
Adjustable harness with a ladder-lock system.
Lightweight backpack.
Sleeping bag compartment included.
Attachment loops for Daylite and Daylite Plus packs.
Reasonable price.
---
Rook 50 Pack – What this is about
This Rook 50 is a part of a brand new Osprey's series of Rook and Renn packs for men and women, respectively, which they launched for the season 2019. The Rook series currently includes this 50 liters pack and the Rook 65 pack.
They describe it as an entry-level backpacking pack and the meaning of this should be as follows. They targetted the price point, so this is for people who want to have a top-notch pack from such a renown brand with most of their great features but are not willing to pay too much.
So what you have here is a nice balance between value and money. This is again a quality pack but with fewer features than what you would expect from this brand, this will become clear in the text below.
---
Who is it for
Size-wise, with the capacity of 50 liters, the Rook 50 is a great option for the weekend and multi-day adventures which do not require lots of equipment. The carrying capacity is quite moderate but you will carry the load comfortably. If ventilation is essential, this is a pack to choose.
Weight-wise, with a weight of 3.5 lb (1.59 kg), this pack is a great option for hikers and even for backpackers, and for travelers as well. But there are lighter options and you will see some below.
---
Overview of features
The Rook 50 is a top-loading pack with a lid and a spindrift collar underneath it. But you also have a zippered entrance to the bottom compartment with a removable divider between the two compartments. The pack is hydration compatible, with an internal sleeve for a water bladder. It comes with a rain cover included in a dedicated pocket on the bottom, see the picture below.
This is a light pack, in view of its capacity, the volume/weight ratio of 31 liters/kg which is a great number and it is similar to the Osprey Xenith 75 pack. But you might want to compare this with Osprey Eja 58 where this value is 49 liters/kg or perhaps with Gregory Optic 48 pack where you have the volume/weight ratio 43 liters/kg. So the Rook 50 is indeed lightweight but not in the category of ultra-lightweight packs.
The harness
This is the most important part of every pack of such a size. So what you have here is an adjustable AirSpeed ventilated trampoline-style suspended mesh which is supported by a lightweight peripheral frame. I have been using packs with such a tensioned mesh for decades and this is the best possible ventilation in general. In this case they have made this extreme. If you are familiar with their new Exos and Eja series, then you know it, the back mesh is very similar, but there is a big difference in the hip belt.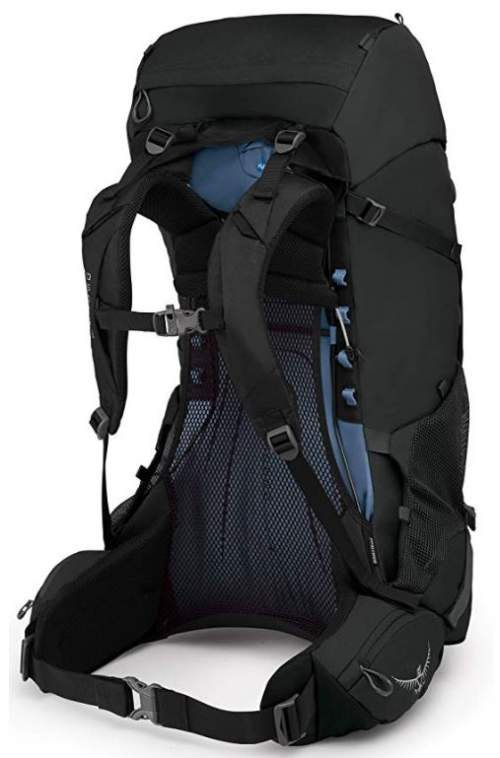 They do not use the term anti-gravity (AG) here but this design is inspired by that Osprey's famous invention. In my view, the hip belt here with its generous foam padding is far better than in the new Exos & Eja packs and in their Levity and Lumina packs.
Note that the pack is one size, but the torso length is adjustable here, so you will have no problem to find your best fit. They have added an innovative ladder-lock system shown in the picture below. So how you use this?
You unlock the harness by pulling those two loops on the sides, visible in the picture below, and then slide it up and down along the side rails, and then lock into the desired position by pushing the lock into those loops visible in the picture. I do not remember seeing such a ladder system in any other pack currently on the market, so they have introduced something unique here.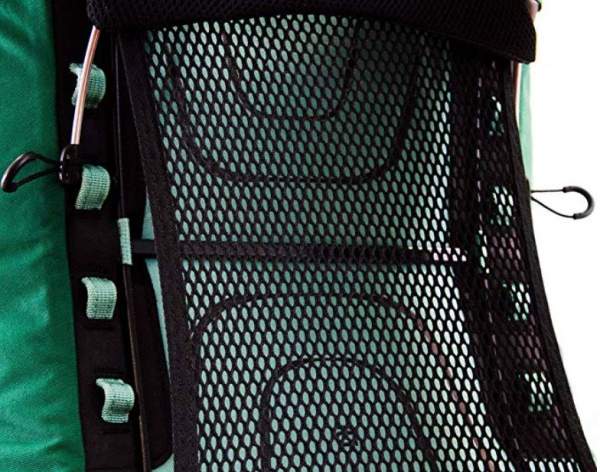 This is accompanied by a two-level load lifters design. This is very useful when you move the harness far down or far up and it ensures that the harness remains comfortable in whichever position you place it.
The shoulder straps are well-padded and the same is with the hip belt, there is nothing one could object here. An adjustable sternum strap with an emergency whistle is there as well.
The pockets
You have them 5 here. Two zippered pockets are on the hip belt (one of them shown below), and two mesh stretch pockets are on the sides, those are with dual top and side entrance. One zippered pocket is on the lid, see the picture. Note that all zippers are with the usual nicely designed pull loops. There is nothing on the front, such a large area is empty, pity. But you have webbing loops instead for gear attachment.
Attachment elements and straps
The pack comes with a pair of removable compression straps on the bottom-front part where you can attach a sleeping pad or anything similar. On the front you have attachment loops where you can attach Osprey's daypacks i.e., the Osprey Daylite backpack and Osprey Daylite Plus. So this is something which puts it in the group of several Osprey's series with such a feature.
One quite unique feature is the hip belt pockets attached to the pack with the lower side compression straps, I am not sure if this is really a smart idea. You also have two usual upper side compression straps, which means one on each side. On the top of the lid you have webbing loops for gear attachment.

So what makes it 'entry-level'?
This phrase I have seen used by Osprey's representatives. For an entry-level pack, you have plenty of features here. But you will notice that the pack comes without Osprey's Stow-on-the-Go poles attachment system. If you are not familiar with it, check any of Osprey's packs in my pages with backpacks, take as an example this Sirrus 50.
There are no loops on the front for an ice axe and poles attachment, perhaps this is the most important detail missing here, I use such loops for poles all the time. The lid is with one pocket only but this is not so bad. The front is without any storage elements, but there are loops as mentioned above.
So this all should not be understood as true objections although I list them below just that you know about them, perhaps some of them are essential to you.
A bit more about the Rook & Renn series you can see in this short video:
---
Specifications
Weight: 3.5 lb (1.59 kg).
Weight capacity: 35 – 40 lb (16 – 18 kg).
Volume capacity: 3051 in³ (50 liters).
Dimensions (L x W x D): 29.1 x 16.5 x 13.8 in (74 x 42 x 35 cm).
Torso fit range: 17 – 22 in (43 – 56 cm).
Hip belt fit range: 25 – 50 in (63 – 127 cm).
Main fabric: 600D Polyester.
Colors: 2, see the pictures.
Osprey's All Mighty guarantee included.
---
Osprey Rook 50 pack vs Competitors
I have decided to show this Rook 50 pack side by side with packs from other brands that are in the same volume range. This is how you might better understand its features and make an informed choice. Its suspension is better than what you have in the other two packs and ventilation is far superior. But do follow the links to see some other features of those two packs, the Gregory Paragon 48 has plenty of them.
Kelty Redwing
50 Tactical
---
Final thoughts, rating, pros & cons
So you have seen it, the Osprey Rook 50 Backpack has just enough features although a few may be missing. But this is a great pack with the best ventilation you can expect, and the suspension system is nicely designed. The price tag is below some other Osprey's packs and if this remains so, this will be a great money/value combination. Note that they also have the corresponding Renn 50 pack for women.
Please see how I rate it:
Osprey Packs Rook 50 Backpacking Pack
BEST PLACEs TO BUY regarding shipping and price:
If you need more options in this size range, please check my page with packs in the range 35 – 55 liters. Check its larger cousin the Rook 65, and also this Renn 65 pack for women, from the same Rook & Renn series. You might want to check also my comparison text Osprey Rook & Renn vs Osprey Exos & Eja backpacks.
Note that I am not paid by the brand or related to them in any sense. Please use the comment box below in the case of questions or comments. I wish you a nice day.