---
As you realize from the title, this text is about Osprey Atmos AG vs Osprey Aether AG, or vice versa. Which is better? You will find the answer here, just keep reading. This text is motivated by a question I received from Max in my text about the Aether AG 70, so thank you Max.
Before I continue, just to stress here: the same question holds for the Osprey Aura AG vs Osprey Ariel AG. Those who are not familiar with the terminology, these are the packs with a women-specific design but with completely the same features as the versions for men, the Atmos and Aether packs. So which is better, the Aura AG or Ariel AG?
---
What we know so far
So first to establish some facts.
♦ The Atmos and Aura AG have collected many awards from the moments they have appeared on the market, you can see some of them in my text about Atmos AG 65 and Aura AG 65. This is an undeniable fact. So, this great Osprey's series has passed testing, and the awards are the result of it.
♦ The ordinary Aether and Ariel (the previous versions) are celebrated series, they have stood the test of time, they are well known for their load hauling capabilities. But the new 2017 AG system has only recently been introduced to these packs, and we really do not know how they are going to perform in real life.
♦ Backpacks are like shoes and boots. One person will say that boots A are great and the other person will claim that the boots B are better. This is about personal feeling and about comfort. There are no measurable parameters for that. But let me correct myself, there are a few, like the width (some shoes/boots come in different widths so you can choose), then the waterproofness and breathability factors, etc.
Something similar is with packs, if you have long legs but comparatively shorter torso or vice versa, then you know what to choose – such packs come in several sizes S, M, L (and even XL in the case of Aether AG 70). But even after that, there is a personal feeling and you cannot measure this.
♦ There are however some exact parameters outlined in the lists of features, so we can compare. More about this below.
---
Aether AG vs Atmos AG – features side by side
Here is my comparison table with some important features, 14 in total. Note, I do not discuss those that are the same or very similar, like bottom compartment, side pockets, etc. Clearly, both packs have them, so no point of discussing them here.
Volume/Weight ratio, l/kg
StraightJacket compression
*Note, on the EU market, the new Aether AG and Ariel AG are available only with the old daypack, which is a lumbar daypack. Only on the US market, you have the celebrated DayLid daypack in the new Aether AG and Ariel AG. This information I have received from Osprey's representative, see more in my text about
Aether AG 60
.
So Aether-Ariel AG is better only for the US users.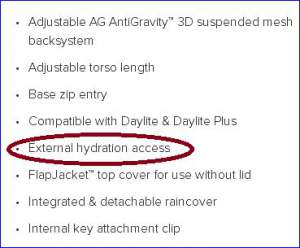 **This issue is also discussed in my Aether AG 60 review, so please have a look there. The so-called external sleeve of the Aether AG and Ariel AG is just an empty space behind the harness. There is no hook or loop to attach the water bladder. To attach it, you have to pass the loop from the internal sleeve, through the water hose port.
But if you use this as an external sleeve, you will not have a good ventilation. This is a senseless design in my view. The pack has a standard internal sleeve, but it is never mentioned neither in the specifications nor in the video which you have below. The person in the video explicitly mentioned 'external hydration reservoir sleeve'.
***The rain cover is only with packs on the EU market, not available with the packs on the US market. So, with respect to this issue, Aether-Ariel AG is perhaps better only for EU users. This is again an information I received directly from Osprey. Do not know how this is in the rest of the world. Please let me know if you know.
But it seems the same issue is also with the Atmos & Aura packs; on EU market they come with the rain cover. This is the information I can see on the Osprey's EU site. For the same reason (I guess) the weight on their EU site is higher, 2.12 kg.
The AddOn System is the attachment system for Osprey Daylite and Daylite Plus packs.
****This is only for the case with the new DayLid daypack, e.g., if I were a US citizen. Otherwise, I would rate them the same.
To stress again, all written here about Osprey Atmos AG vs osprey Aether AG applies also to Osprey Aura AG vs Osprey Ariel AG.
---
As you realize, there is a lot of confusion about the Aether AG and Ariel AG series, and this is what I dislike with these new packs. Somebody did not do the job properly, and also they sell the packs in EU with the old lid. I only hope they will do appropriate changes. I have asked them about these issues. So if you check and do not find what I claim here, this will be good. It would mean that they have taken some action and corrected things.
See how Osprey describes its new Aether AG and Ariel AG series:
And here you can see more about the Atmos & Aura packs:
---
So, which is the best?
Here is the answer: Deuter Futura Vario, of course.
Well, I am joking a bit, but not completely. I am convinced that the ventilation is better in the Deuter packs with their suspended tensioned mesh and also in the Osprey' s new Sirus and Stratos series. I pointed this out in my text about Osprey Aether AG 60.
I am also convinced that the AG system cannot work well with a really heavy load. Field testings show that with heavy loads this AG mesh system becomes mushy and less supportive. In fact, Osprey itself has far better heavy load carriers, see their Xenith and Xena packs, but there are many others as well. Have you ever tried an external frame pack? I started my mountaineering life with one of them more than 30 years ago. Those are true load hauling tools.
But indeed these Aether AG and Ariel AG packs are among the most sophisticated packs available on the market, so let's wait and see what the time is going to tell us. Will they really perform as well as they look? I am not so sure.
Now, let's go back to the starting question: Osprey Atmos AG vs Osprey Aether AG, which is better? You have seen the comparison table based on their specifications, they are pretty much neck and neck. But the Aether appears to be better in 7 features, as compared to Atmos which is better in 5.
But remember what I said above: this is also about personal feeling and personal comfort with these tools. So I would definitely choose the Aether AG or Ariel AG, but this is mainly due to the DayLid daypack which is the best of this kind on the market. There is nothing comparable to it.
This is an addition, on January 1, 2018 – there are new versions of the Atmos AG and Aura AG packs, with very minimal differences with respect to the previous versions.
Thank you for reading. I love to hear from you, so let me know, did I miss something important that must be pointed out? Which is better for you? Your comment and opinion will be appreciated. Have a nice day.
---