---
Therm-a-Rest Hyperion 20 Degree Sleeping Bag is ideal for backpackers and hikers because of its incredible weight and packed size. It is EN tested and with the top-notch down insulation.


---
Key features
Extremely packable.
Top-quality 900 down fill.
Ultra-lightweight.
EN rated.
3 Sizes to choose from.
Zoned insulation.
---
What this is about
So this is a new sleeping bag which Therm-a-Rest launched for 2019, a typical mummy-style bag with minimal features to reduce the weight. It is among the lightest bags on the market for this temperature rate, in fact this is an ultra-light item. This is mainly because of its top quality 900-fill Nikwax Hydrophobic Down.
So this is a treated down which:
Maintains its loft 60 times longer than an untreated down.
Absorbs 90% less water than an untreated down.
Dries 3 times faster.
These strong statements are from the manufacturer. Note that this is Responsible Down Standard Certified item, and this ensures a humane treatment in the down supply chain.
The temperature rating
The official rating for this Hyperion sleeping bag is 20 F(-6 C). You will see more details in the specifications below. I know that for many people this is important to stress: it is with EN rating (more below). So this should put your mind at ease and you know that you have a reliable item. But as always, the feeling of cold and warm is individual, and such ratings are for an 'average' user.
Note that they have yet another bag in this series the Therm-a-Rest Hyperion Sleeping Bag 32 Degree; so this is 0-degree on the Celsius scale.
The construction
Here you have what they call the Box Baffled Construction, and this implies mesh inner walls to maximize loft and minimize cold spots in key areas. So there is no stitching that goes all the way from one side to the other: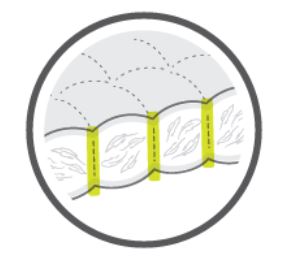 You also have what they call Zoned Insulation: This means 70% of it is on the top and only 30% on the bottom. This saves the weight, and the reason is the following. The insulation pressed by your body loses most of its insulating properties in any case, this is why you have to rely on your sleeping pad which should have the appropriate R-value (or temperature rating).
SynergyLink Connectors: This term implies straps underneath the bag which should keep the pad in place, see the picture. They are removable for versatility.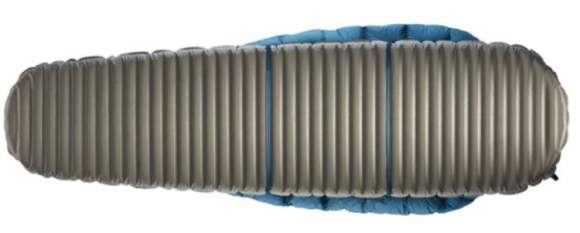 I must say that these straps are not good enough for somebody like me who turns a lot during sleep. I find the design of sleeves in these Big Agnes Lost Dog bags better.

The fabric
The shell is incredibly thin 10D Nylon RipStop with DWR, and the liner fabric is the same material. The zipper is on the left, and the hood is with the usual cinch cord, see the picture below. You have a draft collar along the zipper. The picture below shows how fluffy and comfortable this Hyperion 20 bag looks.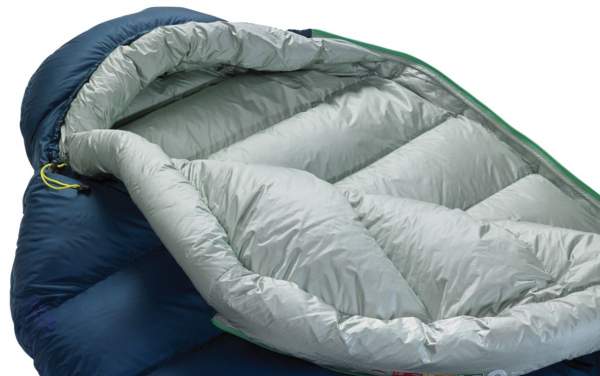 Please see a bit more in this short video:
---
Who is it for
Size-wise, they build it in three sizes Small (S), Regular (R), Long (L), and those cover quite a big range of length 73-85 inches (185-216 cm). So the bag is unisex and the smaller sizes are suitable for most women. But if you would rather have a women-specific sleeping bag, please check our separate list with best sleeping bags for women.
Seasons-wise, with the 20 F (-6 C) rating, this is a true 3-season sleeping bag. But this will depend on the activity. What I mean by this is that if this is about ordinary summer camping, you would perhaps rather go for a bigger rectangular sleeping bag and you would not need such a rating. But if you move from place to place and expect a variety of weather conditions, then this would be the right option.
Weight-wise, well, you will not find many lighter sleeping bags for such a temperature rating. The R size weighs only 1 lb 4 oz (0.58 kg), and the fill is 13 oz (0.35 kg) so this is an ultra-lightweight sleeping bag. You will see below in the comparison table how it stands when compared with some top items on the market.
When you combine this with its excellent packed size which is only 8 x 6 inches (20 x 15 cm), see below, you realize that you have an excellent option for any use where the weight and packed size should be minimal. This means for backpacking, hiking, climbing, mountaineering, biking tours, etc.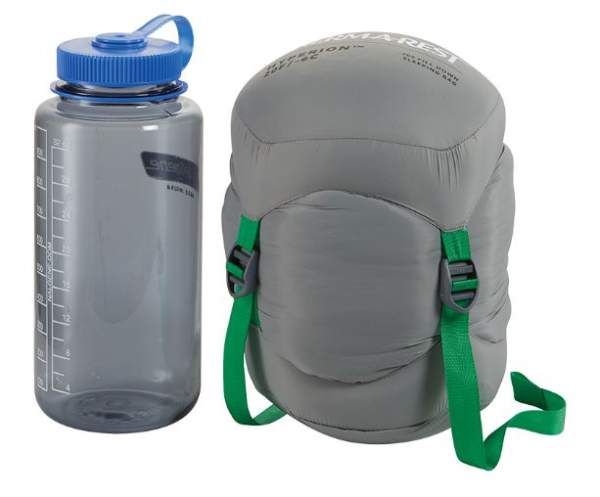 ---
Specifications
Type: mummy sleeping bag.
Sizes: Small (S), Regular (R), Long (L).
EN temperature limits:
– Comfort: 32 F (0 C).
– Limit: 20 F (-6 C).
– Extreme: -9 F (-23 C).
Weight:
– S: 1 lb 3 oz (0.55 kg).
– R: 1 lb 4 oz (0.58 kg).
– L: 1 lb 6 oz (0.63 kg).
Fill weight:
– S: 11.5 oz (0.34 kg).
– R: 13 oz (0.35 kg).
– L: 14 oz (0.39 kg).
Packed size: 8 x 6 in (20 x 15 cm).
Size:
– S: 73 x 27.5 in (185 x 70 cm).
– R: 80 x 28.5 in (203 x 72 cm).
– L: 85 x 29 in (216 x 74 cm).
Height fit (S/R/L): 66/72/78 in (168/183/198 cm).
Girth (shoulders/hips/feet):
– S: 55/48.5/40 (140/123/102 cm).
– R: 57/49.5/43 (145/126/109 cm).
– L: 58/51/46 (147/130/117 cm).
Compression sack included.
Storage sack included.
---
Therm-a-Rest Hyperion 20 Degree Sleeping Bag vs Competitors
It is not enough to state that a bag is ultralight and ultra-packable, the best way to understand the meaning of these terms is to put is side by side with some other bags of the same type and compare. So here in the table, it is given together with two other bags that are the top items in this industry, the Big Agnes Hitchens 20 and Big Agnes Mystic UL 15 sleeping bags.
As you realize, it is much lighter but the other two are a bit more compact when packed (in theory, because they come without a compression sack so you have to buy it separately). It is also far more affordable than the Hitchens 20 bag. Please follow the links for more detail.
---
Final thoughts, rating, pros & cons
If you need an ultra-packable and ultra-lightweight sleeping bag, and you are willing to pay for it, then this Therm-A-Rest Hyperion 20 UL Sleeping Bag is what you need. This is the top in the industry, you have seen several certifications about the rating and production of this bag, and the brand behind this item is renown globally. So you know what you are buying. I have included it in my list of best compact sleeping bags for backpacking.
The price of this Therm-a-Rest Hyperion 20 sleeping bag depends on the size. In any case, it is far from an affordable item, but you have seen its weight and packed size; such features have a price. Please see how I rate it against my standard set of parameters used for all the sleeping bags in the site for an easy comparison:
Please visit my page with sleeping bags if you need more options to check.
Note that this is not a sponsored text, and I have no business relationship with this brand. What do you think about this sleeping bag? Please share your thoughts, there is a comment box below.