---
ALPS Mountaineering Backpacking Tents Acropolis include a 3-person and a 4-person three-season tent with aluminum poles and a full-coverage fly. Keep reading.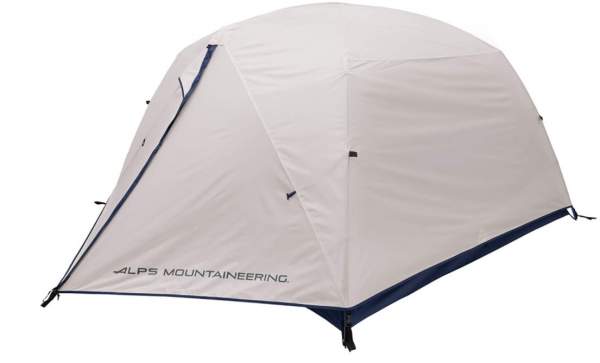 ---
Key feature & benefits
Dome tent.
Aluminum poles.
2 Doors.
2 Vestibules.
Gear loft.
---
What this is about
Here you have two tents, one 3-person and one 4-person, with a full-coverage fly and both with two vestibules. Both share the same features, only the size is different and this makes the difference in the weight and some other parameters.
The picture below shows the tent without the fly so that you can understand its structure. This is a dome-style tent with pre-bent poles and this adds some extra volume inside.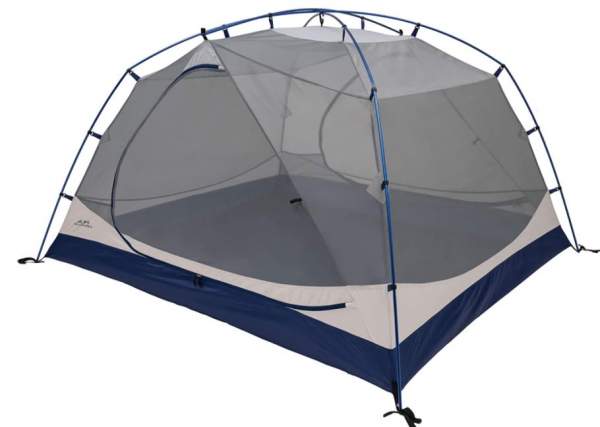 Without the fly, the tent is fully freestanding when you attach the poles into the corner grommets. But when the fly is on, there are two useful vestibules that must be staked to be functional, so all in all the tent is not freestanding.
There are two doors here and they are almost vertical due to the brow pole that pulls them up, you can see this in the picture below. So this is yet another detail that adds more headspace in the tent.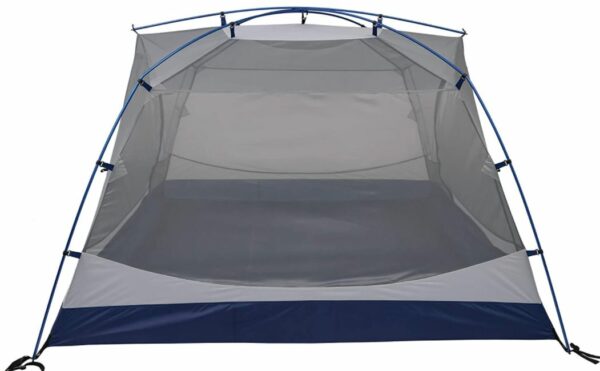 Ventilation
From the pictures above you realize that the canopy is all mesh, so you have air circulation in all directions. To get more air, you can always open the vestibules partly as shown in the picture below: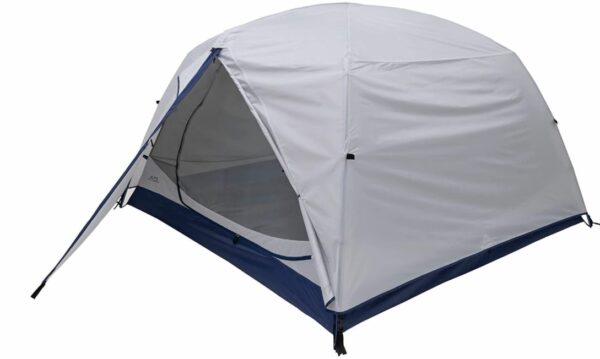 When it is raining heavily you will have the fly on and vestibules closed, and for such situations, they have added vents. You can see one in the picture below: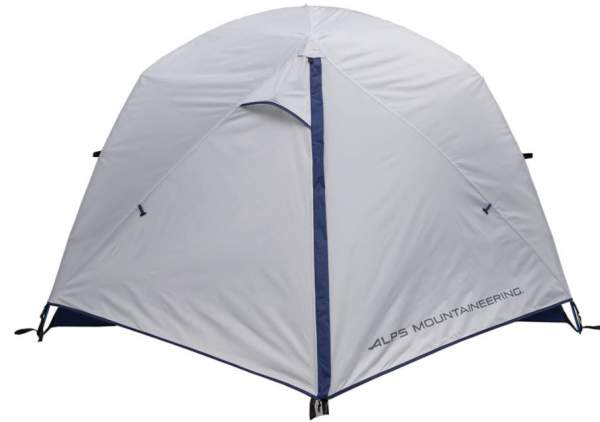 So this is all properly done, you cannot expect much more in a tent with such a full-coverage fly.
Materials
The poles: The poles are great and thick, this is a 7000 series aluminum with 11 mm diameter. As you realize from the pictures, the attachment to the canopy is with clips.
The fabric: You have a quite durable 75D 185T polyester fly with a 1500 mm waterproof rating. They claim it resists UV damage and stays taut. The bathtub floor is the same 75D 185T poly taffeta but with a 3000 mm coating. All seams are factory-sealed. 
So these materials are similar to what you have in their Alps Mountaineering Aries 3 tent but the poles here are stronger.
Other features
Extra-large #8 zippers on doors and vestibules.
Extra guy-outs on the fly to stabilize the tent.
Weatherproof fly buckles.
Mesh storage pockets in the corners.
A gear loft is included, see the picture below.
7075 Aluminum stakes.
Guy ropes are included.
---
Who is it for
Regarding the capacity, I shall focus here on the 4-person tent, you will see the numbers below for both. So this tent offers a floor area of 63.75 ft² (6.1 m²) and this gives per person 15.9 ft² (1.53 m²). The total space under the two vestibules is 25 ft² (2.3 m²).
This means that the total protected space is 88.75 ft² (8.4 m²) and per person this gives 22.2 ft² (2.1 m²). So this is enough for a tent of this type. 
Regarding the climate & seasons, the tent is ventilated and fully covered, the poles are high quality, the structure is a relatively low profile and aerodynamic. The waterproof rating is good enough for any conditions. So you will be protected in any environment.
With so much mesh the tent is not the best option for a cold environment, but such tents are usually described as 3-season tents.
Regarding the weight, you have seen in the name of these tents how they are described on Amazon. They use the word 'backpacking'. But on the manufacturer's site, they do not use this word in the description.
I would describe the tent as lightweight but not ultralight. The 4-person version weighs 10 lb 4 oz (4.6 kg). So this is a bit too heavy for my list of best 4 person backpacking tents.
The packed size is very good. You will see below that my rating for this feature is very high. In view of such a packed size, you can transport this tent even on a bicycle.
But in any case, I do not see this tent as a backpacking shelter and I have included it in my list of best 4 person tents for car camping.
Regarding the price, this is a high-quality tent with very good aluminum poles, so the price is fair. Great value for the money.
Specifications
Acropolis 3 Person Tent
Weight: 8 lb 11 oz (3.9 kg).
Dimensions: 7'4 x 6'9 (2.23 x 2.06 m).
Area: 49.5 ft² (4.6 m²).
Area per person: 16.5 ft² (1.53 m²).
Vestibule area: 22 ft (2 m²).
Total protected space: 71.5 ft² (6.6 m²).
Total protected space per person: 23.8 ft² (2.2 m²).
Peak height: 51 in (130 cm).
Packed size (L x D): 24 x 6 in (61 x 15 cm).
Vestibule depth: 36 in (91 cm).
Acropolis 4 Person Tent
Weight: 10 lb 4 oz (4.6 kg).
Dimensions: 7'6 x 8'6 (2.29 x 2.67 m).
Area: 63.75 ft² (6.11 m²).
Area per person: 15.9 ft² (1.53 m²)
Vestibule area: 25 ft² (2.3 m²).
Total protected space: 88.75 ft² (8.4 m²).
Total protected space per person: 22.2 ft² (2.1 m²).
Peak height: 60 in (152 cm).
Packed size: 25 x 7 in (64 x 18 cm).
Vestibule Depth: 36 in (91 cm).
---
Final thoughts, rating, pros & cons
In the summary of this ALPS Mountaineering Backpacking Tents Acropolis review, I would stress that I do not see them really as backpacking tents. In view of their weight, they are in between backpacking and camping tents.
But these are great tents from a reliable brand. The poles are high-quality and the fabric is durable, at least this holds for the fly and walls. The same fabric is used for the floor. The price is fair, fully recommended.
Please see below how I rate this tent. 
If you want to see more options in this capacity range, please check under the categories Tents for 4 people and Tents for 3 people. There is a comment box below, so let me know if you have questions or comments.