---
The Sea to Summit Telos TR3 tent is ventilated, ultralight and ultra-compact, with 2 doors and 2 vestibules, and with some truly unique and useful features.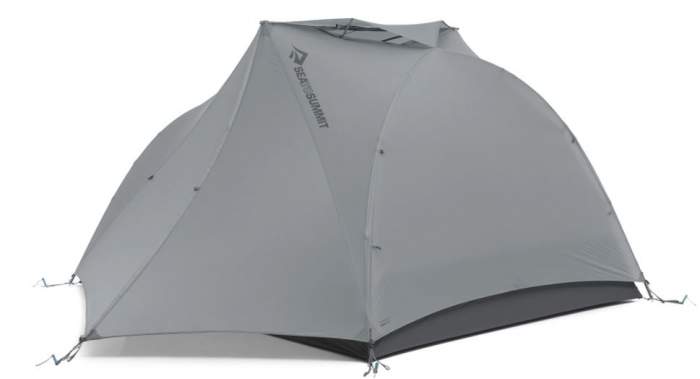 ---
Key features & benefits
Unique features.
2 Doors & 2 vestibules.
Modular FairShare storage sack system.
Lightbar pole storage sack.
Tension ridge pole design.
Oversized Apex Vent.
Hangout Mode.
DAC Featherlite NSL and Pressfit poles.
Quick Connect Foot attachment.
Ultralight.
Ultra-compact.
---
So what this Telos TR3 Tent is about
As you probably know, Sea to Summit brand is well-known for its outdoor products, but not for tents. But they have launched several tents recently in two new series Telos and Alto.
Here you have presented the larger tent in the Telos series of two. This is a semi-freestanding structure with 2 doors and 2 vestibules and with plenty of new and unique features.
The picture below shows its floor plan and the most important dimensions. So you realize that the area is tapered, it is narrower in the feet zone. The tent is moderately low profile, the inner and outer peak heights are given in the picture.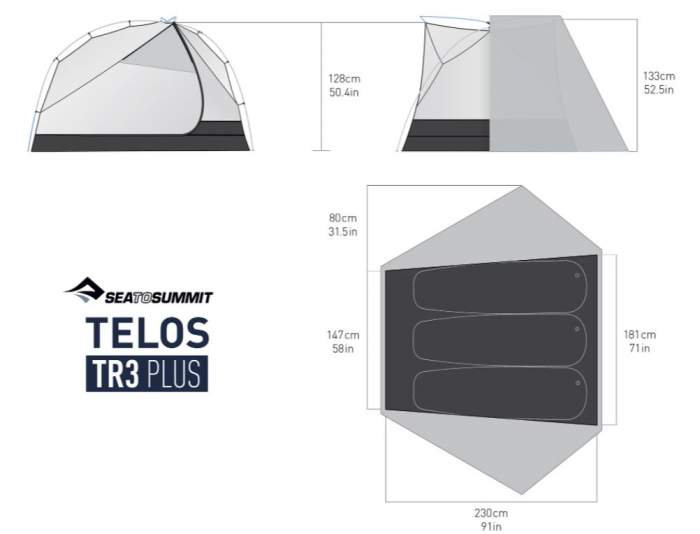 Two Telos TR3 Tent versions
There are two versions of this tent on the market so do not get confused:
Sea to Summit Telos TR3 tent.
Sea to Summit Telos TR3 Plus tent.
The difference is in the inner tent material. The Plus version is a taffeta while the other tent is mesh. As a result, the weight is a bit different. This also means that the Plus version is suitable for cold weather use, while the other version is a tent for a warmer climate. You can see them below without the fly so you can understand the differences:
Modular FairShare storage sack system
All the elements pack in three separate stuff sacks, this is behind the word 'modular'. This allows users to split the load easily. The picture below shows how this looks: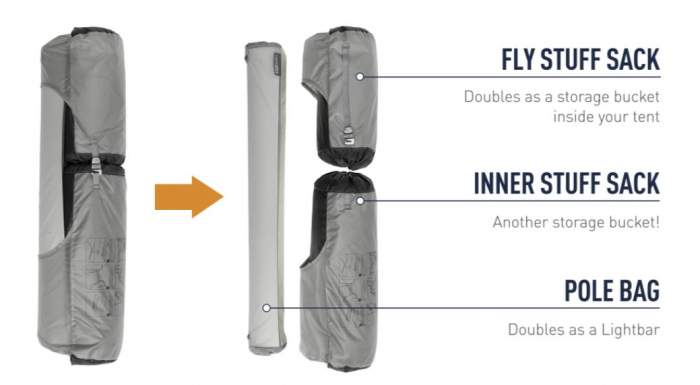 But there is more to this. Two of the stuff sacks double as gear storage pockets that you attach in the corners. You can see one in the picture below: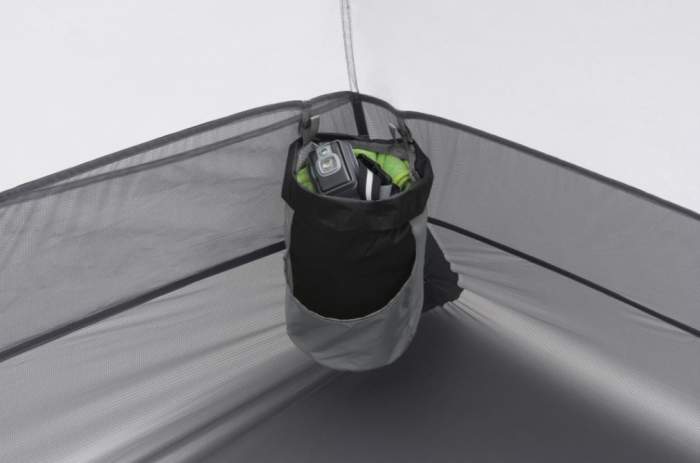 The longer pole stuff sack is equipped with a translucent diffuser and you can attach it under the ceiling and it doubles as the Lightbar. You simply put your headlamp there and have a soft illumination in the tent as in the picture below.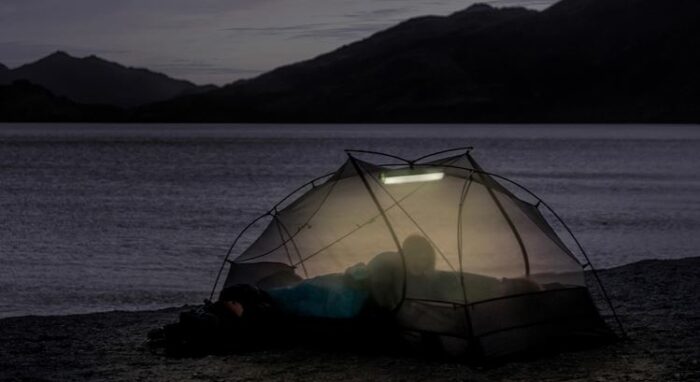 Regarding the storage, this is not all. You also have large mesh storage pockets next to each of the doors.
---
Materials & construction
The poles & stakes
You have great materials and features here. The poles are a combination of DAC TH72M aluminum Featherlite NSL and Pressfit poles, with varying diameters that maximize strength while minimizing weight. The diameter is 9.6 and 9.5 mm. So this is one of the best you can have.
Note that this is all one hubbed structure, with the segments shock-corded and color-coded for an easy setup.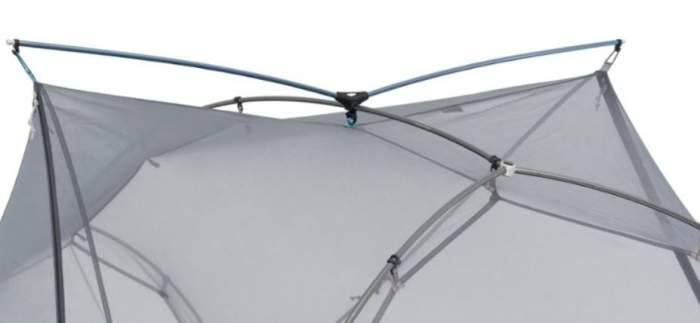 I already mentioned the tensioned ridge, so this is about the top pole that is V-shaped as you see in the pictures. This gives i) more shoulder room, ii) it makes the doors more vertical, and iii) it makes the doors considerably higher that the usual ridge pole that you have in many tents on the market. See the details: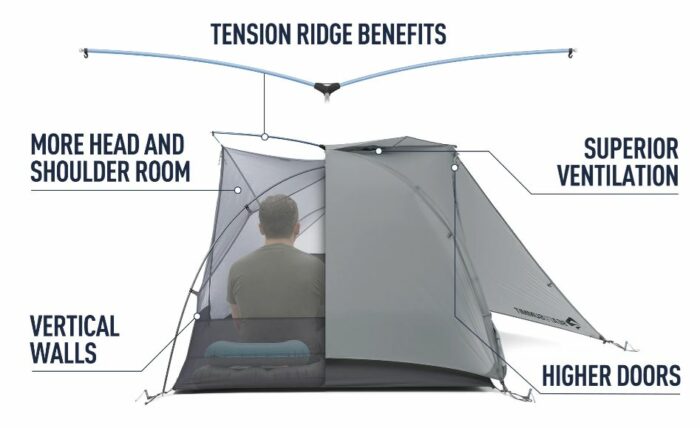 Machined aluminum clips are used to attach the pole to the inner foot with ease. So this is yet another unique detail here, see the picture.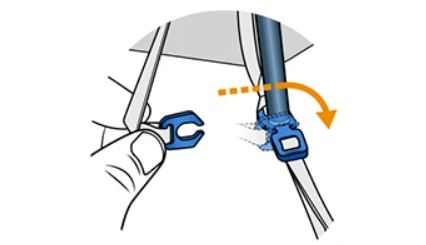 You also get 8 light tent stakes, made from 7075-T6 hardened aluminum. This is a multi-notch design that helps you to attach the tent close to the ground, even in hard terrain. Adjustable peg-out points are at each corner and on the doors so you have flexibility with where you place your stakes.
The fabric
Telos TR3: The canopy is a 15D polyester mesh and the fly is a 15D ripstop nylon with a silicone-polyurethane coating. I could not see any info about its waterproof rating. The floor is 6 inches (15 cm) deep 20D ripstop nylon tub-type and it is rated to 2500 mm hydrostatic head.
Telos TR3 Plus: The canopy is a 20D ripstop nylon, and the fly is a silicone-polyurethane-coated 15D ripstop nylon. The floor is a 6 inches deep 30D ripstop nylon tub-type with 8000 mm hydrostatic head.
Note that in wet conditions, you can set up the rainfly first to keep the inner tent and your gear dry. Yet another feature related to the fly is shown in the picture below. You can roll it up from both sides all the way to the Tension Ridge for stargazing. When needed, you can deploy it quickly and secure from inside the tent.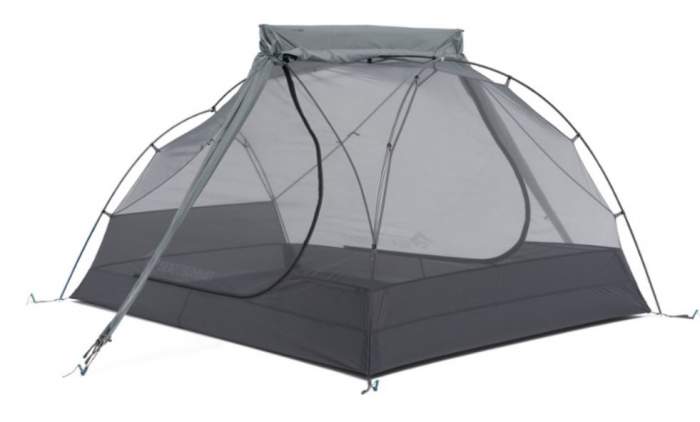 Ventilation
Both TR3 and TR3 Plus versions are nicely ventilated. The fly can be positioned as you wish to have air circulation from below. They have added what they call the Apex Vent positioned at the highest point of the tent to efficiently expel warm air and to prevent condensation. It can be zipped closed from inside the tent.
Hangout Mode
The meaning of this is shown in the picture below. You can use 2 trekking poles or the Hangout Mode Pole Set (not included) and convert the rainfly into a semi-open shelter: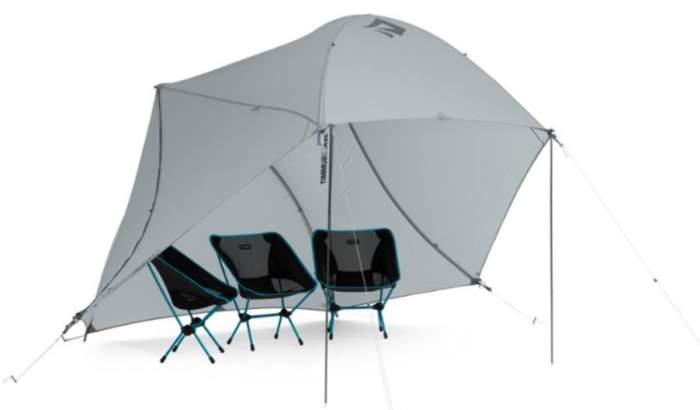 Fast fly setup
Here you use the same elements as in the mode above, but without extra poles: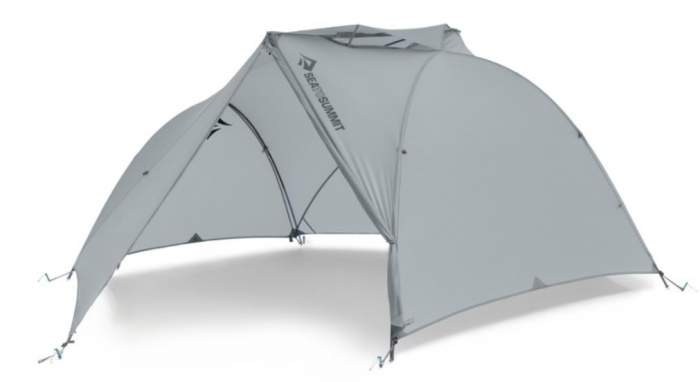 Optional accessories
Please see more in this video:
---
Who is it for
Capacity-wise, the tent is officially for 3 people and for this you have the floored area of 39.5 ft² (3.67 m²). This means 13.17 ft² (1.22 m²) per person. They write that it is with unmatched space, ventilation, and versatility. I would say this is quite exaggerated statement.
So the floor area can be described as typical, but indeed the volume is better than in most of the tents around. This is because of the unique ridge pole. There are two vestibules that add 21.5 ft² (2 m²) in total. So for a backpacking tent this is quite good.
Regarding the weight, in view of its packed weight of 4 lb 10.7 oz (2.12 kg), and I am using the ordinary TR3 Tent version, this is an ultralight tent. Even the TR3 Plus is in the same category.
This is why it is included in my list of best backpacking 3 person tents. But you will see in the list that there are far lighter options for backpackers.
Regarding the packed size, the tent can be described as ultra-packable with its packed size of (L x D) 19.3 x 6 inches (49 x 15 cm).
Regarding seasons & climate, this will depend on which tent you consider. Namely, the TR3 Plus version with its taffeta canopy is a 4-season tent. But the TR3 Tent is a shelter for a warmer climate, I would describe it as a 2-season tent best suited for late spring, summer, and early autumn.
---
Specifications
Telos TR3 Plus
Official capacity: 3 people.
Packed weight: 5 lb 2 oz (2.32 kg).
Minimum weight: 4 lb 9 oz (2.07 kg).
Fast fly weight: 3 lb 5.9 oz (1.53 kg).
Dimensions: 90.5 x 71/58 in (230 x 180/147 cm).
Peak height: 52.5 in (133 cm).
Area: 39.5 ft² (3.67 m²).
Area per person: 13.17 ft² (1.22 m²).
Vestibules area: 21.5 ft² (2 m²).
Packed size (L x D): 19.3 x 6 in (49 x 15 cm).
Telos TR3
I give only the numbers where there are differences:
Packed weight: 4 lb 10.7 oz (2.12 kg).
Minimum weight: 4 lb 3.8 oz (1.92 kg).
---
Final thoughts, rating, pros & cons
So this was an overview of the Sea to Summit Telos TR3 Tent & Telos TR3 Plus Tent, both share the same basic features and most of them are unique for this series. This is not just about the features that are unique, it is about the fact that they are useful.
But this all comes at a price, these are high-quality but expensive tents. Yet if you can afford them they are worth the investment.
Please see how I rate this tent against my standard rating criteria:
Let me know if you have questions or comments, there is a comment box below. Thank you for reading and have a nice day.