---
This Marmot Halo 4 Tent Review is about the new version of the popular tent that has been considerably improved. So now you have 2 large vestibules and a very durable floor, and the doors are much larger in the new version.
---
Key features & benefits
2 Doors.
2 Vestibules.
Full-coverage fly.
Full weather protection.
---
What is new in this new model
The Halo 4 has been around for at least 7 years now, so this what you have here is the latest version. The tent has been improved, and here are the most important changes:
There are 2 vestibules now and they provide 27 + 24 ft² (4.75 m²) of the covered area. In the previous version, there was only one with 24 ft². So this is a big improvement.
The floor fabric in the new model is 150D 100% polyester Oxford. It was 70D 100% nylon in the previous version. So this is again a big improvement.
The new version is heavier, it is 13 lb 7 oz (6.1 kg) as compared to 13 lb (5.9 kg) in the previous version. But see the difference in the floor material.
The doors are far bigger in the new version. This is an improvement.
The packed size is different. You have 25 x 11 inches (64 x 28 cm) in the new version and 26 x 14 inches (66 x 36 cm) in the previous version.
---
What type of tent is it
The Halo 4 is a 3-season camping tent with a full-coverage fly, so this is a double-layer structure with the inner tent and the fly. The tent is freestanding so you have the poles which create an X-shape structure and when you pass them through the sleeves and attach to the corner grommets, the tent becomes self-supporting.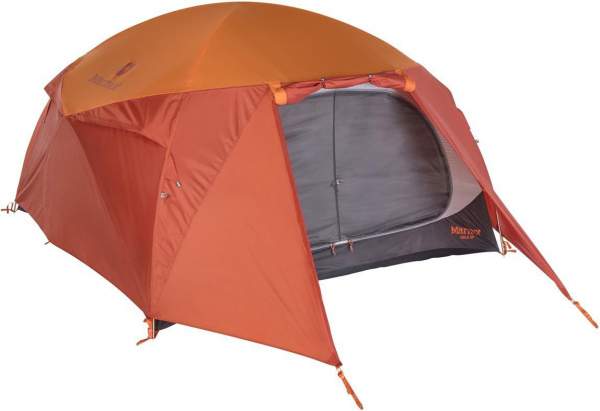 The word 'Halo' comes from its two top brow poles which completely encircle the inner tent, you can see them in the picture above. They give a structural stability to the tent and also raise the walls. This is why the doors on this tent are almost completely vertical. So this gives lots of elbow space and headroom and increases livability.
As mentioned above, the tent is with two vestibules and it allows for an awning configuration. The doors are enormous, practically double size in comparison with the previous version.
In the specifications below, you will see that they give the trail weight as well, but this is not a trail tent, and if you carry it you will need it as it is with all its elements.

---
Who is it for 
Seasons-wise, you will see below that this tent has a very good waterproof rating, and in view of its full-coverage fly, you will be protected in any weather conditions in a 3-season use.
Weight-wise, you have a tent which weighs around 6 kg. So this can be carried by users for some overnight hiking, climbing, and mountaineering tour, and this tent can be used as a basecamp tool. But it is best suited for car camping at places with a motorized access.
Note that its packed size is 25 x 11 inches (64 x 28 cm), so it can be transported even on a motorbike and perhaps on a bicycle as well.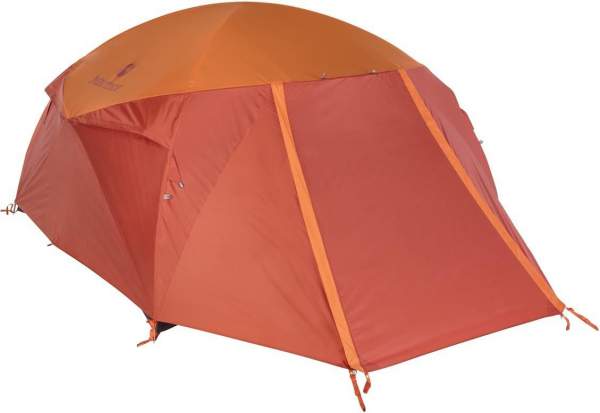 ---
Materials
Poles
You have very good materials used in the construction of this tent. The poles are aluminum 12 mm, DAC DA17. So if you are not familiar with this, the DAC is the leading manufacturer of tent's poles in the world, and the DA17 are poles specially developed for larger family camping tents. So they are for big tents and built to be strong yet flexible.
After you use the poles, you will notice that they remain partly bent, so remember that this is by design and not a structural defect, this is nothing to worry about. There are two extra poles mentioned above, which make the 'halo' structure.
Fabric
The inner tent's canopy is 40D 100% ripstop polyester No-See-Um mesh plus 68D 100% polyester taffeta. On the floor, you have a very durable 150D 100% polyester Oxford, and here you have a 3000 mm waterproof rating. This is equivalent to 4.27 PSI. Note that the floor is a catenary cut.
The rainfly is 68D 100% polyester ripstop with an 1800 mm rating. This is equivalent to around 2.7 PSI. All seams are sealed. To understand the meaning of these numbers, you might want to know that an ordinary umbrella is with 400 – 500 mm waterproof rating. So what you have in this tent is perfectly enough for what you need in a 3-season camping.
The front vestibule is with parallel zippers on the sides so you can roll the flap and fix it above the door, but you can also create an awning with the help of trekking poles, see the picture below.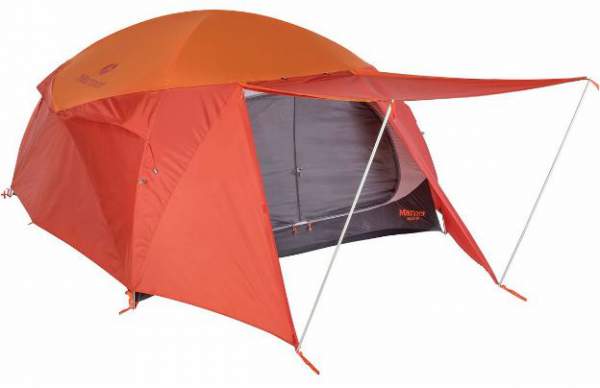 There are several vents on the fly, so in combination with all the mesh on the inner tent and the zippered panels, you should not have serious issues with ventilation and condensation.
Inner structure
You have small pockets in every corner, and also a light pocket under the ceiling. One nice feature is the side panels with zippers so you can open them or close as you wish for privacy (when the fly is not on), and for ventilation; they are doubled with a mesh of course. The same double-layer design is on the doors.
---
Specifications
Best use: car camping, base camp.
Capacity: 4 people.
Packed weight: 13 lb 7 oz (6.1 kg).
Min weight: 12 lb 12 oz (5.78 kg).
Floor size: 96 x 96 in (244 x 244 cm).
Floor area: 64 ft² (6 m²).
Area per person: 16 ft² (1.5 m²).
Vestibule area: 27 + 24 ft² (4.75 m²).
Total protected area: 115 ft² (10.75 m²).
Peak height: 59 in (150 cm).
Packed size (L x D): 25 x 11 in (64 x 28 cm).
Doors: 2.
Poles: 4.
---
Marmot Halo 4 Tent vs Kelty Outback 4
Here is the Halo 4 tent side by side with the Kelty's tent which is with the same declared capacity but the weight and height are considerably different. The same holds for the poles and price, so please follow the links in the table to see more. This might help in making an informed choice.
---
Final thoughts, rating, pros & cons
In the summary of this Marmot Halo 4 Tent Review, I would stress that they have indeed improved the tent. It is far more livable with such huge doors, and with the two vestibules now you have far more space for 4 people. Lots of stuff can be stored outside and still be protected.
This is a very reliable tent, but the price is steep. Yet if you can afford it, you will have a full protection and a tent which you can rely on. I have added it to my list of best 4 person tents for car camping.
The area is small, but this is typical for such tents. This is the matter of concept, and it is based on the backpacking capacity principle. See how I rate it:
Note that there is also the 6-person modified version on the market. You might want to compare it with this new Eureka Suite Dream 4 built in the same dome-shape.
If you need something for all seasons, check this Snugpak The Cave 4 Person Tent. Check also this Vango Capri 400 XL with more than 13 square meters of space for 4 people. See also this new tent on the market in the cabin style, the Eureka Desert Canyon 4 tent.
Thank you for reading. Please let me know if you have any comment or question, there is a comment box below. Have a nice day.