---
In this Eureka Suite Dream 4 Tent review you can read about a large dome style 4-person tent with footprint and with quite a unique poles system. This is a very stable structure with a full coverage fly and two vestibules.
---
Key features & benefits
Large area.
Unique poles system.
2 vestibules.
2 doors.
6 storage pockets.
Gear loft included.
Footprint included.
Awning configuration.
Vestibule windows.

---
What type of tent is this
The Eureka Suite Dream 4 Tent is a part of the series that includes this 4 person tent and yet another 2 person tent, Eureka Suite Dream 2. So this is a dome style and freestanding tent with 2 doors and you have a full coverage fly which creates 2 vestibules. The tent comes with a bonus footprint included.
The front vestibule flap allows for an awning creation (use your trekking poles for this). This is possible because of its dual zippers on the sides and there are 2 grommets in place for this purpose. Note that you have two windows on the front vestibule which is a cool feature, useful to have with such a full-coverage fly; you can check the weather without opening the vestibule. The back vestibule is very small, just a few square feet, for boots and similar stuff.
This is a spacious structure that offers lots of comfort, and it is quite high for a dome tent so you have 66 inches (168 cm) in the central area. This comfort is increased with the large mesh panels which you have on all four sides, combined with the vents in the fly.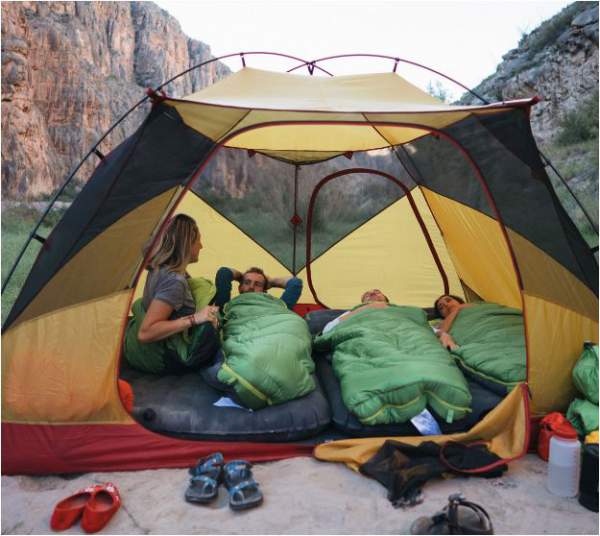 ---
Who is it for
Space-wise, you have seen the weight above, and this weight includes lots of space. They claim it can accommodate 2 queen size air mattresses and that you still have "room for your stuff". I guess this could work, the dimensions are 110 x 110 in (279 x 279 cm).
But in any case, the floor area is 76.4 ft² (7.1 m²) and this means 19.1 ft² (1.8 m²) per person if used by 4 people, which is quite enough for such a design. Note that you still have two vestibules that provide an additional 24 ft² (2.2 m²) of the protected area.
Seasons-wise, this tent comes with a full-coverage fly which has a very good waterproof rating, so it will protect you in any weather conditions in a 3-season use.
Weight-wise, this is a car camping tent, you realize this from its weight which is 14 lb (6.35 kg). But its packed size is really good 23 x 7 inches (58 x 18 cm) and you can transport it even on a motorbike.
Please see more in this video by Eureka:
---
Construction & materials
The doors
Here you have a quite asymmetric design, the front door is huge and it rolls down to the bottom center where you have a floor pocket where you can store it and keep out of the way. The back door is half the side of the front door and it is without the pocket to store it. The vestibules doors have the toggle system and you fix them above.
The poles
I already mentioned that this is a unique structure. So you have two main aluminum poles with 11 mm diameter and they create the usual X-shaped free-standing structure as soon as you attach the tent to them; note this is done through clips, there are no sleeves here and no hub element.
The brow pole is the same diameter aluminum, and it creates a hubbed Y-shape profile so the two ends go to the front and one on the back. The front sections make the front door completely vertical, see the picture below.
Now, you realize that this extra Y-shape pole crates 4 intersections with the other poles, and this makes the structure very stable when you attach all color-coded clips. As you know the more intersections the more stable structure, this is a principle used in many winter tents and some of them have tens intersections of that type, see more here.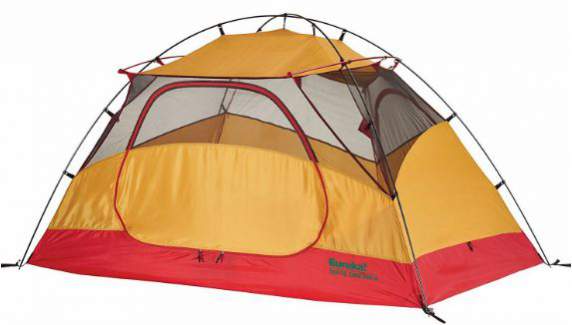 The fabric
The inner tent is a breathable 75D 190T StormShield polyester taffeta and mesh sections are 40D polyester no-see-um. The fly is the same type fabric but you have 2000 mm waterproof coating. There are 2 air vents on the back side above the vestibule.
The floor is bathtub style 75D 190T StormShield polyester taffeta with the 2500 mm waterproof coating.
The footprint is polyester, most likely the same material as the rest of the tent, they do not provide the info.
Carry bag
The carry bag is nicely designed, with a zipper and shoulder straps, and it has separate compartments for different tent's elements.
Other features
You have a bonus gear loft for extra overhead storage. The tent comes with 6 integrated mesh pockets to store small gear.
Setup
I think it is best that you see this video, the person shows the 2-person tent but the big tent is next to it:
---
Specifications
Type: dome tent, freestanding.
Capacity: 4 people.
Minimum weight: 12 lb 10 oz (12.625 lb; 5.73 kg).
Packed weight: 14 lb (6.35 kg).
Dimensions: 110 x 110 in (279 x 279 cm).
Area: 76.4 ft² (7.1 m²).
Area per person: 19.1 ft² (1.8 m²).
Peak height: 66 in (168 cm).
Packed size: 23 x 7 in (58 x 18 cm).
Vestibules: 2.
Vestibules area: 24 ft² (2.2 m²).
Doors: 2.
Pockets: 6.
Gear hammock: 1.
Stakes: aluminum.
---
Eureka Suite Dream 4 Tent vs Marmot Halo 4
I am showing here this Suite Dream 4 tent side by side with the new Marmot Halo 4 version. As you see, Eureka's tent offers more space, it is taller, and it packs better. Please follow the links to see more.
---
Final thoughts, rating, pros & cons
In the summary of this Eureka Suite Dream 4 Tent Review, you have seen its features and the comparison with some of its competitors. So you realize this is a very interesting design and the tent has quite a number of very useful features for a dome tent. With such a construction and its aerodynamic shape, and with its full-coverage fly, it can withstand a lot of pressure from any direction. They have built a very good tent.
The price is quite steep but its competitors are even more expensive. See how I rate it:
Note that there are several tents of this brand presented here in the site and you can find them in my page with tents. Check this Marmot Colfax 4 tent with windows and a removable vestibule, and the footprint included and also this The North Face Wawona 4 with its two vestibules and plenty of great features.
You might want to see their cabin-style tents for car camping the Eureka Copper Canyon LX 4 and Eureka Desert Canyon 4. But see also this Vango Capri 400 which offers more than 13 square meters of space. If you need something for all seasons and winter use, check this Snugpak The Cave 4 Person Tent.
Thank you for reading. Please use the comment box below in the case of questions or comments. Have a nice day.