---
This Snugpak The Cave 4 Person Tent review is about an excellent 4-season tent with an impressive waterproof rating for a complete weather protection. This is a dome-shaped structure built from quality materials, with two doors and two vestibules and with five vents on the fly.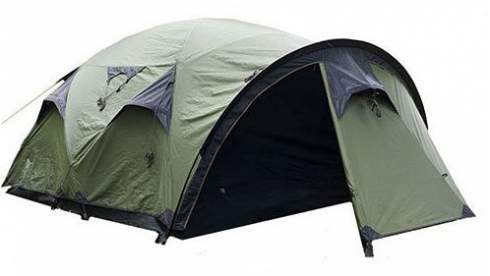 ---
Key features & benefits
High-level craftsmanship.
2 vestibules.
2 doors.
4-season tent.
Impressive waterproof rating.
Dark rest tent.
---
What type of tent is this
The Snugpak Cave 4 is a dome tent. It looks like an extended dome but this impression is only because of the additional pole which adds extra volume to one of its vestibules. This is also a double-layer tent, so you have an inner tent plus a full-coverage fly.
Freestanding or not
Strictly speaking, this tent is not freestanding although I have seen many claiming the opposite. This terminology I have addressed in my separate text. Here is the reason why it is not fully freestanding.
The main part is a dome with 4 poles and when you pass the poles through the sleeves and attach them to the grommets, the structure becomes fully self-supporting. So there is no hub here but you can move it in such a stage and rotate, and I can tell you it is very stable.
Even when you put the fly, you simply clip it to the tent's base at several places and the structure is still self-supporting and freestanding. So if you find yourself on a rocky terrain or on a frozen ground or on a sand, you will certainly be able to spend the night fully protected even though the tent is not staked to the ground.
But, there is the mentioned fifth pole which is used for the vestibule. If you use it and want a fully functional and tensioned vestibule, you have to stake everything to the ground. This pole makes a huge and very useful vestibule, so I would not miss using it even if it makes the tent non-freestanding.
Is Snugpak Cave tent a dark rest tent?
There is a trend recently of building so-called dark rest or 'lights out tents'. Some also use the term 'blackout tents'. The idea is to reduce glare so that you can sleep longer in the morning or take a nap during the day.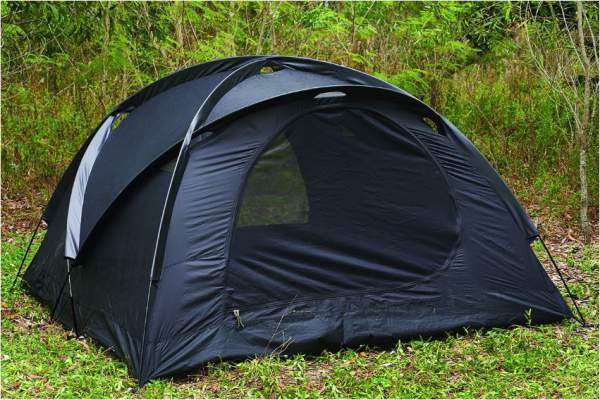 Now, I have nowhere seen a statement about this from the manufacturer, but this Snugpak The Cave 4 is far darker than many dark rest tents currently available on the market, see many of them here. So I would say that the manufacturer missed the opportunity to describe the tent properly. Just see the picture below, darker a tent cannot possibly be, and this is without the fly.

---
Who is it for
Space-wise, the tent is with the declared capacity of 4 people. They have used the backpacking principle here, so the space is really tight for 4 users. The floor area is only 51 ft² (4.73 m²) and this gives 12.75 ft² (1.18 m²) per person. This is far from enough even for backpackers but you can indeed squeeze 4 pads on the floor. Though you have two vestibules that provide extra 25 ft² (2.3 m²) of the covered area for your gear and for cooking, so this changes the situation dramatically.
Please see the floor plan below; the sketch is from the brand and it is a bit misleading. The inner tent area is almost completely a square (see the numbers for the inner tent, you have 220 x 215 cm) while the picture shows it very elongated which is not so in the reality: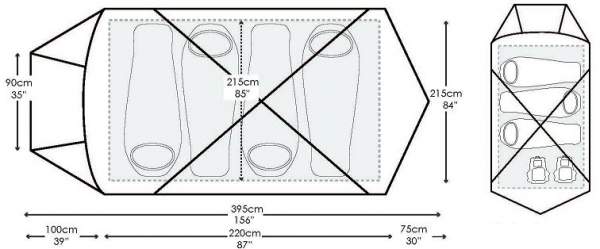 This tent is perfect for 2 people, and good enough also for 3 as the picture on the right above shows. I would not consider using it for 4 people.
Is Snugpak Cave a winter tent and/or 4-season tent?
If you are not familiar with this terminology, it is best that you see my separate text. The term 4-season usually implies a tent for winter conditions, but in most cases such tents are not the best option in a warm environment. The true 4-season tent is this Crua Tri 3 tent and also the Crua Loj 6. The reason is that those are insulated tents so they insulate you from anything outside, regardless if this is the cold or the warmth.
So now back to the Cave 4, this tent has all features needed for very harsh winter conditions. This implies many things. I would stress its poles structure which is such that there are no less than 7 intersections between them, and those make the structure very stable. The more intersections the better.
Then you have sleeves which perform better than clips in very windy conditions, this is simply because the pressure is spread over a larger area instead of on the clips positions only. This is just physics, my field, I am a physicist by education.
The fly is full coverage and the waterproof rating is impressive. You also have numerous guyline points, and you will notice that some of them are double.
But this is far from all. You also have the inner tent which is without mesh, so this is a solid material that preserves the warmth. Note also that there are no less than 23 stakes in the package, to secure the tent properly.
The tent is quite low, so this is both bad and good; the bad is for obvious reasons and good is because such a structure performs better in strong winds, it is aerodynamic and very stable.
So yes, in my book this tent is very much suitable for winter conditions and have seen many people using it under the snow.
But how about other seasons?
Instead of mesh, you have 4 vent openings in the roof, and those are matched with the 4 vents on the fly. Note that there is one extra vent on the main vestibule as well. The doors are double layer so you can use the mesh for ventilation and this will create both vertical and cross flows. The tent is dark and it performs well even in sunny situations as it creates a cooler atmosphere. So I would say it is suitable for all seasons.
Here is a short video, so see how it looks:
---
The materials & structure
The poles
There are 5 of them, and those are DAC Featherlite NSL anodized poles with press-fit connectors. The DAC is the leading manufacturer of the tent poles, and Featherlite NSL are ultralight poles for backpacking and expedition all-seasons tents made from TH72M aluminum. So these are the best of the best.
All poles are color-coded, you have three different colors and they match the tabs on the sleeves so the setup is self-evident and easy. I have already mentioned, there are no hub elements here.
The stakes
The stakes are the Y-beam type, so those are in general very good for a variety of terrains, they will not rotate and they hold well. They are aluminum though, and I have seen some people complaining about the durability. I have the same in my Exio 4 tent and they are great. In any case, you get them 25 in the package, so 2 are spare stakes.
The fabric
The fly is 210T polyester ripstop with 5000 mm waterproof polyurethane coating, and this is equivalent to 7.11 PSI. So these are impressive numbers, you can see more about the terminology here. The inner tent is 190T nylon with polyester MeshTrail, the mesh on the doors is 50D polyester No-See-Um.
The floor is bathtub type and I have not found any information about its waterproof rating. All seams are sealed.
You have 4 vents on the fly and one on the front vestibule, and they are equipped with Velcro stiffeners so no need to stake them to keep them open. If you feel cold, you can close them with the Velcro tabs. Note that the inner tent also has 4 small mesh sections that match the external vents, so you have a direct airflow here.
The vestibules
Here you have an asymmetric design, please see the floor plan above. The back vestibule is smaller and you have around 9 ft² (0.8 m²), and it is with the central zipper equipped with a storm flap and Velcro tabs.
The main vestibule offers 16 ft² (1.5 m²) of the covered area. It is with a pole and with zippers on both sides so you can enter from any side and keep the other closed as a wind barrier when you cook under the vestibule. The central section of the vestibule must be staked to the ground. Note that you have storm flaps on both zippers and also Velcro tabs, so they have done the job properly.
Both vestibules are with toggles for the doors so you can roll them to the side and fix for a better ventilation. In such a configuration you will keep the mesh layer on the inner doors and you will have an optimal cross flow, remember what I was saying above about the ventilation.
The doors and inner features
The inner doors are not particularly large, you have two layers, taffeta and mesh, and when some of them are not in use you can store it to the large pockets which you have on the sides for this purpose only.
One of many nice features here are the storage pockets; you have series of mesh pockets on the two sides, so you can store lots of items and keep them off the floor and out of your way. This is really useful.
You also have a loop for a lantern at the highest point on the ceiling.
Using cots
First, note that the tent is rather low, you only have 49.2 inches (125 cm), so not every cot is suitable here. But there are nice low cots that are only 6 inches (15 cm) high, so you can definitely use them in this tent. See some of them here. How many? Well, 3 easily, no more.
Other details
I love the carry bag, it is with straps and a zipper. The packed size is simply great, you have 19.7 x 8.7 inches (50 x 22 cm).
It includes a repair kit as well. Each of the tie-outs is already strung with paracord for a quick setup.
---
Specifications
Type: dome tent, non-freestanding.
Capacity: 4 person.
Packed weight: 10.47 lb (4.75 kg). This is the full package.
Trail weight 9.44 lb (4.28 kg). This includes the fly, poles, and the inner tent.
Dimensions: 155.5 x 84.6 in (395 x 215 cm).
Floor area: 51 ft² (4.73 m²).
Area per person: 12.75 ft² (1.18 m²).
Peak height: 49.2 in (125 cm).
Vestibules area: 16 + 9 ft² (1.5 + 0.8 m²).
Packed size (L x D): 19.7 x 8.7 in (50 x 22 cm).
---
Snugpak Cave 4 person tent vs Marmot Halo 4
Here I give the Cave 4 tent side by side with the famous Marmot's tent. This may help in making an informed choice. As you see, it is lighter and it packs better, but it is smaller and lower. Please follow the links for more details.
---
Final thoughts, rating, pros & cons
I would conclude this Snugpak The Cave 4 Person Tent review with the following. This is an impressive tent built with attention to details and from quality materials, a totally reliable and strong tent that will protect you in any weather conditions and in all seasons. Replace the aluminum stakes with steel if you plan to use this tent on a rocky or frozen ground. Other than that, fully recommended.
If you disregard the declared capacity, it is hard to find any true objection to this tent. It looks expensive, but I do not think it is really. If you search for winter tents you will realize that they cost far more. For a winter tent, this is a bargain. Please see how I rate it:
Snugpak Cave 4 Person Tent
$539.95
If you need something for solo use from the same brand, please check this Snugpak Ionosphere 1 person tent. This brand also has a great 3-person tent, the Snugpak Scorpion 3.
If you need something different and for a different number of users, please visit my page with tents of up to 4 people. See this Marmot Colfax 4 tent with a footprint included and with a removable vestibule. Check also this Big Agnes Copper Spur HV Expedition Tent 3 person which is a convertible design for all seasons. For larger rents, please check here.
Thank you for reading.  I love to hear from you so please use the comment box below in the case of questions or comments. Have a nice day.