---
Big Agnes Copper Hotel HV UL2 Tent is a nicely designed 3-season tent with 2 vestibules which offers 65 ft² (6.1 m²) of the total protected area for 2 people. It is lightweight enough to be used even by hikers and backpackers.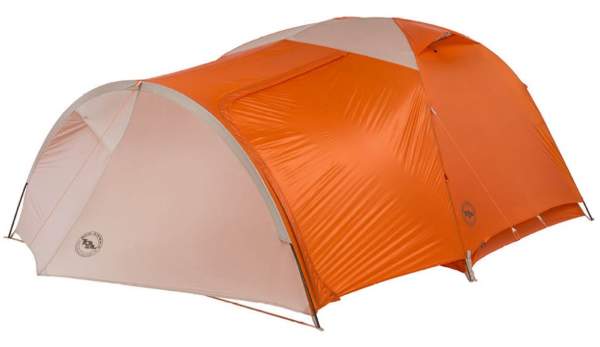 ---
Key features & benefits
This is a very lightweight tent.
Very reliable.
Very versatile.
Full protection.
Great porch area which is like an extra room.
2 doors.

---
What type of tent is this
The Big Agnes Copper Hotel HV UL2 Tent is a part of their brand new series which includes this and the 3-person tent. These are very lightweight tents but not in the category of ultra-lightweight in the absolute sense (by the weight only). This you realize if you compare it with their another ultra-lightweight tent the Big Agnes Fly Creek 2 Platinum HV. But wait to see the total protected area which this tent offers. You will realize that it should be considered as ultra-lightweight in the relative sense, through its huge area/weight ratio, see more below.
This tent includes also a very large porch which is supported by its own pole. Due to this, the tent must be staked down properly and it is not freestanding although the main inner tent is fully self-supporting.
The letters HV in the name imply "high volume". This is something they have been adding to the names of their recent tents due to the fact that the poles are constructed in such a way as to add lots of headroom, they claim up to 20% more as compared to their usual UL tents.
Speaking about UL, these letters mean "ultra-lightweight". In the case of this tent, this means 3 lb 13 oz (1.73 kg). As mentioned above, on the first look this is not so "ultra", compare this with some of the tents in this list. But see more below.
The tent is a two-layer type, with an inner tent and a full coverage massive fly. With the fly on, it looks like a 2-room tent, the porch is so functional that it looks like yet another room. Without the fly it looks far less impressive.
Copper Hotel HV UL2 vs UL3
If you compare these two tents, you realize the following:
The Hotel 2 tent has the same vestibules area as the Hotel 3 tent. So you have far more per person with the Hotel 2 tent.
The inner area per person is bigger in the UL2 tent. This is always so; tents for more people offer less comfort.
See the numbers:
 
Copper Hotel 2
Copper Hotel 3
  Inner area per person
14.5 ft²
(1.35 m²)
13.7 ft²
(1.27 m²)
  Total area per person
32.5 ft²
(3.05 m²)
25.7 ft²
(2.07 m²)
  Inner Area/Weight ratio
1.56 m²/kg
1.83 m²/kg
  Total Area/Weight ratio
3.5 m²/kg
3 m²/kg
---
Who is it for
Capacity-wise, the inner area is small as you realize from the table above. But the miracle happens when you add the fly. The total protected area per person becomes 32.5 ft² (3.05 m²). But if you are a backpacker, you would rather have smaller weight so the question is if you need all this comfort for such a use. As a backpacker, perhaps you might rather have this Fly Creek 2 Platinum HV from the same brand which is only 900 grams.
But this Hotel 2 is certainly great to have for ordinary camping and it is worth carrying on some shorter hiking tours. In any case, the picture below shows the space which you have here.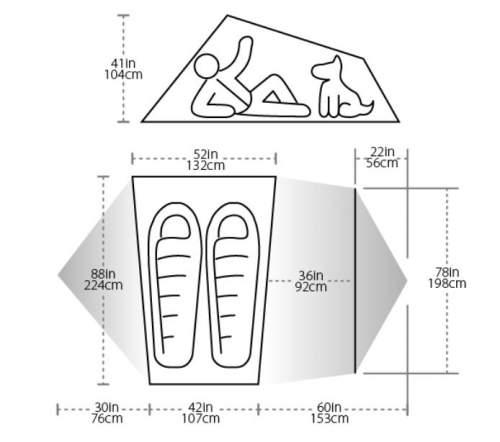 Seasons-wise, this is a full-coverage fly with a decent waterproof rating, so this is a tent that will protect you in any weather conditions in a 3-season use. Note that the porch alone is not a strong structure and this cannot withstand too much vertical pressure, it will collapse under the snow.
Climate-wise, with so much mesh around you should not plan to use it in a very cold environment. This does not keep the warmth. You might rather use this Vango Omega 250 which is a more enclosed design with PVC windows.
---
Construction & materials
This tent is really nicely designed with its two entry points. So you have an ordinary vestibule on the back and a large porch on the front, both are shown in the picture below. The back vestibule is with a central zipper and it allows for several configurations so you can use this to make an optimal airflow in the tent.
The poles
The poles are DAC Featherlite NFL and you have them 4 in a hub design. Two main poles create the dome and one brow pole is there to lift the side walls and doors and to make them vertical, see the picture below. One pole is used for the porch. This is the best possible material, the DAC is the leading manufacturer of tent poles and the Featherlite NFL are specifically developed for ultralight backpacking use. You will see in the video how incredibly flexible they are.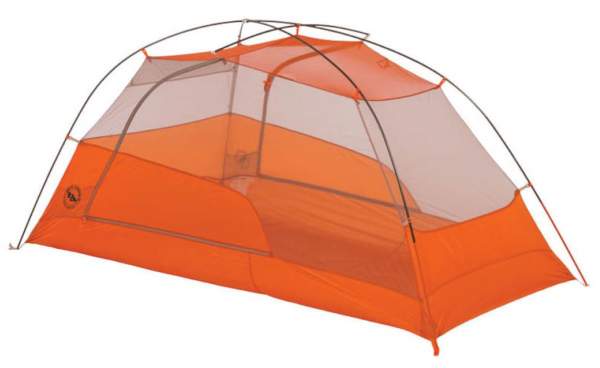 The fabric
The waterproof fly and the floor are silicone treated and this is a proprietary patterned random rip-stop nylon with 1200 mm waterproof polyurethane coating. They use a unique weave with a high tenacity yarn and high filament count, and this increases the tear strength by 25% while decreasing the weight. The mech sections are a polyester. All seams are taped and they use a waterproof and solvent-free polyurethane tape (No PVC or VOC's).
Ventilation
There are vents on the fly; one is above the main part and yet another is on the porch. You have Velcro stiffener to keep them open. The tent is with lots of mesh as you can see in the picture above and you can also keep the vestibules open at least partly so ventilation should always be good in this tent.
Fast fly variant
If you order the footprint separately, you can use the tent in its fast fly variant. The weight in this case is only 1.3 kg, but as usual you do not have protection from insects and snakes. The fast fly weight is the weight of the fly, footprint, poles, and stakes.
Other features
Large ceiling pocket for storage.
Media pockets located above the sleeping area.
Velcro tabs connect fly to poles.
Pre-cut guy lines and tensioners attached to fly.
Reflective guylines and webbing on tent corners.
Easy grip zipper pulls.
Please see more in this promotion video by Big Agnes:
---
Good and less good features
Here is my short summary:

Very lightweight for its size.
Top-quality.
Complete protection.
Versatile.
Large doors.
Large porch.
Many storage pockets.

The price & rating
The price as of the moment of writing this text is $550; note that the 3-person version is $600. See how I rate it:
My rating of the Big Agnes Copper Hotel HV UL2 Person Tent
Area per person -

8.4/10

Area/Weight ratio -

9.4/10

Packed size -

9.8/10

Reliability & protection -

9.5/10

Versatility -

9.7/10

Ease of use & features -

9.3/10

Price -

6.5/10
---
Specifications
Type: 3-season non-freestanding.
Best use: backpacking, hiking, mountaineering, camping.
Capacity: 2 people.
Trail weight: 3 lb 7 oz (1.56 kg).
Packed weight: 3 lb 13 oz (1.73 kg).
Fast fly variant weight: 2 lb 14 oz (1.30 kg).
Inner floor area: 29 ft² (2.7 m²).
Inner area per person: 14.5 ft² (1.35 m²).
Vestibules (porch) areas: 9 + 27 ft² (0.9 + 2.5 m²).
Total protected area: 65 ft² (6.1 m²).
Peak height: 41 in (104 cm).
Packed size: 19.5 x 5 in (50 x 13 cm).
Footprint weight (sold separately): 6 oz (170 g).
Doors: 2.
---
Big Agnes Copper Hotel HV UL2 vs Competitors
It is a bit difficult to find true competitors for such a tent because this is not a truly backpacking tent (it looks too luxurious for such a purpose). But it is in this group by its weight. So I compare it with two other top-notch tents from renown brands, all in the same weight range. See what they offer and how they look side by side. And no, this is not a mistake, the inner area and weight are identical in the Hotel 2 and the MSR tent, but the former has far bigger vestibules:
Vestibules area, 
sq ft (sq m)
Sierra Designs
Sweet Suite 2
---
Final thoughts
So you have seen it, the Big Agnes Copper Hotel HV UL2 Tent is something exceptional. You have top quality materials and the total protected area is huge. It looks like a two-room tent. If you can afford it then do not think twice, this is a reliable item from a top brand.
I gave some alternatives in the comparison table above. But if you still want to see more please visit my page with tents. Only the best brands are presented there. I have included it in my list of best lightweight 2 person backpacking tents.

Thank you for reading. Please use the comment box below in the case of questions and comments. Have a nice day. 

---