---
If you are looking for a basecamp-type reliable tent, this Vango Omega 250 review is for you. Here you have an impressive 5000 mm waterproof rating and a 2 room structure with 64 ft² (6 m²) of the protected area.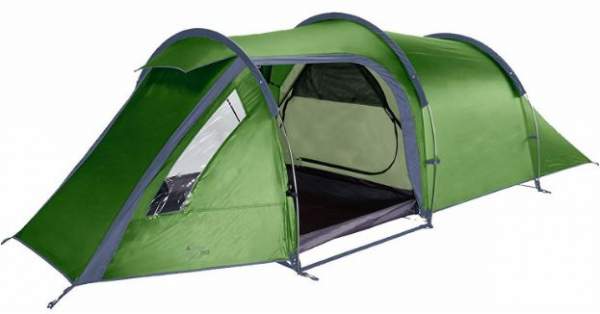 ---
Key features & benefits
Huge area.
2 doors.
2 PVC windows.
2 rooms.
Impressive waterproof rating.
---
What is in the name
The Vango Omega 250 is a 2-person tent but it provides quite some extra space so they use the numbers 250 in the name to indicate that by the size this is a 2.5 person tent. This is a part of the series which includes also the Omega 350 and Omega 500XL tent.
The tent is tunnel type and with 2 separate rooms, see the picture below. So you have a sleeping zone which is a tent within the external shell tent, plus a living room. The tent has been recommended for use by the DofE Award Association. Note that the shell tent and the inner tent pitch together, there is no need to remove the inner tent when you pack it down, this will allow for a quick and easy pitch next time. But they do come separate, so once you add the inner tent, leave it there.
The tent is not freestanding and this is the same for all Vango's tunnel type rents. So choose the camp at a place where you can stake the tent to the ground.
See the floor area and its most important dimensions given in centimeters: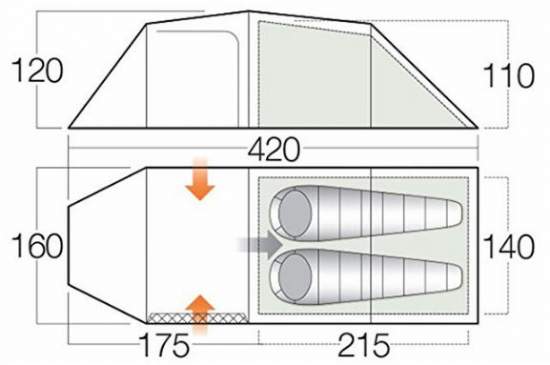 The orange arrows show the entry doors, so they are symmetric but note that one is without the mesh.
Please see a bit more about the Omega series in this short video by Vango:
---
Who is it for
Capacity-wise, the tent is for two people, but this is a rather luxurious structure with lots of extra space for gear. They do not give the exact number for the floor area, but from the picture above it appears to be around 6 square meters (64 ft²). Note, the rectangular area would be 6.72 m² but the section on the left is a trapezoid and some space is lost there. So as you realize, this is around 3 m² (32 ft²) per person, and this is a truly luxurious option.
Seasons-wise, this tent is suitable for any weather conditions in a 3-season use, and I am sure even more than that. See below about its waterproof rating.
Weight-wise, with its 8.9 lb (4.05 kg) this is not a lightweight tent. Note, the numbers here are a bit different from the numbers on Amazon; they are from Vango directly. They also give the trail weight 7.4 lb (3.37 kg) but the meaning of this is never clear enough unless specified, read more about it in my separate text.
In any case, it is quite heavy but this is not surprising in view of the space it provides. It is a great option as a base camp tent and it is in such a group in the information available at Vango site.
But the packed size is excellent, 19 x 7 in (48 x 18 cm), so you can transport in even on a bicycle.
Using cots in this tent
The tent is already heavy and I guess you would not want any extra weight, but if you transport it in the car or on a motorbike, you might consider using cots. Sleeping off the ground is a different experience. There are very low cots which you can use even in such a low tent, see some in this list.
---
Materials & construction
The fabric
Here you have Vango's Protex 70D polyester shell tent with an impressive 5000 mm hydrostatic head (or mm if you wish). This is equivalent to 7.11 PSI (pounds per square inch).
The floor of the inner tent and the removable groundsheet in the living area are the same 70D material but you have 6000 mm rating. Now you realize why I think it is suitable for any weather conditions.
The upper part of the inner tent is a breathable polyester. This implies that the vapor during the night will be able to escape. So you have a double layer structure where it matters.
All seams are factory taped. The floor is bathtub style so all is done properly here. According to their statements, the fabric is weather tested by a certified test center and it is beyond the European standard EN5912. The same standard is applied regarding its fire retardance.
The poles
They use Vango's PowerLite 7001-T6 aluminum alloy poles, so they are lightweight and durable. Color-coding is in place for an easy pitch. You have them three and they are the different length.
Doors & windows
The entry doors are large and waterproof just as the rest of the shell. One is with an extra mesh layer. The inner door is with mesh in the upper part so you can have some extra ventilation. The windows on the front are with PVC so fully sealed, and you also have blinds from inside.
Ventilation
The tent is equipped with two vents, one on each of its narrow sides. As mentioned above, you also have a mesh on the upper part of the inner door. So the cross-flow should be good in such a tunnel structure. There is a mesh on the back of the inner tent and it matches the external back vent.
One entry door is also double layer type so you have a mesh and you can keep it with mesh only as long as the sky is clear.
Pockets
You have them many in the sleeping area. There are series of mesh pockets on both sides, so this should be enough to keep all your small items off the floor and close at hand.
TBS system
This is a patented Vango's system and it includes tension straps that are fixed on the sides and you pass them and clip on the apex at both of the front poles. This is a great system which stabilizes the tunnel structure against side winds.
Other features
There are numerous guylines around and several of them are triangular (i.e. double) to spread the force over a larger area on the poles.
Please see more in this video review:
---
Specifications
Type: basecamp, tunnel tent, non-freestanding.
Capacity: 2 people.
Weight: 8.9 lb (4.05 kg).
Trail weight: 7.4 lb (3.37 kg).
Dimensions: 165 x 63 in (420 x 160 cm).
Area: 64 ft² (6 m²).
Area per person: 32 ft² (3 m²).
Peak height: 47 in (120 cm).
Packed size (L x D): 19 x 7 in (48 x 18 cm).
---
Vango Omega 250 tent vs Competitors
In the table below I compare the Omega 250 with Kelty's 2-person tent and with the Crua Tri 3 tent which is for 3 people. The purpose is just to show some very different options and to realize how different the tent in this size range can be. Perhaps you would want to check a variety of options before you decide what the best for you is. Please follow the links in the table to read more.
33 x 24 x 19
(85 x 61 x 48)
---
Final thoughts, rating, pros & cons
In the summary of this Vango Omega 250 review, I would point out again its nice structure and the organization, and the impressive waterproof rating. This is high-level craftsmanship and I trust the brand behind this tent. Note that this tent has been on the market for at least 9 years now, so all is known about it and there should be no unpleasant surprises. I have included it in my list of best two-person tents for camping.
See how I rate this tent:
Vango Omega 250
Pros
Great organization.
Many pockets.
PVC windows.
Large area per person.
Impressive waterproof rating.
Exceptionally good packed size.
Cons
No mesh on one door.
Quite low.
Not sewn-in floor in the living room.
BEST PLACEs TO BUY
You might want to consider also its bigger cousins, the Omega 350 and Omega 500XL. But if you need something portable, check this Vango Banshee 300 tent.
Thank you for reading. If you need something different, there are many tents described in detail in my page with tents. Check this dome-style Eureka Suite Dream 2 tent which offers surprisingly a lot of the protected area. Please use the comment box below in the case of questions or comments. Have a nice day.