---
This Eureka Suite Dream 2 review is about a nicely built freestanding 3-season tent with two vestibules, 2 windows, a footprint included, and with a great price tag. Plenty of reasons to read more here.

---
Key features & benefits
Complete protection.
Unique poles design.
2 doors & 2 vestibules.
Windows on the vestibule.
Gear loft included.
Footprint included.
Many storage pockets.
Very affordable.
---
What this is about
This Suite Dream 2 is a part of the series which currently includes also the 4-person tent. The tent is a freestanding dome-type so you can pitch it on any terrain. Though the main vestibule must be staked down to have it fully functional.
The tent is a two-layer design, so you have the inner tent plus a full-coverage fly. Such a structure offers full protection regardless of where you use it. The structure is asymmetric in several ways but this is a tent with two doors and two vestibules.
Note that the tent comes with a footprint included, so this adds value and extends the life of the tent. Yet another peculiar detail are two translucent solid windows on the main vestibule, you can see one on the picture above. This is useful to have to get some idea about the weather outside when you are forced to keep the tent closed, and it adds to the livability.
I know that some may be skeptical about such features as they may crack and get damaged easier than the rest of the fly, but this is above the vestibule and not above the main section of the tent. Normally, manufacturers test such materials to see how they behave at very low temperatures, and I trust that Eureka has done this as a renown brand.

---
Who is it for
Space-wise, the capacity is 2 people. Now, the inner area is 39.4 ft² (3.7 m²) and this gives 19.7 ft² (1.85 m²) per person. With 2 vestibules the total protected area is 55.8 ft² (5.2 m²) and this means 28 ft² (2.6 m²) per person. So for the tent of this type, these are remarkable numbers. This is quite a luxurious dome tent for two people.
They make it clear that it can accommodate a queen size air bed. So it can really.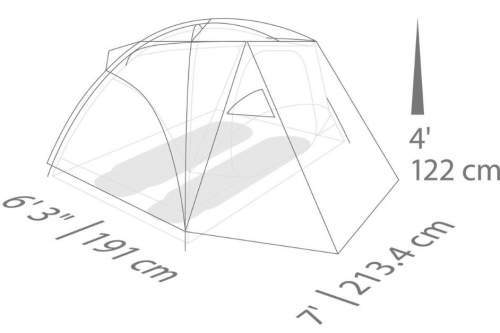 Seasons-wise, the tent is with a full-coverage fly, with a decent waterproof rating, and with a very strong poles structure (more below). Therefore this is a tool for 3 seasons for sure, and I would say it is for even a bit more than that.
Climate-wise, the tent has lots of mesh in the upper body, see the picture below, so although it can withstand a lot of pressure from any side, this is not so best for a very cold environment as it does not keep the warmth. For such a use, you will be doing much better with a tent like this Vango Omega 250 which is a very enclosed structure, and also the Vango Venture 350 with a similar design.
Weight-wise, with 7 lb 2 oz (3.23 kg) minimum weight this is a portable tent, but I would not plan to carry it long distances. There are much lighter options for such a purpose, see for example the Marmot Force 2 tent or Sierra Designs Sweet Suite 2 tent, both are ultra-lightweight backpacking tools. So the Eureka Suite Dream 2 is a camping tool, good for any use where you would not carry it yourself. Note that its packed size 21 x 6 inches (53 x 15 cm) is really good and you can transport it even on a bicycle.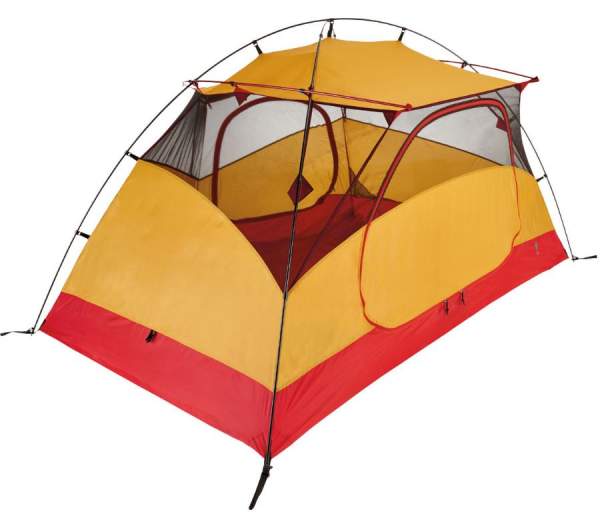 ---
Materials & construction
The poles & stakes
Here you have a unique poles system configuration. It includes two standard poles that create the main dome section, both 8.5 mm in diameter, plus a Y-shaped pole with the same diameter which is used in a particular way. Its two ends are on the front where they lift the wall and make it together with the door completely vertical, you can see this in the picture above. On the back, this pole is with its remaining end in the grommet on the ground.
So you realize that you have 5 intersections of the poles, and this makes the frame very strong and stable. Such a structure can withstand lots of pressure and it behaves nicely if pressed by snow or in the winds. The inner tent attaches to the frame through clips which you can see in the picture above. The stakes are included and you have aluminum material used here.
The fabric
Durable materials are here as well. The inner tent is 75D 190T StormShield breathable polyester taffeta plus 40D polyester no-see-um mesh. The rain fly is the same denier, 75D 185T StormShield polyester and with 2000 mm waterproof coating. Note that the floor is a bathtub style.
The front vestibule is with two parallel zippers and of a good size. But the back vestibule is too small for anything, just to put boots and nothing else.
The two solid windows on the front vestibule add to the livability of this tent.
Other features
The tent has numerous storage pockets and you also get a bonus gear loft for storage. I already mentioned that the tent comes with a footprint included.
Please see more in this video from Eureka where both tents are presented:
Setup
I think it is best that you have a look in the video below, all steps are presented:
---
Specifications
Type: freestanding dome tent.
Capacity: 2 people.
Minimum weight: 7 lb 2 oz (3.23 kg).
Packed weight with footprint: 9 lb (4 kg).
Dimensions: 7′ x 6'3″ (213 x 191 cm).
Inner area: 39.4 ft² (3.7 m²).
Inner area per person: 19.7 ft² (1.85 m²).
Vestibules: 2.
Vestibules area: 14.4 + 2 ft² (1.3 + 0.2 m²).
Total area: 55.8 ft² (5.2 m²).
Total area per person: 28 ft² (2.6 m²).
Peak height: 4 ft (122 cm).
Packed size (L x D): 21 x 6 in (53 x 15 cm).
Doors: 2.
Pockets: 6.
Gear hammock: 1.
---
Eureka Suite Dream 2 tent vs Competitors
In the table, I show one super lightweight tent, so this is not a competitor in the strict sense, it is more to realize how lightweight such tents can be. The other Morrison 2 tent is closer to the Eureka by the weight but it is still much lighter. But as you see the Eureka tent offers far more comfort. This all might help you to understand better the features of this tent and to make an informed choice:
Vestibules area, 
sq ft (sq m)
Sierra Designs
Sweet Suite 2
---
Final thoughts, rating, pros & cons
In the summary of this Eureka Suite Dream 2 review, I would stress that this tent is built from very durable materials and this is reflected in its weight. So this is not a tool for hikers and backpackers but there are many other activities outdoor where you can use it. This is a very reliable tent and the price is more than fair for the value. Note that this includes the footprint and the gear loft as bonuses.
See how I rate it:
You might want also to check their true 4-season tent, the Eureka Mountain Pass 2 and also this Eureka Assault Outfitter 4 Person Tent.
Check for example this ALPS Mountaineering Meramac 2 Person Tent, a reliable item with an incredible price tag. If you need something for all seasons, please check this Slumberjack In-Season 2 Tent. For larger family camping tents, please check here.
Thank you for reading. Please let me know if you have questions and comments, there is a comment box below. Have a nice day.