---
Slumberjack In-Season 2 Tent is an impressive nicely built 2-person tent for a 4-season use with 3 entrances and 3 vestibules, a strong structure with 5 poles.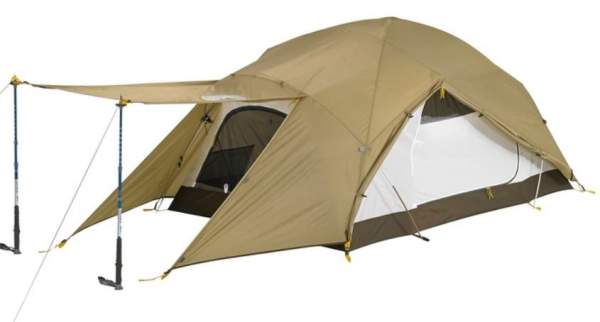 ---
Key features & benefits
4-season tent.
2 person tent.
3 doors.
3 vestibules.
5 poles.
Strong structure.
Convertible design.
Awning configuration.
---
What type of tent is this
This is a dome-style freestanding structure for 2 people, with a full-coverage fly. But the tent has 3 vestibules and you need to stake them down to have them functional. So you have a double-layer structure with an inner tent built from a taffeta and without much mesh, suitable for all-year-round use.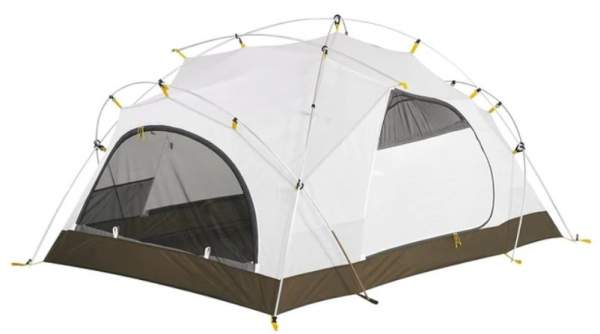 When you see the tent without the fly, as shown above, you realize the meaning of the words strong structure in the key features above. Clearly, this is not an ordinary tent, so keep reading.
---
Who is it for
Capacity-wise, the tent's inner area is 38.7 ft² (3.6 m²) and you also have no less than 3 vestibules (see more in the specifications below), so the total protected area is 72.4 ft² (6.7 m²). In view of its declared 2-person capacity, this gives 36.2 ft² (3.35 m²) per person. In fact, I do not remember any tent of this type and purpose which such a comfort.
So this is good enough even for ordinary camping and I am really impressed with this design. Note also that the inner area is extra long, you have the dimensions 93 x 60 inches (236 x 152 cm). Such tents are usually too small for their declared capacity, and I know that many people buy 3-person tents when they need something for 2 people. This is because the usual 2-person tents are rarely big enough for two people. But here you have a tent for 2 people which is indeed big enough for such a use. 
Seasons-wise, they claim this is an all-seasons tent and I would take this statement as granted. The tent looks really sturdy with its 5 poles and 7 intersection points, see the pictures above and below. So even if the snow is accumulated on the roof, it will handle this without problems. This is also an aerodynamic structure, relatively low 44 inches (112 cm) and very stable, designed to work well in windy situations. The waterproof rating for the fly is not so impressive (more below) but you normally do not need more. I have included it in my list of best winter camping tents.
Climate-wise, this tent has 3 doors and each of it has mesh windows for ventilation plus panels to prevent cold drafts. There is also a mesh opening on the ceiling. So this is a very versatile tent which you can use in any weather conditions and in all climates. It looks like a convertible tent and in this sense, it is somewhat similar to this Eureka Mountain Pass 2 tent.
Weight-wise, well, this is not a backpacking tool, but you have realized this already from its area (backpacking tents are usually very small). So the packed weight is 9 lb (4.08 kg), quite heavy for carrying on long tours. But this weight is fully justified in view of its all features.
The packed size is (L x D) 20 x 7.5 inches (51 x 19 cm), so this is very good and it will not take much space regardless of how you transport it. They describe it as perfect for late season hunts and for cold-weather adventures in general. I agree completely with this.

---
Materials & construction
The doors & vestibules
This tent is quite unique with its 3 entrances and 3 vestibules while being a 2-person tent. The two side vestibules are with the central zippers, but the front vestibule is larger and with two zippers so the flap allows for an awning configuration with the help of trekking poles. This is shown in one of the pictures above.
The inner doors are double-layer structures so you have mesh and panels to regulate the airflow, this is what I meant by saying that the tent has convertible features.
The poles & stakes
The poles are yet another remarkable feature of this tent. You have two main poles that create the usual X-shape structure, plus two poles on the two narrow sides which you see in the pictures above. One extra brow pole is on the top to add more elbow and head volume. So this is a strong structure with 7 intersection points, and as you know those are important for the stability of such a tent.
The material is 7001 series aluminum and you have color coding for an easy setup. So all related to the poles is really nicely done. The stakes are aluminum and you have them 14 included in the package.
The fabric
The fly is 68D polyester with a 1200 mm waterproof rating. The floor is a bit stronger 75D polyester and with a 3000 mm rating. The waterproof rating of the fly may not look so impressive, but you hardly need more. So these are quite durable materials and the waterproof rating is reasonable. You can compare it with the Big Agnes Copper Spur HV2 Expedition Tent where the rating for the fly is the same.
The inner tent walls are also 68D polyester taffeta. On the windows (located on the side doors), you have a mesh in the upper sections, plus panels. You can see this in the picture below.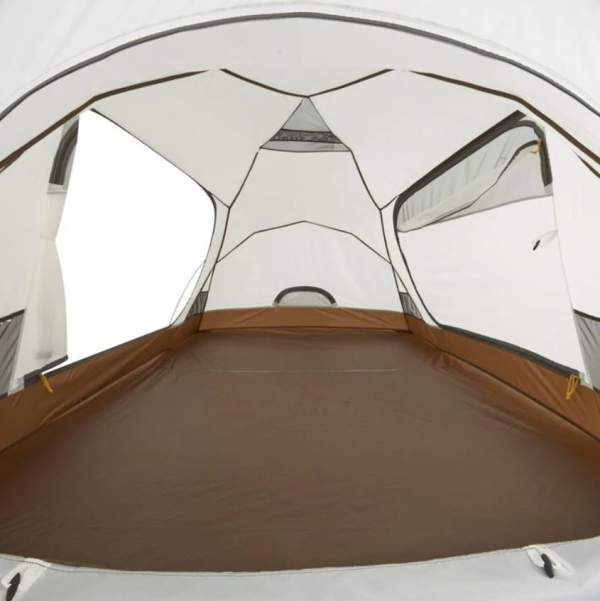 Ventilation
All the doors have mesh windows and you can keep them open all the time as they are fully protected under the fly. There is also a mesh vent on the inner tent's ceiling and it is paired with the vent on the fly, you will see this in the video. One floor vent is there as well, and you can see it in the picture below; it is with a mesh and with a panel, both zippered. So this should work well in every climate.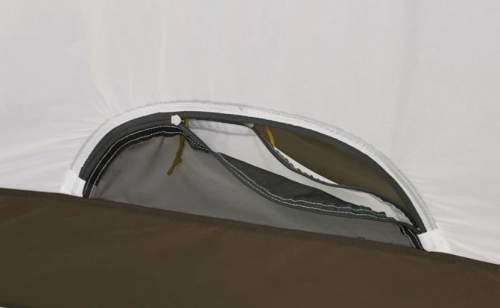 Please see more about this great tent in this short video:
The tent is really well built and the weight is a natural consequence of this. So the weight mentioned in the Cons is just to know it as a fact rather than a true objection.
The only small objection here is that the upper inner tent vent is without a zipper, and you also do not have a panel to close this opening if you use the tent in a cold area. So the design is such that, in principle, insects like ticks can get in, I am surprised that they decided on such a design.
But this area has two mesh sections with elastic and they overlap for some 10 cm or so, you see this in the picture below as the darker strip in the triangular mesh section. In the video, you can see the person pulling up one of the two sections on that mesh opening.
Though, with such a design you can get to the outer vent on the fly and close it or open it without getting out of the tent. So there is a reason for such a design.
---
Specifications
Type: dome-style 4-season tent.
Capacity: 2 people.
Packed weight: 9 lb (4.08 kg).
Minimum weight: 7 lb 5 oz (3.32 kg).
Dimensions: 93 x 60 in (236 x 152 cm).
Inner area: 38.7 ft² (3.6 m²).
Vestibules area: 9.6 + 9.6 + 14.5 ft² (0.9 + 0.9 + 1.3 m²).
Total area: 72.4 ft² (6.7 m²).
Total area per person: 36.2 ft² (3.35 m²).
Peak height: 44 in (112 cm).
Packed size (L x D): 20 x 7.5 in (51 x 19 cm).
---
Slumberjack In-Season 2 Tent vs Competitors
In the table below I give this Slumberjack tent side by side with two other top-notch tools that are also true 4-season tents. This will help you in realizing all the comfort which this tent offers.
Obviously, it is much heavier and not the best option for extended tours where you would have to carry it on the back. But this is a real castle in terms of the size and comfort, just see the numbers below. Please follow the links to check the prices, you will realize that it is far more affordable than the other two tents.
Big Agnes
Copper Spur
HV2 Expediton
---
Final thoughts, rating, pros & coons
In the summary of this Slumberjack In-Season 2 Tent review, I wish to say again that they have built a remarkable tent and with the price tag that is well below its closest competitors. As of the moment of writing this text, there is nothing better for the price, I find this a true bargain. I am really impressed with this tent and with its all features, but I do have some objections shown below.
So far it has scored a very high rating by users. See how I rate it for several parameters, I use the same formulas and criteria for all tents here in the site so it is easy to compare.
Slumberjack In-Season 2 Tent
If you need to see more options, please visit my page with tents. Also, check my list with the best 2-person tents for camping where this tent is included. For lighter winter tents please read this list with 4-season tents for backpacking. But if you need something slightly bigger, check these 3-person tents for camping.
Thank you for reading. Please use the comment box below in the case of questions or comments. Have a nice day.