---
In this text I give a selection of the best two-person tents for camping that are available on the market in 2018. All the tents are reliable products from renown brands.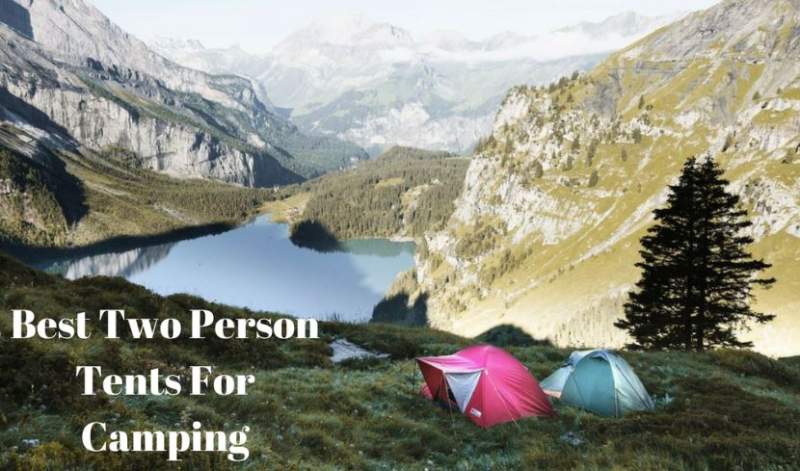 ---
What is included
If you need a camping tent for two people, obviously any larger tent will also do the job. The more space the better, in fact it is never enough. In this sense, any 3-person or 4-person camping tent will be just fine. Or you can use any larger family camping tent.
But sometimes you simply might not want a larger tent due to various reasons:
Such larger tents can be much bulkier and this can make the difference when you have to pack all your stuff in the car.
A bigger tent is also heavier and this can be a problem if you have to carry it a bit from the car to the exact camping spot.
Also, such bigger tents can be more complicated to set up, sometimes they have more poles, they can be taller so adding the fly is more difficult, etc.
So if you want a tent that is with the declared capacity for two people, then you are at the right place. Here you have exactly such a list. One comment though – any backpacking or hiking tent will also do the job so you can have a look in my list of such ultra lightweight 2-person tents. But as you know, such tents are almost always so lightweight because of the small space they offer, or they are built of very thin materials that are not always pleasant to use (noisy in the wind, not great sunlight protection, etc).
So all in all, here I give the tents that are with the declared capacity of two people and that offer a bit more comfort than those ultra-lightweight, backpack-portable and backpacking tents. Regarding the construction and style, you will see the dome, extended dome, tunnel, and A-frame tents, quite a variety as you realize. Some of them are double-layer tents and some are single layer type. Note that several of the tents in the list come with a footprint included.
---
My list of best 2 person camping tents
So here they are, listed by the inner area, from smaller to larger:
---
1. Big Agnes Copper Hotel HV UL2 Tent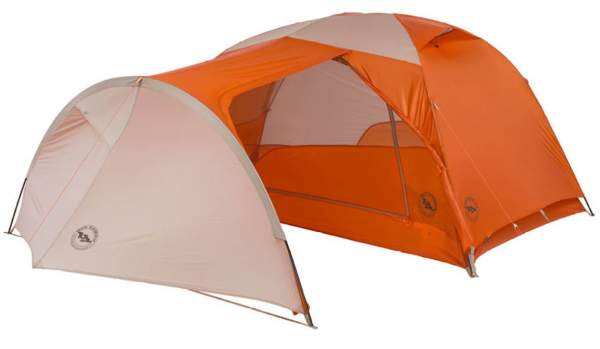 This is the most versatile tent here on the list. In fact, it is so lightweight that it can be used as a backpacking tent. The reason to adding it in this list of camping tents is its comfort and the area as you realize from the picture.
So, see the numbers: the inner floor area is 29 ft² (2.7 m²) but the two vestibules add 9 + 27 ft² (0.9 + 2.5 m²). The total protected area is thus 65 ft² (6.1 m²). The tent is high on the list because of the small inner area, but it offers more comfort than most of the tents here. But see the weight, it is hard to believe; you have 3 lb 13 oz (1.73 kg) the packed weight.
Needless to say that you have only the best materials used in the construction of this incredible tent. Though this comes at a price, please follow the link to check for the price updates.

---
2. Big Agnes Copper Spur HV2 Expedition Tent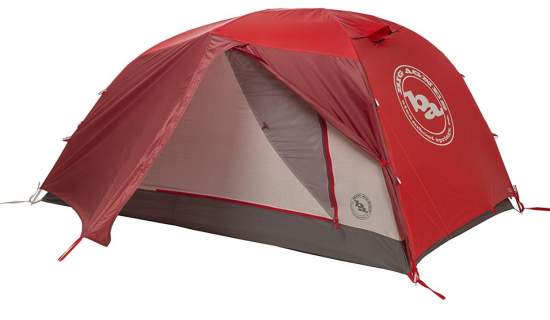 The inner area of this Big Agnes Expedition Tent is the same as in their other tent shown above, so you have 29 ft² (2.7 m²), but you also have two vestibules so the total protected area is 47 ft² (4.3 m²). Per person, this is 23.5 ft² (2.15 m²).
But the area is not the true reason for having this tent in the list.  In fact, this is a convertible design and this is a very versatile tent that can be used in all seasons. The meaning of the term convertible is that you have all mesh sections with additional zippered panels and in this way you can regulate the airflow. So you can close it to preserve the warmth when it is cold and windy outside. This is a true 4-season tent.
You have a hubbed poles system so the setup is easy, the poles are thicker than in normal camping tents, so it can withstand snow conditions as well. There are 2 doors and 2 vestibules and the weight is 5 lb 8 oz (2.49 kg). Please read more in my full review.

---
3. Kelty Gunnison 2 Tent With Footprint
This is a great tent by a very reliable brand. The Gunnison 2 comes with the bonus footprint included. This is very good to have with such a camping item, it will protect it from sharp objects and extend its lifetime.
This is a freestanding tent with a hub element so setting it up is easy and you can do this on any terrain. The full coverage fly and the waterproof rating of 1800 mm should offer a complete protection in any weather conditions in a 3-season use.
You might want to see some numbers so here they are. The weight is 6 lb 1 oz (2.75 kg), so you could even carry it on shorter hiking tours. The floor area is 30 ft² (2.79 m²) but you also have lots of space under the two asymmetric vestibules which give 14 + 8 ft² (1.3 + 0.75 m²). Note that one vestibule allows for an awning configuration. This is a great camping item for couples.

---
4. Eureka Mountain Pass 2 Backpacking Tent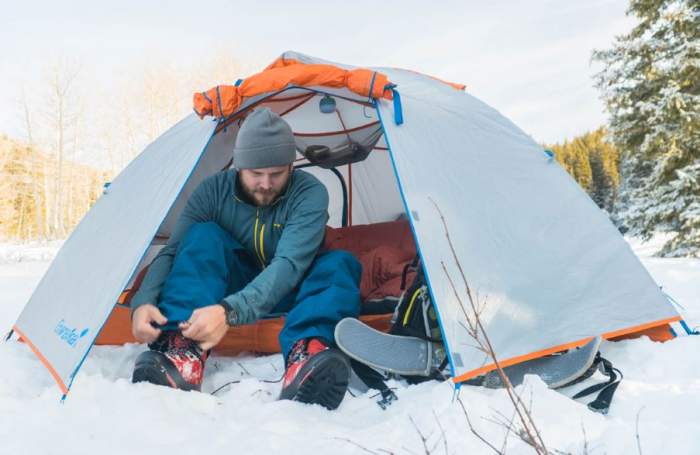 This Eureka tent comes with the bonus footprint included so the weight with the footprint is 5 lb 9 oz (2.52 kg). This makes it suitable also for hikers and backpackers. Note also that this is a convertible design. This means that you have removable zippered panels which you can keep in winter conditions, or you can remove them when you use it in the summertime. This also affects the weight a bit, but this is a versatile 4-season tent.
You have two asymmetric doors and asymmetric vestibules and the inner area is 32 ft² (3 m²) and you also have 10.8 + 7.6 ft² (1 + 0.7 m²) under the vestibules.
The poles are aluminum, and the waterproof rating is quite good 1800 mm for the fly and 3000 mm for the floor. Please follow the link to read more in my full review.

---
5. Coleman Sundome 2 Tent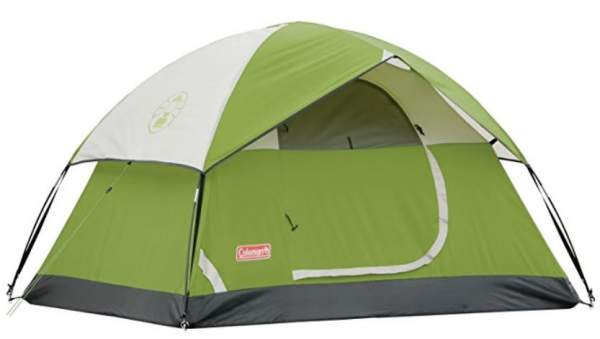 This tent is nicely designed and with some great features. But the man reason for adding it to the list here is its price. So if you are on a budget and need something for occasional outdoor trips, I do not think you will find anything more affordable. But I do not suggest using it in an area where you expect lots of rain. This is a summer camping tent and to be used in a warmer and dry climate. Coleman is a renown brand and this is one of the most popular tents on the market, but it is far from the quality level of the other tents in the list.
The floor area is 3.24 square meters and the weight is 7.2 lb (3.26 kg). Note that there is only one door and there are no vestibules so you do not have external space to store the gear. But its price is simply incredible, around $32 at the moment of writing this text. So please read more in my review.

---
6. Kelty Rover 2 Tent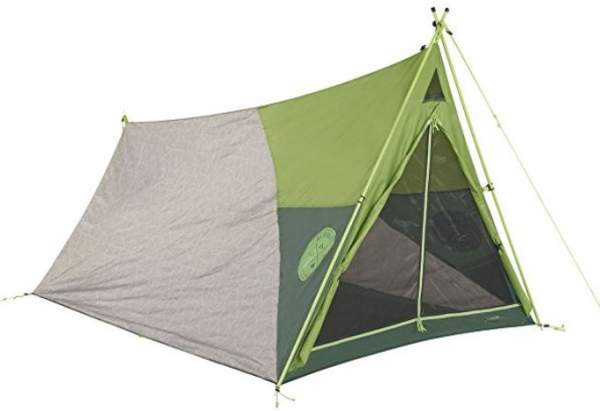 As you realize from the picture, this is a classic A-shaped structure, so if you are nostalgic about your early outdoor days, this tent is built to bring the memories back. The poles which you see here are steel, and you have one more on the back. So this is a very simple construction with durable materials and with a decent waterproof rating of 1800 mm.
The weight is 6 lb (2.8 kg) and the floor area is 35 ft² (3.25 m²). Note that they have a tarp built specifically for this tent so you can attach it to the front and have a great awning. You can see it if you follow the link to my review.

---
7. Mountainsmith Morrison Evo 2 Tent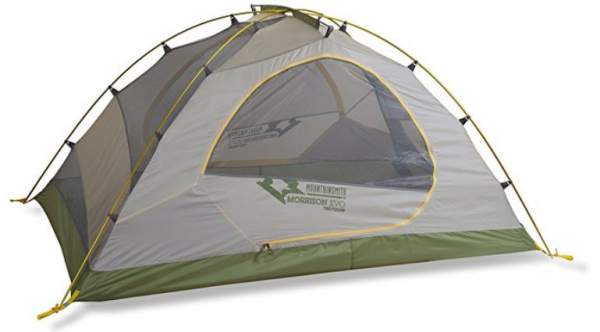 This is a celebrated tent and for all good reasons. So see some. You have a footprint included as well as a gear loft. The tent is freestanding with 2 doors and with 2 vestibules. So you have plenty of space to store the gear. Having the footprint, you can use it in the fast fly variant as well.
Let's see some numbers. The packed weight is 6 lb 9 oz (2.98 kg) and the fast fly weight (without tent body, but with footprint) is 4 lb (1.81 kg). The packed size is great, only 17 x 8 inches (43 x 20 cm), and the floor area is 36 ft² (3.34 m²). The area under the two vestibules is 19 sq ft (1.77 m²). The tent comes with a great price tag, please check for the updates in the link below.

---
8. ALPS Mountaineering Meramac 2 Person Tent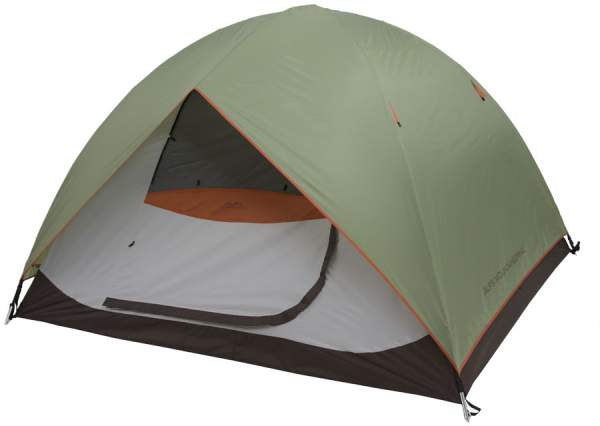 This Meramac 2 tent is nicely positioned here in the list because of its inner area. So you have 38 ft² (3.5 m²) and this means 19 ft² (1.75 m²) per person. But as you realize from the picture, this is a tent without vestibules so this is all the area you have.
The tent is nicely built, with two doors that are on the opposite sides and under the brim, you see one in the picture. This is a fully freestanding design so even after putting the fly you can still move it around and rotate. There are only two main poles and one short brow pole that creates those small awnings.
Ventilation is good here, you have large mesh sections under the fly, and the two brims allow for keeping the doors with mesh only most of the time, so you can always have a good air circulation. The waterproof rating is also very decent for such a tent, you have 1500 mm. The price is without a match, please follow the link to check for updates.

---
9. Slumberjack In-Season 2 Tent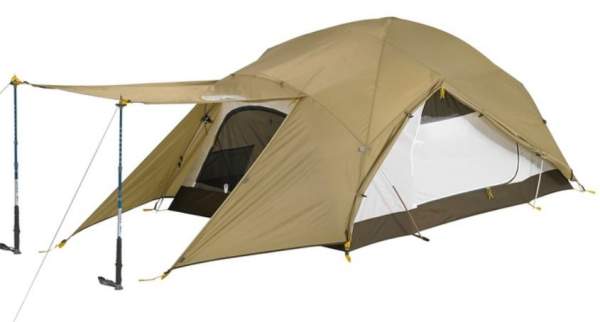 Here you have a really extraordinary tent designed for two people but with three doors and three vestibules. So you have the inner area of 38.7 ft² (3.6 m²) but the total protected space is 72.4 ft² (6.7 m²). 
The tent is built for all seasons. This implies that you have 5 poles that create 7 intersections, so the structure is very strong. On the other hand, all three doors have parts that can be unzipped and here you have both mesh and panels, so the air flow can be regulated to prevent cold drafts in a winter environment, or to have fresh air in a warm environment. The rest of the inner tent is all taffeta except for a vent on the ceiling.
As you realize from the picture, one of the 3 vestibules is designed to create an awning with the help of your trekking poles. I should add also that the tent comes with a really affordable price tag, so please follow the link for more.

---
10. Eureka Suite Dream 2 Tent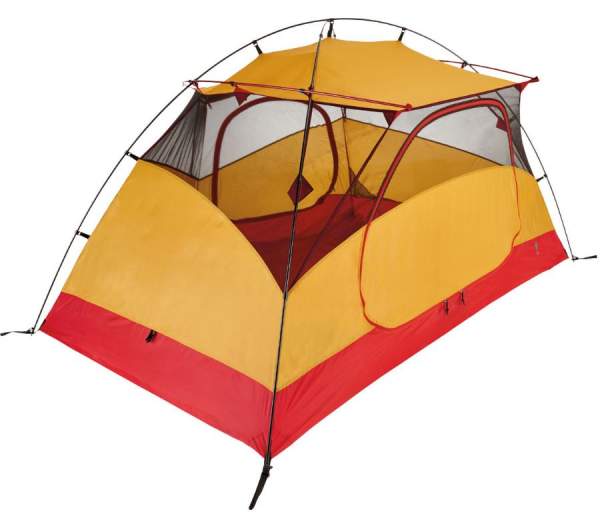 This is a very affordable tent with a full coverage fly (not shown in the picture) that offers a complete protection from elements. You have 2 doors and 2 vestibules, and one extra feature is two solid windows on the main vestibule.
The Suite Dream 2 comes with a unique poles system, you have two standard poles that create a dome, plus one Y-shape pole which lifts the front wall and makes it completely vertical. The tent comes with bonuses, so you a footprint included plus a gear loft, and many pockets to store your items.
You have the inner area of 39.4 ft² (3.7 m²) plus the two vestibules, so the total protected area is 55.8 ft² (5.2 m²) and this means 28 ft² (2.6 m²) per person. The weight is 7 lb 2 oz (3.23 kg). Please read more in my detailed review.

---
11. Vango Omega 250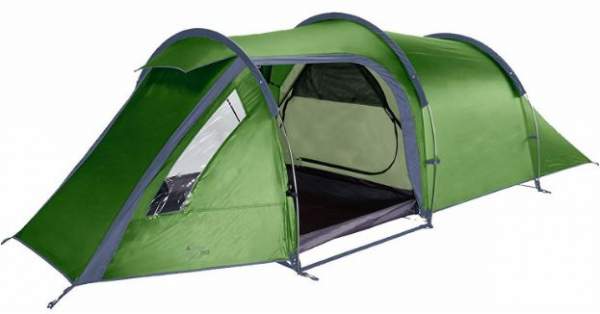 Here you have something exceptional. This is a tunnel type tent which offers a huge area in its 2 rooms. You have around 6 square meters (64 ft²), and this means 3 m² (32 ft²) per person, so imagine how luxurious option this is.
The tent is with 2 doors and you also have 2 PVC windows. So this is a fully enclosed design suitable for a cooler environment. Note that the waterproof rating is as impressive as everything else; you have 5000 mm for the tent's body and 6000 mm for the floor.
The tent is a bit heavy due to all these features, so you have 8.9 lb (4.05 kg). This is portable to shorter distances, but you realize that this is a true camping tent for places with a motorized access. Please read more in my full review.

---
Final thoughts
So this was my list of the best two-person tents for camping that are currently available on the market. It will be updated regularly so bookmark this page and visit it from time to time to check for updates.
If you need something larger, check this list of 3-person camping tents, and also this with 4-person tents for camping. For larger tents please check here. As I mentioned above, every hiking and backpacking tent can also be used for ordinary camping, so check also this list of lightweight hiking tents for 2 people.
Thank you for reading. Please use the comment box below in the case of questions or comments. Have a nice day.
---