This KAZOO Outdoor Camping Tent Venus 2 Person review is about an easy to use freestanding tent with aluminum poles, a huge waterproof rating, a footprint, and an incredible price.
---
Key features & benefits
Aluminum poles.
Footprint included.
Freestanding.
2 Doors & 2 vestibules.
Huge waterproof rating.
Incredible price.
---
What this is about
Here you have a tent that is unusual in various ways, and from the text below it will become clear why. It is a fully freestanding dome-style tent supported by three poles, with a slightly tapered inner area, see the floor plan below. It is self-supporting because the poles are from outside and not under the fly, and they attach to the tent's base.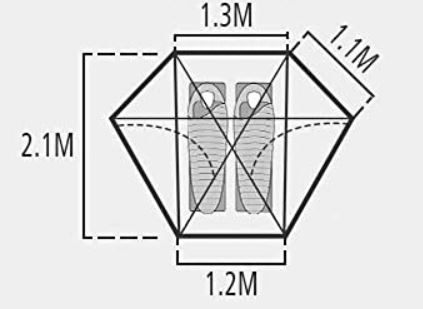 Yet another good feature of such a design is that it allows for an almost dry setup. This means that the inner area will remain protected even if you have to pitch the tent during the rain. If you have ever done this in rain and have added the classic fly after raising the inner tent in rain, you will know what I am talking about.
Note that there is a small cover that must be attached over the top of the fly, this top fly area is with mesh sections for ventilation, see the picture, and this is easily done in seconds. This mesh on the fly is yet another unusual feature, but this does not mean it should be there, as you see it requires an extra cap to protect it. A simple roof vent would be a much more practical option.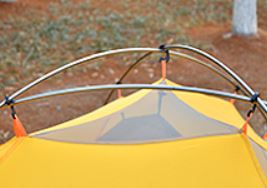 This is better seen in the picture below that shows the tent without the roof cap, these two triangular dark areas are mesh: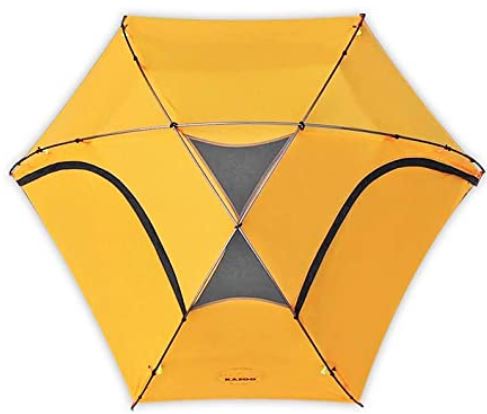 The tent has two doors on the longer sides and they are under the vestibules. This is optimal for two people, but if you use the tent solo you can always keep this side closed and use as a storage space. The vestibules' doors are nicely designed so that they allow for large storage spaces under the vestibules, they look like two wings. This you can realize from the picture below: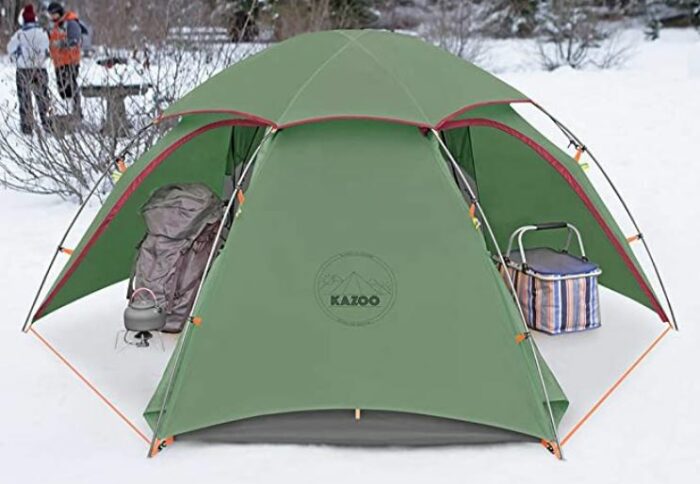 Footprint: Having the footprint will save the tent's floor, and this also creates a floor under the vestibules and this all makes the tent far more present and livable. This means that all your stuff stored under vestibules will be protected from the groundwater and clean from mud.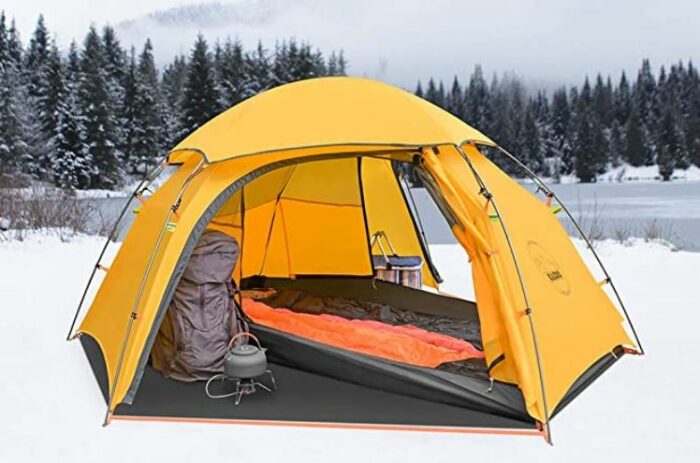 Yet another use of the footprint is shown in the picture below. This is usually described as a fast fly variant with the frame, the fly, and the footprint.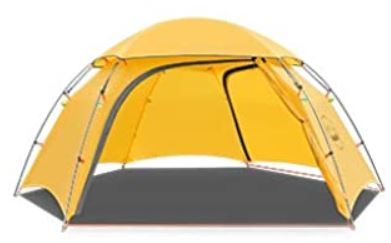 Ventilation
The inner tent has enough mesh for ventilation, and you have already seen the mesh openings on the fly. This in combination with airflow from the ground under the fly will always be enough to fight condensation. There is not much one could object here.
---
Materials
The poles
There are three of them and these are aluminum poles. This is a 7071 aluminum with an 8.5 mm diameter. They create three intersection points on the roof (those are visible in the pictures shown above), and they have 6 points on the ground. So this almost hexagonal structure is very sturdy and stable, much more than an ordinary dome with two poles. So this for itself is already impressive.
The fabric
The fabric is durable, so the fly is a 210T ripstop polyester with a 3000 mm waterproof rating. The same fabric is used for the floor. The inner tent is a B3 mesh and a 190T breathable polyester. So these are excellent and durable materials.
---
Who is it for
Regarding the area, the tent is officially for 2 people. The floor plan below shows what it offers. So you have a total floored inner area of 28 ft² (2.6 m²), plus the area under two vestibules of 15 ft² (1.4 m²). This means that the total covered area per person is 21.5 ft² (2 m²). So this is lots of space no matter where you plan to use this tent.
Regarding the weight, they describe it as a backpacking tent. It weighs 5.29 lb (2.4 kg) so this is a bit too heavy for backpacking, check this list of backpacking 2 person tents to realize this. So I have included it in my list of best two person tents for camping.
Regarding the packed size which is 19 x 7 x 7 inches (48 x 18 x 18 cm), this is quite bulky for a backpacking tent. You can realize this if you compare it with this Exped Mira II HL Tent.
Regarding seasons & climate, this brand shows all its tents in a winter environment. I guess they had a photo-shooting session in wintertime, but they should do it again in a more appropriate environment.
I have seen people asking if this is a winter tent or not. It is not, as simple as that. This is a decent 2-3 seasons tent. There are far better options for winter camping and you can see them here. All those mesh sections cannot be closed, so I would avoid cold areas with this tent.
On the other hand, the cap I mentioned earlier would not last long in severe winds. This detail is great for ventilation, but this makes the tent suitable only for calm weather conditions. They gave this picture which shows the tent in mountains: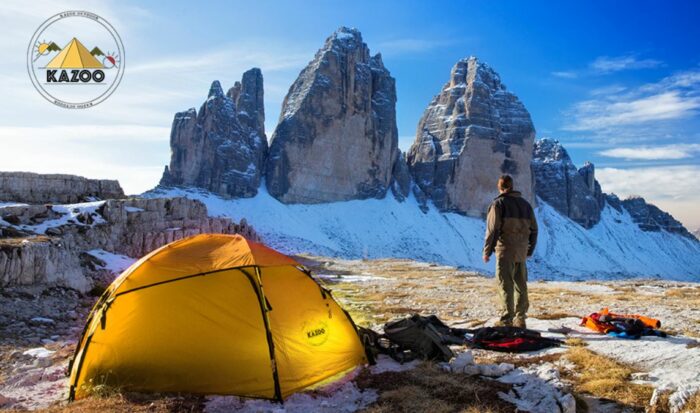 This is one of the most spectacular views in Dolomites, Italy, and I have seen some other brands taking the pictures at this same place. I have been at this exact place, if you are curious about the place check my text here. I can tell you, this tent is not for such an environment.
Regarding the price, it is hard to believe how affordable is this tent with all these features. This is a true bargain.

---
Specifications
Weight: 5.29 lb (2.4 kg).
Inner dimensions: 82 x 51 in (208 x 130 cm).
Inner area: 28 ft² (2.6 m²).
Vestibules area: 7.5 + 7.5 ft² (0.7 + 0.7 m²).
Total covered area per person: 21.5 ft² (2 m²).
Packed size: 19 x 7 x 7 in (48 x 18 x 18 cm).
Peak height: 39 in (99 cm).
Poles: aluminum.
Warranty: 2-years warranty.
---
Final thoughts, rating, pros & cons
When you see the price and features of this KAZOO Outdoor Camping Tent Venus 2 Person, you cannot avoid thinking of those far better-known brands and their tents that can easily be three times more expensive than this tent.
Just see its aluminum poles, the footprint, and its waterproof rating to realize that the tent is a bargain. It has quite a number of interesting features, but not all of them are so great, the fly cap is one. It is easy to understand why it is there, but this has some downsides.
The tent is versatile and it can be used for camping, fishing, bicycle and motorbike trips, etc. It is backpack portable so you can use it on some shorter tours. The weight is not necessarily bad thing, it offers lots of space and the materials are durable, this is not so with those ultralight and ultra-expensive backpacking packs.
Please see how I rate this tent, the same criteria are used for all the tents here in the site, it scores high:
KAZOO Outdoor Camping Tent Durable Lightweight Waterproof Backpack Tents 2 Person
If you need more options in this capacity group, check under the category Tents for 2 people. Check its cousin, the KAZOO Outdoor Camping Tent Mercury 2/3 Person. But if you want something completely different, check this Stansport Scout 2 Person Backpack and Camping Tent that has been on the market for many years.
Bookmark this site and visit again, we add texts here regularly so this will keep you informed. Thank you for reading and have a nice day.