---
This KAZOO Outdoor Camping Tent Mercury 2/3 Person is a dome-style freestanding structure with fiberglass poles, two doors, two windows, and an incredible price.
---
Key features & benefits
Dome tent.
2 Doors & 2 windows.
Interesting design.
High waterproof rating.
Fiberglass poles.
Great price.
---
What this is about 
This tent from what they call the Mercury Tent series is a dome-shaped tent with a hexagonal base, fully freestanding, and with an interesting design.
As you realize from the pictures, here you have an external frame, and this is good when you have to pitch the tent when it is raining. This allows for a dry setup, you add the poles from outside and the inner area remains protected. Though there is the top cap/flap to be added, but this is done in seconds.
You have two doors and two separate windows, all with mesh and with zippered panels. The tent is moderately tall for its total size, you have 4.43 ft (1.35 m) peak height.
Ventilation
The tent has mesh sections on the roof, and this is where you have the top cover for protection. The two large doors are with mesh, and you also have large windows with mesh and panels on the sides.
The windows must be closed completely when it is raining, but you still have the inner doors with mesh while you keep the fly door closed. In such a situation there will be enough air flow from the ground and you will have vertical circulation to fight condensation. So there is not much one could object to such a design.

---
Materials
The poles
There are three poles here and as you would expect from a budget tent, they are fiberglass, and the diameter is 9.5 mm. This is not a particularly durable material but it is commonly used even in much more expensive tents.
The poles attach to the grommets at the tent's base, and on the canopy you have clips. So this is all easy to use and one person can do the job easily in just a few minutes. Because of three poles, such a dome structure is very strong and stable.
There are 6 angles where the poles attach and this is why it is fully self-supportive and freestanding. The small flap on the top attaches directly to the canopy. So the tent can be pitched anywhere, and you can move and rotate it as you wish.
The fabric
The fabric is very durable here, this is a 210T ripstop polyester, the same material is used for the fly and the floor. They claim that the tent has been tested and that the waterproof rating is impressive 3000 mm. All seams are taped. The inner tent is a B3 mesh and a 190T breathable polyester.
---
Who is it for
Regarding seasons & climate, they show many pictures with the tent in a snow environment, while at the same time they write this is a 3-season tent, and they also write this is a beach tent. So this all makes no much sense. This is everything but a winter tent. I see it best suited for the warmer part of the year, for summer camping or for two seasons.
You have a great waterproof rating, the tent is stable, aerodynamic, and relatively low. But the mentioned top cap is not something you would want to have in strong winds.
Regarding the capacity, they write it is for 2 to 3 people. For this you have an area that should be around 40 ft² (3.7 m²), they did not provide an exact number.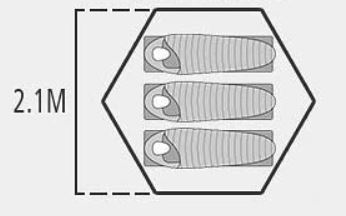 But this is a hexagon shape shown above, and this does not fit great with rectangular sleeping pads, so it is difficult to image three pads on such a floor. The picture they show with three pads is unrealistic.
Note that the sides of this hexagon are around 1 meter and not 1.3 meters as they show in the picture below, this is not possible if the two diagonals are 2.1 and 2.4 meters. So you should use it for two people maximum.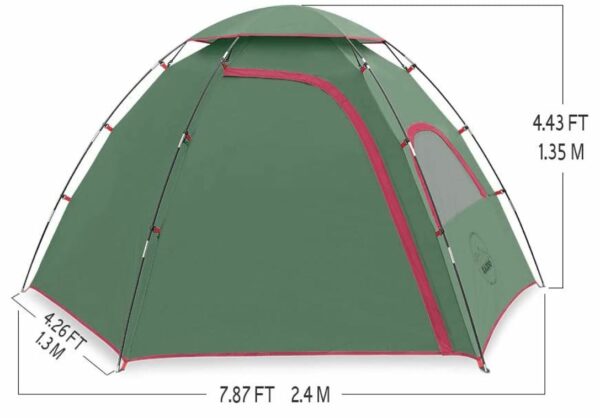 Regarding the weight, with its 7.67 lb (3.48 kg) of weight this is not a tent you would want to carry anywhere. So this is a camping tent suitable for places where you would not have to carry it yourself.
The packed size is 21 x 7 x 7 inches (53 x 18 x 18 cm), so it is a bit bulky but this is still something you can transport even on a bicycle. I have included it in my list of best 2-person camping tents.
Please see more in this short video:
---
Specifications
Official capacity: 2/3 people.
Weight: 7.67 lb (3.48 kg).
Dimensions: 7.87 x 6.89 ft (2.4 x 2.1 m).
Area: 40 ft² (3.7 m²).
Peak height: 4.43 ft (1.35 m).
Packed size: 21 x 7 x 7 in (53 x 18 x 18 cm).
Warranty: they offer 2 years warranty, and they claim that the tents are 100% inspected before shipping.
---
Final thoughts, rating, pros & cons
In summary, this KAZOO Outdoor Camping Tent Mercury 2/3 Person is a tent with an interesting design. Two doors make it very user-friendly and functional, and two windows that are unusual to have in a dome tent make it very pleasant.
The waterproof rating is excellent and the fabric is durable. The price is hard to match. Fully recommended for camping in the warmer part of the year, and for two people maximum.
Please see how I rate this tent, the same criteria are used for all of them so you can easily compare. Note that I use my criteria for a 2-person tent, and in this case the average rating is very good:
Please check under the category Tents for 2 people if you need to see more options. Note that there are more tents of this brand here in the site, this cabin-style KAZOO Family Camping Tent 4 Person Saturn then this KAZOO Outdoor Camping Tent Uranus 3 person, and also KAZOO Outdoor Camping Tent Venus 2 Person.
Bookmark this site and visit again, we add texts here regularly and this will keep you informed. Thank you for reading and have a nice day.