---
KAZOO Outdoor Camping Tent Uranus is an extended dome 3-season tent with a full-coverage fly and huge waterproof rating, with a floored vestibule, and a great price tag.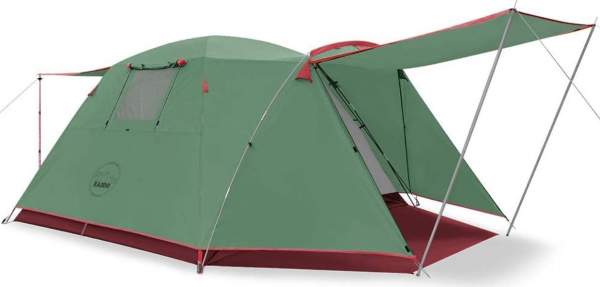 ---
Key feature & benefits
Extended dome.
Full-coverage fly.
Awning.
Floored vestibule.
2 Doors.
2 Fly windows.
Fiberglass poles.
Great price.
---
What this KAZOO Outdoor Camping Tent Uranus is about
This is an extended dome tent with a full-coverage fly, so this is a double-wall tent in the true sense. It has an extension on one side and this part is supported by an extra pole. This is why it is not freestanding, it must be staked down properly.
You have two doors on the opposite sides, and the fly has two corresponding vestibules. One of them is symbolic in the sense of space, but the other is with a floor and it is huge. The vestibules' flaps on both sides are with dual parallel zippers, so you can roll the flaps and fix above the door, or you can create an awning with the included set of two extra poles. It reminds me of the Big Agnes Bunk House 4 tent but the price difference is huge.
Yet another option is to use this floored vestibule as a useful storage space for your camping gear, and use the other door as the main door and create an awning there.
The picture below shows awnings on both sides, they extend the useful covered space so you can sit in the shade and prepare your meals there. Note that only one set of awning poles is included, you can use your trekking poles for the other side.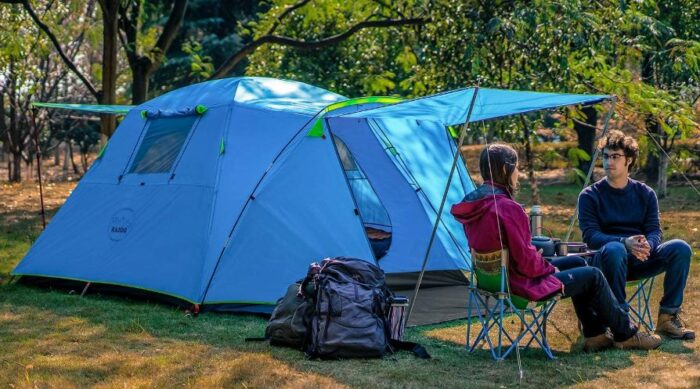 The picture above shows yet another interesting detail here, and this is a pair of windows on the fly. So this adds to the livability of this tent, it is not so frequent to see a dome tent with windows.
Note that the tent is quite low, you have 57 inches (145 cm) peak height, but this is normal for the tents of this type.
Ventilation
Ventilation is essential in such synthetic tents, so here you have plenty of mesh on the ceiling, on the sides, and on the doors. The picture below shows how it looks when the windows are with rolled-up flaps. Note that the doors have mesh in the upper parts only.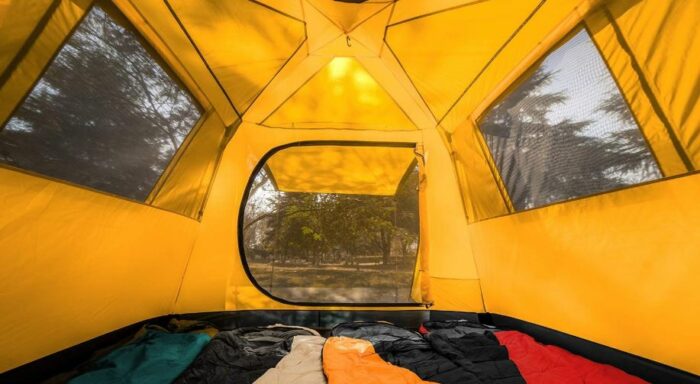 The fly goes to the ground but there is still enough gap to have airflow from below and this will work well as long as the windows are open.
What I dislike is that there are no fly vents. This may look redundant in view of its fly windows, but this is necessary to have to fight condensation in the periods with rain when the doors and windows must be closed.

---
Who is it for
Size-wise, this Uranus is a 4-person tent by the declared capacity. For this you have 56.8 ft² (5.3 m²) of the inner area. This means 14.2 ft² (1.3 m²) per person, and this is quite modest value although it is possible to place 4 pads on the floor, the dimensions given below clearly show this. Note, I think they have interchanged the dimensions in this picture, in reality the tent looks much shorter from one door to another, it cannot be 2.4 meters.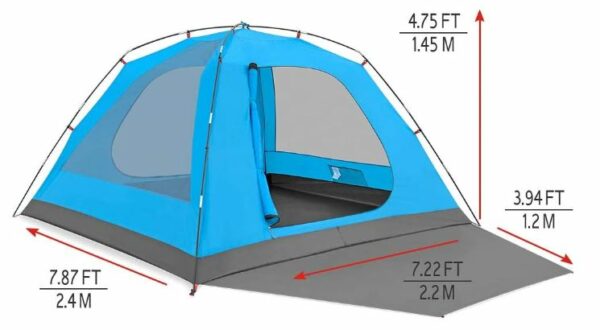 But there is the large vestibule area that measures around 17.2 ft² (1.6 m²); they did not provide numbers so this is my estimate. This is a useful space and it adds a lot to the comfort.
The smaller vestibule probably offers around 0.5 m² of covered space, enough for boots and shoes only, I did not even count it in the total space as they did not mention it at all. So the tent can accommodate 4 users and you have protected space for gear and boots. I have included it in my list of car camping 4-person tents.
Seasons-wise & climate-wise, this is a 3-season tent but better suited for a warmer climate, you have seen the mesh in the picture above. With such a mighty fly and its huge waterproof rating, this tent will protect you from rain.
It is also low and aerodynamic and it will perform well in windy situations. The picture below shows how it looks when you close everything, this becomes quite an enclosed space.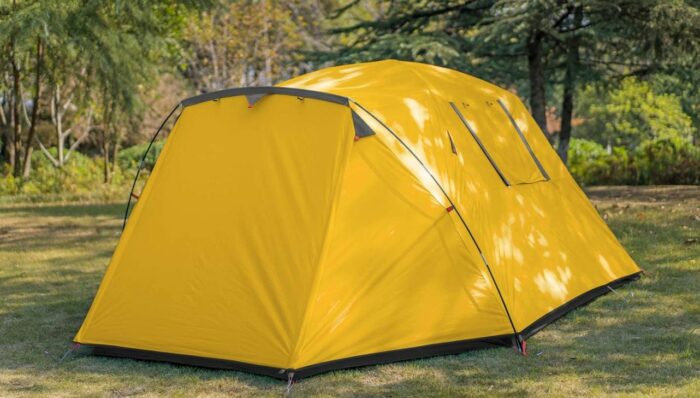 Weight-wise, the tent could be described as lightweight with its 10.71 lb (4.86 kg). So it is indeed portable on the trail. Its best feature is its great packed size which is impressive, the tent measures only 22 x 6 x 6 inches (56 x 15 x 15 cm). You realize that you can transport it in any way you want.
---
Materials
The poles
There are three shock-corded fiberglass loops with 9.5 mm diameter, they support the tent and its extension. Having such a material here is normal in view of its incredible price. Fiberglass is commonly used even in far more expensive tents, but it needs some care.
The poles are color-coded for easy setup, and they attach to the tent with clips. Those on the dome part have 3 clips on each side of the pole from base to the top. At the base you have grommets with holes where the poles' ends are fixed in place.
Note also that the roof poles are pre-bent so this makes the side walls steeper and this adds more volume inside, so the tent is almost like a cabin type.
The fabric
The tent is far better in this respect, you have a durable rainfly made of 210T ripstop polyester, and its waterproof rating is surprisingly high 3000 mm. The fly attaches to the tent's corners with buckles.
The same material is used for the floor. Note that all seams are taped. The floor is a bathtub style and it is 16 cm deep on the sides. The inner tent is a 190T breathable polyester and a B3 mesh.
You might want to add some footprint to protect the floor, it looks thin and it needs to be protected from sharp items on the ground.
Please see a bit more about the tent in this short video:
Other features
There are several small wall pouches, a couple of them on the two sides.
A lantern hook is on the ceiling.
The carry bag is nicely designed, see the picture below.
There are 16 simple steel stakes and 8 guylines shown below.

---
Specifications
Declared capacity: 4 people.
Weight: 10.71 lb (4.86 kg).
Dimensions: 11.81 x 7.22 ft (360 x 220 cm).
Inner area: 56.8 ft² (5.3 m²).
Inner area per person: 14.2 ft² (1.3 m²).
Vestibule area: 17.2 ft² (1.6 m²).
Total covered area: 74 ft² (6.9 m²).
Peak height: 57 in (145 cm).
Packed size: 22 x 6 x 6 in (56 x 15 x 15 cm)
Poles: fiberglass.
Warranty: 2 years.
---
Final thoughts, rating, pros & cons
In the summary of this KAZOO Outdoor Camping Tent Uranus review, I would stress again that this is a really nicely built tent with some unique features. Its packed size is excellent, it is moderately light, and it offers full protection from the elements. One person can set it up easily.
This is a great value/price combination, a new item on the market but it is becoming increasingly popular. It is no surprise when you see its price tag. Note that they offer a 2-year warranty.
This tent scores great in all the criteria that I use for the tents here in the site, and its average rating is excellent. See how it stands:
Please check under the category Tents for 4 people if you need more options from this size group. You will want to know that they have yet another 4-person tent built in the cabin style, the KAZOO Family Camping Tent 4 Person Saturn, and yet another smaller the KAZOO Outdoor Camping Tent Mercury 2/3 Person.
Note that we add texts here regularly, so stay informed, bookmark this site and visit occasionally. Thank you for reading and have a nice day.